Head of Household Winner – Cody
Have nots – Kevin and Enzo
Nominations –
Power of Veto Players are –
POV Host: –
Power of Veto holder –
Power of Veto Ceremony –
Live feeds —-> Grab your Live feeds here. Try it free.
Rank the houseguests —-> Big Brother 22 Ranking
Kevin and David going up. Kevin is Cody's target. If Kevin comes down the plan is Christmas to go up and out. If David comes comes down Christmas goes up and Kevin goes out.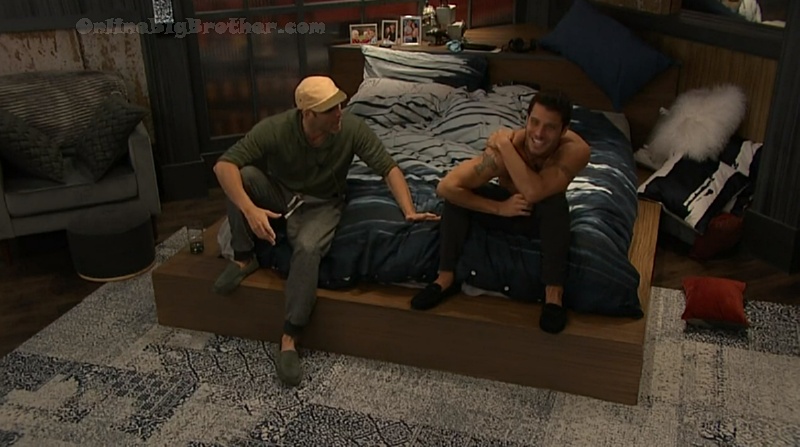 10:28 am Cody and Enzo
Enzo talks about his conversation with Kevin last night.
Enzo – do you think Dani and Nicole will take a shot and Memphis and Christmas
Cody – Dani will 100% against Christmas
Enzo – Christmas wants to go after Dani
Enzo – Da'Vonne told him f***ig everything all the alliance's she was in f***ing everything
Cody – he's gotta go.. he's gotta go 100% (Kevin)
Enzo says he doesn't care about the jury votes at this stage of the game he'll worry about the Jury votes when he get to the end.
Enzo – You gotta give it to somebody.. what if the two people both f***ed you over.. you gotta give it to somebody
Enzo – he said Dani threw you under the bus to Da'Vonne
Cody – he knows you and me are tight
Enzo – I always play it off.
Cody says he wants the noms to stay the same and Kevin to go home.
Cody – Say David goes home.. or after this week DAvid goes home. Christmas' first targets are going to be Dani and Me and say Dani comes down you'll go up as the replacement
Enzo – I don't trust her
Cody says she won't put up Nicole, Memphis.. "Just process of elimination .. whose left"
Enzo – She's not putting up Nicole.
Cody – If Nicole wins she'll put up Christmas and Tyler
Enzo – I want to win POV and backdoor Christmas to be honest
Enzo – You told me about the committee and I respect you for that Christmas knows about the wise guys but not m,e and you and the wise guys me and Memphis and the wise guys
Cody – how does she knows about that
Enzo – because when you f***ing left he brought her in and f***ing did a wise guys with us three without youse two knowing you are in the wise guys
Cody – no way .. oh my good..
Enzo – don't say wiseguys in front of Christmas because she'll know
Cody – he wants us in the final 4
Enzo – he was like don't tell Cody .. I was like what are you talking about
Cody – it shows where his head is he's playing a game..
Enzo – he does like me and you a lot..
Cody – he 'll probably target Tyler and Nicole
Enzo – If we get rid of Christmas then we get Memphis even more.. you know what I'm saying
Cody – If Kevin comes down maybe we 100 percent send her home
Enzo – yeah, exactly
Cody – that votes going to be a 3 /3 vote
Enzo – Tyler will vote her out
Cody – no shot.. RTyler is with Christmas
Enzo – more incentive .. I can't even brush my teeth she like (game talking)..YO stop YO.. she's keeps throwing Dani under the bus like crazy..
Cody – Nicole has flipped on Dani
Cody – Christmas is 1 billion percent going up
Enzo – I almost want to backdoor her
Cody – if the veto gets used she's going up.
Enzo – we got Tyler going after Nicole and Dani
Cody – now Memphis wants to go after Nicole and Tyler
Enzo – if you're on the block and I win veto i'm saving you I don't give a f*** yo.. don'y give a f****
Enzo – We're final 8 this is it Bro..
Cody – we need to clip Christmas ASAP..
Enzo – ASAP bro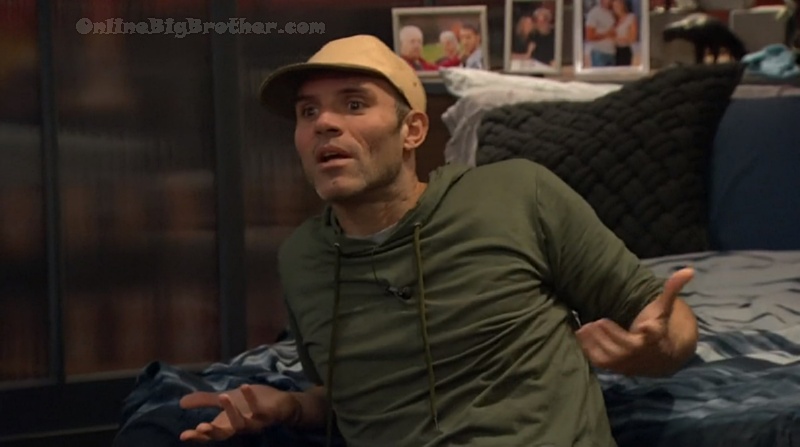 Cody – Chris
Cody _ I want Kevin gone he's one that will target me with you
Enzo – or Tyler
Cody – yeah Tyler
Enzo says Kevin is really getting mad at Dani.
Cody – yo real talk like straight up.. my people to go is Kevin first, Christmas next Dani after that.. that's for me
tmas she's won 3 comps and Probably the power. Two of the comps were handed to her.
Cody points out the HOH Christmas won was a fluke.
Enzo goes on about Christmas is talking to everybody.. throws everyone under the bus to the HOH
Cody – You, Nicole and Dani vote her out and I'll break the tie.
Enzo – Nicole wants to keep Christmas
Cody says Nicole wants Christmas to go after Dani
Cody – If she goes up as the replacements and stay it will show I am loyal to her .. If Kevin comes down and she goes up I want her to go home I don't want Dave to go home..
Enzo warns about Kevin and David coming after them .
Cody says Nicole can be trusted if you tell her something she won't run off and repeat it.
Enzo – I really trust Nicole
Feeds cut. When we're back
Enzo – then Tyler comes in but I don't trust him.. I don't trust his vote
Cody – after this week 3 votes is solid
Enzo says he likes Memphis "He's a man of his word and he's not coming after us YO"
Cody- personally I love Dani but in this game I don't trust her worth Sh1t
Cody – Dude I will throw everyone under the bus except for you
Enzo – me to.. i have not and I will not say anything.. that's my blood an Italian kid from jersey I know after this I'm going to hang out with this dude.. I'm with this dude after this
Enzo – I met his fam…
Feeds flip to downstairs
Enzo – I told you YO if we're in the final three I'm taking you then them worry what happens.. let the jury decide who played a better game.. who gives a F*** I dont care..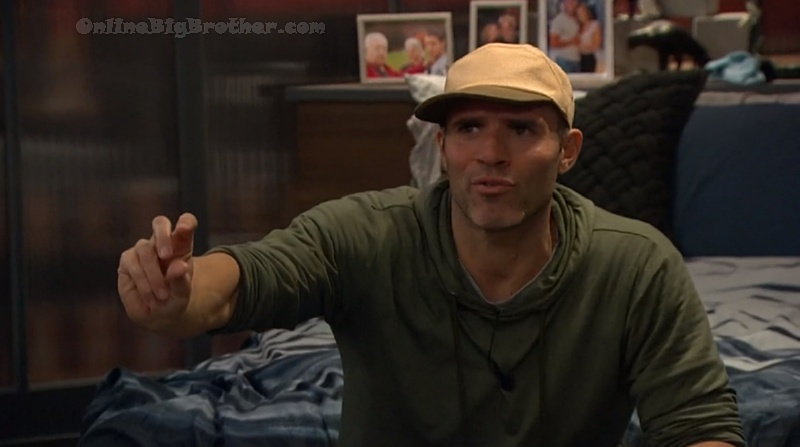 Enzo talks about Ian's Formula to determine his vote "33% loyalty… 33% strategy.. who the f*** knows bro" (see image above)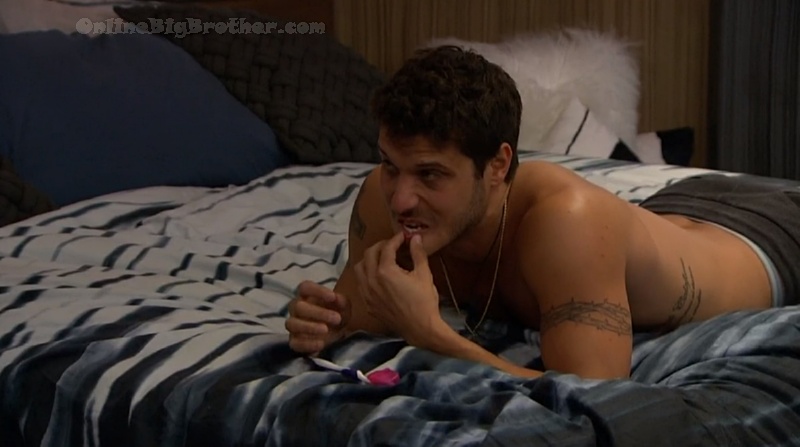 11:08 am Christmas and Cody
Small talk about the HOH letter and his Girlfriends picture
Christmas says their alliance crushed it.
Christmas – has anyone done better than this
Cody – I don't know 7 of 8 HOH have been inside our alliance.
Christmas – that is nasty I want to keep that going
Cody – Kevin was apparently telling Enzo he's going to start dragging sh1t in here.. he's going to mention Dani's name and a bunch of stuff Da'Vonne says..
Feeds flip to downstairs.. We don't get to listen to this conversation .. (Death of feeds continues)
11:22 am We're back to the conversation
Christmas – I love Thursday to Monday and after that f***ing time stops
Christmas says Kevin has been the house "punching bag" she didn't want to make him have not but she did.
Cody – he should have been gone. DA'Vonne shouldn't have used the veto
Christmas – win more vetos
Christmas – we have really talented competitors in this house. Da'Vonne shouldn't have used that it bought him two more weeks of misery (Kevin)
Cody – two more weeks of sitting on the block constantly
Christmas on her way out "before I go as a not HOH just a small request if my name comes up not at all but in any way that you need clarification on ..
Cody – I will come back to you 100 million percent
Christmas – please
COdy – I don't hold sh1t like that
Christmas – thanks I appreciate it
Christmas leaves.
Cody – that was a interesting thing to say on your way out..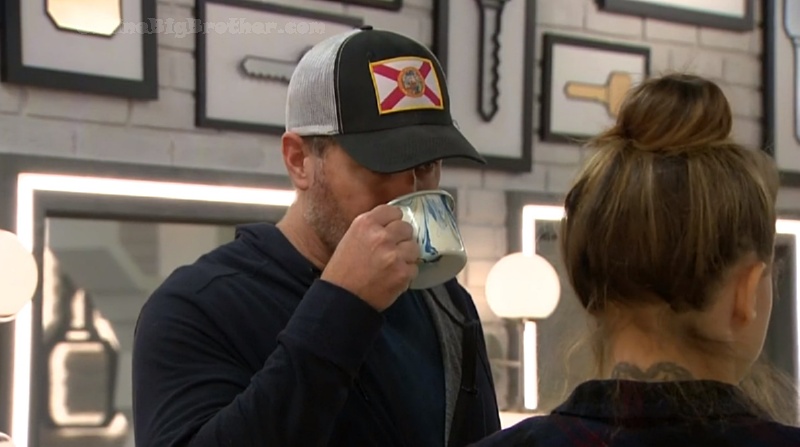 11:47 am Memphis and Christmas
Memphis – everything good
Christmas – yeah
Memphis – good..
Memphis – there's still two other people in this house that Gotta go. If we can get everyone out at 7 and me, you and Enzo have that..
They talk about Dani sinking her game, "You see it, I see it, Enzo sees Tyler sees it and if Cody sees it too .. that's 5 f**Ing people. We want her to keep yapping No one is listening to the shit she's saying.. even if she does win an HOH we sill have numbers'
Christmas – three of them are us
Mempis – well no of course.. I don't think she looks at it as us
Christmas – now that Da'Vonne is out of the picture she's going to stick to the plan
Memphis says dani is getting sloppy..
Nicole comes in.Chit chat.. after she leaves..
They talk about how many people in the house and how many weeks are left.
Christmas – this is going to be a bad week I'm sorry .. Kevin isn't going to take going up lightly.. Kevin isn't going to take going up lightly.. (On Monday you won't take being up lightly)
They start talking about their kids and the pandemic.