HOH: Xavier
Nominations: Azah and Kyland
Power of Veto: Xavier
Power of Veto Ceremony: ?
Big Brother 23 Houseguest Rankings – – RANK THE HOUSEGUESTS –
View the previous day ranks on the – Ranking Grid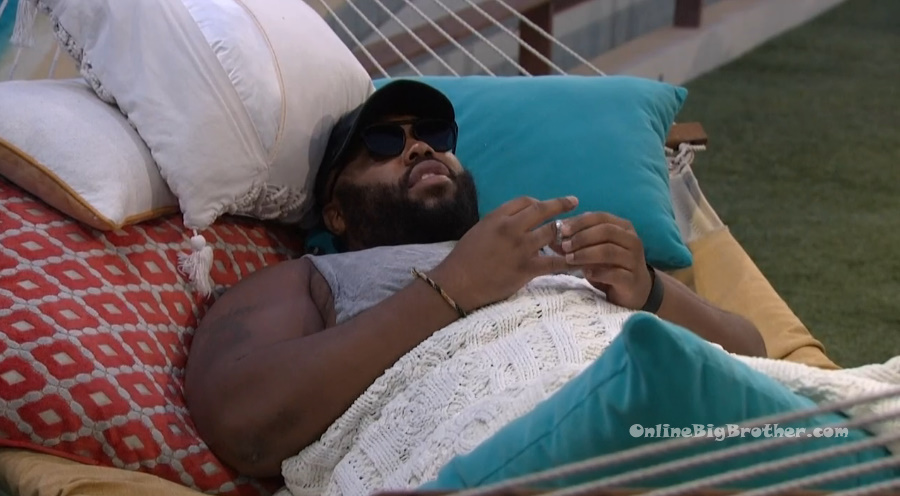 7:25pm Backyard Hammock – Azah is cooking dinner in the kitchen. Meanwhile, Big D is babbling nonsense to the cameras. Big D talks about wanting to meet someone who is the complete opposite of him. Xavier joins him. Xavier – Has Ky ever talked to you about the ability to do something versus the willingness to do something? Big D – I feel like maybe a long time ago. Ky has talked to me about so many things I can't even keep up. Xavier – yeah. No he's said stuff like I think Big D has a willingness to do stuff but not the ability to do stuff. I am kind of thinking of using that as to why I am not using the veto. Big D – you're going to use his own thing against him? Xavier – yeah because you don't have the … you have the willingness to do what needs to get done but you never have the ability AKA you haven't won sh*t. So for me I am like this is an opportunity for him to prove that when he has the ability he will do what needs to get done. Big D – oh Sh*t! Xavier – Unless again you don't want to be put in that position. Big D – No I am going to do it because I am so tired of everybody. I am just.. I think I am just tired of this season of .. I told each and everyone one of these b***hes I am going to send them home and I mean that. Here is the thing even though I didn't have the power I still found a way to make things happen the way I wanted them to happen. Xavier – No, I am not saying that. This is your time to show .. hey I am about what I say! Big D – right, of course. Xavier – because right now I think he wants me to use the veto on him and I want him to not be shocked when I don't. Did you tell him some sh*t like oh it would be great if he used it on you just to take the burden off you or something like that? Big D – I said that like in the beginning because I was not sure what I was going to do. Xavier – okay so here is what we're going to do moving forward. I don't care what you said before. We've always been on the same page. Big D – you can just tell Ky straight up .. because of my jury management I don't want Azah to be upset with me.. Xavier – I'm going to say we've discussed ability versus willingness and I think Big D has the ability to show you that he will do what needs to get done and the only way he can prove that to you. Both of us can prove something to you.. I can prove all right now but to allow Big D to do his portion to show you that he is willing to do what needs to be done I want him to make the vote. Big D – you're talking about a blindside!! Xavier – MMMmmmhmmm. You talking about wanting to be a part of a blindside? I think it has to be a blindside and we have to be the ones to do it. With Azah, I have just trying to make sure she is good. They head inside for dinner.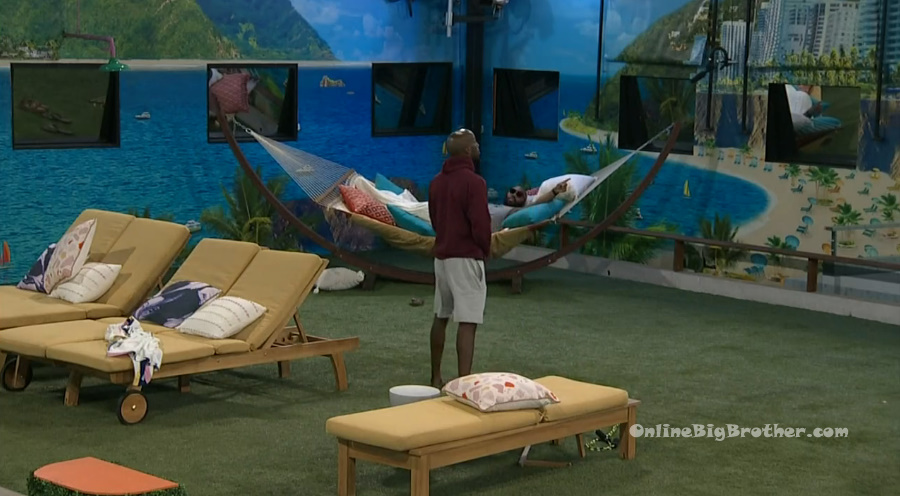 7:45pm – 8:06pm Dinner Time.
8:09pm Big Brother blocks the feeds..
8:41pm Still blocked..
8:54pm The feeds return to Xavier working out in the backyard. Meanwhile Big D is in the living room talking to Ky about how Big Brother is better when its a cast of all new people. Ky – absolutely, I agree.
9:30pm Big D and Ky playing pool..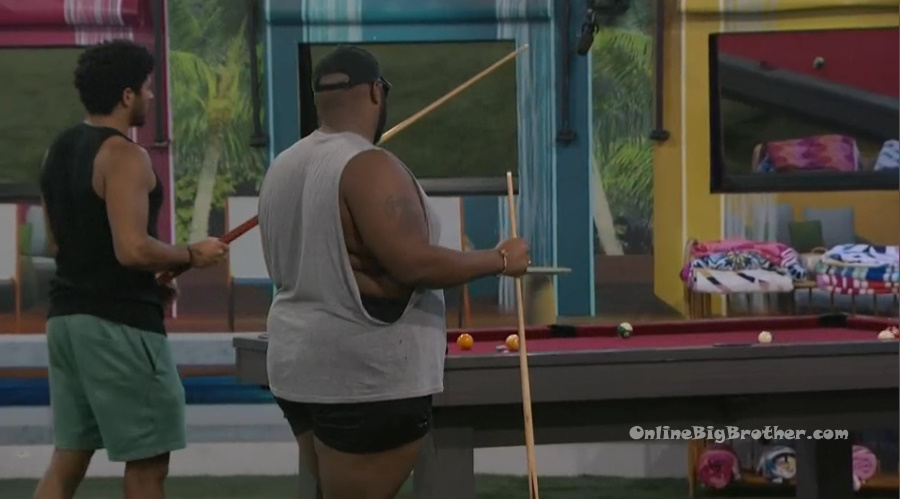 9:37pm Hammock. Kyland talking to the cameras
Ky – No idea if I will be here past final four. ..I shouldn't say no idea.. I have an idea.. The idea is that ……….I will be. Hopefully Xavier follows through and brings me with him. Hopefully he is not playing some crazy deceitful game… randomly after all this time. I feel pretty good about that. You just never know. That's the crazy part about this game. Never really know… This is pretty cool though.. sitting in the hammock in the big brother house. Big D joins but then get called to the diary room. As he's heading inside Azah comes out to join Ky. Big asks her how she's doing. Azah – I'm fine.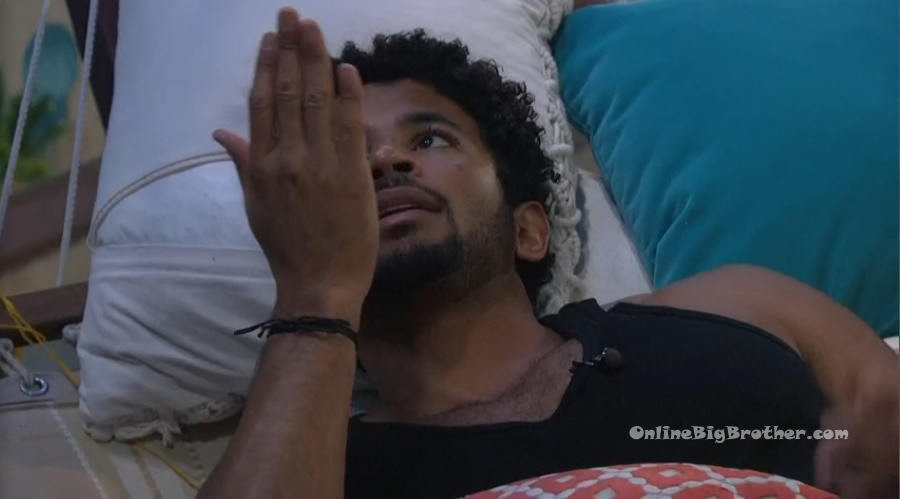 9:50pm Living room. Big D and Xavier.
Xavier – is everything okay? Big D – its just Azah's giving me short answers. Its fine. Its okay. Like she is giving me short answers and for me its like.. Xavier – she is on the block man. This is her first time being on the block. You got to cut her some slack and at this stage in the game to be on the block in nerve wrecking. Big D – I get that! But she is not even …even though I am like is everything okay? Are you alright? Like what's up?! She is not even talking to me. And I am just like .. okay!? Like if we're going to be those type of conniving b***hes.. then I can be a conniving b****h too! But I am trying to be cool, calm and collected. Like I get it you're on the block for the first time.. I get it. Its stressful.. we're at the end… but like how can I .. you're making it really .. Like what's the problem?! She is like I feel like you have resentment.. I don't have resentment but when someone is not giving credit it really does upset me. Xavier – I think for both of you .. you have to stop talking about what you have done and what she has done and what everyone else has done. I just don't think that is leading anywhere productive. No matter who we like or don't like we have to make a decision for what is best for both of us. Big D – Its just frustrating because I have been there for her.. and now that we're at the end .. you want to be all cute all of a sudden!? Its just killing me.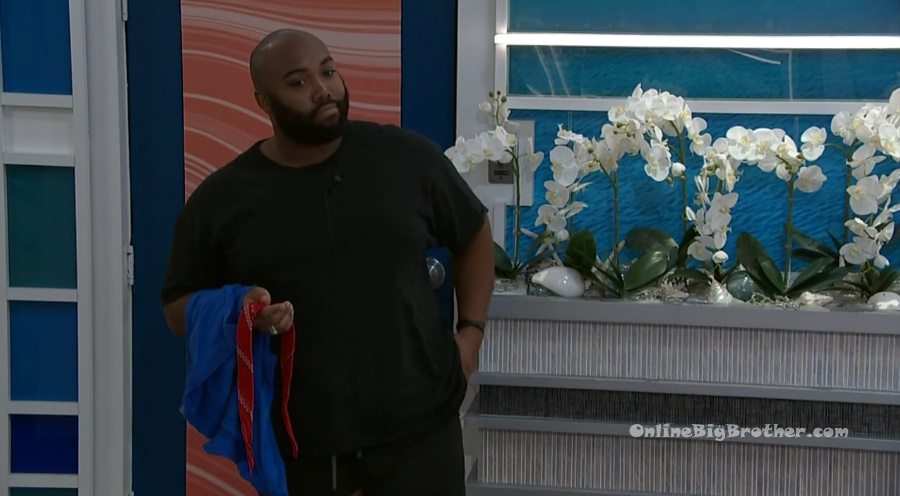 10: 40pm HOH room. Azah is playing cards with Xavier.
11pm Azah and Big D are sleeping…
12:20 – 1:15am Ky is working out in the backyard
If you've enjoyed our updates this season and want to leave a tip you can do so through PayPal. 😉 Thank you to all of our amazing OBB supporters who have already contributed!