POV Holder:
?
POV Competition
Aug 29th
POV Used
?
POV Ceremony
Aug 31st
HOH
Vanessa
Next HOH
Sept 3rd
Original Nominations:
Meg and James
After POV Nominations:
?and ?
Have Nots
Johnny Mac, Julia, James, Meg
Meg and James are nominated
3:41pm Vanessa and James
Vanessa – Nothing personal gamewise that's all it is
Vanessa – there's no specific target.. the best of luck to both of you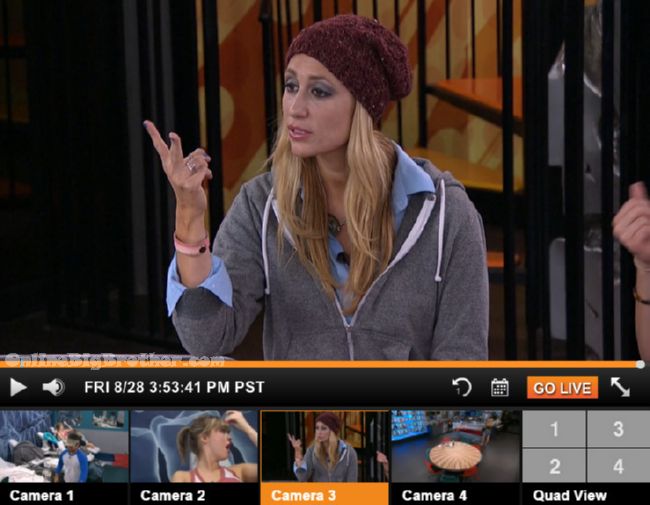 3:42pm Vanessa in the kitchen
Vanessa says she wants to go upstairs but any minute she's going to get called in for her "F****g Meds"
3:53pm
Steve – do you get called 3 times a day for ADHD
Vanessa – no it's twice
Steve – is it for ADHD
Vanessa – no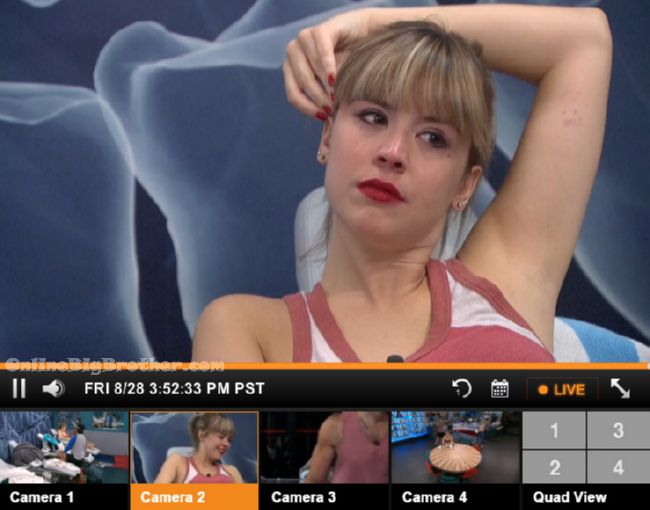 3:46pm Meg and James Have nots
Mewg wishes him good luck getting to final 2 with these people
Meg says the other people in the house have a final 5 deal it's obvious, "I knew it was coming… the way Austin and them were acting… to make us a have nots really… really.. cmon now.."
James mentions how Austin and "Them" were willing to let JOhnny mac take Vanesa out.
Merg – Whatever
James – she said there's no clear target it's me though
James says he's in a tough spot
meg – why
Pause….
Jame s- I dunno I'm just going to have a hard time..
Meg – one of us have got to try and win it
James lets out a big Sigh
James thinks he killed them when he told Vanessa they would put up Austin and a twin.
James – we just moved up on the list
Meg starts to cry "one of us have to win Veto"
Jame s- who would she put up.. Steve or Johnny Mac if I won it.. If you won it she would put Johnny Mac up
Meg – I don't know one of us is going home
James- ya no doubt
James- I always wanted to see the Jury house get the full Big Brother effect
Meg – I gotta put my Big Girl pants on..
3:57pm Vanessa and Meg in the Have not room
Vanessa giving her reason why she nominated them.. It's some convoluted reasoning going back as far back as week 5.
Vanessa – I give you my word it's all true
Meg cracks a grin.. Vanessa says she's being very disrespectful Vanessa is here giving her the benefit of an explanation.
Meg starts to cry "The two of us fought to keep you over Becky"
vanessa says she believes she was the next one to go.
Vanessa calls what she's doing this week a chess move
Vanessa says she knew she had to make a game move this week. She felt personally hurt by everyone. She listened to what everyone had to say and made a strategic move.
Vanessa says she's felt that they were playing her as a fool.
meg starts crying saying everything is being spun "You think you are the fool I feel like I'm being played the fool"
Meg – it's dirty
Meg – If I go this week I'm proud of my game..
Vanessa- people need to go
Meg – If I had some sort of strategic move that I did.. I honestly haven't
Vanessa – you had to we've all made moved and targeted people
Meg- the fact that someone came to you and said I was making fun of you… that's not OK for someone to say at all about me
Meg – if there's one thing in this house I cherish more than game it's how I treat people
Vanessa i'm sorry on a personal level but this was a game move.. nothing else.
Meg is still confused what they did last week
Vanessa says Meg took the opportunity last week to fuel the call to get Vanessa out
Vanessa – you are a powerful women
Meg – I swear to you it was Johnnymac and Steve last week
[envira-gallery id="130946″]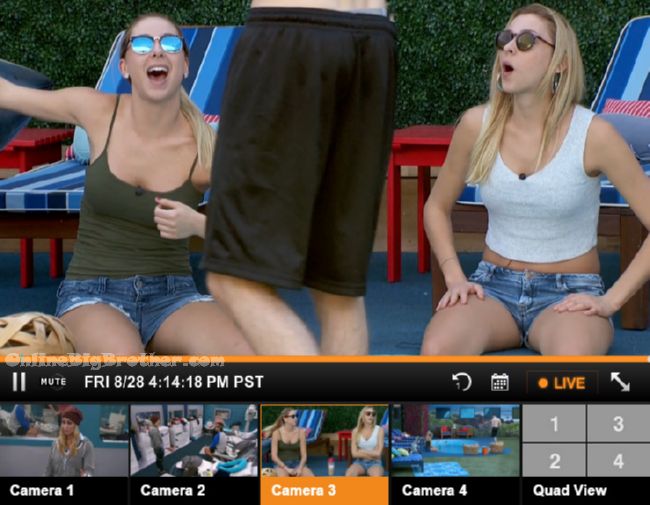 4:14pm Twins and Austin talking about the nominations how they can't talk sh1t about them because the goblins need their vote.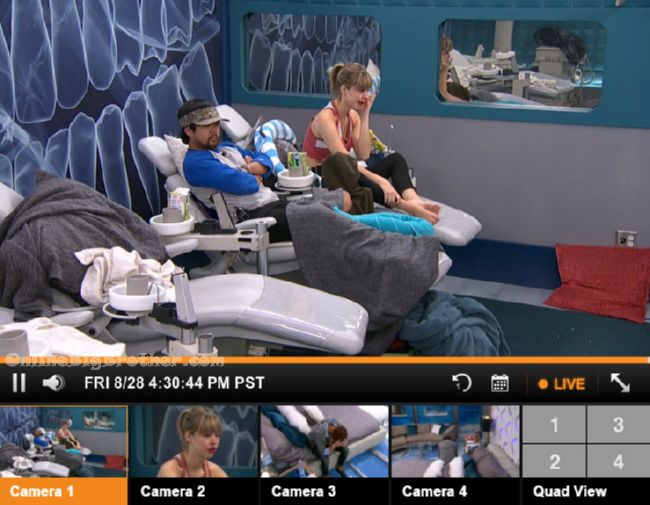 4:29pm Have nots James and Meg
James says they kept too much to themselves they should have snitched more so the target wasn't on them.
Meg – I hate crying in this house it's so embarrassing ..
James – I thought Johnnymac was the Target..
James laughs
Meg tells him she has a better chance to stay if on the block.
they agree Steve or Jmac are going up if one of them come down
James – well I get to play in a veto the most important veto comp
Meg – we haven't even targeted her what the hell
James – I think I shot us in the foot with Austin, that or is was already determined
James- we're the outcast of the week.. nobody will want to talk to us we'll be by ourselves.. which is fine
James – she put us on the block for the littlest things.. You know how petty that is
James – Austin actually targeted you two weeks in a row
Meg – I hope Steve wins, I never thought I would say that ever.. or Johnny Mac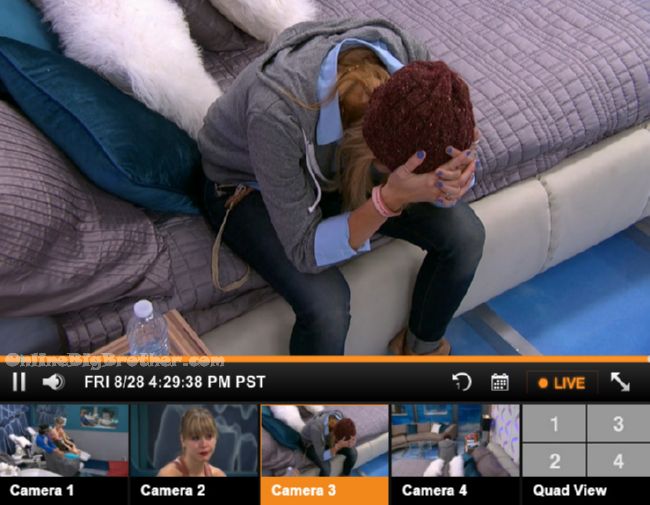 4:29pm HOH Vanessa sad
ALLIANCES:
"Goblins/Gremlins" = James and Meg
"The Generals" = anyone allied with Becky
"SOS" (Students of Sound) = Steve and Vanessa
Rockstars = Steve and Jmac
AUS-Twins = Austin, Julia and Liz
"Austin's Angels" = Austin, Liz, Julia, Vanessa
"Brass Tacks" = Gobins and Austwins
The new "Brass Tacks" = Aus-Twins, Meg, James + Vanessa
"Freaks and Geeks" "The Scamper Squad" = Aus-Twins, Vanessa, Steve
"The new Freaks and Geeks minus Vanessa" = Austin, Liz, Julia, Steve, Johnny Mac
"The Authority" = Austin, Liz, Julia, Steve
[polldaddy poll=9046808]