Watch the feeds for free from the US using a VPN. We recommend HMA https://www.hidemyass.com/vpn/r16399/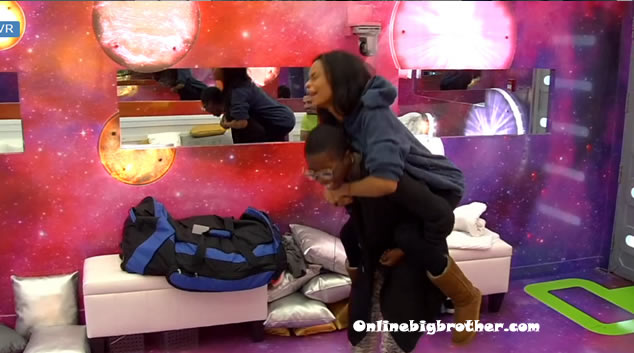 Ika in the morning..
Ika is going on about having a low self esteem disorder.
10:50am Dre and Ika
Ika saying that William has become a bigger target in the house.
Dre wonders is Kevin is going to try to distance himself from William after their talk yesterday.
Ika doesn't think so it's too late to do that.
Ika – Karen calls us a trio.. (Dre,Demetres and Ika)
Ika – if me you and Demetres are together we're on the same page
Ika doesn't understand how William has been on Dre's side from day one and they still need to talk about where they are going to vote.
Dre thinks William is trying to make himself out to be more of a player.
Ika says Kevin told him that Karen and Dillon approached William and she feels they want her out and if they think they have William they will go for it.
Dre – So William is really the deciding vote.
Ika – trust me Karen and Dillon don't want me here
Ika – the only good move of keeping me here is for you and Demetres.. It's not good for Karen it's not good for Dillon
Ika says William, Dillon and Karen are her targets. She gave Kevin 1 week deal and she plans to keep it.
Ika adds "UNLESS WE discuss otherwise" (LOL we = Demetres, Dre and her)
Dre says Kevin isn't reinforcing it with William "lets keep Ika" otherwise William wouldn't be so on the fence.
Ika says if Dillon and Karen decide to keep her and William is on the wrong side of the vote she will take William out.
Ika says William has to be attached to Dre's hip "like a bag" she doesn't want Kevin and William spending too much time together.
Ika – I have never spoken game to William before.. it's very difficult for me to talk to him.
Ika adds that William always says "Kevin is my partner"
Ika – I'm sorry Dre i'm taking him out of this game
Dre – I think Karen needs to go
Ika thinks Karen might put up Kevin and Demetres because she's all about the big moves.
(Ika talking about William)
Ika – how dare you.. sit there and tell me Jackie has never lied to you in this game. When you were considering to evict her on your HOH, How dare you.
Ika – How dare you like have protection from fricken Dre, Demetres won 3 fricken HOH's. How dare you f***g sit and act like that
Ika – If I could have grabbed him and thrown his ass over that figgin balcony I would have done it
Ika – that's how mad I was

Ika says William is not a team player.
Iak adds if she puts Kevin and Dillon up and William wins POV he will use it on Kevin.
Ika – he will f*** you in this game to save Kevin
Dre says she first needs to make sure William will vote her way then they can talk about getting rid of him.
11:15am William and Kevin HOH
William is saying that his gut is saying that he should vote out Ika.
Kevin says he should go with his gut.
Kevin says for his game it's better to keep Ika, "it's not great but it's better"
Kevin – from Dillon's and Karen's perspective it's better to keep Jackie
Kevin says Dillon is going to put the two of them up.

Kevin and William HOH training

Ika and Demetres Red room
Demetres says he doesn't like Kevin and Dillon being in the game he would like kevin gone soon. Demetres stresses if they go back on their word they have to make it count.If he puts Keivn and Dillon up William wins POV Kevin comes down karen goes up and Dillon leaves.
Demetres says he's played a straight up game but always knew he was going to break it once.
Demetres says Dillon and Karen are talking about Jackie leaving, "I might just chuck them on the block anyways"
Ika – Dillon, Kevin or William have to leave next week
They seem to agree that Kevin is only doing their deal so he can get the 1 week of safety from them. Demetres is worried that the house will target them once Kevin is gone. Dre will put up him and Karen.
Ika wouldn't mind Kevin in the house if William was gone.
Ika says they have to let Dre win HOH and make her put William up "We make her"
Demetres says Dre will throw the HOH and it pisses him off that she relies on them to win
Ika says she'll put up Dre and William.
Demetres doesn't think that's good for their game, "Dre leaving is bad"
Ika brings up William saying that Kevin is his partner in the house, "I wanted to punch him in the face"
Demetres – I've wanted to do that for awhile.
4:45pm Ika and William
Ika says a lot in this conversation. Shifting blame to Dillon. Telling him that she had a deal with Kevin and Dre. Telling him that Dillon, Dre and Karen have all said William is the biggest target because he's with Kevin. She says it's best that her, Demetres, William and Kevin go as far as possible together because everyone see's them as duos. She tried to paint Dillon as the target next week.
Ika – I want Dillon gone
Ika says she will not put William up swears on it. William says he believes her.
Ika says Kevin is not safe unless her, William or Demetres wins HOH.
Ika – "I swear to god on my children" Dre told her she will put up Kevin and Demetres.
Ika tells him people underestimate him because of his accent.
Ika – I will take you to final 4 I don't care..
Karen and William Red Room
William – I thought Dillon wanted Ika out? Karen – he has gone back and forth. William – why? Karen – I don't know. Maybe because of Dre. William – I thought you were really close to Dillon? Karen – I am but there have been so many people around .. every time Jackie is around. William – at this point I think I am going to vote Jackie out. Karen – vote to evict Jackie. We're all five.. me, you, Demetres… William – don't tell her though. Karen – no. Oh god no! Are you kidding me!? I'm trying to avoid her. She thinks she's staying. right? William – yeah. Karen – we can't act any different. We have to make sure all 3 of us. So it doesn't go the other way where 2 of us vote Ika and it looks bad. Does Dre think we're voting Ika out right now? William – honestly she doesn't know what's going to happen still. Karen – but which ever way me and Dillon vote .. you'll vote that way? William – MMMmm…Hmmm. For sure. Karen – Once Kevin said he didn't care .. Dillon was like well why don't we get Jackie out now .. because we've dragged her along for so long. And I said okay.. but we want to make sure everyone is on the same side. William – okay.
Ika and Kevin HOH part 1

Ika and Dre have not room

William and Kevin HOH

William and Dre Red Room
William tells her about the final 4 that was made between Kevin, Him, Ika and Demetres. Added that Ika said that Dre was targeting Kevin.
Dre says Canada must think they are stupid for them keeping Ika.
Dre wants Ika gone now stresses that Ika has made a final 4 with everyone in the house to keep her safe.
Dre starts speaking in french..
Production – "DRE"
Dre says with Ika's gone it's better for Jackie, Dillon Karen and William's game. the only people that have an advantage if she stays is Demetres and her.
William says he wasn't going to take the final 4 deal and neither was Kevin.
Dre – I'm going to vote her out (Ika) and if she stays we're going to have a turnup (LOL another turnip)
(Looks like Ika's overplaying has finally caught up to her)

Kevin and William in the storage room

9:16pm Dillon and Dre
Dre says she's going to vote Ika out. Stressing that Ika is making final 4 deals with Kevin, Demetres, and William..
Dillon – you think we're getting played.
Dre – you're not getting played I'm getting played and I'm done..
Dre says she's telling people that Dre is going after Kevin.
Dre – y'all think Ika's the only one that can turnup
Dillon wonders if maybe Kevin told William that Ika said that to cause a fight.
Dre says it didn't happen that way Ika told William directly.
Dillon – I think it's better for my game if she goes
Dre – why were you willing to keep her
Dillon – because of you.. I didn't want it to be 4-2
Dillon still seems to think this is a ploy by Kevin.. (LOL)
Dre is going to confirm with William that Ika told Dre is putting Kevin up. If he'll swear to that Dre will vote Ika out.
Karen and Dillon bathroom
Karen coming up with some crazy ideas to not vote Ika out.

10:36pm Dre Dillon and William
Dre starts talking in French. They ask Dillon for a few minutes in private.
William says Ika's targets are Dillon and Karen.
William adds that Ika is saying that Dre will put Kevin up. Says he was surprised by that.
William thinks Ika said that to hope that he would use Dre as a replacement nomination.
William swears on his mother that Ika told him Dre is targeting Kevin.
Dre says tomorrow she is going to vote Ika out if they want to do it that's fine it won't change what she will do.
Dre adds if she's the only person that did that she's going to own up to it, "This is me taking a stand.. I swear on my mom my sister"
Dre is called into the Diary room. (Production isn't happy with her trying to flip the house to evict Ika)
10:43pm Dillon and Ika Red Room
Dillon tells Ika Dre is acting weird.
11:00pm William and Kevin in the HOH
William tells him he doesn't think Dre is going to keep Ika.
William – I think he wants Ika out. Kevin – Dillon wants Ika out? William – I think so. Kevin – ok, that's good for us then because that shows that they probably don't have a deal like we though. That makes me feel better if he actually wants Ika out. That makes me like trust Ika and Demetres for next week. Kevin – but he said he wants Ika out? William – I don't know, I really don't know. I think he was going back and forth do we keep Ika?! I was just trying to read his mind. I think he wants Ika out but he wouldn't say because I don't think he trusts me. Kevin – Dillon is our biggest threat because I think he is the only one that would put us up together. If he was like I want Ika to stay .. that would be a red flag .. but the fact that he is flip flopping. William – yeah, I know. I don't sleep for 3 days because of this vote. Kevin – don't be stressed. William – I don't want to go home tomorrow. Kevin – we both need to survive tomorrow. I think if Ika does stay and wins HOH I think she would put up Dillon and Karen. I do think .. not for the long term but for this week she would keep us safe. Jackie would put up me and Dre. William – I don't think Ika is going to keep Dre… that's the thing. Kevin – you don't think Dre is going to keep Ika? This vote… William – don't tell Ika. Kevin – I won't. F**k it could go either way. William – Dre thinks that Ika is playing her and she's not.
11:00pm Dillon and Karen
Karen – you f**kers call me ______ sh*t and I.. Dillon – we don't Karen. Karen – you don't want me to tell you I told you so .. ok, I won't. I told you f**king so! OOOHHH MY GOD you guys! Ok, where are we going because I want to hear this? Dillon – lets go down to the kitchen or something. Karen – Kevin even came in here and said well I don't have the energy but all the people are running around making deals. I'm like oh brother. Dillon – its crazy. Karen – some times you'll know I'm not just crazy. Dillon – I don't think you're crazy. Paranoid yes! Karen – but for good reason. And Dre just came in here and didn't say nothing and then went down stairs. I'm like what the hell did I do? Dillon – She's going against Ika, her best friend who kept her safe the whole game… now she's going after her.. or saying that. Karen – did you just blow it up to Ika in front of Dre? Dillon – no, but I went to Ika and said Dre's saying stuff …. like when I went in the room to talk to William …we weren't in the room for 2 seconds and Dre comes flying in through the door. (Talking french) How about a little English for me? Can we just have 5 minutes? It was so weird. She is trying to flip the votes or get me and you to vote against. Karen – I tried to tell you that. Dillon – I know. I know. They head downstairs.
11:09pm Dillon Karen and Ika
They tell Ika they are voting Jackie out.
Karen – it should be 5 zero
Ika thinks that Dre is being shady because she wants Dillon and Karen to be the only ones that vote Ika out.
11:14pm Dillon, Jackie, Demetres and Ika
Dillon spills everything Dre has told him.. (He's the new Jackie)
[polldaddy poll=9734567]
[polldaddy poll=9734569]