POV Holder:
Clay
Next POV
July 25th
POV Used
Yes
POV Ceremony
July 27th
HOH Winner Team 1:
Jackie
HOH Winner Team 2:
Vanessa
Nominations 1 :
James & Liz
Nominations 2:
Clay & Becky
Battle of the Block Winner
James and Liz
Next HOH/ Next BOB
July 30th / July 24th
Original Nominations:
Clay and Becky
Current Nominations:
Jason & Becky
Have Nots
Shelli, Clay and Steve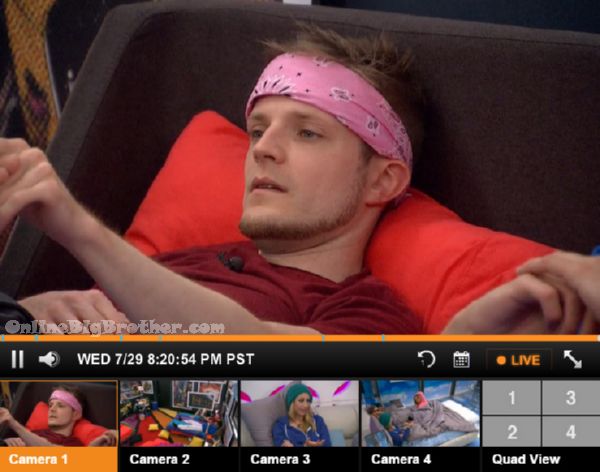 8:16pm Jmac and Steve
Cornell gave him 110% of his demonstrated need because he's 1/16th Cherokee. He's fine with student fees and if he makes it to Jury he'll have enough to pay off whatever debt he incurred while getting his degree.
Jmac says there wasn't any scholarships available for him all he got was 10 grand, His education was 50 grand a year. he owes 250K in debt, "I pay 3 grand a month, it'll take me 10 years"
Steve says Andy posted a picture of his cheque and it was 362K
Steve says America is the only country that saddles their youth with massive loans to complete a education.
Steve says the average Cornell student is well off, and a lot of the students are from alumni. Steve's dad went to cornell for agriculture and when he graduated he was drafted to go to war in Vietnam.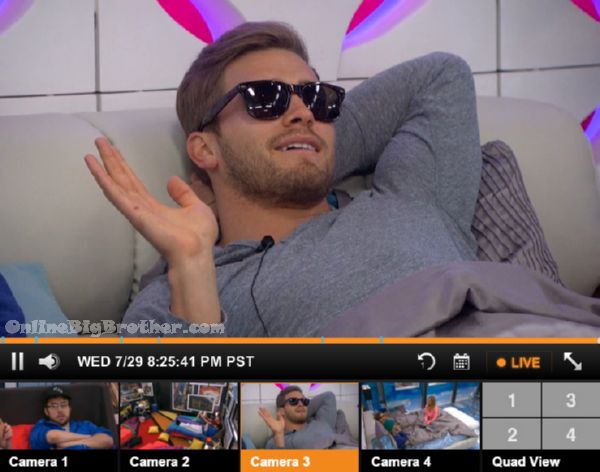 8:20pm HOH Clay, Shelli and Vanessa
Vanessa thought John was going to be a d1ck, "I was wrong on that"
They agree Jace and Steve are just like they thought. Vanessa says Shelli and Clay are far more friendly than she thought they would be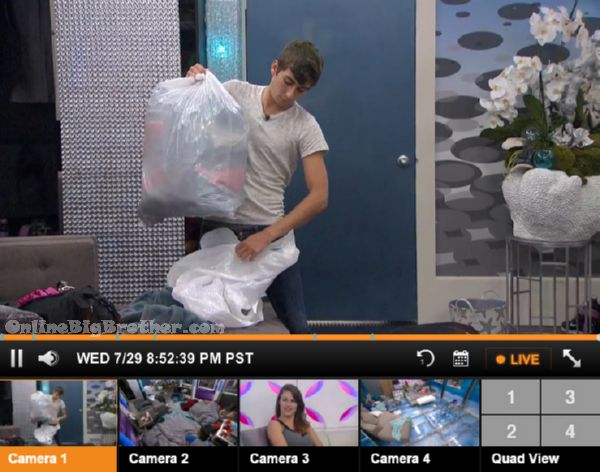 8:30pm Jason packing . Meg, jackie and James chatting
Jason says JohnnyMac and Steve are weird. Big Brother tells john and steve to stop talking about production.
Jason – Nobody can keep their mouth shut in here"
Meg laughs
Jackie says this sucks what happened this week
James – we have to win to get back the power
Jackie – I did win.. that's the thing.. f****
8:43pm Meg says she can't stand to hear Clay and Shelli talk any more today.
8:50pm Meg to James "If he goes home tomorrow I'm done"
Meg says she's not putting her target straight up she's going to backdoor her target
James starts talking about the HOH competition tomorrow
Meg – Ugh I hope it's not running
Jason comes back from the Diary room
8:57pm Ausitn and liz are told to stop talking about production
Jason – I hate those two so much
Meg – they're like a married couple
Jason – Married in the 7th ring of hell
Meg – it's so weird
[envira-gallery id="124901″]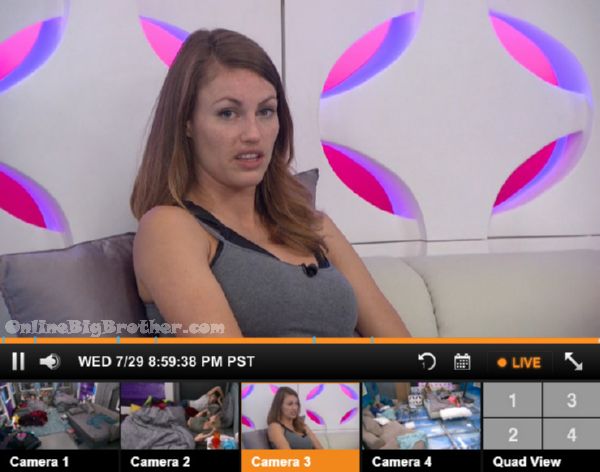 9:00pm HOH Shelli, Becky, Vanessa and Clay
Becky says she will put up Austin and Steve she would want the POV to be played to backdoor James, "Personal level it make sense and at a game level with us it makes sense"
Vanessa – what if you are HOH with Steve
Becky – put up Meg..
(For all that is holy in the game I hope Becky is stringing them along)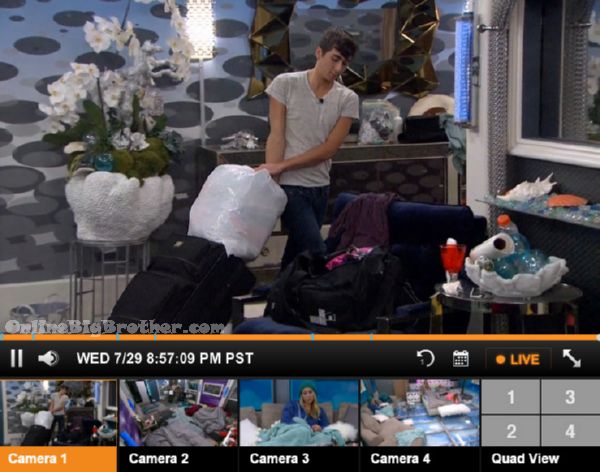 9:02pm Jackie, Jason, James and Meg
Meg says she's sure she's going up next week
Jackie thinks Austin will go after steve
jason doesn't think so mentions how close they are
Jackie says Vanessa was telling her she never talks game with Austin 'Then why did you f****g save him"
Jackie adds Vanessa is saying Austin hates Steve
Jason – she's never downstairs she's HOH
James – you really want to put a fire under Austin's a$$ get rid of Liz.. there's so many people we need to get rid of.
James and Jackie leave. Jason is hoping he gets a moment in the HOH to talk to them. He's blaming Production for calling Shelli/Clay into the Diary room so much today and spooking them so they won't be receptive to what Meg talked to them about last night.
Jason is going to pull on the loyalty and the paranoia.
Meg – what's crazy if the noms were the same we would be the only ones voting for Clay.. to stay.. the rest of the house will take the opportunity to take him out
Jason – can we sell that to him
Meg – I don't know you have to try everything Jason
Jadon – I know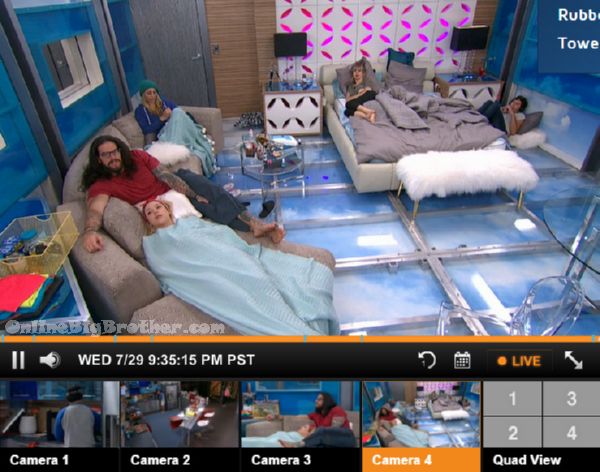 9:35pm HOH Austin, Liz, Vanessa, Jason and Meg
Chit chating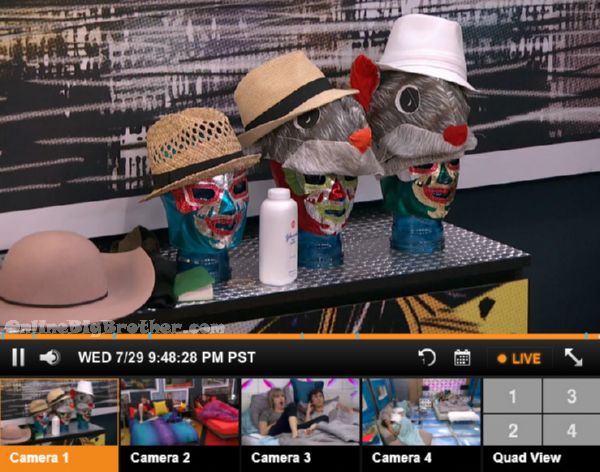 9:50pm Jmac and Becky
Chit chat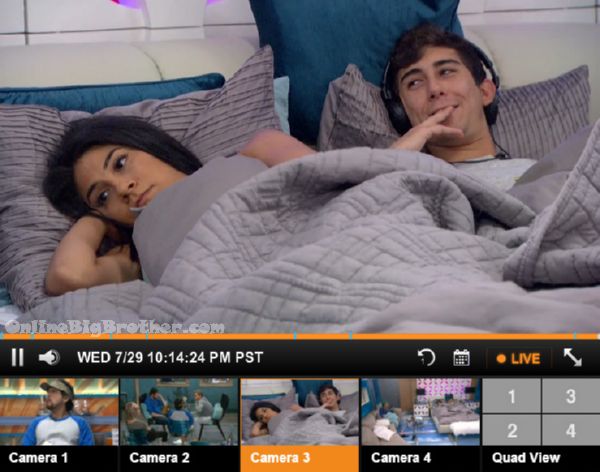 10:10pm HOH Jackie, Jason and Vanessa
Jason says it kills him he's going home before Jury "Even Jocasta made it to Jury"
Jason adds what else burns him are all these recruits, someone found on tinder is going to beat him make and get that Jury cheque.
Jason says he doesn't regret anything, he thought he was going to be better at competitions and the social game. If anything he had higher expectations for himself, "But I tried"
Jason is going to leave with dignity and respect he's not going to blow anyone's game up.
Vanessa – it's important to have you dignity and important to give it everything you got.. give it everything you got.
Vanessa says she's was a finalist for 2011 Amazing race to do it with her ex husband, "I've applied to this, Survivor and the race ever since"
Jason says he only applied to big brother one other year.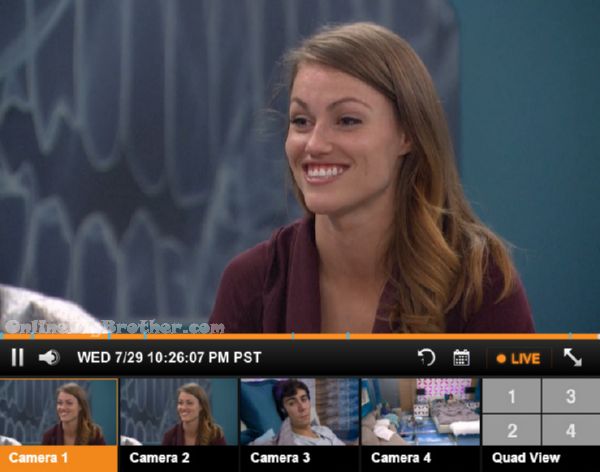 10:20pm Becky talking about how loyal she is to shelli and clay. Becky is a little bit concerned about the questions Clay was asking her. Clay asked her who she was targeting. . Shelli tells her Clay is really worried about Jackie that is why he was asking her.
Becky going on about how they are "loyal people"
Becky – I've had a 40 day connection with her.. I don't have control of the mustang I can steer it but I don't have control (LOL Jackie is the mustang)
Becky talking about taking out James and pulling Jackie and Meg in she calls James the "Middle Man" Becky wants to use this alliance to take out the Twins and Austin.
Becky saying the four of them will change the season They are all so loyal. (Shelli, Clay and Vanessa)
Becky is so happy smiles ear to ear.
Becky wants to call this alliance "The Generals"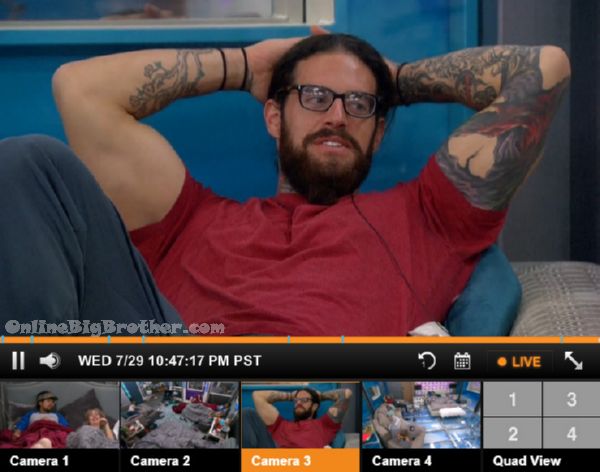 10:43pm HOH Clay and Vanessa
Clay wondering if they should throw a vote to Jason to throw people off. Vanessa says it's way too risky "if there's one mystery vote and one of us vote there's five.. it's not worth the small benefit"
Clay agrees.
Clay says they have to tell Meg they're not with Austin and the twins in case that side wins both HOH's they'll go after them.
Vanessa is worried about doing that just incase Meg wins the HOH she might spill it.
Austin comes in says he had a long Diary room session. Austin says he really needs to focus to win this HOH because he wants his kiss, "She said passionate kiss"
(Liz told Austin she would give him a passionate kiss if he won HOH)
Austin calls Clay and Shelli the jeff and JOrdan and him and Liz are the Brenchels.
Clay – who do you want gone
Austin – Jackie, I'm terrified about it.
They agree Jackie is vindictive. Austin thinks it's still lingering from Jeff, "She's getting Jeff out"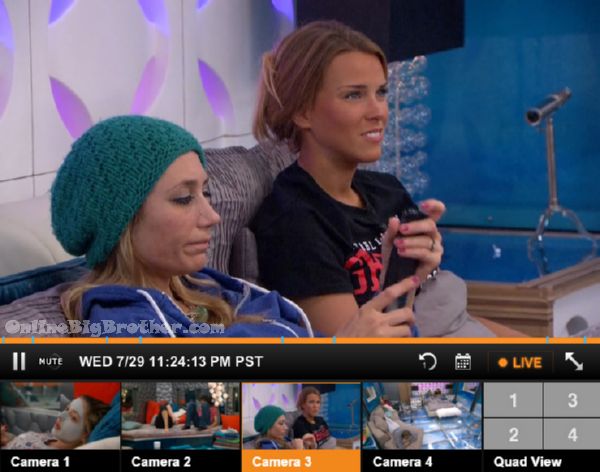 11:00pm Austin calls James, Meg and Jackie the minions. Vanessa asks what if the minions win the HOH. Austin think they might be able to get Clay to sway James's. Vanessa thinks the minions will target them if they both win the HOH. Vanessa calculates there's 6% chance both of the HOH will be won by the minions, there's a 54% chance the minions side wins one spot. Their chances For winning both spots is 56%.
Austin laughs because of the kiss Liz will give him there's a 100% chance. Shelli joins them. Points out they've won all the HOH's.
Austin brings up the passionate kiss he gets from Liz if he wins the HOH
Vanesa – more than 5 seconds.. he's fired up horny goat weed style
Shelli – without the need for horny goat weed.
Vanessa – he's like a bull being primed for a rodeo
Vanessa says the other side hasn't talked any game to her.
Shelli – jason seems to be conceding
Austin thinks they are waiting until late tonight.
They talk about the other side being so close to steve lately, Austin scoffs says they've had a relationship with steve for the last 40 days. Steve wouldn't throw that relationship away for people that never talked to him before.
Shelli – it's funny our group is so good..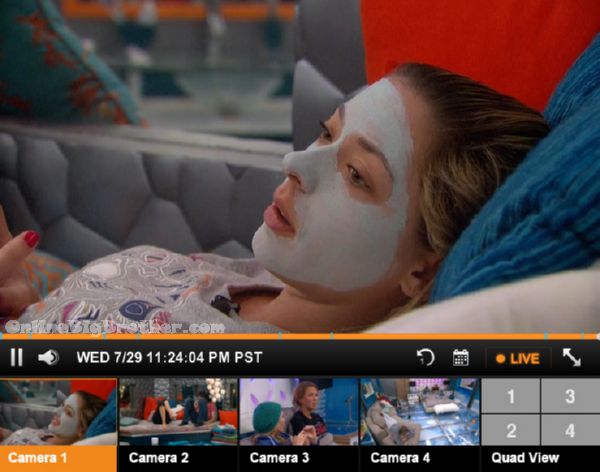 11:25pm Liz tells Steve Austin has a girlfriend she's not down with that she doesn't want to be seen as a homewrecker.
Liz – I'm not married like Christine
they agree Christine got a raw deal last year.
Liz says Austin follows her around like a puppy dog she excited for her sister to come in so she can spend time with her.
Liz isn't into Austin's type of guys she thinks she gave him the wrong idea early on and now she's in a "Pickle"
Liz – when Julia comes in it'll be easier
Steve recommends she doesn't appear too close with Julia
1:44pm HOH CLay, Shelli and Vanessa
Shelli saying how loyal Becky is. Shelli and Vanessa thinks Becky is being so cute coming up with an alliance name.
Shelli – she's so bright eyed about it.
11:45pm bathroom Liz and Austin
Liz is worried when Julia comes in they are targets. Austin isn't as worried says they have their alliance they just have can't have "Those three" the minions win because then they will target the twins.
11:56pm HOH Clay, Vanessa and Shelli talking about winning HOH again this coming week. Everyone else downstairs bowling or listening to Austin's medieval knight story.
[polldaddy poll=8994045]
Share it YO!!
Tweet