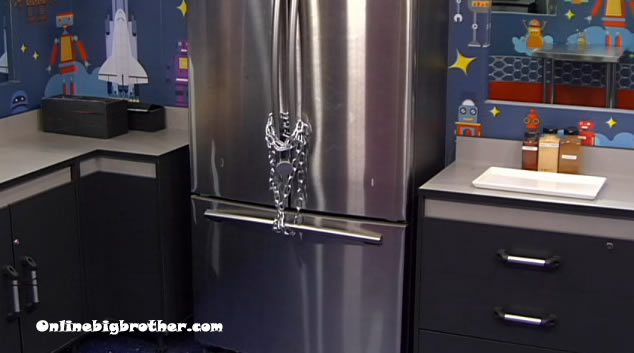 Tonight is double eviction. I'm pretty certain Emily will be going home first. After that it's anybody's guess. No one is really safe at this point. There has been tweets that the houseguests will be kept up all night and the feeds will be left on. I think there will be an endurance for the second HOH tonight. If it's pressure cooker I'll be the happiest Big Brother Fan ever. According to tweets from Arisa The standard feed outage we've had every Easter long weekend will not happen this year.
Watch the feeds for free from the US using a VPN we recommend HMA https://www.hidemyass.com/vpn/r16399/
Spoilers
Emily was evicted 8-1 (Dre voting ouy Dillon)
Sindy won HOH
Sindy nominated Dillon and Jackie
Jackie won the veto
Sindy nominated Neda
Neda was evicted by a vote of 7-1 (Jackie being her only vote)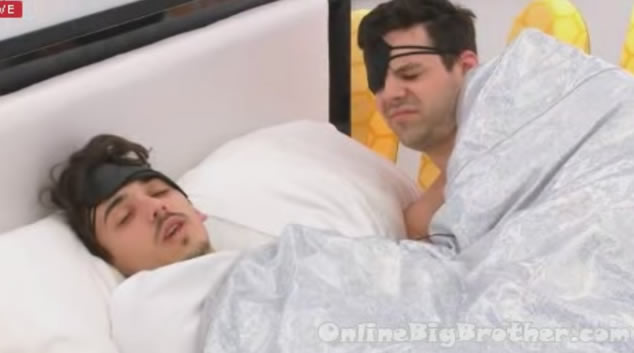 Karen discovers the Slop..
All the food has been removed from the storage room and the fridge is chained up. No Idea why but all the houseguests have to eat this morning is slop.

Ika tells Karen that EMily just came to her and thinks she's staying.
Ika and The Greek trying to figure why the fridge is locked and all they have to eat is slop.
Ika says the other side told EMily that she's staying
Demetres – why are they doing that or are they lying to us
Ika says they are lying to Emily.
Demetres doesn't understand why "they don't have the heart to tell her"
Demetres – I think someone should tell her I don't want it to be me
Ika says if Emily thinks she's staying then she won't tell Dillon to go after them *Bruno, Neda, Kevin)
Demetres adds if Emily find out she's going home she might start chucking sh1t under the bus and smearing sh1t last minute.
Demetres and Ika feel bad for Emily they call the other side F*** assholes.. (of course they forget what they did to Cassandra)
Demetres – I had to tell f***g Gary.. those F****G losers..
Demetres has a pair of lucky boxers Ika tells him to make sure he wears those for today.
[polldaddy poll=9723834]