Watch the feeds for free from the US using a VPN we recommend HMA https://www.hidemyass.com/vpn/r16399/
(FYI Videos can take from 10-60 minutes to upload)
Dre and William HOH
Dre says if they remove William they lose the Kevin-William link to their side but if they remove Dre that link remains. She thinks she'll be the target.
Dre – if it's a double or instant.. Kevin/Bruno always
William – why Kevin
William suggests Neda.
Dre – what does Kevin bring you
William – hes a friend
William points out right now it's not working with Kevin but with Bruno or Neda gone it might, "game changes every day"
William wants to put up Bruno and Neda and target Bruno says he's the glue that links Neda with Kevin.
The replacement nomination would be Sindy. William is certain Kevin/Bruno on the block Kevin would go home.
Dre says it's hard because she doesn't see what he's getting from Kevin.
Demetres, Kevin and Ika
Ika says Dre and William hate Bruno. Kevin says there was personal stuff told to William how he's playing William using his sexuality.
Kevin – I've only treated him with respect I've never said bad things about him.
Ika says Dre feels that Kevin has more of a hold on William.
Kevin – it's an emotional connection for sure.
Ika says Dre and William aren't gamers.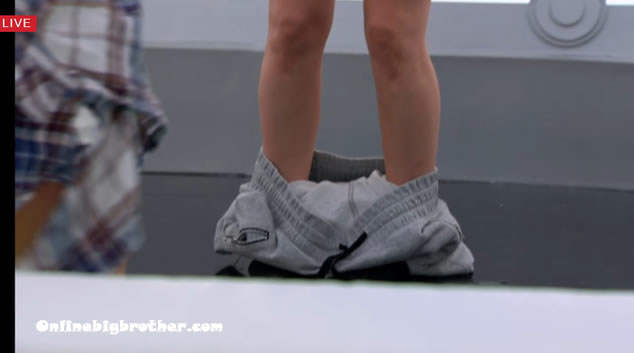 7:40pm Dance lessons by Sindy
7:57pm Neda and Dillon Blue Room
Neda says if she wins the veto she'll use it on him just this week was all f***d up. Neda goes on about hos much they like Dillon and have tried to keep him safe. neda says that she stuck her neck out for him to the point where Ika isn't even looking at her.
Neda – I will fight for you to stay in this game..
They talk about how Dre and Ika hate Jackie.
Neda doesn't understand why.
Dillon says he's got her back more than anyone else in the group
Neda says she feels the same..
9:14pm HOH Sindy Demetres and Ika
Sindy says she talked to Bruno, "It's a lot better" adds that Bruno is not against the 6 he wants it to stick together. Sindy says she's pushing Bruno hard to trust Ika.
Ika says today Neda was not around she had the most amazing day.
Sindy says Neda was with Jackie all day.
Ika says Neda is allergic to fun. (LOL).

Demetres joins them. .
Talking about the Neda and Ika argument.
Sindy says Bruno use to be on the same page with Neda.
Karen and Ika. Karen – Neda always acts weird to me. Ika – she's so weird. Karen – she never talks to me. Ika – she's never happy. How can you talk to an unhappy person like that. She's a drag. I don't even want to talk to her. I don't talk to her. I talk to her as little as possible. Karen – and did she act like that on your season? Ika – she was always a friggin' drag to be quite honest.. always self absorbed. All about herself.
11:00pm Bruno and Sindy. Bruno – lets just not… If Neda b***hes to us about Ika lets just leave it at that. Lets not spread it. If Ika b***hes about Neda, lets just not say anything. It stays with us because that's where the problem is. They have a problem with each other, they're using us as the middle men. It needs to stop. Sindy – she is really worried that Neda is feeding into your head to hate her. Bruno – I don't hate Ika. I talked to her. You know what I feel bad. I actually love Ika. Ika is probably one of my favourite people in here. I really like Ika and I feel like we're in the middle. I'm trying to keep both sides happy and they're fighting with each other and we're stuck in the middle. Its almost like were going to be forced to choose a side.
11:30pm Kevin and William HOH

Dre & Ika in the bathroom – Dillon comes into the bathroom talking about rap music and then leaves. Ika – I like him sometimes. Dre – what do you mean sometimes? We're keeping him. Ika – only sometimes I like that boy. Dre – you better like him now because we're keeping him and he needs to not put you on the block or me or any of us. Ika – do you think he would Dre? Dre – I'm going to talk to him. He wouldn't. He's not going to put you up. Ika – I don't know .. Neda don't like me so she might get him to put me on the block. Dre – I'm going to tell him – Dillon … we saved you!!! Ika was there on the bench trying to save you. What was Neda doing? What was she doing?! Where was she when you were struggling!? Where was she?! Ika is laughing. Dre – these are the facts! He wants to say he's 100% real? Then we'll see. Ika – then I think you could talk to him. Or maybe even Karen. Ika – what he needs to know is that when I leave here you go after them.. because when she tells him that it will stay in his head. Dre – are you sure they're not trying to flip the vote on us? Ika – they're not …they're keeping him. They're not. I'm telling you they're not. Sindy, I don't think she would lie to me. I don't and she doesn't like Neda right now. Dre – I feel like I can tell him don't go after Ika, Demetres or Will. Go after the people that did you wrong. We didn't do you wrong. What did we do?!
[polldaddy poll=9718569]