Head of Household: VIC
Nominations: Breydon and Austin
The Power of Veto Players are: Ro, Vic, Breydon, Austin, Ty
POwer of Veto Winner: Ro
Power of Veto Ceremony: Rohan did not use the veto.
Have nots: Ro, Vic, Breydon, Austin
Big Brother Spoilers – We got real flip energy going on this morning. This group will waffle HARD get ready for a long day of circular conversations. Austin's pitch appears to have worked on Beth a bit. Interesting…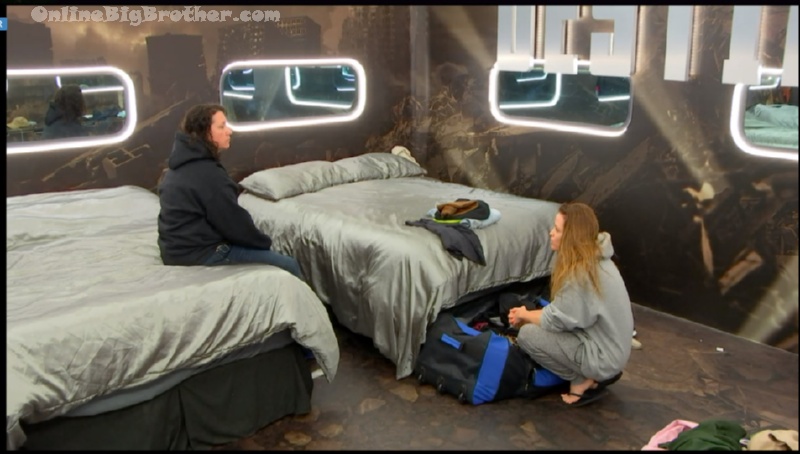 10:45 am Tera and Tina
Tina – I am irritated like beyond.. oh my god..
Tera – unless we can get through to VIC
Tina – Vic's going to run right to them though
Tera – she might not have a vote anyways
Tina – whatever we say to her goes right back to them
Tina brings up an instance yesterday where Ro was talking to Vic about the vote and 2 minutes later Vic is with Jed telling him
Tina – Vic cannot be trusted
Tera – I think she's HOH, She doesn't have a vote anyways
Tera – if we keep putting ourselves in this position it's just a matter of time until we no longer have numbers
Tera – what do you think is the best course of action, give them what they want again?
Tina – depends on the conversations today, I would love to switch it up on them but I don't know what that will do for our game.
Tera – I just wish I could get through to Kiefer it would come down to him
Tera – I think Vic is the invisible HOH, Austin is convinced it is Ty
Tera – I don't think it's Ty I really don't
Tina thinks it's Vic more than Ty
Tera – I don't want to keep putting us in this position where we are sitting ducks
Tina – if the guys are staying true to their word we can get to a six with them and then we can switch it up with me, you, and Keif. But then it's me, you and Kief against Jed, Ty, and Beth
Tera – Kief will go where the power is
Tina – no at that point Kief will be with us to try and take them out but we have to get to that point. IS that the right move to wait for that? (No because you are next on the list to go)
Tera – I know for sure Austin will go after the three 1000 percent.
Tina says Kief is afraid if the shot is taken now and he misses then the three will come after him right away.
They agree the three will take a shot at Kiefer not matter what they won't want to go up against him in the end.
Tina – he's well-liked he's won competitions.
Tina – Beth is getting under my skin like you wouldn't believe
Tera – they are so obvious that those three are so tight
Tina – Ty has to see that Beth and Jed are like that. how does Ty feel about that? I almost want to have a conversation with him but you have to be delicate with him too.
Tera – he's even made comments like I wonder how I look in this situation
Tera – we have to win, they are running the house we don't even have a say. It's insanity. It's insanity
Tera – they will not put up Breydon there's no way
Tera says "nobody thinks Vic is the HOH"
Tera – I do think Vic is the HOH, I don't think she used the slop pass.
Tera thinks Vic's planning was if she made a stealth move like this that Canada would award her Skip the dishes and she could save her slop pass
Tera – we can't count on her vote
Tina – I don't think so I've been saying for a couple of weeks now I don't trust her
Tera doesn't think Kief will switch up his vote. "He gets too stubborn.. like about personal stuff. I don't care if you don't like her"
Tera – she's not coming for you she's going after the three which you need someone to do.
Tera – it's only a matter of time before they come after our three (Kiefer, Tina, tera)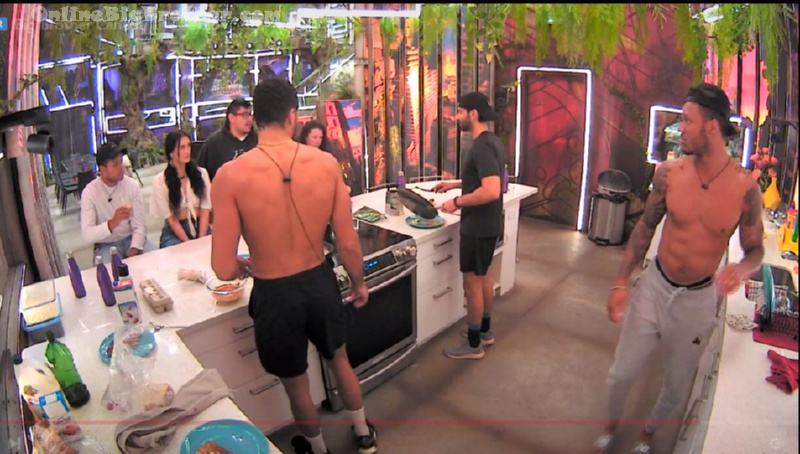 11:00 am kitchen (Ro is making himself some eggs)
Kiefer – Ro what is that?
Ro – scrambled eggs and cheese, it's watery because of the tomatoes
Kiefer – what do you mean watery I don't see any water
Ro – it doesn't ook good because of the tomatoes and mushrooms
K – what do you mean it doesn't look good
Ro – it tastes f**ing good
Kiefer – IT LOOKS LIKE SH!T RO
Kiefer keeps going on about how Ro's food looks "you eat with your eyes man"
Ro – I'm not a chef leave me alone
K – It might be good in a wrap.
Kiefer – there's eggs in there Ro?
Ro – yeah, there's eggs in this scramble eggs
Ro says the eggs taste fine.
Keifer – I believe it tastes good it's hard to mess up eggs.
Ty – what's the issue
Kiefer – it looks disjusting
Kiefer says "theres so many ways" Ro could have improved the presentation.
Kiefer says the mushrooms release moisture and that is where the grey is coming from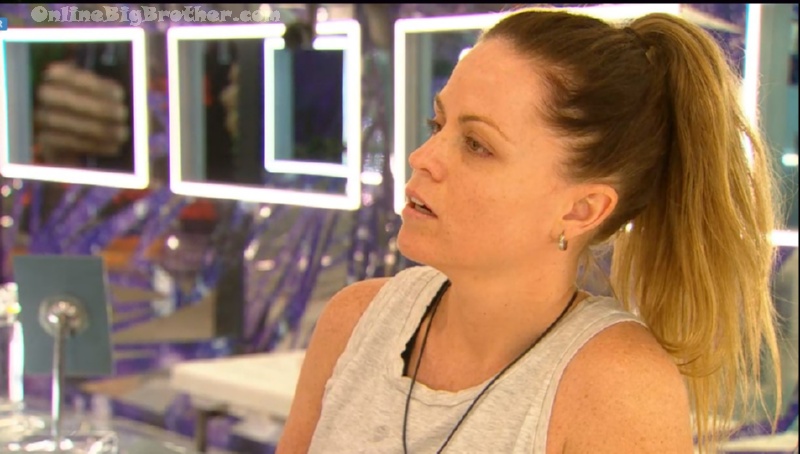 11:00 am Tera and Vic
Vic – I think I overheard something but I didn't want to say in case I was wrong
Vic – I'm pretty sure I heard Beth say your name for someone to put up
Tera – of course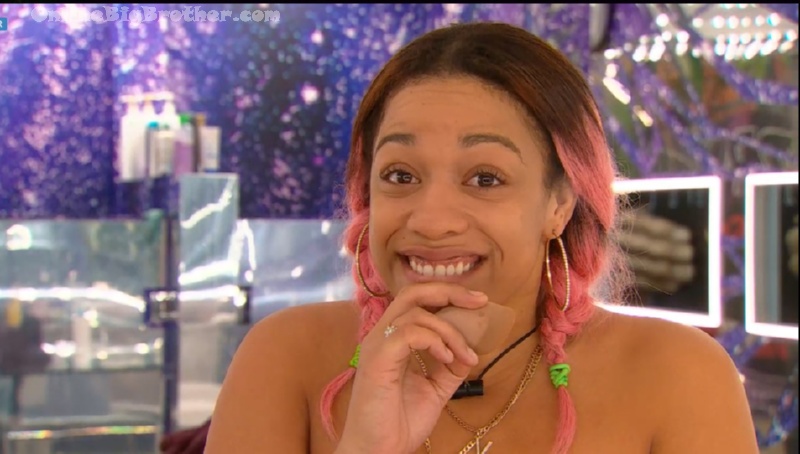 Beth joins them Tera leaves.
Vic – I'm so mad at Breydon and Austin I can't be around them. I'm over them girl
Vic says Tina/Tera are her next targets.
Beth – there's no other option to put up next week if veto is used Tera's going up
Vic says same, "they have no idea"
Beth says the two of them are good next week "we're in a good spot"
Vic says Tera and Tina must know they will be going up if they don't win HOH, "you're a bad a$$ duo bye-bye" (Never mind the triple)
Beth – I keep telling the Guys maybe stop chilling because it's coming
Vic – and the whole Tera trying to do the flip for Austin to stay.. that was it for me.
Beth saying Tera is still talking about the vote "What are we thinking"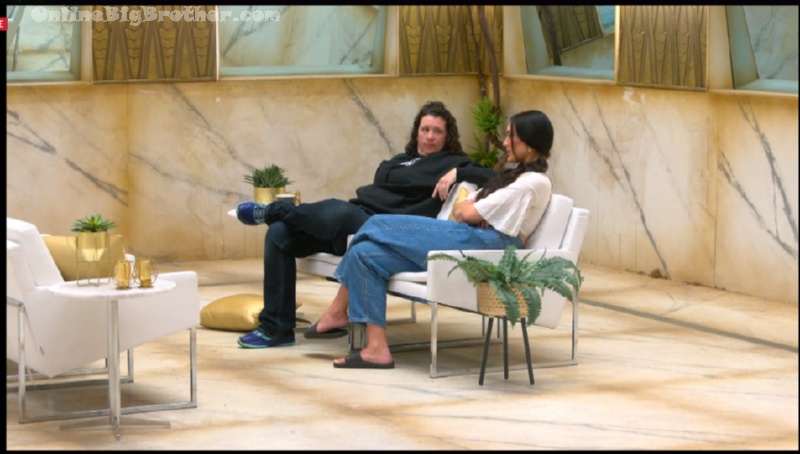 11:23 am Tina and Austin
Tina is telling her Vic is probably the HOH.
Austin says that is a dumb move if Vic was the HOH.
Tina says it shows that Vic is very close to the guys
Austin says she's very careful what she says to Vic and Kiefer because it is taken straight up to the guys.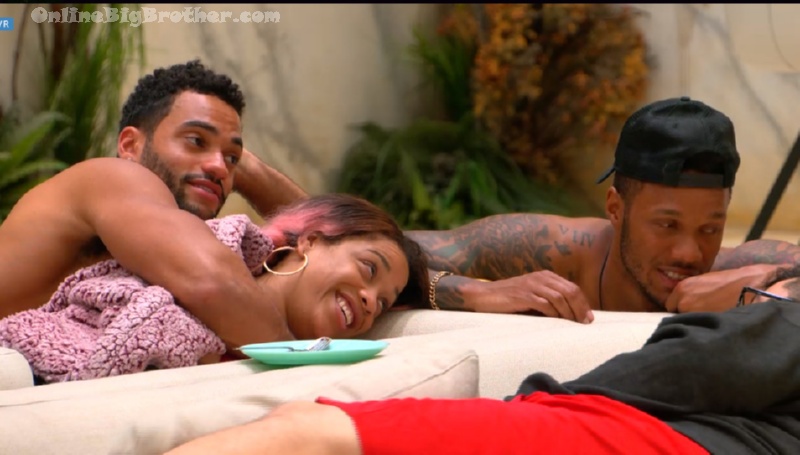 Noon Jed and Ty keeping Vic solid with the ghost peppers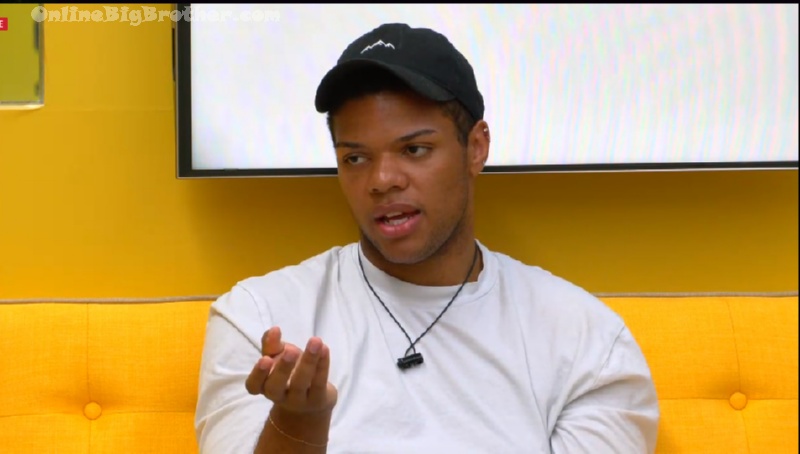 12:20 pm Tera, Tina and Breydon
Telling him they have to go after the three or all is lost.
They tell him the three want Breydon to stay because "they think they can control you"
They think the decision is made and it's Austin leaving.
Tera – from what I've heard from the house.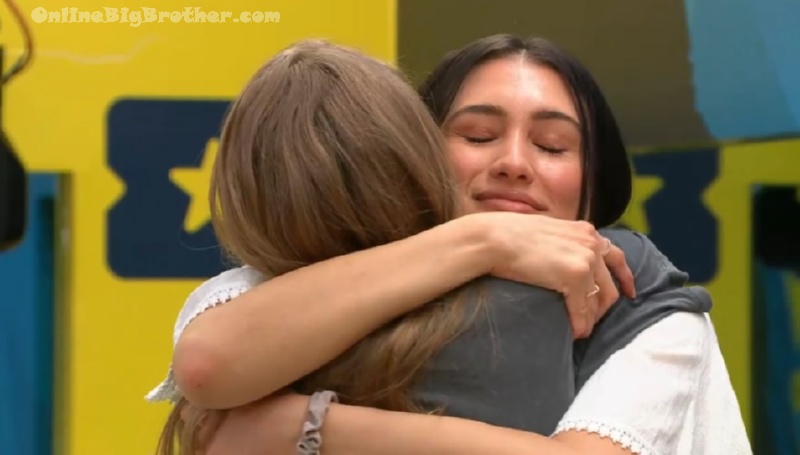 1:00 pm Austin and Beth
(Feeds come in the middle)
Austin – that will be the dopest move
Beth – V will f*** blow up
Austin – let her
Beth – I know at this point
Austin – If you cast the vote and say it was Kiefer that cuts that relationship. he's done it before
Beth – when?
Austin – he's flipped flopped on his word so many times he told me he wouldn't put me up and he put me up. He had that thing with Kyle and Ro during my HOH and he f**ed up on both side..
Beth – He'll do it again. he's shown himself to be ruthless he'll do whatever.
Austin – Tina and Tera speak to candidly
Beth – ugh they do and they are sketchy
Austin – Breydon is the friendship move I am the game move..
Beth – you're the game move and I'm here to play the game. You see that couch today (with Vic, Ty, Jed, Kief)
Austin – they are guarding Vic
Beth – Ohh yeah they have VIC
Austin – I tried to sit there no one looked at me
Beth – thats why I got up and left.. F** this..
Austin – they were spooning Vic. I'm like what the f***
Beth – I didn't like it
Austin – I love but there have been too many times…
Beth – she's back and forth. I'm not walking on eggshells around her anymore
Beth – I want to barf I am so excited
Austin – you will be such a bad b1tch if you do this and I know that is what you are and I know people don't see it
Beth – we would be bad b1tches
Beth says she's going to go outside and think.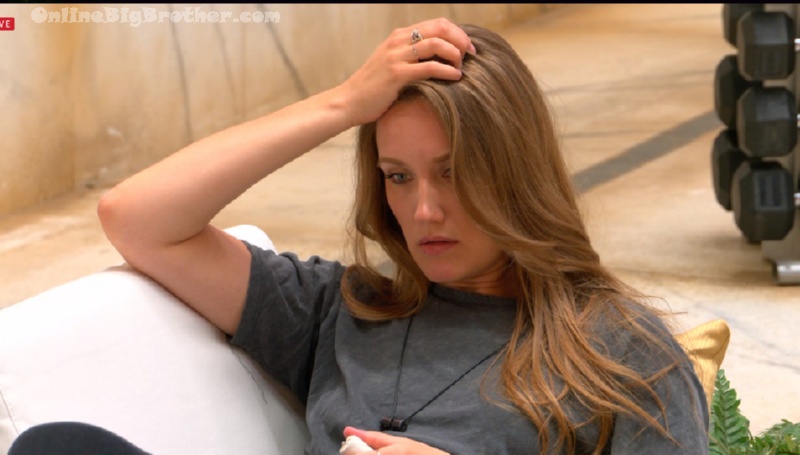 1:30 pm Beth considers what Austin says. She wants to start playing for herself not the boys.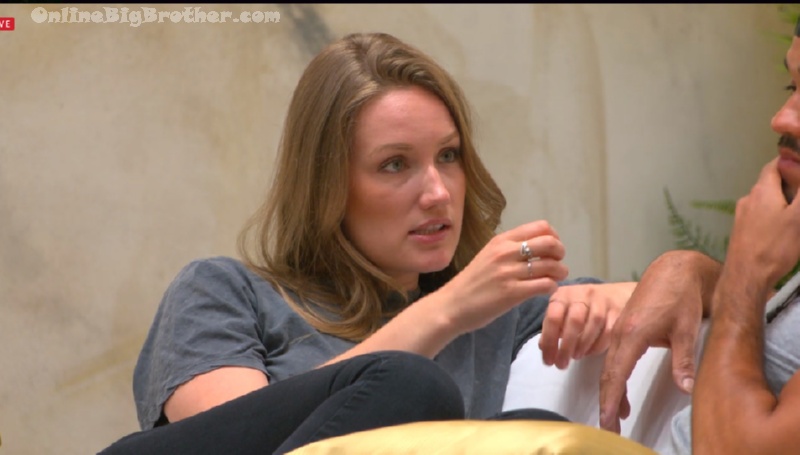 1:37 pm Beth and Jed
Beth fills Jed in on Austin's pitch.
Beth – we can't take Kief to final 4
Jed – I know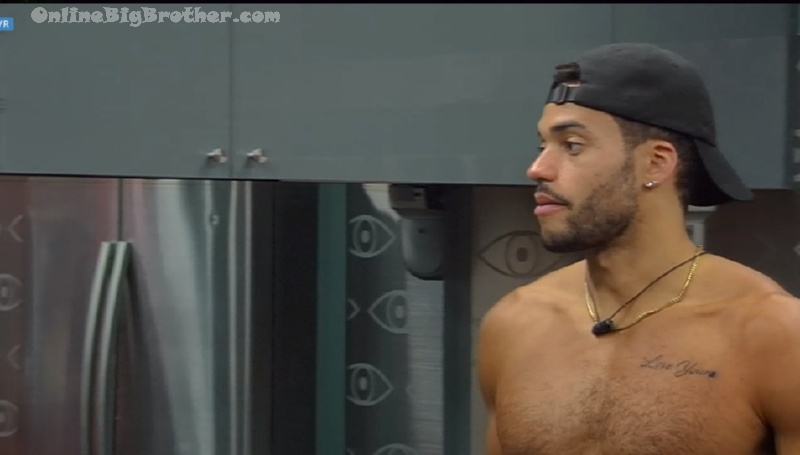 3:00 pm the boys are agreeing Vic is the most dangerous player in the house.
Ty – it has to be a backdoor
Jed brings up Beth saying that Vic is hiding in bed to listen to people.
Ty – she played everyone, everyone believes she's not HOH.. HOW
jed – she's the most dangerous player
Ty – BY FAR
Ty – you put her up you get drama and I'm okay with that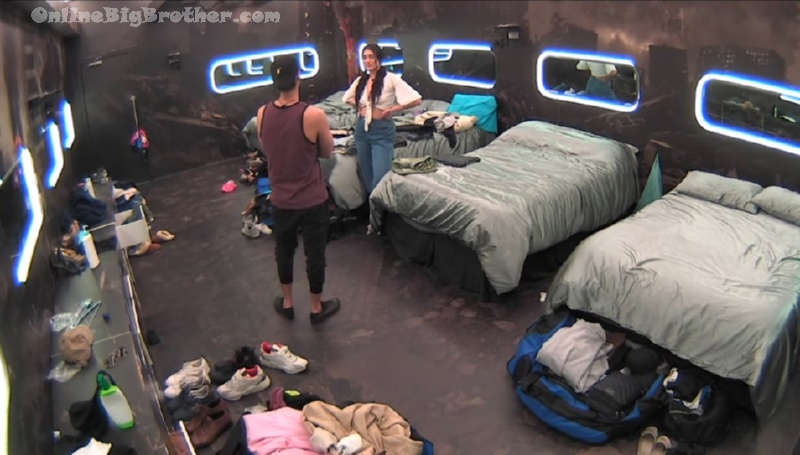 4:00 pm Ro and Austin talking about maybe vic is the HOH (They're not convinced)
Ro wonders why the boys are acting panicked asking people where the vote is.
A – I still think they want me out
Ro – they wouldn't be panicked.. Jed was asking me who I was voting for
Austin says the house flips around so they are worried.
Austin says sometimes emotions get in the way with Vic. She saw all these relationships forming and she decided to say f** them all.
Austin thinks her pitch would have been the most appealing to Vic.
Ro – she said 50/50, why is everyone running around today?
Austin – I could be wrong I'm just getting a weird vibe from the conversation. Maybe she felt bad saying bad things about us but it felt a little deeper than that.
Ro wonders if Vic would have really put Austin up.
Austin says she's ballsey she threatened to put Ty up two weeks ago.
Ro – if it's her good f*ing job.. she as in my top three I thought Beth, Ty or Vic.
Austin – it was an emotional play that ended up this way.
Ro says why is the other side stressing about the votes you would think they have 4.
Ro – why are they cuddling her on the couch
Austin – weirdly I may have Beth
Ro – you think so?
A – do not say a word.. if I stay here you are my person in the game. I just said.. you haven't set yourself up well for long-term success. You're best chance for that is with me. She was like fully into it. I know she's sketch she could have been totally bowing smoke up my a$$ but I mean I gave a really good pitch in tere.
Ro – she talked to me the way she described it is she wants Austin in this game.
Austin brings up telling Beth to blame the vote on Keifer. Ro agrees that was a good play.
Austin – Beth tells the boys to keep us out of their mouths. THen Tina, Tera, Vic are in trouble
Ro says he's going to talk to Vic tonight when they study days and try to get a read on where she is voting.
Ro says if Vic HOH did a really stupid move "am I playing this game with a bunch of f***ing dummies"
Ro can't believe Vic is the HOH "I would have thought she would put one of them on slop to"
Ro – it's a possibility but things don't add up
Austin – the slop and the block was an emotional play
Austin – If I had to bet on it I would still have bet on it being Ty (ZOMG)
Austin – I'm not as confident as I was
Ro – I'm going to play to Beth's ego a little bit. I'll say if it's Austin I'm a little disappointed I thought you were going to be a better game player than this
Austin – for Beth to vote for me it needs to be 4-3
They mention that the silhouette on the nomination screen looks like Ty
Austin wonders why they picked that and not use a generic black silhouette
Austin says she knows JEd, Ty, and Keifer are not keeping her so no point talking to them about the vote anymore.
Ro – oh my god if it's her I am going to self evict (Vic)
Austin says Vic told her on the couch Beth is her target.
Ro – really
Austin – she's playing a dirty game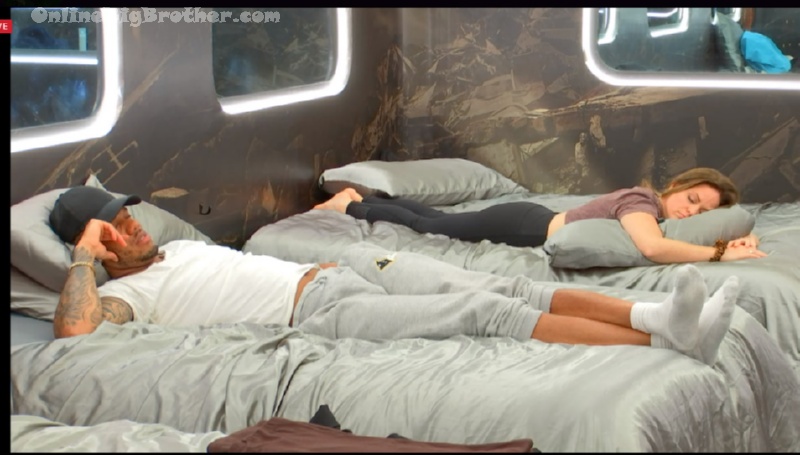 8:44 pm Waffleing has tired some out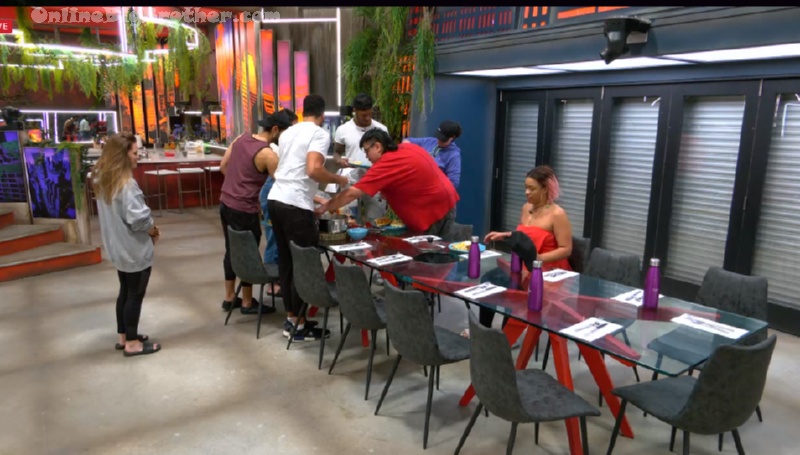 8:55 pm Family Dinner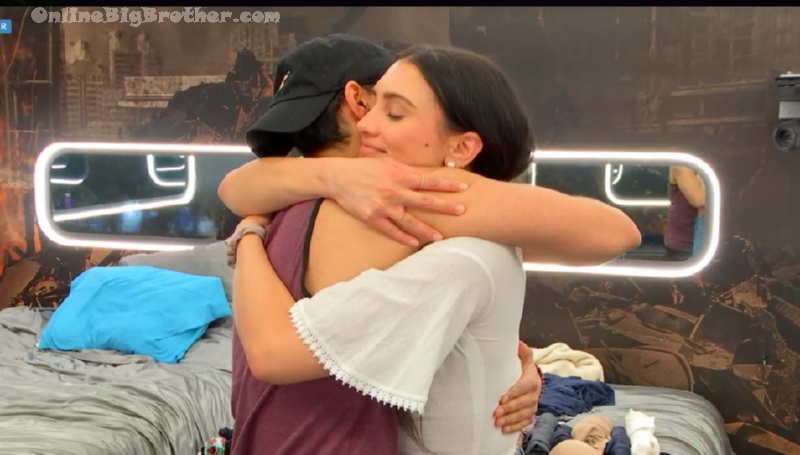 9:37 pm night before evcition hug.
He apologizes says he tried. tells her he voting her out. (sounds like the flip failed)
11:20 pm some tears, some hugs, some laughs