Head of Household: VIC
Nominations: Breydon and Austin
The Power of Veto Players are: Ro, Vic, Breydon, Austin, Ty
POwer of Veto Winner: Ro
Power of Veto Ceremony: Rohan did not use the veto.
Have nots: Ro, Vic, Breydon, Austin
Early this morning Breydon alluded to Austin about an encounter with Ty last night. Something out of the playbook of Kevin Martin.
Apparently have nots is over.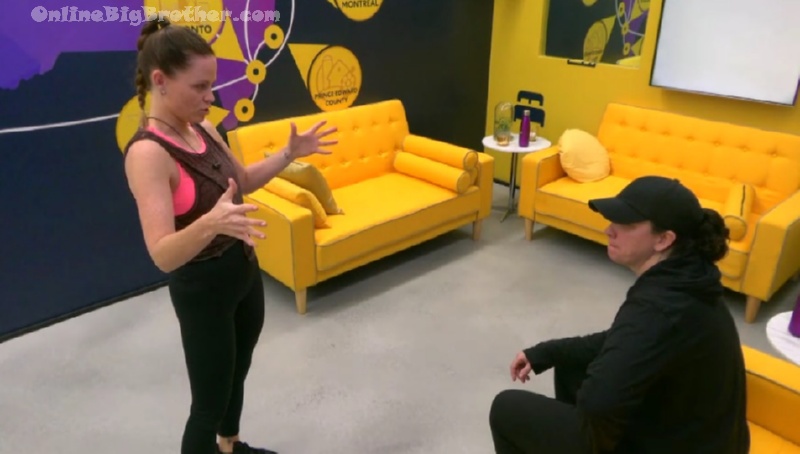 11:15 am TNT
Tera – I'm really paranoid about the double.. Putting the boys up and the backlash
Tera – here's my idea. If we win put up Breydon and Beth (ZOMG)
tina – mmmhmmm
Tera – we tell Breydon we have the votes to keep him but he has to gun for it. Say nothing to Beth at the time. That ensures we never lied to the boys we never put them up which we haven't. Either one of them comes down we choose which boy we want out to go. That way we can salvage the other one. If the noms stay the same by Beth. If the boys win double they're not coming for us because we didn't put them up.
Tera – we can always tell Breydon. We for sure have the votes for Breydon. Me, you, Ro, Vic would not vote out BReydon over Beth ever!
Tina – this week?
Tera – this week. Tell Breydon we have the numbers, it's an easy out because he doesn't talk game with us.
Tera wants them to try and pull Breydon in after they take out one of the boys in this scenario
Tera – and then if it's a double nobody will be looking at us and if it's the boys they will take the shot the other way.
Tera doesn't see the boys taking a shot at them during a double if they kept them safe.
Tera says if you put the two boys up "who will be the replacement nominee? there could be a flip"
Tera – you have to dismantle their numbers so when we take the shot we can choose. Someone like Ty could be powerful for us or if you have a good relationship with Jedson.
Tera – we have to make sure whichever one stays isn't coming hard for us.
Tera – don't tell Ro don't tell Kiefer this.
Tera – we got to win and not only do we have to win we have to play smarter than them we win then we move back into the shadows.
Tera says everyone will take a shot at Ty and Jed in the doubt 'No one will take that shot against you and me with those two boys"
Tina – you would hope not
Tera – those guys will sacrifice Beth, They are closer to each other
Tera says she's hearing that Beth doesn't want to win the HOH she wants to throw it.
Tina asks what are they going to do about the other side, "Ro, Breydon, Kiefer"
Tina – they will want the boys
They agree they'll tell the other side it's a backdoor plan for Jed/Ty
Tina thinks once Austin goes Breydon will start to connect with Beth more.
Tera – the worst case is Beth is gone and you know you have Breydon now.. and everyone is looking at the boys at that point. (that's when production rolls out back to back to back Male underwear modelling contests for HOH)
Tera doesn't think if Jed or Ty win the veto they won't sacrifice one of themselves and take Beth off.
Tera – I don't know who is more dangerous. Beth is playing all side. She's playing us
Tera – I would be open to working with her but I don't trust her.
Tera says if they put both boys up and neither of them goes they are screwed.
Tina says what if Breydon wins veto and it's a guy against Beth. There could be a split (vote)
Tera – the guy will go.. or Beth will go who cares.
Tera will tell the boys she made a deal with Ro last week if he didn't use the veto she would not put him up if she won HOH
Tera – we have the votes to keep Breydon.. ohh wait I don't have a vote.
Tina – I don't think we have them. Beth would be up, Breydon up and you I wouldn't get a vote. That only leaves. Me, Ro.
Tera – no it would go three – three and I would break the tie. you think Vic is going to keep Beth over Breydon? she can't stand Beth.
Tina – if it's a Guy and Beth.
Tera – I think they will take the guy out. Kiefer would be like they got to be split uip.,
Tera – we still have to win
Tin a- It's a good idea.
Tera – if Beth thinks she has Breydon then they have numbers. I know Ro thinks he has Breydion but he can be the swing. You have to break apart that connection at the very least.. best case you take out the bigger one worse case you break up that connection.
Tera – this damn double you know it's coming.
Tera thinks if they can survive the double they are set to the final 3.
Tera – I don't know who is a bigger threat to us? the two boys or Beth..
Tera thinks it's Beth that is throwing their names out more than the boys
Tina – Beth will either put myself or you up against Ro
Tera – the guy's target would be Ro the guys think they can beat us.
Tera says she can't beat the guys in power but she might be able to beat them in endurance "I can find a good pace going back and forth.. that's an advantage to being small"
Tina – endurance isn't my strong point I have some upper boy strength
Tera says she's trusting Ro more
Tina – I'm still not there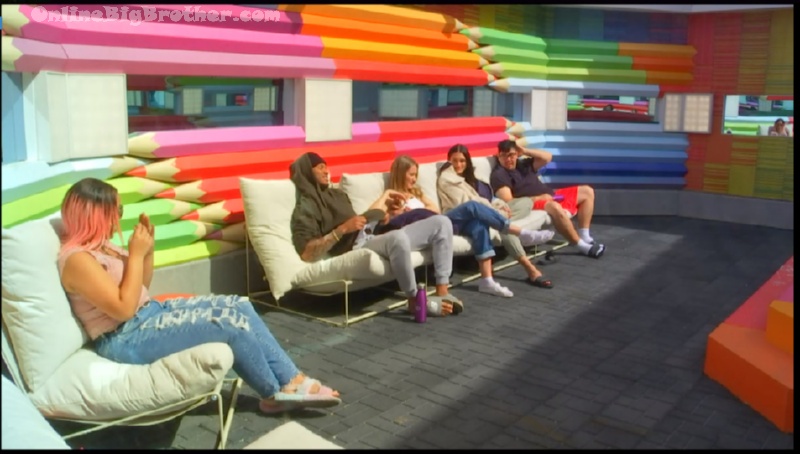 NoonTera and Tina are running/walking, working endurance and upper body strength. A bunch laying in the sun.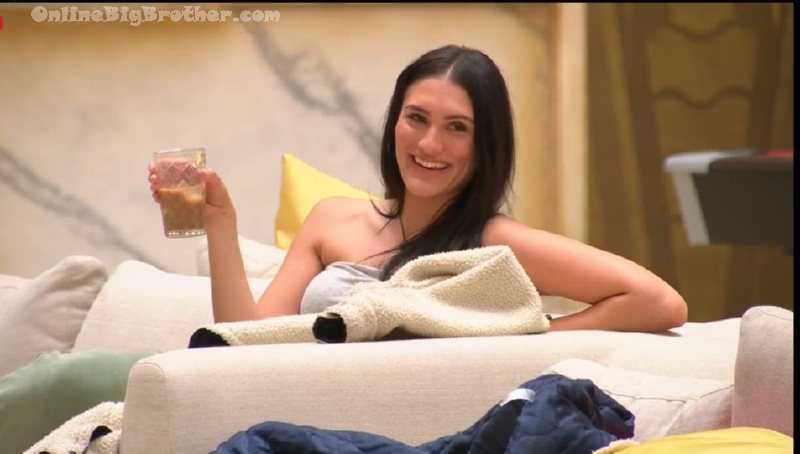 12:28 pm Austin and Tina
Tina says yesterday she confronted Beth and Jed and told them what she thought of what is going on this week.
Austin – I'm not afraid to say what I think
She goes over her pitch "I'm going guns blazing.. I have nothing to fear"
Austin lists off the Beth lies she called her out on yesterday. (during the 12hours plus of feed outage)
Austin still thinks Ty is the Invisible HOH. (Sigh)
Austin goes on about how if she stays in the house she'll play a more competitive game "I ruffle feathers I've won things" adds that Breydon is closer to the three. She's gunning for them.
Austin says she'll go straight for the 3 if she wins HOH.
1:44 pm Kiefer practicing his final 2 speech and generally deciding he's the best. (Kiefer has done it.. this is what Kraken looks like)
Kiefer – I'm going to win this game. I am going to win Big Brother Canada Season 9 I am going to be one of the best big Brother Canada winners in the history
Kiefer – Anything less than winning is a failure now. I've made it.
Kiefer – I got this. I can do this. I can win.
5:30 pm Hot tub time (nothing is going on in the house)
5:50 pm Ty and Jed are digging (they're actually trying to estimate the balls but counting a quadrant. Their corner came to 2K. Notice they did find a black ball)

6:40 pm Kiefer making dinner

7:50 pm Family dinner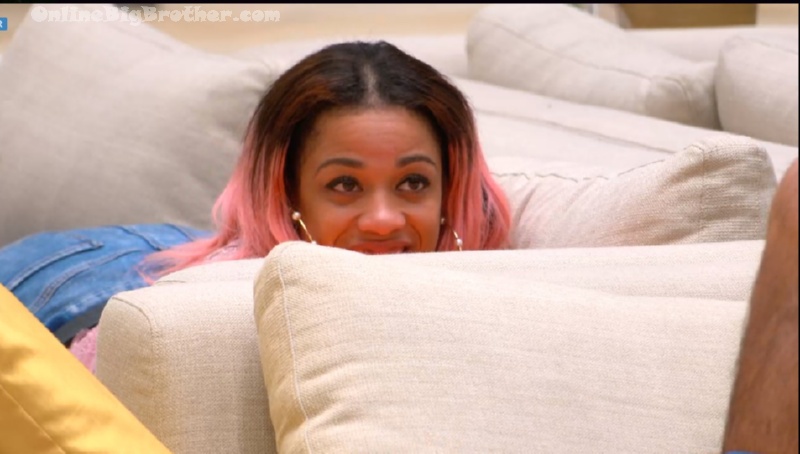 8:20 pm Rohan and Victoria
Rohan is campaigning for Vic to keep Austin saying that Austin will be the bigger target in front of them. If they keep Breydon they are bigger targets than him.
Vic – I think they are pretty equal.. I'm down for either one I really don't care. I just don't think there is any difference.
Vic says Austin hasn't compared to her which is something important to her.
Rohan leaves…
Vic to the camera – Roshow I don't have a vote..
Vic laughs..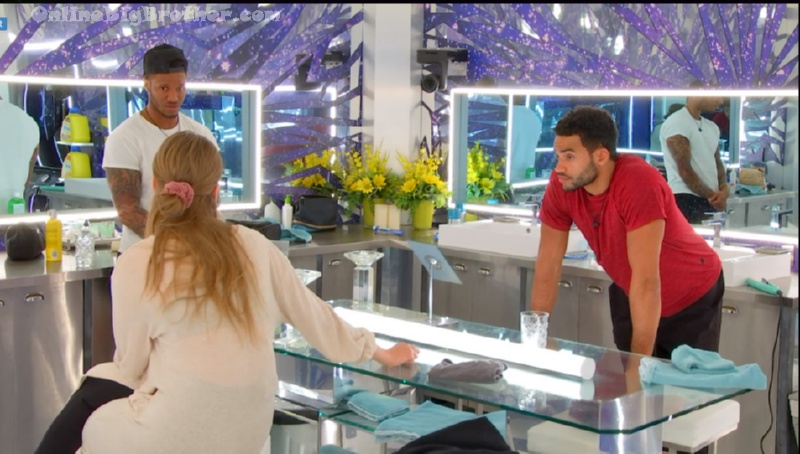 9:30 pm Ty, Beth and Jed
Beth – we're stil ok for Thursday
Ty – we're good.
Ty – I just get weary because it looks like Ro is hustling. He's putting in overtime
Beth – he's alone he has to
Ty – him being alone gives him value
Ty thinks somebody has picked Ro up, "if you haven't talked game with him in three days it's not us"
Jed – whoever picked him up is he a priority to them
Ty – no
Ty – I don't think Vic will turn on us but she's ruthless
They talk about a possible flip.
Ty – does Tina want Austin to stay or does Tera?
Beth – Tina has shown that he's kinda a puppy too
Ty – why would Ro pitch to Vic
Jed – she said he wasn't pitching.
They agree Rohan has to go.
Beth – I wish you guys were more worried about Tera
Ty – I am but not as much as Ro
Beth says Tera has Tina more than Tina has Tera "Tina just stands there and agrees Tina never has an opinion ever"
They agree Kiefer is playing his own game.
Beth – he would turn on us.
Ty – faster than Vic?
Beth – Faster than Vic.. probably the f***ing same.. we only have each other.
Ty – whose the fourth person we can trust
Jed – Breydon
Beth – Breydon for sure.. Breydon's not going anywhere
Jed – we need Breydon
Beth – Breydon might be our new person
Ty – I can see that, if we do that not everybody can see that
Beth – and Breydon has the biggest crush on you ever. use it
Ty – Oh I know I am
Beth – he won't go away from that
Ty – I know I'm playing into it (the Kevin martin)
Ty – he was kissing my neck last night
Jed – are you serious
Beth – ohh yeah
Jed – ohh sh1t
Jed – like from behind
Ty – no right here I was laying ..
Beth – he's got the biggest crush on you.. I think we can use that dude
Ty – Already on it
They talk about having Final 4's with Vic, Breydon, and Keifer.
Beth – they all don't talk to each other. We're guaranteed then
Beth – that's our six..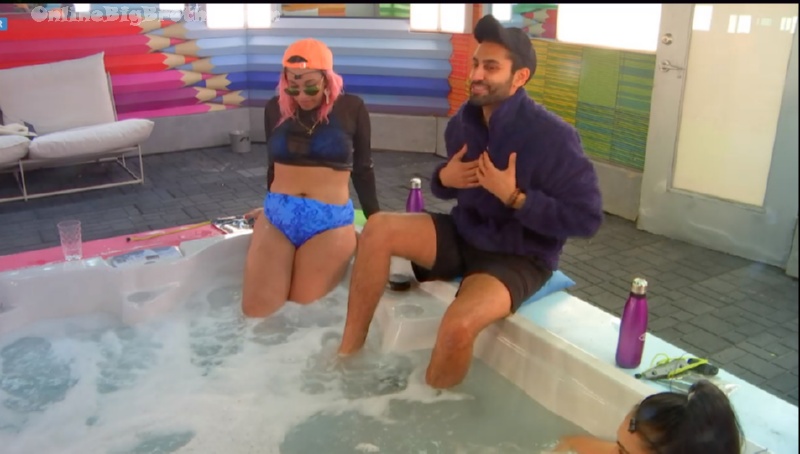 10:10 pm back to the hottub


11:20 pm
face mask time for Ty and Ro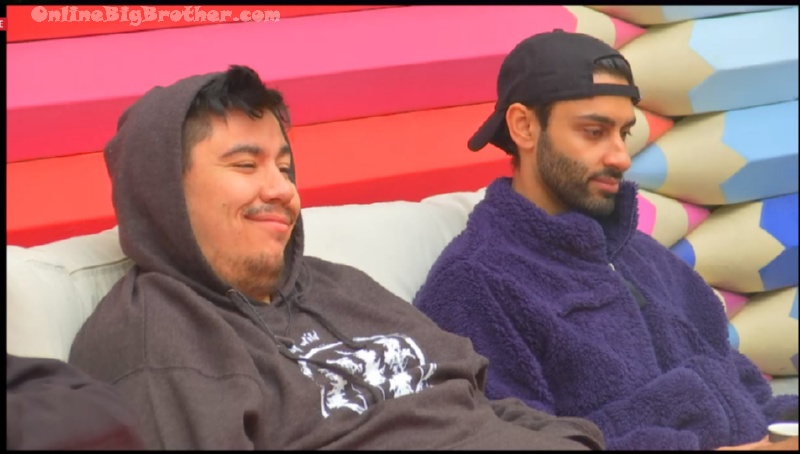 10:15 am Wednesday morning.. waffle Wednesday folks..
Houseguests getting up..