HOH: Frenchie
SAFE: Derek F, Britini, Azah
HAVENOTS: Xavier, Christian, Sarah and Alyssa
Nominations:
Power of Veto:
Power of Veto Ceremony:
The ranking is back up for BB23 now with a new value.. ZERO! – RANK THE HOUSEGUESTS –
View the Ranking Grid
Big Brother Spoilers – Frenchie french is thinking of putting two pawns up and backdooring a big player. Possibly DerekX now. Steve French wants to form a big alliance with many side alliances' as spokes. It's never been done before according to him.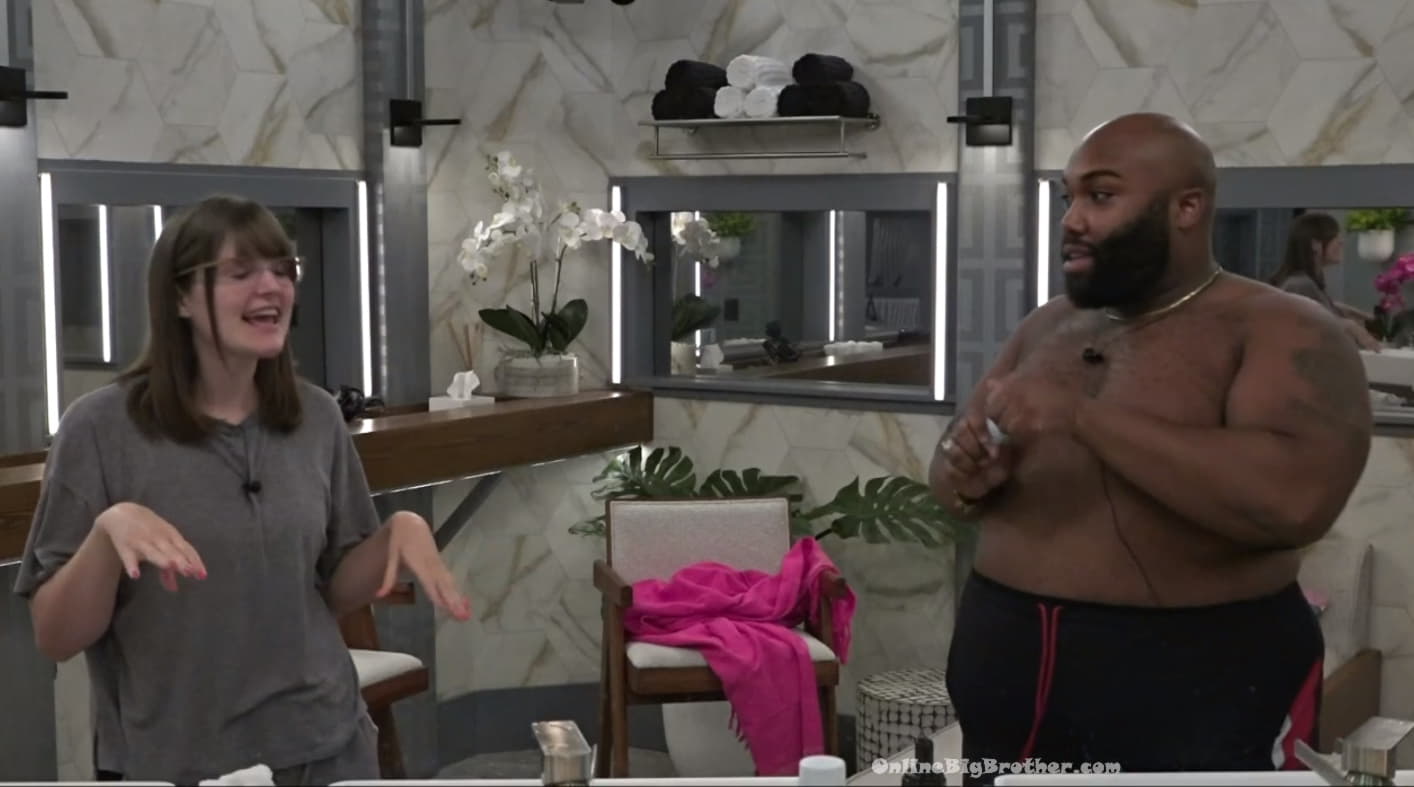 8:03 am Sarah talking to Derek about how bad the have nots room is to sleep in.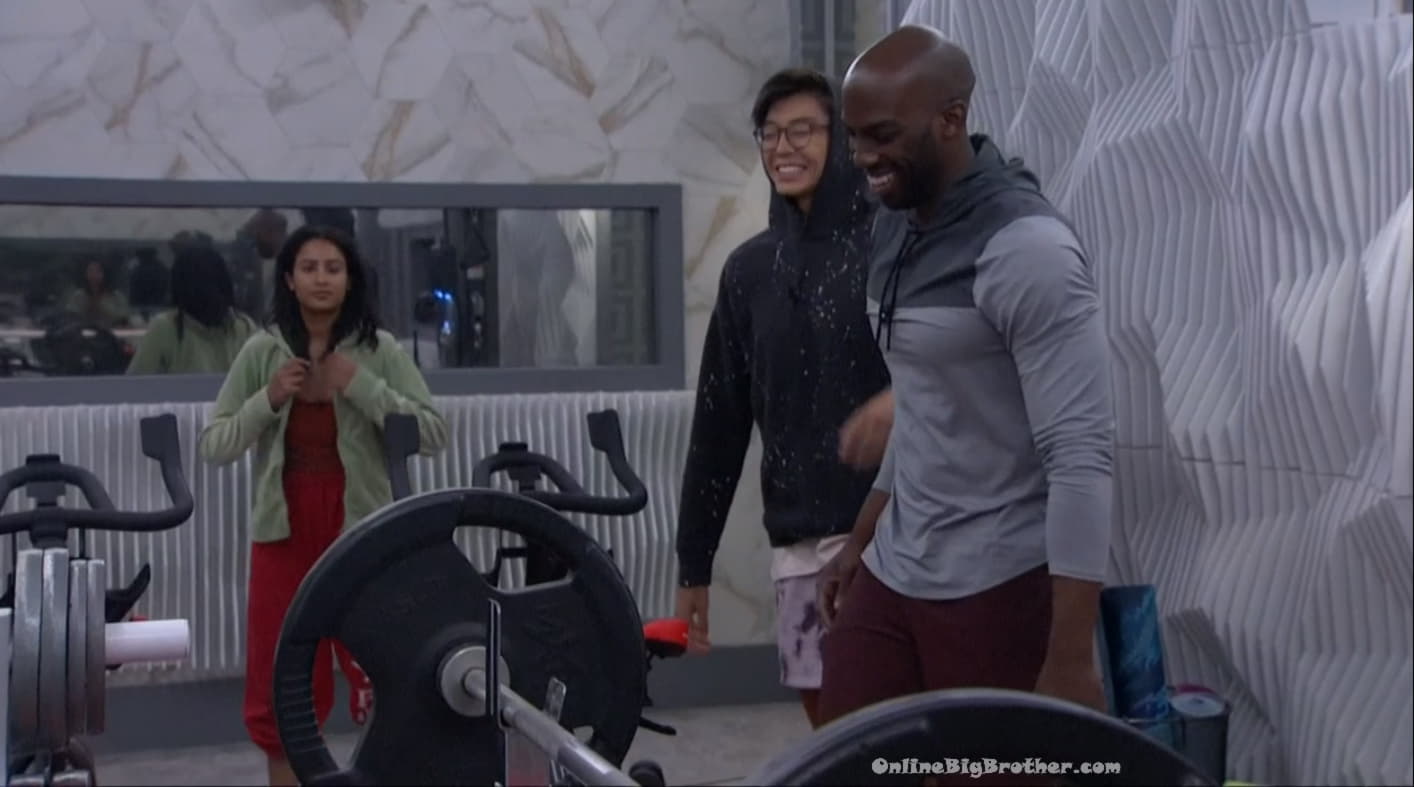 8:13 am Panther working out is joined up with the other two brainiacs. Chit chat..
9:12 am Just a lot of chit chat. Sarah says she lost her dad to Covid.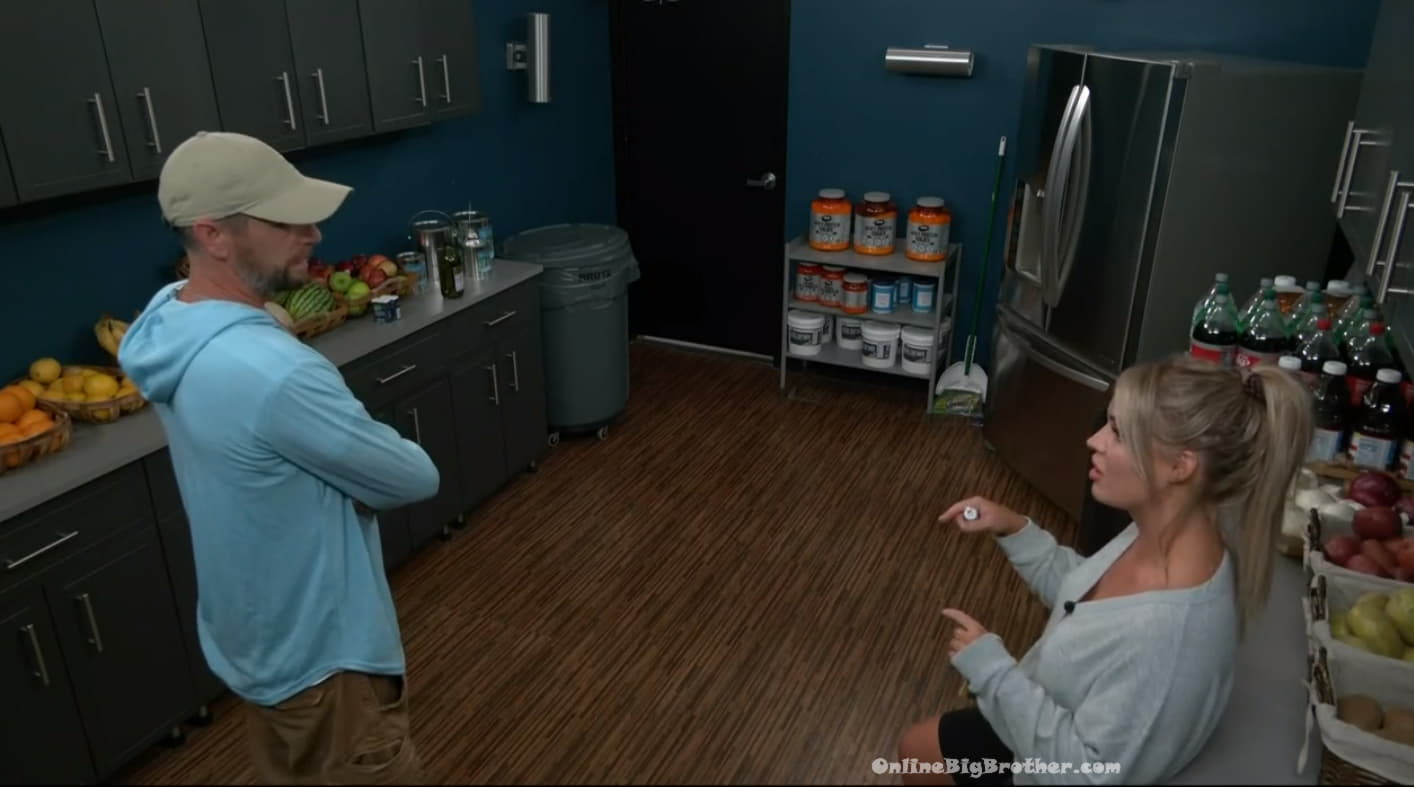 9:55 AM Frenchie and Whitney
Frenchie – I have a few names in mind.. I would like to solidify something and powerhouse it. I think these people could like.. Literally.. you are a strong competitor I saw that yesterday.,.
Frenchie mentions Xavier as someone else who did great in the competition.
Frenchie brings up every week they win HOH hand "throw the axe"
Whitney says Xavier is someone that looks like they are always thinking of something. She wants him on their side.
Frenchie – Absolutely
Frenchie – I'll just be honest with you I downplay the comps a little bit.. I can win us some more comps. People underestimate me. I can keep doing that for us.
Whitney – who else, you, me, and Xavier?
Frenchie – we don't need to do it too big
Whitney thinks 5 is a good number "Big enough that we have a good amount of people but not too big cause then it gets outta control. People can have loose lips"
Frenchie agrees Brings up them having a group of 5 with side alliances that don't know about the core 5 person alliance.
Whitney says it would be good for each member of the '5' to have little "side alliances" with other groups.
Whitney – that way we can get information but ours is the main group we have our alliance but we can also talk to other people and come together
Frenchie – let's solidify a larger one call it the slaughterhouse and the core will be called the butchers. Each week we're taking someone to the chopping block.
Whitney loves it says their core could be just 4 people "I'm so happy I'm shaking right now"
Whitney – I feel like each person needs a final 2
Frenchie – I don't think there has ever been … that (What a big Alliance? never heard of that happening in BB)
Tiffany and Britini join them game talk end.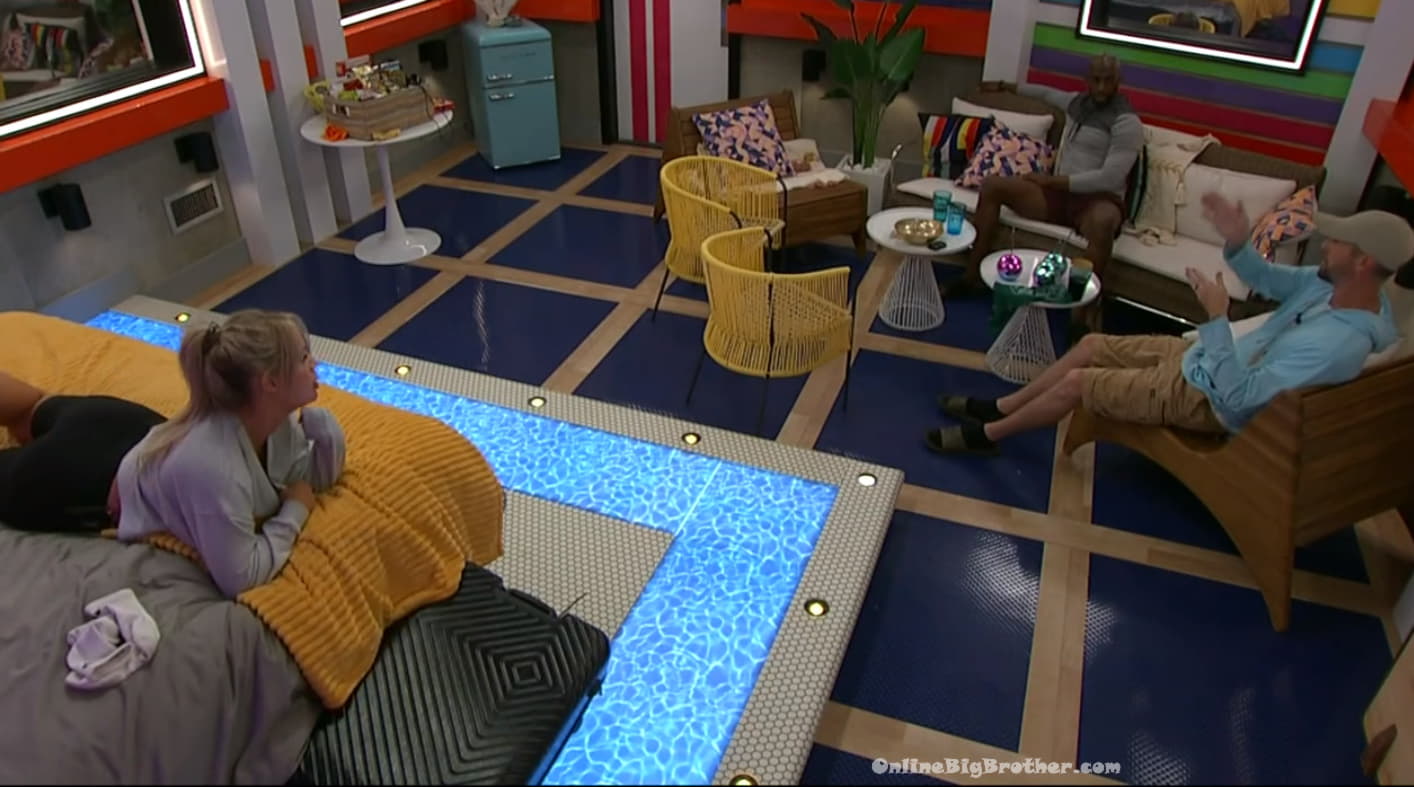 10:07 am Whitney, Xavier, and Frenchie French
Chit chat about the competition.
Whitney starts talking about the Reddit community
Xavier – whats that
Whitney says Reddit is "kinda like Twitter basically"
Frenchie french – It's nicer than Twitter
Tiffany joins them. After she leaves. French and Whitney start in on their alliance pitch with Xavier.
French – I want a core to call it the slaughterhouse and inside that core we have a smaller group and call them the butchers
X – that's energy
French – every week the butchers are taking someone out.. it's full of competitors that aren't afraid to go toe to toe with anybody.
Whitney brings up if they should talk about the nominations. Frenchie says they need to focus on building the butchers first.
Frenchie says he knows this is boring for the fans but they're here to win the money.
Whitney asks if they have anyone on mind for their butchers. Xavier says he likes "Big D" Derek F
Kyland joins them. Followed by BIGD.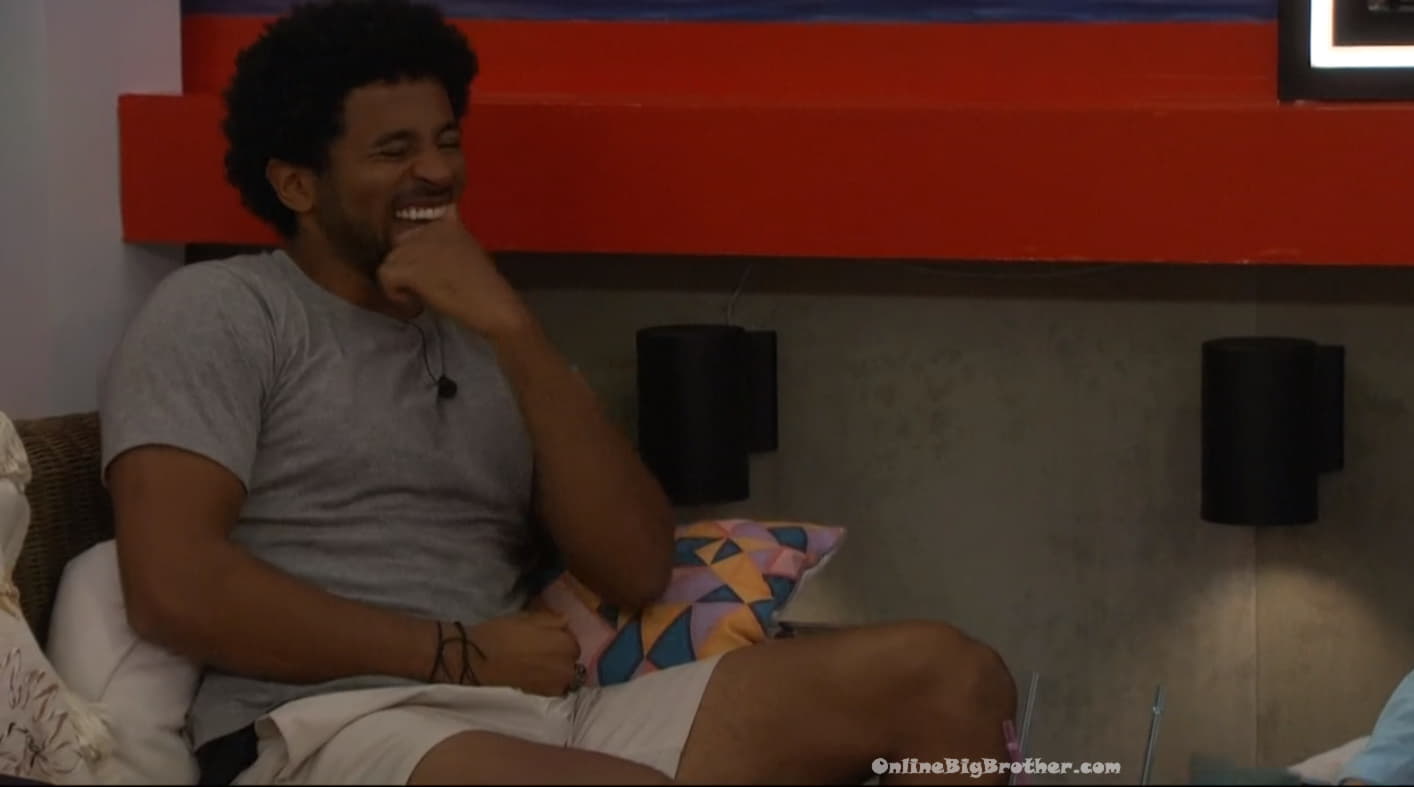 10:40 am Frenchie and Kyland
Frenchie saying he's someone he would like to work with. Kyland feels the same says we knew Frenchie was "Real"
Frenchie goes on about how he's not on the show for Instagram or Twitter followers.
Frenchie – I want to start something and call it the slaughterhouse
Frenchie – taking a houseguest to the chopping block each week
Kyland is on board. Frenchie says the fans hate these alliances but they came here to win the money. Frenchie goes on to explain the finer points of his plan. A core with side alliances etc etc etc..
Frenchie – if people start noticing what are they going to do about it? Put us both up? we'll win the veto.
Frenchie – if we get this going I'm not worried about it.
Frenchie – if I were to lose this game I wouldn't mind losing it to you.
Kyland says he feels good with Xavier and Derek.
Frenchie – Xavier is an analyser
Frenchie wants someone like that on their side.
Kyland says he's super cool with Whitney but that is the name that came up when he was "sitting next to people"
Frenchie – who brought that up?
Kylan – it was the guys, like BRent and them.. last night.
The guys were Travis, Brent, DerekX, Christian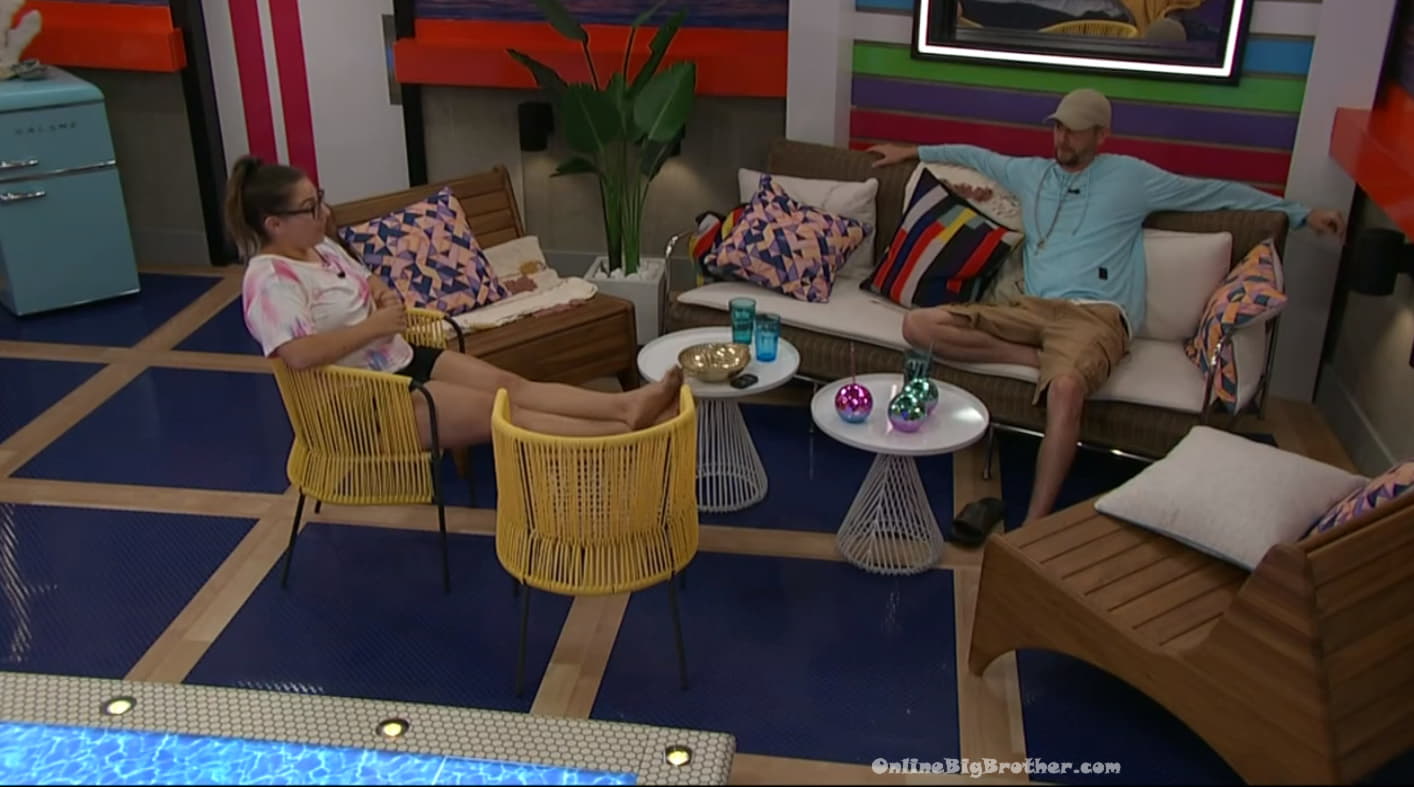 11:13 am Frenchie and Britini
Frenchie bringing up his slaughterhouse alliance idea. "I built this team as a team (jokers). We can all four trust each other. We do have to have those numbers"
Britni says she's worried about Hannah "She KNOWS about Big Brother"
Frenchie tells her his target is BRent. He goes on about every season there has been a minority, women or the old guy that are out of the loop. The "meatheads" are always together. This season he wants the athletic jock to go.
Frenchie says his conversations with Brent are not genuine he feels like he's kissing a$$.
Frenchie says the next person he is going to pull in is Brent.
Britini – I'm telling you this the slaughterhouse of 7 is about to wreck house lets go..
Britini – if you want to talk Dou you know you got me.. Let's GO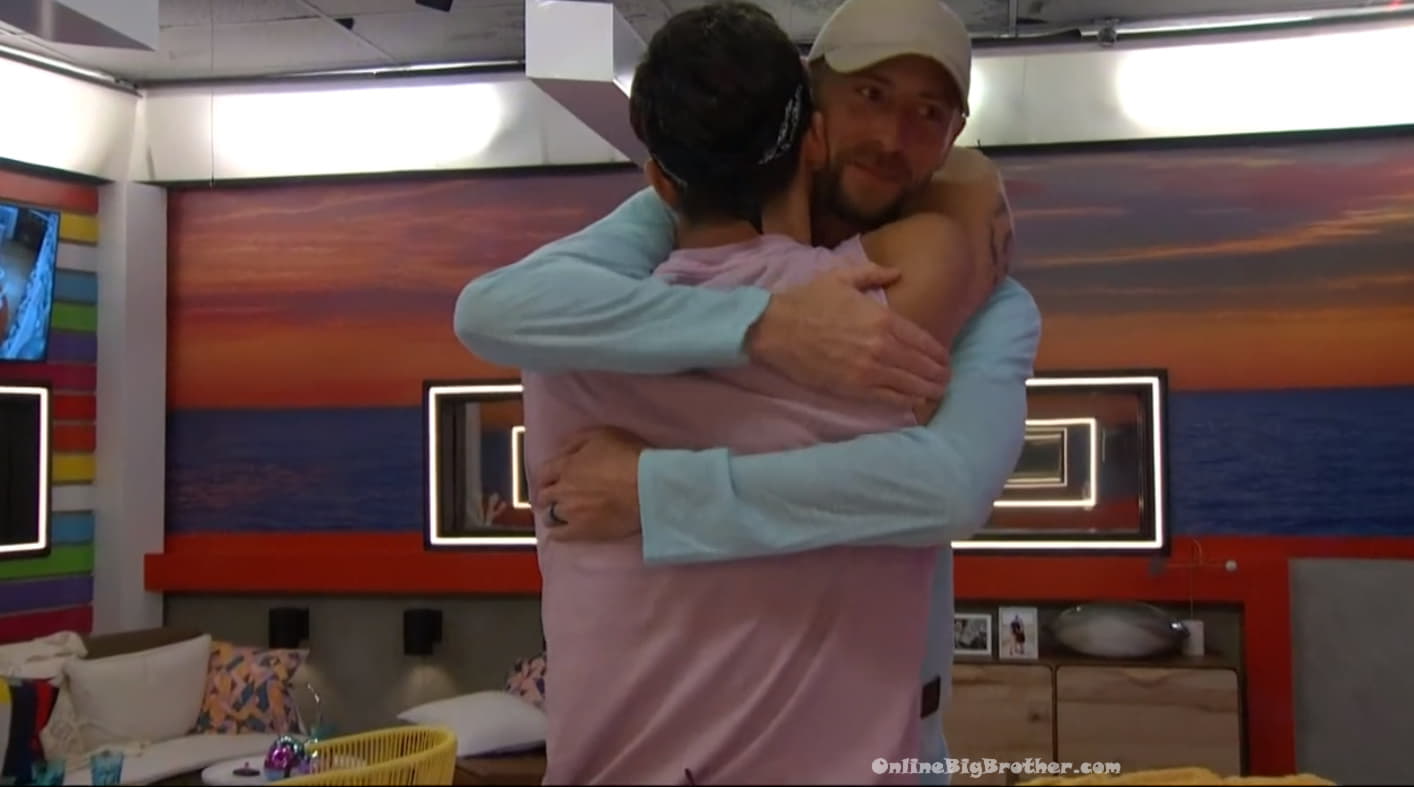 11:42 pm Frenchie and Brent
They get emotional about a conversation last night. Where Frenchie shared about losing a child.
Brent – I lost my father to a suicide… it's not the same as losing your child.
They hug it out.
Brent brings up his fishing website and seeing a picture of Frenchie in his "waders"
Brent says some of the people last night were not being genuine with Frenchie
Frenchie – I'm not going to lie to you your name got brought up last night at the time we never had any conversations so I said that's something to consider.. Now we're having conversations
Frenchie and Brent go on about bonding and how people always stereotype them.
feeds cut to some travel show.. then back to BB after a couple of minutes.
When we're back
Frenchie "I can't play next week and I know you are gunning for it. Am I safe?"
Brent says he likes Frenchie "I'm very fond of you as far as future strategy goes there's something here"
Frenchie goes on about the two of them having a common bond.
Brent talks about Christian seeing him as a threat because of the girls. Frenchie wants to "nip" any drama with the women in the bud.
Frenchie mentions how more people in the house are feeling the same way about Christian.
Brent – you have my absolute word
Frenchie – we're good.. I apologize for the preconceived notions..
Feeds cut to pound puppies.. this may be the wildcard competition.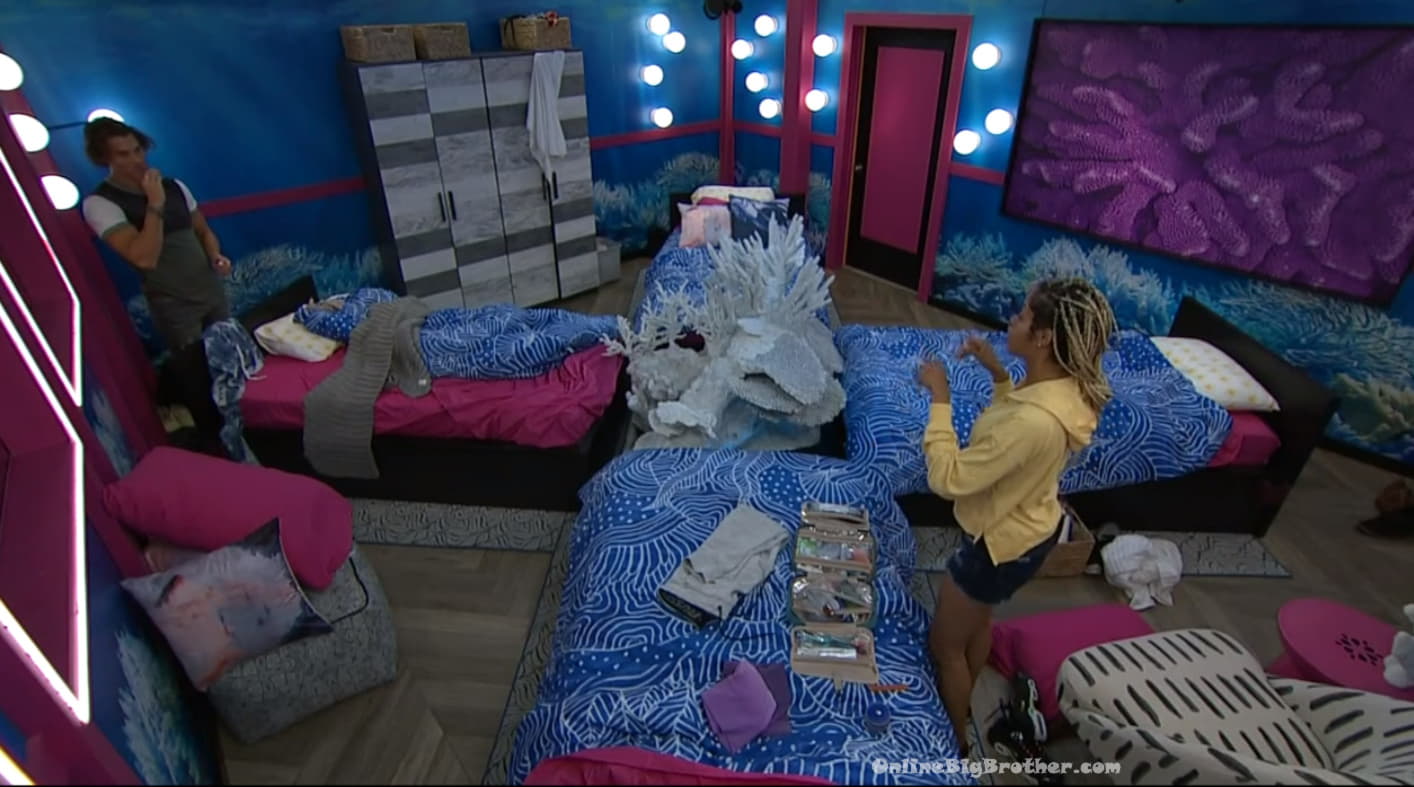 1:20 pm Tiffany and Travis
Travis – we need to have another Team meeting
Tiffany – I'm really big on energy.. we can make some moves..
Travis – we need to do that today
Tiffany – we need to get to talk to Frenchie..
Tiffany – teaming up with Frenchs team.. there's four of us right. That leaves 'Whits' team and the have-not team
Tiffany – they do have players that would be valuable to us
Travis we would tear competitions up
Tiffany – should we go back to the first plan.. where you get a girl she gets a guy. Or we get 2 from each team?
Travis – I think The essiest way to go about it.. and I want to hear your opinion about it. Definitely a whole team instead of us finding another 4
Tiffany – ohh you don't think Frenchies team is it you want to go with the have nots
Travis – in terms of competitions I'm making a pitch for the have-not team to be animals
Travis – there's Christian
Tiffany – I like Christian
Travis – he's a young bull.
Tiffany – Xavier
Travis – look at him the guy is an animal he has charisma
Travis – Alyssa who is a beautiful girl who has sway in the house. She already has sway over Christian
Travis – Sarah Beth who is a wild card ..
Tiffany – Wildcard . but she's lookign for security.. I like it.. I do like that.
Travis – we should plant a little bug in Kyland and Claire's ear and be like let's go chat real quick.
Tiffany asks who is competing out of the "Have not team" (The wildcard comp has one person from each team competing)
Travis – Christian, It'll be a battle between Christian and our boy Ky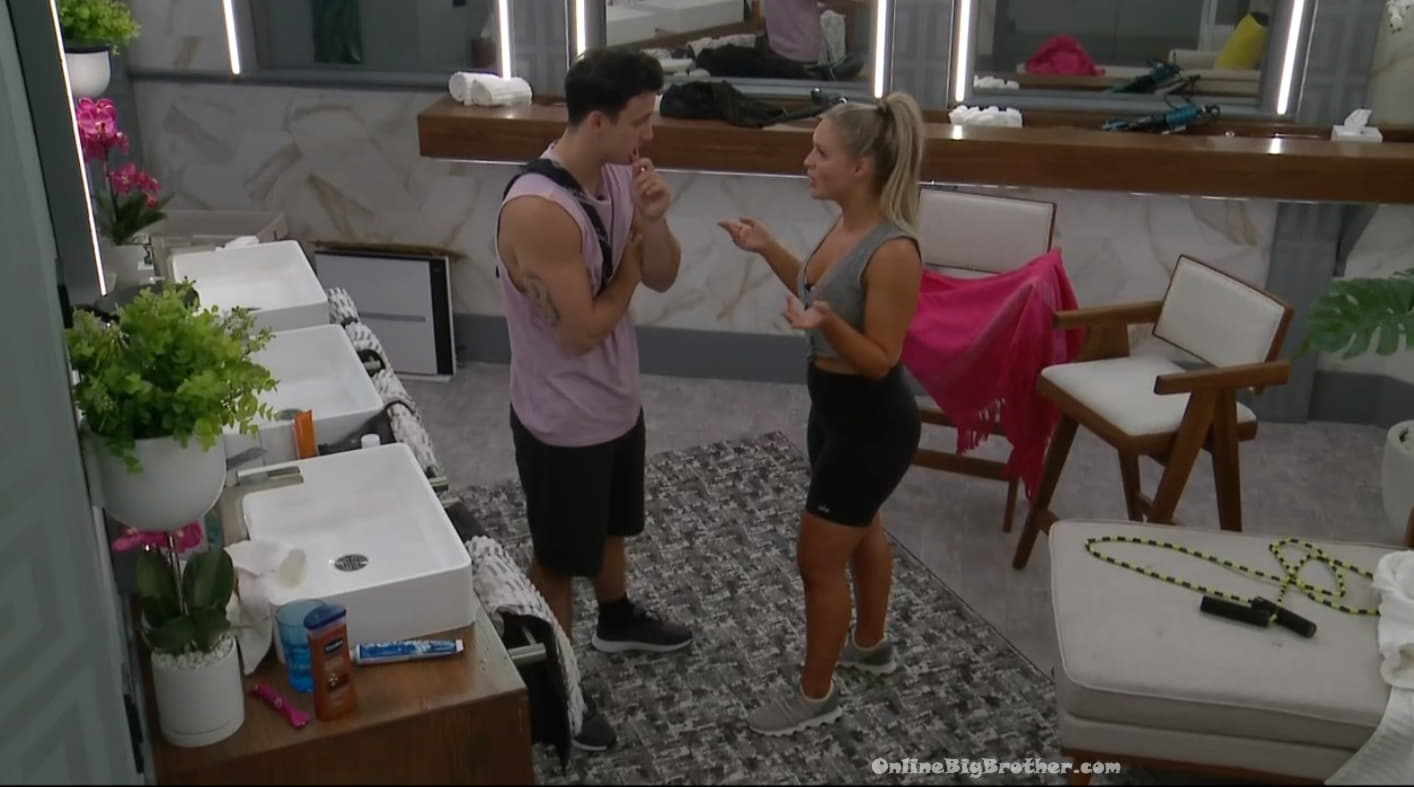 1:28 pm Brent and Whitney
Whitney says Christian keeps telling her he's not in an alliance with Travis. He wanted to talk about an alliance with her but she told him she was uncomfortable talking to him about that.
Brent "I don't trust him I'm telling you he's no good. I'll tell you more about it later on but he's putting targets on people's backs"
Whitney – GOD I hope I'm not one.. cause I can tell
Brent – I promise you it's not..
Whitney – Feel my heart.. I think he and Travis have an alliance .. they are playing this thing toegether
Brent – this bromance I've seen it the first day. THey need to be separated from each other.
Whitney – he was like we're in this house because they want us to have a bromance..
Brent – I want nothing to do with them.. I like Travis but from what I've seen pretty much a standup guy.. here's the problem
Whitney – Christian knows the game
Brent – He's very eager and he's stirring up a lot of stuff with people.. it's not good for us if he wins this (Wildcard) we need him to be a target for whoever.. you know..
Whitney – it would be smart if he was backdoored
Brent – that's something the HOH has to decide..
Whitney – this makes my heart beat so fast…
1:45 pm Feeds cut for the Wildcard competition.
5:22 pm Feeds no!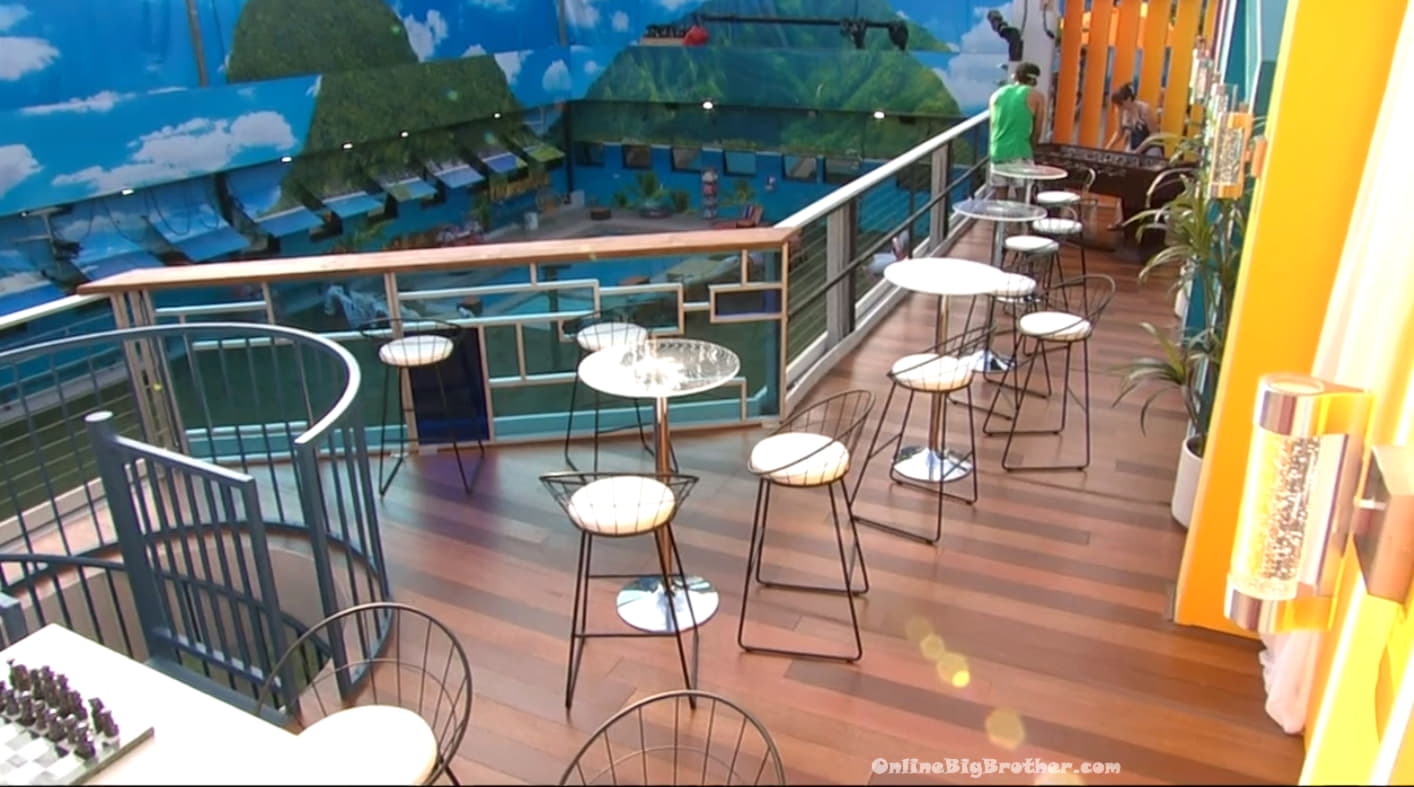 6:50 pm Feeds return
Looks like the outside got some upgrades..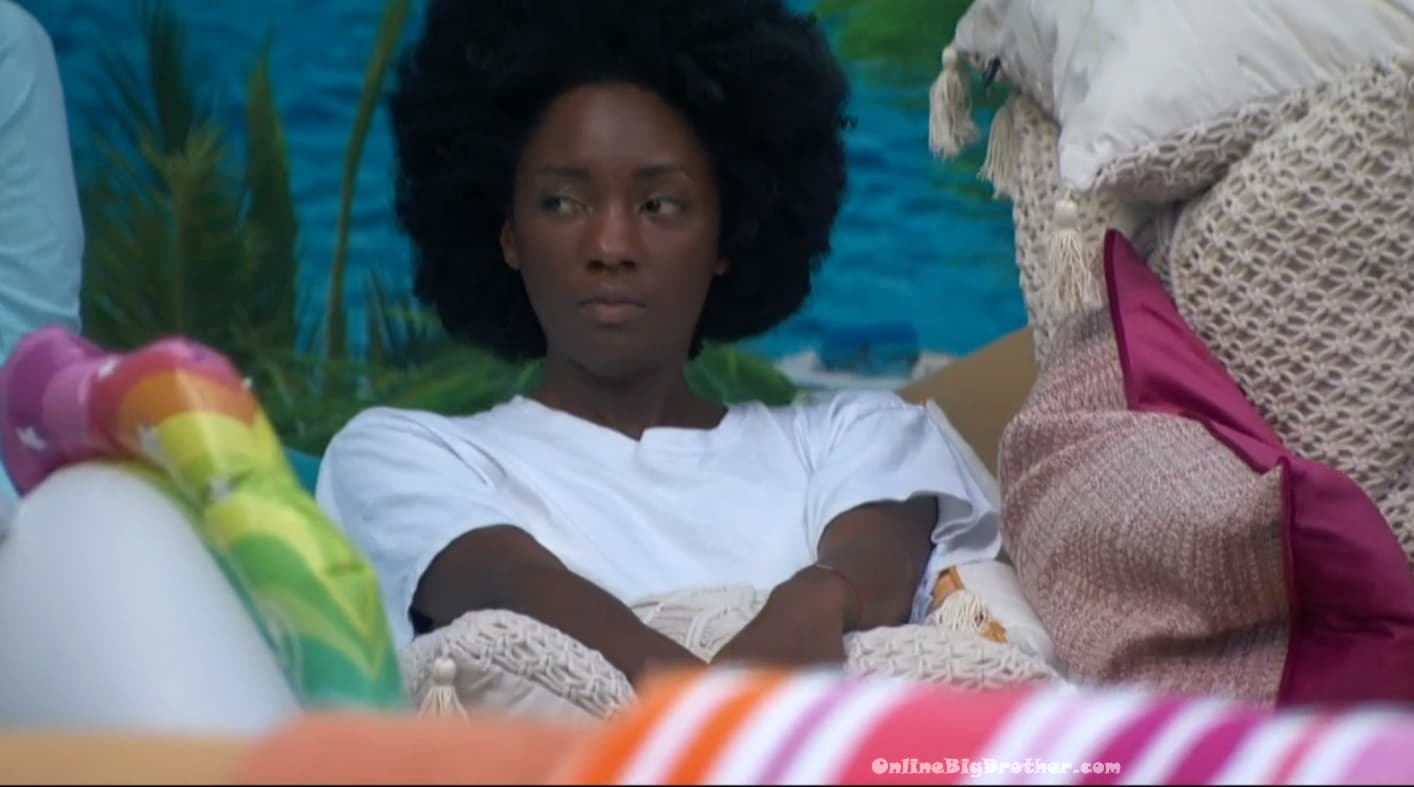 6:53 pm Frenchie and Azah
They're talking about their "Core Four" and how tonight they'll have a meeting.
Frenchie – you'll know for a fact who everyone is because they'll be in the same room..
Frenchie says he's worried about a person that is "starting a lot of Drama". Azah asks if they're someone that competed today.
Frenchie says no, "But they made stuff up about that person (Christian)".
Frenchie – I will dig a little bit more into it.
Azah – girl or boy
Frenchie – boy.. a D the other D
Azah – little D damn (DerekX)
Frenchie mentions that this person "Threw Christian under the bus" and was "Starting rumours"
Frenchie – he thinks he's slick but he's not.. I have him figured out