| | | | |
| --- | --- | --- | --- |
| POV: | Brett | Next POV: | Aug 18th |
| POV Used | YES | POV Ceremony | Aug 20th |
| HOH: | FES | Next HOH: | Aug 23th |
| Noms: | Brett Kaycee & Scottie | Have Nots | |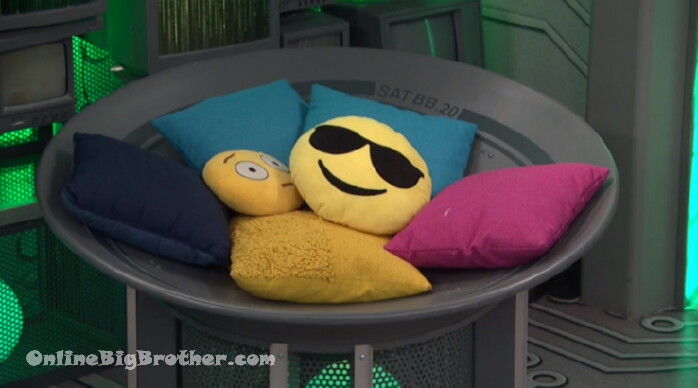 JC's new workout partner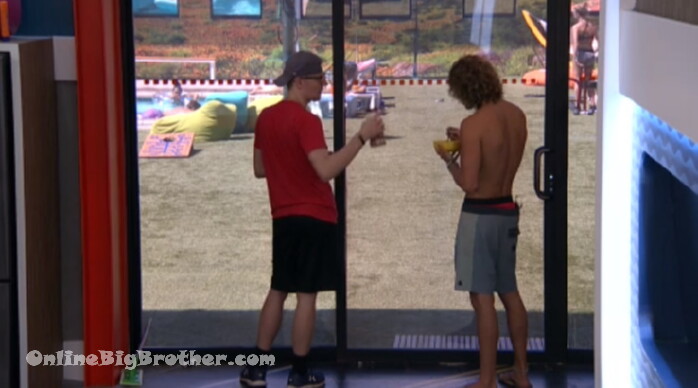 2:30pm Tyler and Scottie
Scottie says he's talked to Sammie and things have cleared up between them. Tyler asks if he's talked to haleigh.
Scottie hasn't yet.
Tyler thinks Scottie should have talked to Halegih before the Veto Ceremony.
Scottie says he tried she just took forever to come and find him
Tyler thinks Halegih will forgive him Scottie but he's not sure about Fes.
Scottie is certain that Fes was the flip vote and was always trying to pin it on Scottie..
Scottie – he's been throwing my a$$ under the bus.. you were there after the hacker thing.. Everyone thinks it was you scottie.
SCottie – I asked around nobody thought it was me
Scottie – he planned the whole I raise my hand thing.. I told you that.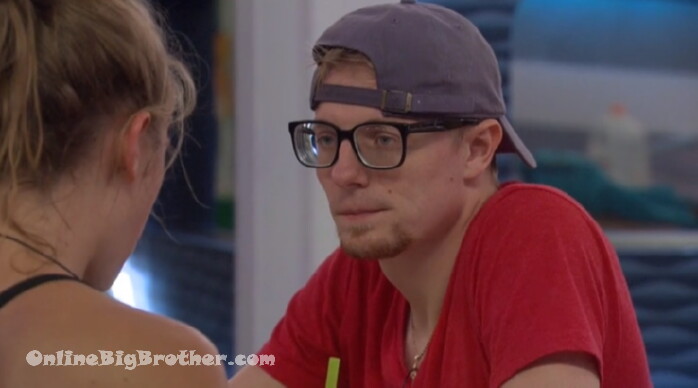 2:53pm Scottie and Haleigh
Scottie says he's going to apologize again and he's wanting to know what Fes told her their one on one was about
Scottie – he's (fes) the one that said he was thinking about putting Sam up that is why that name came up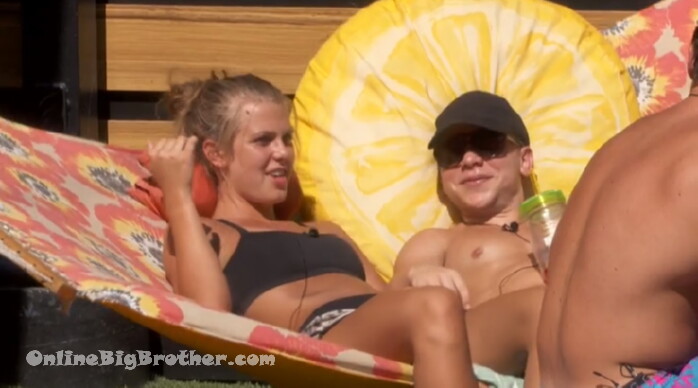 3:26pm JC and Haleigh
H – if you could pick one boy in this house to live with and Marry
JC – tyler
H – not Fes
JC – NO.. I love him as a friend.. if you had to pick one guy to be best friends with and go around doing fun stuff FES.. out of the questions.. I Actually do have fun with him
JC – living 24 hours! .. waking up in the morning and seeing that person FES!
They laugh
JC says Tyler
JC – Personality wise Tyler is more my type body wise definitely BRett
JC – if Tyler looked like Brett I wold probably have a real crush on him
JC says his first boyfriend was like Brett but he was shy
Haleigh says Tyler is really attractive.
JC – between you and me he has no a$$ like literally no a$$.. it's like the back and then the legs coming down..
JC says Tyler has the perfect body to build up if he got into body building like Brett it'll be much better.
JC says Tyler would have been the type of guy he was into 5 years ago
Brett joins them.. JC says Fes is the BFF, Tyler is someone to marry and Brett is the f* boy.
Brett – meant to be alone forever
JC brings up of Brett's "number" being 3
JC says it's insulting his intelligence that Brett has only slept with 3 people.
Brett – I haven't slept with anyone here I haven't kissed anyone
JC – Rachel was really into it did it happen… At some point you got really lonely when Winston left.. What happened that weekend?
H – you're such an attractive male and your attitude is so.. you're not shy or anything
JC – his personality is what makes him look attractive
JC to Brett – You're a normal looking guy if you were an a$$hole I would be like Argh he's nothing
JC – you make people feel good after they talk to you
Brett – I'm and Average looking guy that must be a wh**
Brett – Average looking wh**re
JC – More on the good looking side.. I would give you 61%
Brett – that's not even passing
JC – 50% is like normal looking.. no I'm wrong I give you 70 I'm too harsh..
Brett – what about Tyler
JC – 100%
they laugh
Brett – but his personality
Brett – so the consensus was I am the f* boy in the house
H – no
JC – no
JC – we didn't even talk about it
Brett -lie
JC – I do appreciate a lot that you work out your legs.. that never happens literally 5% of guys that work out that's pretty cool
Brett – thanks thats what brough me from a 60 to a 61
JC – that was a number just to f* with you not to bring you down
H – I just told you that you were very attractive
JC – Are you flirting with Brett in my face?
H – No, I'm just building his ego up after you just tore it down
Haleigh says she can't flirt with Brett in front of JC.
3:53pm Can she resist eating her nails? Nope..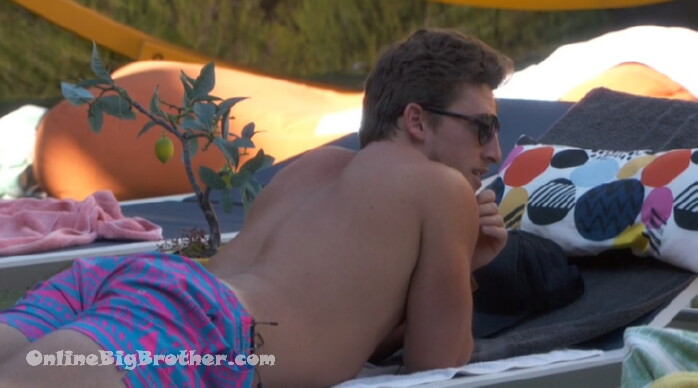 4:40pm Brett and Haleigh ..
Using code phrase "running laps" to describe sleeping with someone.
She says she wasn't running laps before her first and only boyfriend and she almost didn't with him.
4:42pm Angela teasing Tyler about the shorts he's been wearing..
Tyler says some girl bought them for him he wears them like compression shorts..
Tyler gives them to Angela.. Adds that he doesn't wear them much because they hurt.. .
JC running around squirting lotion on BRett's back calling it a "C** S***"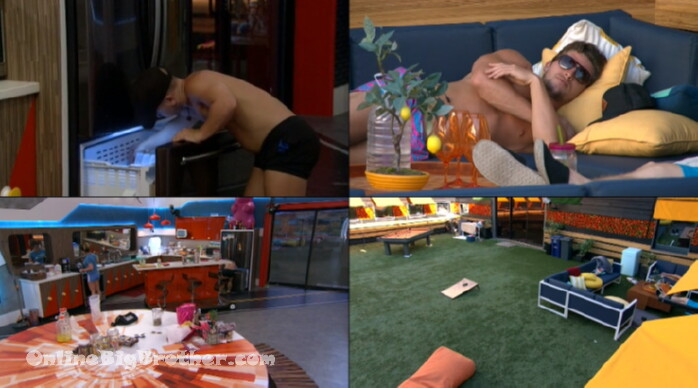 5:28pm Slow…
5:32pm Brett and Scottie
Scottie saying his plan to stay is to make everyone know he's going after Fes.
Talking about the night before the nominations how Fes and Haleigh told him they were going to bed early so he left the HOH and then they stayed up there for 3 hours.
Scottie says Fes brings up stuff that happened week 2 .. like the swaggy vote.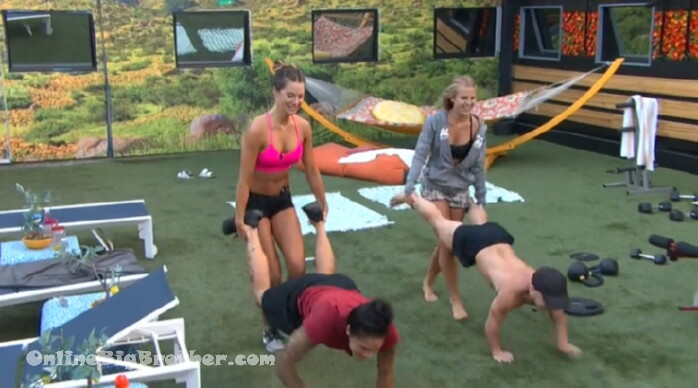 6:13pm Wheelbarrow race… .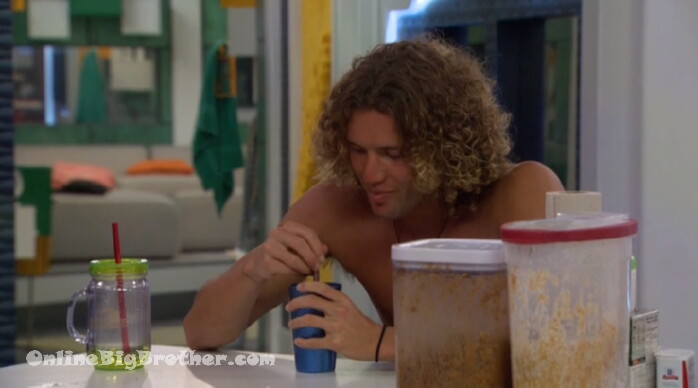 6:45pm Tyler and Angela
T – you squatted and you did bench? You're goin got look like a crossfit girl
Angela – EWWWW don't say that. that's disgusting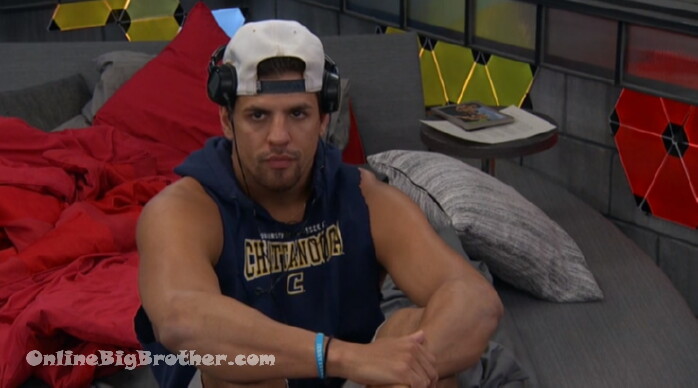 7:00pm HOH Fes and Haleigh
FEs – how's your relationship with Sam going
Haleigh says she's not putting any effort into it. Fes tells her not to bother.
FEs – we're throwing her a$$ up next week
H – unless she wins
Fes thinks Sam knows she's the next target that is why she's going on about quiting smoking, "She knows she's about to be a target and wants people to feel sorry for her"
Haleigh says she's gotten confirmation from everyone that next week Sam goes
Fes – that's why I didn't put her up this week
FEs starts going on about not having a chance to talk to Haleigh today. halegih defends by saying he's been locked in the HOH all day and she's been outside doing stuff.
FEs – we can't talk today.. you shower and walk right past me what's going on
Haleigh – I have to put conditioner in my hair before it dries..
Fes – is that what we are doing today.. c'mon man.. is that what we're doing today..
Fes – can I get a hug back.. it was about the pool
Haleigh – I don't care..
Fes – what are you trying to do run away from me.. we're locked down in a house I'll find you .
(Fes had told them a story about a girl who has a kid that he was "talking to" prior to be on the show. He doesn't know how things will be between them becuase "she was supposed to be on the show to" ) Feeds cut before we can learn more.
7:56pm It's slow.
A real easy way to support the site if you are an amazon shopper is to make your purchases through our link. You pay the exact same thing but we get a small % commission. It doesn't cost you anything and helps us out.
Amazon Canada
Amazon USA