| | | | |
| --- | --- | --- | --- |
| POV: | Brett | Next POV: | Aug 18th |
| POV Used | YES | POV Ceremony | Aug 20th |
| HOH: | FES | Next HOH: | Aug 23th |
| Noms: | Brett Kaycee & Scottie | Have Nots | |
A real easy way to support the site if you are an amazon shopper is to make your purchases through our link. You pay the exact same thing but we get a small % commission. It doesn't cost you anything and helps us out.
Amazon Canada
Amazon USA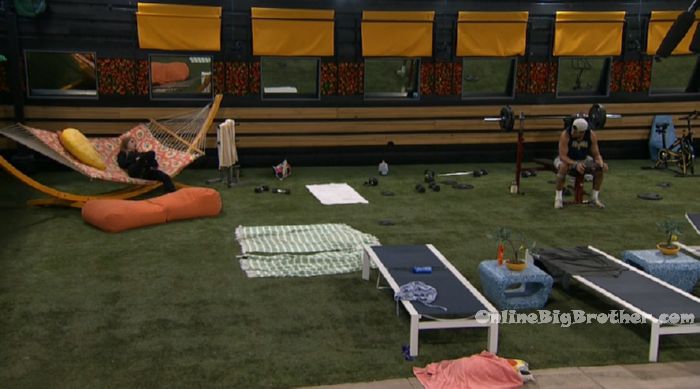 8:05pm Backyard. Fes and Haleigh. Fes – did you talk to Scottie today? Haleigh – no, he said that we needed to talk. Why? Fes – just wondering what is he going to say? Haleigh – I don't know. Fes – Angela told me that Scottie came up to her and was like I think Faysal is the one flipping all the votes. Haleigh – when did she tell you that? Fes – I think it was yesterday. Because we were wondering what his speech was going to be. And then she was like, probably throwing you under the bus. I was like really!? Haleigh – yeah. Fes – I was like it really doesn't matter as long as he walks out the door.
Brett and Angela figure out that his brother and her ex-boyfriend were in the same pledge class.
9:05pm Kitchen – Fes and Haliegh. Fes – I've got some extensive game talk to talk about. Haleigh – we can talk about it tomorrow. Fes – That's how you feel? Haleigh – Yeah. Fes – well, I tried. Haleigh – tried what?! Talking to me, I'm not saying you can't talk to me. Fes – okay. Haleigh – okay, what? Fes – when I said I wanted to talk to you… you said you can talk to me tomorrow. Haleigh – you said I have extensive game talk and I said we can talk about it tomorrow. Fes – what if its not game talk? Haleigh rolls her eyes. Fes – stubborn as hell.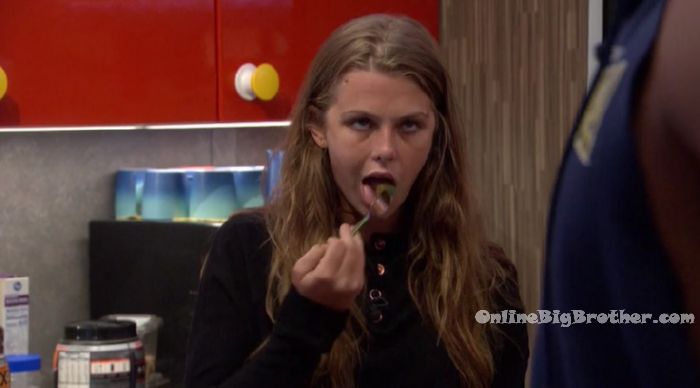 Havenot room. Kaycee, Tyler and Angela. Tyler – I was literally laying down staring at the ceiling and they told me to stop napping. I hate them. Big Brother – you're welcome. Tyler – sorry, love you.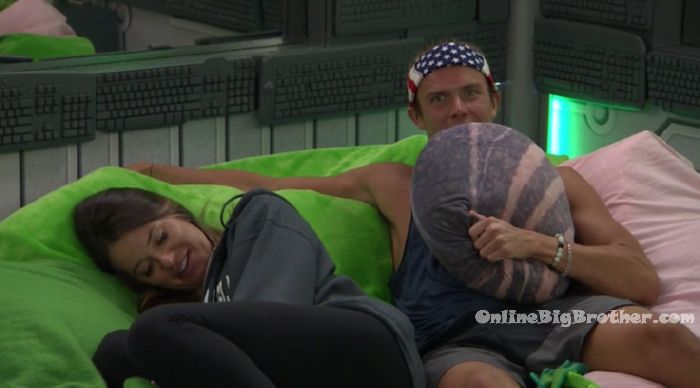 9:35pm Backyard. Brett and Haleigh. Haleigh – I know you and Sam had a good conversation last night. Brett – I was just trying to see if Sam was okay. Then Sam starts pitching the whole I don't give a f**k and can't wait to leave here. I was pissed and said Sam why don't you just offer yourself up then? Why don't you .. if you want to go so bad. And then she was like Well.. And I was like then stop f**king saying sh*t like that. There are people that want to be here .. if you want to go then go. No one is making you stay here. Then she starts to say that Scottie has been dealt a raw deal. I was like he made the bed he lies in now. The reason why he is where he is .. is based on the choices that he made..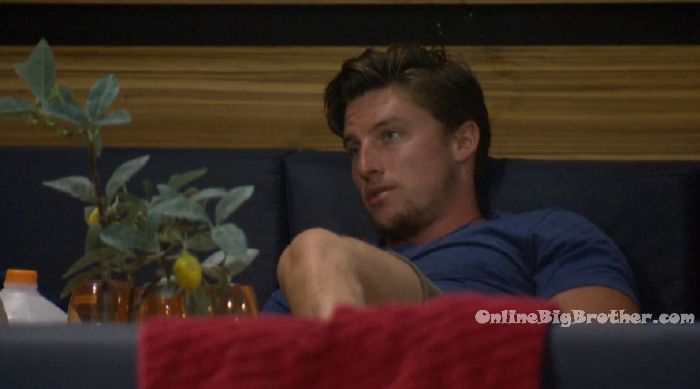 10:50pm Hot Tub. Brett, Fes and Haleigh chatting about gators.. Haleigh leaves. Brett and Fes talk about the powers. Fes – that's two powers that expired and weren't used. Brett – or they went out the door.
11:10pm Havenot room. JC and Tyler. JC – I am always going to be straight up with you. I am never going to betray you. If you win, I am going to be happy. If I win, I am going to be happy too. But I am going to top two with you and I'm not going to break it. Tyler – that's been mine too.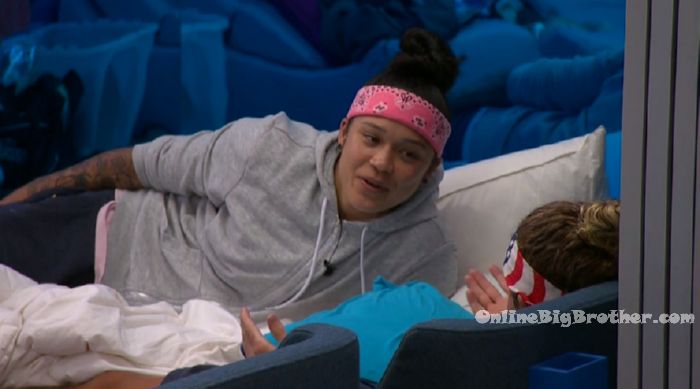 11:45pm Tyler and Kaycee. Tyler – I just wanted to tell you that I am not in a showmance with Angela. Like you are my best friend in here. I would never pick anyone over you. Kaycee – I trust you. Its you before anyone. Tyler – I will lose to you before I betray you. And no one has any clue. Kaycee – we're good dude. Tyler – I love her but if the three of us can crush this. Kaycee – I trust you 100%, you're my ride or die. Tyler – every scenario I pick you. We (Angela) don't even talk like that. I am genuine with her. Kaycee – we're solid. Tyler – I am worried about Brett. I am pretty sure Brett's been in love with her (Angela) since day 1. Angela joins them and the conversation ends.

12:40am Hammock. Scottie and Haleigh chatting about past events of the season and life outside the house.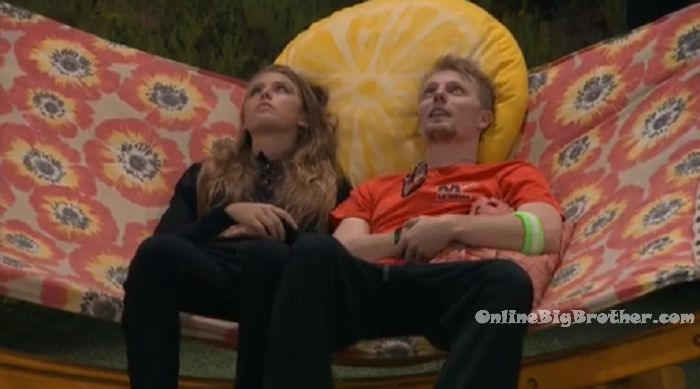 2:30am All the house guests are sleeping..
If you're enjoying our updates please consider making a donation. All donations go directly to pay the considerable costs associated with running this site. Any amount is greatly appreciated.
Rank the houseguests!
Easiest way to Rank the house guests use link below