McCrae and Spencer nominated, Andy won the veto
9:00pm living room MC, Spencer and GM
MC says he liked Adam from Big Brother 13 but didn't think he made very many game moves, "Anyone that likes Metal and 90210 is a interesting dude"
very little talking going on. Spencer tells GM he likes the crafty bracelet she's making "Love it"
Spencer jokes asks GM if she is ever going to dye those roots. GM "SHUT UP I did them last week"
They are all doing shout outs and the feeds keep getting blocked..
GM – "I want to say hello to the lovely Nicholas Uhaus.. I'll see you in a week get ready"
Spencer – "do your stretches NICK"
Spencer and McCrae nominated you can tell from the key in GM's memory wall picture
POV has been played but we do not know who won it..
Big Brother 15 N*de flashback times here
9:34pm
Andy – "Sounds like they are getting the backyard ready" (for tomorrow nights Endurance competition)
Spencer starts joking about a p*rn* movie being made by Howard and Candice.
Spencer – "Eating candy"
Andy – "45 minutes in candy land"
Spencer – "Howard the f***"
They start talking about the Brenchel Army
Andy – "Who gives a f***"
Spencer "I don't give a f**"
Andy – "They will all be here to congratulate her on her 6th place"
Spencer says he's glad that everyone has their friends but Elissa was using someone else s fans. THey start joking that Elissa's website is full of viruses.
Spencer – "all proceeds to from elissercise website go to the Hitler youth"
Spencer – "Please give us Elizabeth Shue you brought that monster Tori Spelling in here.. The only work she can get is haunting f*** houses"
They get Alcohol.
We do not know who won the Veto but Spencer and Andy are the most talkative and in the best moods. Gm and McCrae do not seem nearly as happy.
Spencer is going the vast majority of the joking around.
10:05pm Living room Spence rand McCrae
MC says he's probably going home. Spencer says Andy is really being quiet about what he's thinking.
MC comments at how awesome GM was at skating.
Spencer – 'She was f*** tearing this place up"
MC – "I think i'm going"
Spencer – 'Hear the bottles clanking… f*** Mr rub it in"
10:11pm Just random chit chat..
Spencer likes the wolfman
Andy likes the creature from the black lagoon
MC like Jeremy McGuire
10:23pm the exterminators
Andy and Spencer are whispering Andy says "We'll tell him later tonight"
Spencer – "If you want to"
Andy – "Ya.. what he say"
Spencer says McCrae feels like he's going home.. Spencer says he told him that he always feels that way when you are on the block.
GM leaves
Spencer – "FYI I think GM is going to kill in that competition"
Spencer – 'She was like AHHHH I haven't skated in years"
Spencer and Andy impersonate GM in the skating POV competition and skate across the kitchen.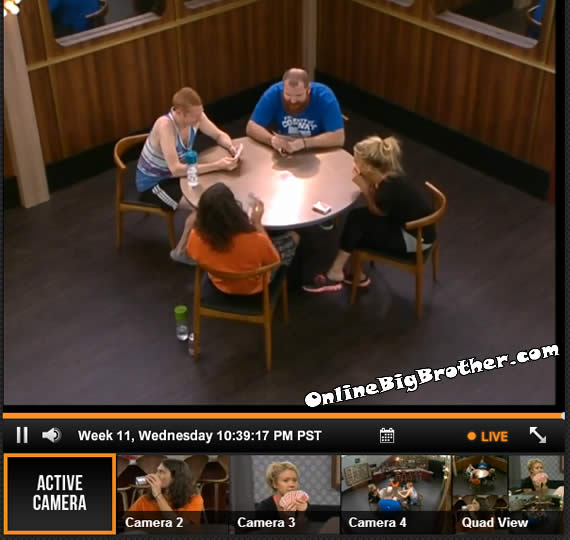 10:40PM Playing cards
11:00pm Andy tells McCrae he doesn't know what he's going to do
11:41pm Spencer and Andy Spencer tells him he will beat Spencer in the final 2. Andy doesn't know says he hasn't done as much.
Spencer – "The best thing I did was hook up with you.. you see what I mean hats off to you"
Andy says he wonders if his family knows he's won the veto.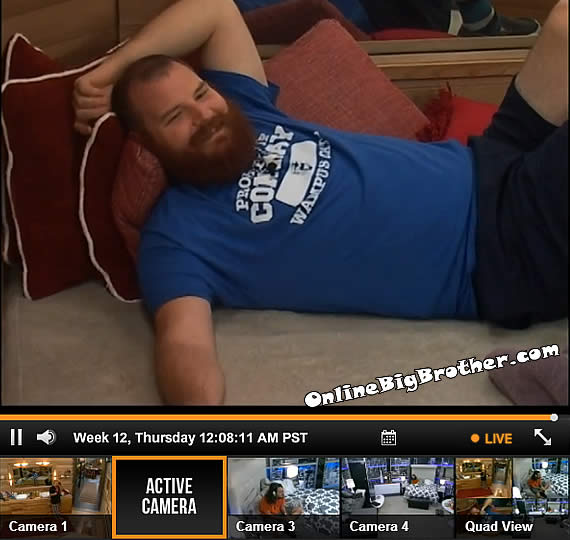 12:08am Spencer and GM
They are agreeing to take each other to the final 2 because they think they cannot beat Andy in the final. Spencer builds up how Andy will win the game.
Spencer – "Even if I got 50 thousands dollars oh my god.. I know you are not going to but if you pick Andy that is a half million dollar mistake… I love the kid but think about it"
If you enjoyed the site this season please consider a donation.