strong>HOH: Sarah Beth
HAVENOTS: DX, Ky, Tiff
Nominations: BIGD Xavier DX and Claire
Power of Veto Players: Azah, Alyssa, DF, Xavier, Sb and Claire
Power of Veto: Xavier
Power of Veto Ceremony: Xavier used the veto on himself. Sb nominated DX in his place.
Big Brother 23 Houseguest Rankings – – RANK THE HOUSEGUESTS –
View the previous day ranks on the – Ranking Grid
7:10pm Hammock – Big D, Hannah and Sarah.
Hannah – I think it will be two doubles and one battle back or one double and that's it. Big D – and a battle back? Hannah – no, no, no just one double and that's it. Big D – no battle back? Hannah – no because in that case we would have too much time left. Sarah – so it will be a battle back and two doubles or just one double. Hannah – I think it will be one double from 9 to 7 people.. then well get an eighth person back and then we'll have a normal week where we go down to seven and then we will have another double from 7 – 5. That's what I think is going to happen. Sarah – wow! Big D – DAMN! Hannah – or we will just have one double for 8 – 6. But if next week there is no double, then I will just have to assume there is no battle back. Big B – are you talking about this Thursday? Hannah – no next Thursday. If we don't have one then, I don't see how we would have enough time for a double and a battle back. They talk about how Brit is enjoying the jury house. Sarah – maybe she is hyped for a battle back.
7:20pm Dinner Time..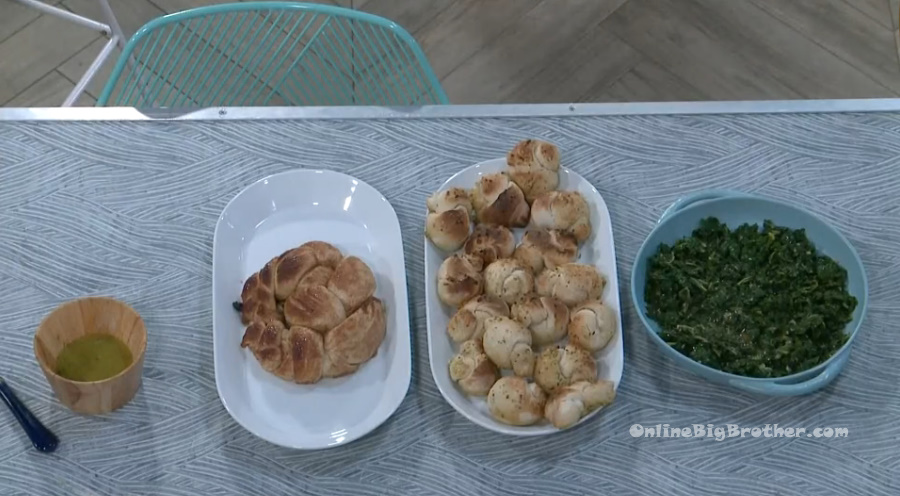 Big D's Take on "Hot Takes With Hannah"
– "Hot Takes don't really interview people" Claire – that's right its really just them talking. Big D – them talking sh*t.
– "Its interesting"
– "Its passable"
– "It was Cute"
– "I am really trying to avoid my real answer if you can see."
– "If I wanted to have a bedtime story, I would watch your show"
– "I was very bored"
– "I really didn't laugh"
Hannah – you stayed for a good 45 minutes. Big D – I felt like I had to because you invited me.
– "It is very teeny bopper which is fine for the kids!"
– "It was just literally a place for you ..like its game talk"
– "It needs a little more pizazz"
– "My honest opinion is this .. You're not interesting enough to be doing your show"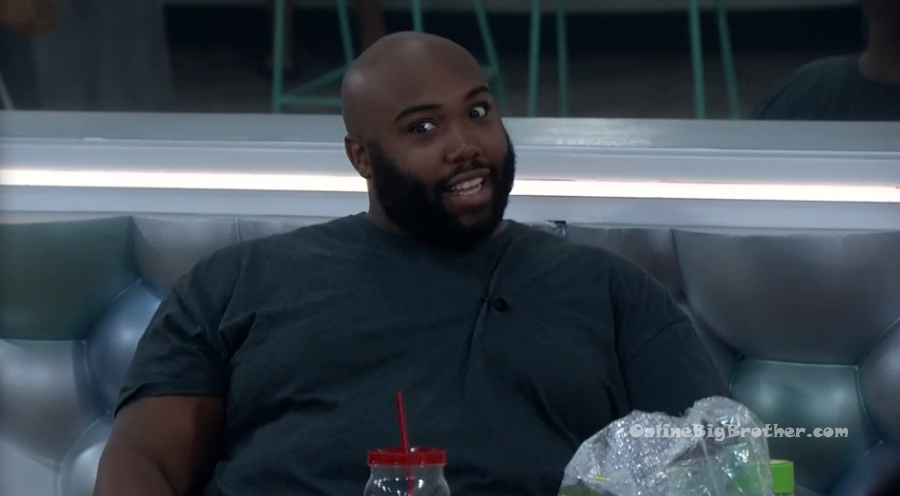 7:55pm – 8:40pm Hammock – Cliare and Derek X.
Derek – do you think you would be able to do better if you came again for all stars? Claire – no. Derek – same. Claire – like I just don't .. Like I would have trained more .. like I don't f**king know. Derek – I legit don't know. Claire – because I feel like my positioning .. like what could I have done different?! Derek – I think they just got so f**king lucky. Claire – I know. Derek – also Ky.. we put our trust din him. We really f**ked that. If it was X, that was.. Claire – that would have been the pivot point. I should have picked X to be on my team. Derek – remember when we were debating.. X and Ky. Claire – yeah. Ky is just way too much of an individual. Derek – Alyssa would have come to me. Claire – the thing is I just can't trust Ky at all. Derek – that is why I can't watch this show. I am not ready to see that. There is no way I would hang out with everyone. Claire – the thing is you (ky) F**ked me over and very knowingly did it .. and I have to live with you for four days as you try to get my jury vote. Derek – I KNOW! Oh MY GOD! Claire – it is obvious what you are doing and it sucks I can't do anything about it. Derek – Dude! I just don't know what you can do to position yourself. You need to win this HOH. Claire – I wish I was integrating with X and Alyssa .. all they do is sleep all the time. Derek – you wake up to final 3.. oh okay! Claire – the thing is I just don't see them targeting each other. Like they just don't have to but at a certain point they will. Derek – but when. If SB gets sent to jury after me, I would get off so hard! Claire confesses to Derek that she doesn't actually live in Astoria. She says that she lives in the Upper East Side but its "not a nice apartment". Derek flips out – no way!! I f**king knew it! Claire – you can't use this against me. Derek – I won't. I hate you! I am so mad. You had such an elaborate plan. We're 100% going to be friends. Claire – yeah. Derek – Oh my god, I think I like you more now. Claire about Hannah – I think she downplays how smart she is.
Derek – would you come back for All Stars if you were asked? Claire – I wouldn't be asked but I would. Derek – I would be salty but I would. I'd ask who else is coming.. I feel like I wouldn't get asked back. Claire – I think you would.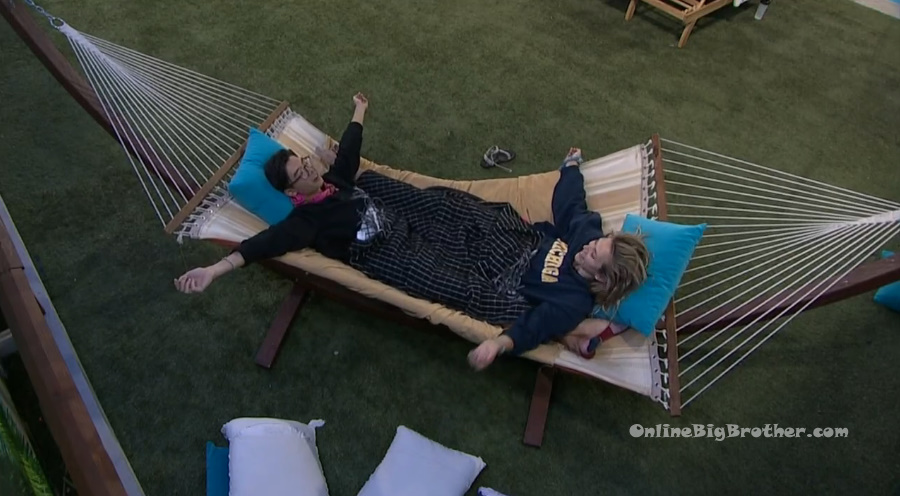 9pm – 9:15pm Bathroom – Derek X and Hannah.
Derek – Zach was on the block and Devin had put him up. Hannah – oh yeah, yeah. Derek – Zach had put him up and his speech was like keep me in this game and my one goal would be to take out Devin and then as soon as I do send me home. I might pull some sh*t! Hannah – I mean a lot of players have done that. Derek – do I just go all out and go full in and be like I will just be like a martyr and I want the under dogs to win this season. Let me stay for next week. I will play for the coup d'etat. I will take a shot at the other side. I will weaken the other side so that they don't have as many strong players. I will then go home but at least you guys have a fair chance at winning this game. Hannah – yup. The definite campaign to Ky and X is that if you are gone Ky and X would not be concerned about the other side of the house AKA me, Tiff, Claire, Azah, Big D .. ..so with you staying you're a shield in this game. Derek – can you think of a way that I can leverage the fact that Xavier will be locked up for 24 hours prior to the eviction. Can I use it to create paranoia with Alyssa? Can I use it .. I just feel like there is something I can do with that. Hannah – MMMMhhmmm. Derek – I can't figure it out. Hannah – what does Claire think about it? Derek – about the lockdown? We haven't talked about it with each other. I think it is good that if he is gone Ky can't talk to X. That is why I don't want to go full out until Wednesday.. That's when I will be like Big D you got me and X can't talk to Big D. Hannah – HHmmMMmmm.. okay. Derek – you see what I am saying? Hannah – yeah. Derek – if it was Ky, it would be better but X is still good. X and Ky have been working Big D all day. Hannah – I want to meet Adam.. because I want to know who puts up with Big D. Big D said it was hard being the leader of the house. Hannah laughs – He is so delusional.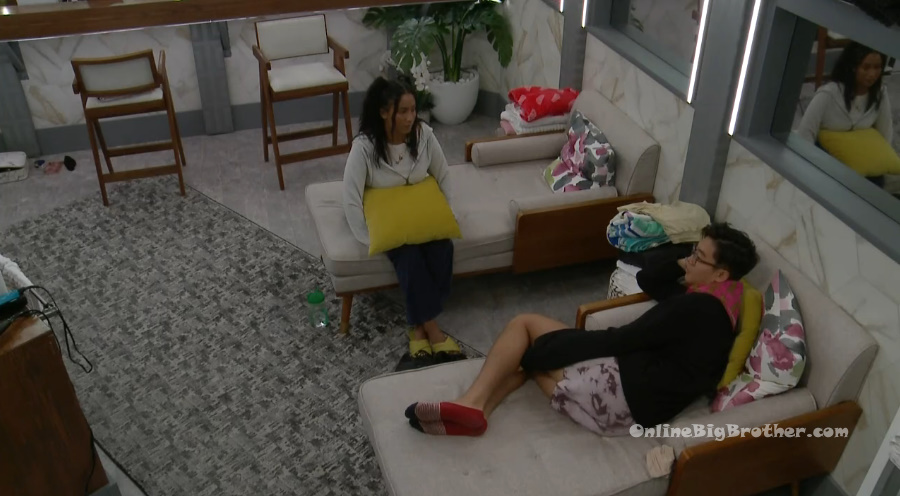 9:15pm – 9:30pm Bedroom – Derek X and Tiffany.
Derek – here is the pitch that I think I am going to give.. one of my major conflicts are .. do I still try to get Ky's vote? Or do I fully give up on it and then just expose them. There is a strong side in this house with two sets of duos and between the four of them X, Alyssa, Ky and SB they have every HOH and Veto. They have won every HOH an veto. So I honestly know that even if I stay past this week, I am gone very soon. Now I just want an underdog to win this season. I don't want this season to become what every season has become. So I just want to stay till next week do my noms, take a shot at the other side.. and because its the anonymous HOH I can still play again. Next week try to win HOH again and try to take out another competitor. And then they can take me out.. I don't give a f**k! At least you guys have a fair shot at winning the game. Tiff – MMmmmhmm. I like it. I am putting gall my trust in one basket. As of right now I don't see a reason for Ky to keep me. Tiff – I will try to get Ky to throw a sympathy vote. Azah joins them.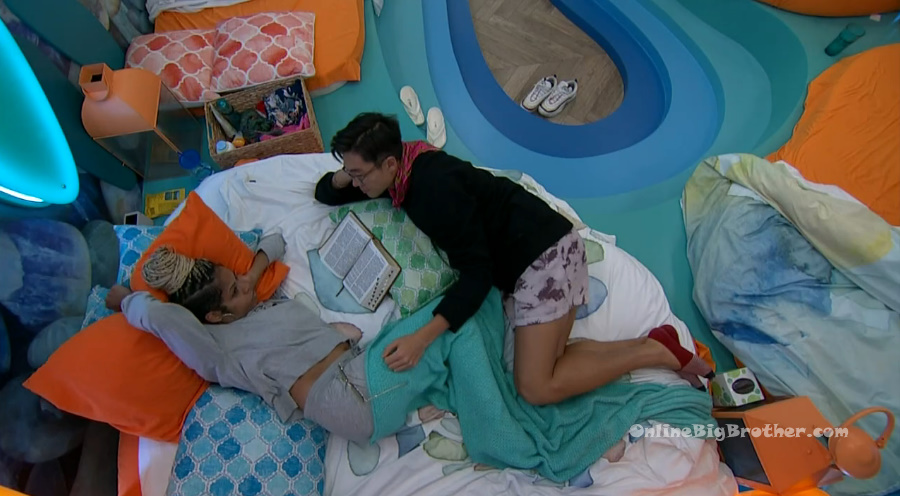 10:07pm Bathroom. Tiffany and Azah.
Tiffany – I like X and feel like X plays a good game. I would like to see him here. I wish all six of us could be here but we can't. And if we take anyone of them guys.. Derek make it to the final two, his a$$ is f**king winning. Azah – oh absolutely. Tiffany – Ky make it to the final two.. Azah – his a$$ is going to win. Tiffany – X make it to the final two.. Azah – he gonna win. Tiffany – it needs to be us. Azah – yup. Tiffany – if we even get them out then koodos. It would be really dope if the last three could be me, you and Chaddha. I like the guys but they would beat us. If any of them get to three, we don't have a shot. If me, you or Chaddha make it, that's a fair fight.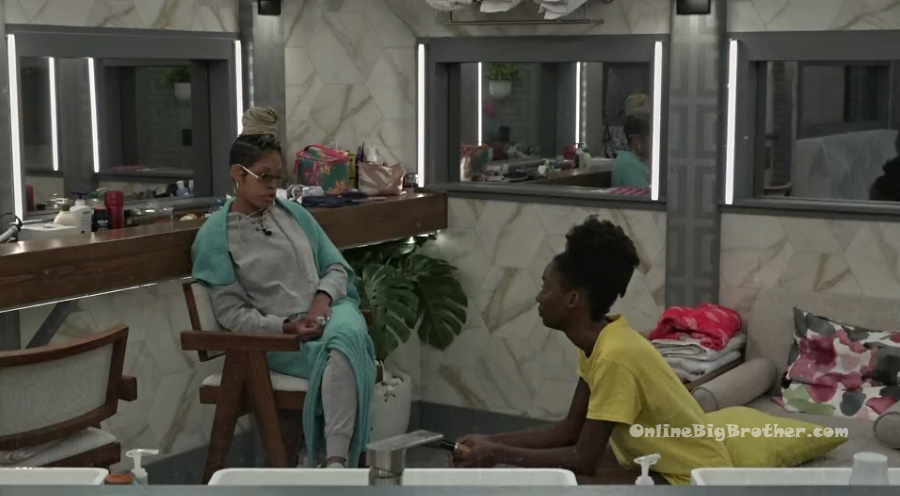 10:50pm – 12:20am The house guests are sitting around playing Mafia / BBC.
1:35am Kitchen – Hannah, Xavier, Alyssa and Sarah Beth are talking about social media / ex's.
1:40am – 1:50amBedroom. Azah and Claire are talking about how they did a "deep clean" of their apartments for BB but then didn't even end up using their place for the video intros. Azah comments on how this weeks eviction is a very difficult choice. Claire – that's why I was so upset after veto because I knew my only hope was if I had won it. Hannah joins them. They speculate on if there will be a double eviction and or a battle back.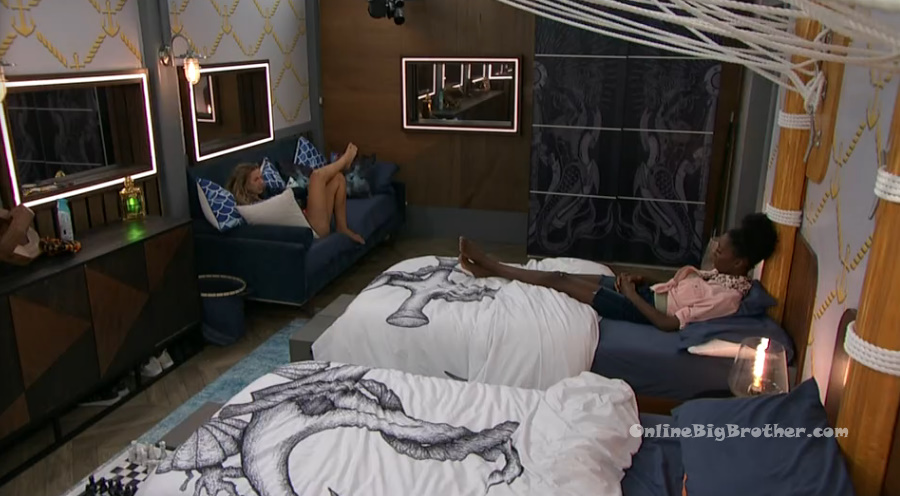 5:00 am Zzzzzz (updates will resume this afternoon)
Tips are appreciated! 🙂 Without your support this site and these spoilers wouldn't be possible.
Please consider making a donation to keep the madness going.