HOH: Tiffany
HAVENOTS: BIGD, Alyssa and Claire
Nominations: Alyssa and Xavier
Power of Veto Players: Xavier, Alyssa, Tiffany, Hannah, Azah, BIGD | Host : Claire
Power of Veto:
Power of Veto Ceremony:
Big Brother 23 Houseguest Rankings – – RANK THE HOUSEGUESTS –
View the previous day ranks on the – Ranking Grid
Big Brother Spoilers – Alyssa and X are nominated. Alyssa is the target. Alyssa winning Veto could bring some drama.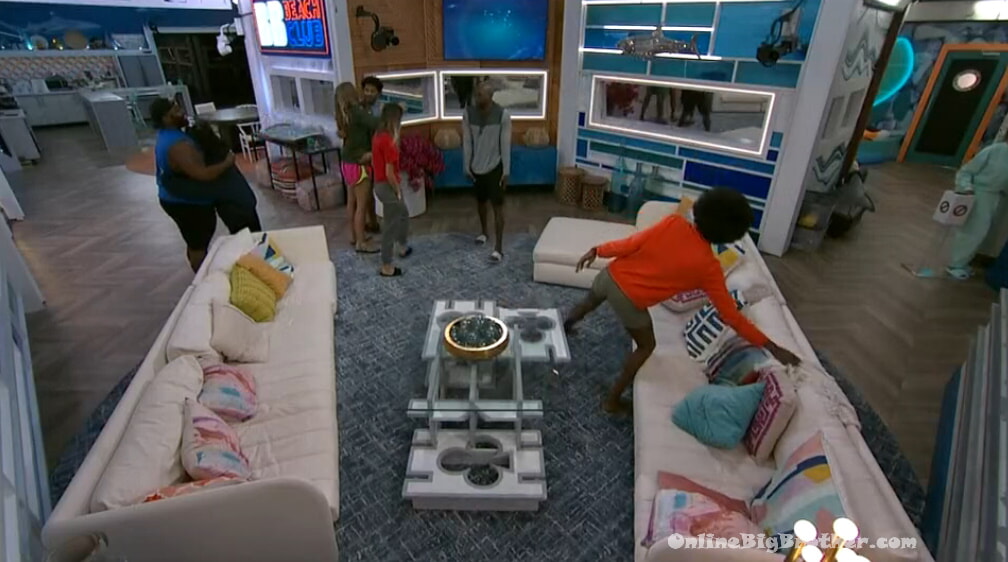 8:41 am Feed return POWer of Veto players were picked
Xavier, Alyssa, Tiffany, Hannah, Azah, BIGD | Host : Claire
8:55 am DF back in his spot. X pacing around.
DF – my bed feels off since you've been in it.. what are you thinking
X – Didn't seem that Tiffany and Hannah weren't thrilled with the picks..
DF – well no she wants to keep nominations the same
X – why would she be upset it's pretty much her against everybody else
DF – I don't know.. maybe in her perfect world, it would be Claire and Ky up there
X – she could have picked, Claire
DF – you have to think about it.. she knows she's better off by picking Hannah because Hannah can do more stuff than Claire.
DF – you can just talk to her I don't know where her heads at..
X – no I'm not going to talk to her. Its interesting after the picks they were in the kitchen whispering and sh1t
DF – Tiff is worried that when we get down to this her and Ky will be first. To me personally, the reason I don't want to work with her is.. Because how she was early in this game.
Feeds flip to the kitchen…. When we're back
DF – I would rather lose this game at 5 as long as she's out before me. I can sleep pretty with that. that's my mindset.
DF – she's freaking out cause she's like who is she going to work with.. She's got, Hannah. I mean Azah wanted to work with her a long time ago she turned it down.
Azah joins them.
DF says Tiff knows it's best to keep nominations the same.
Azah – if I win what..
Feeds cut.. When we're back
Azah – in this double eviction do you plan to go for HOH
X isn't sure.
Azah – I don't want claire to win on the other hand the 6 scares me the most being able to play on the six. (HOH)
Azah says on "one hand" she wants Kyland to win the next HOH so that he can't play on the 6th HOH. Azah thinks Ky will put her up if he wins.
X leaves.
DF says Hannah will take him out if she has the opportunity "She doesn't want the social threat going in far"
DF says the people taking him out are "Hannah, Tiff, and Ky in that order"
DF – Both of us were upset that Tiffany took a selfish move.. where do you think his [x] head's at?
DF – if you are looking at the six of us you feel like Ktyland is the most threat I feel like Tiffany is the most threat.
DF – Tiff and Hannah are going to want to get rid of Kyland
Azah – Tiff doesn't want to get rid of Kyland
Df – ME..
Azah – can I be hoenst. I think she would go for X
DF – I know that.. mmmhmmmm and he sees that (LOL)
Feeds flip.. To Claire and Tiffany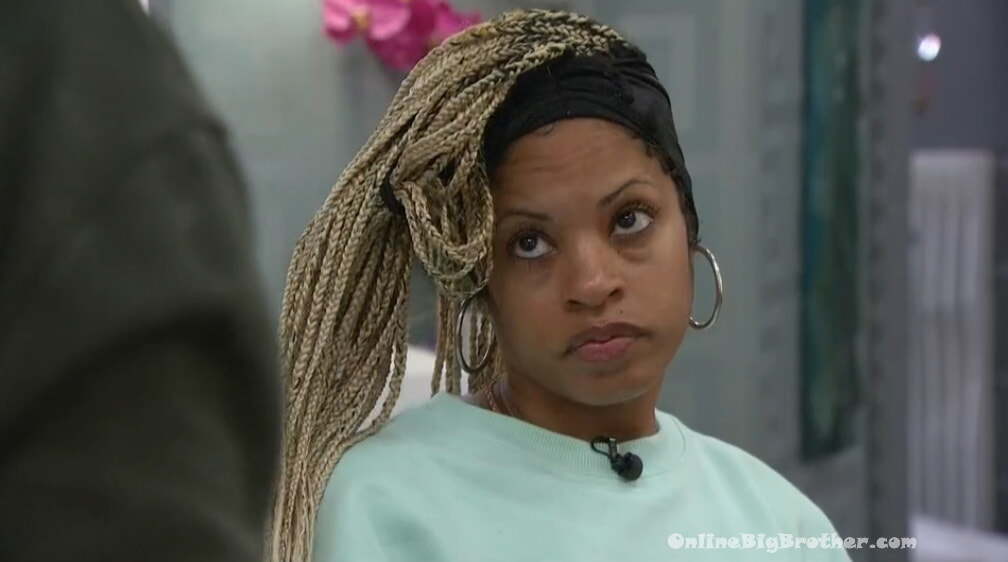 9:00 am Claire and Tiffany
Tiffany – Azah was staring at me so hard, but I can never read her look
Claire – I don't think Azah uses it
Tiff – what about BIGD
Claire – BIGD uses it on X
They start to speculate what veto is.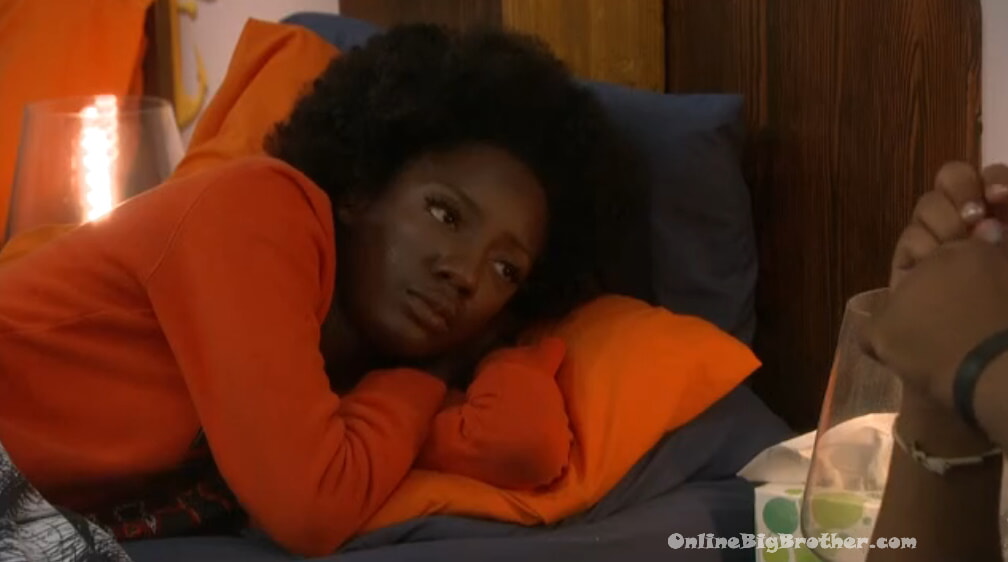 9:13 am BIGD and Azah
DF – if someone is going to be shocked this season it'll be me sending her a$$ out the door
DF – that's why she wants Alyssa gone. They better pray Alyssa don't win today.. I feel like I need to win veto so she doesn't try to pull any moves.. you know use the veto on Alyssa and put me up next to X
Azah – I hope not that's suicide.. she would be saying goodbye to her whole game. She would say goodbye to five votes in Jury,.
DF – everyone better pray Alyssa don't win veto today
DF – it's better for you and X to play when we get to six (HOH)
Azah – let Kyland win this next one?
DF – No I want to win this next one. I want Tiff gone and if I win this next one Ky will do what I want. That will be to get rid of Tiff.
DF – that's why I'm going to win this next one.
DF – no one is looking at Hannah that worries me
Azah – Hannah is collateral damage because he's not first, second or third in people's heads.
Azah – I got you, I got X and I trust Tiffany. You, You got X you got me and you like Ky.
DF – even though I like Ky I don't like KY enough to want to solidify and work something with him
Azah – for me If I can't get rid of Ky, the the next choice is Tiffany
Df – right
Azah – Sorry.. is HANNAH
DF – I get that. My hit list is Tiffany, Hannah, or Ky that's how I look at it.
DF – we just don't need to Claire to win. If Claire wins it's me and X of Me and Ky
Azah – Claire wins this next one put up you and X I win Veto who do I take down?
Tiffany joins them.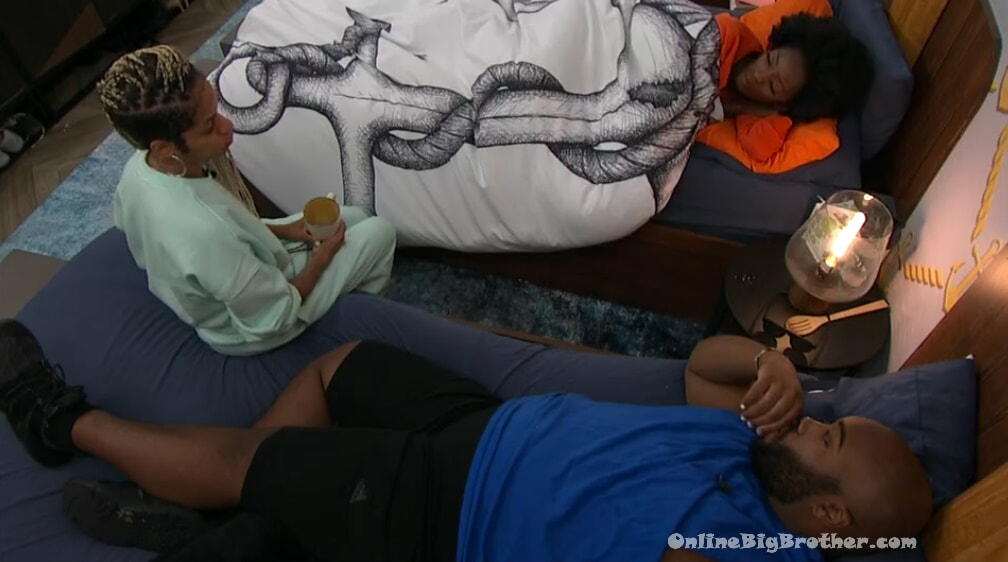 9:40 am Tiff and the jokers
Tiff tells them they have to keep the nominations the same.
Azah – I would never think of putting you in that position
Tiff says Claire knows if X comes down she's not putting up Kyland.
Tiff – She would not expect me to put Ky up she would think he goes home.
DF – she wants to keep someone that is a bigger target. you would have to put me up
Tiff – she wants Alyssa to go this week she would want me to put someone up there to ensure Alyssa goes home
DF – which would be me
Tiff – it would be you
DF – I know that.. I'm the back up
Tiff – if X comes down
Tiff – I need you both to go for Veto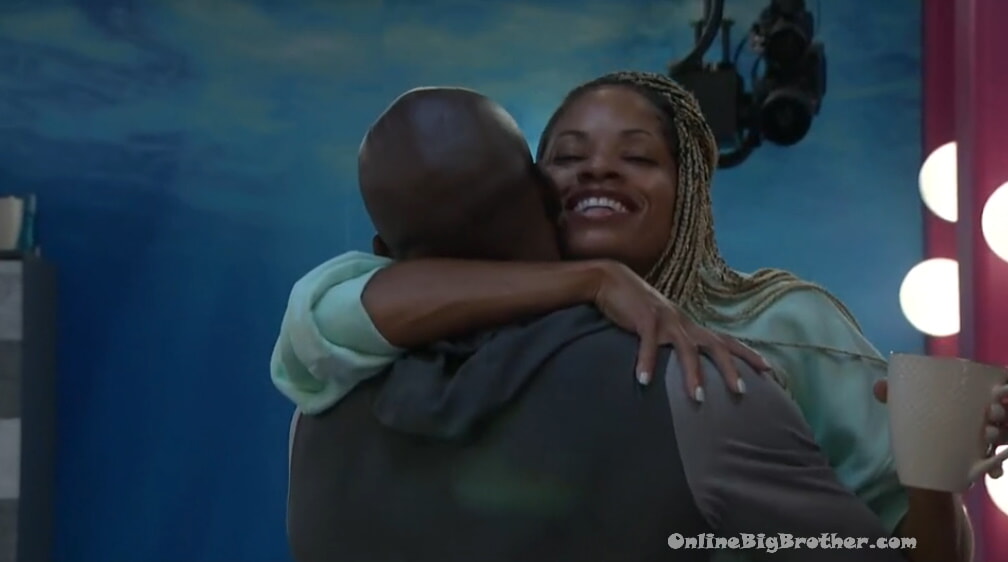 9:53 am X and Tiff
Tiff says she wants him to go for the veto she would like noms to stay the same but if he needs to win it for her to go home than he needs to win it.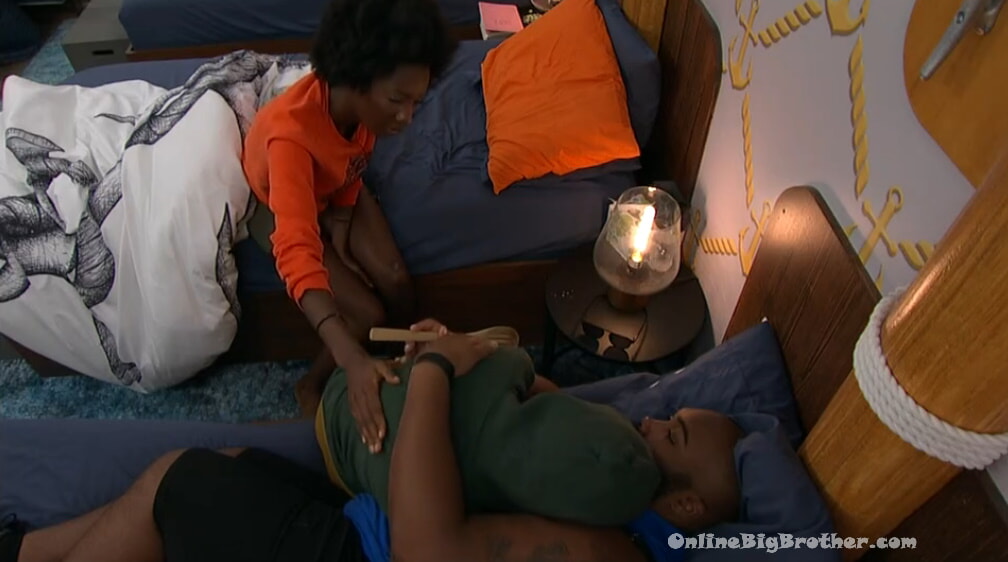 9:56 am Alyssa crying "I feel so weak I have to compete.. it's just not fair"
DF – did you eat something
Alyssa – I'm trying
Azah – you have a prot4ein shake
Alyssa – I don't want to eat that stuff ..
Alyssa – they want me to have energy in there I don't care anymore.. I'm not going to win what's the point.
Alyssa – I don't care anymore
Jokers give her a pep talk.
Alyssa – if X wins I go home. One of you two will go up.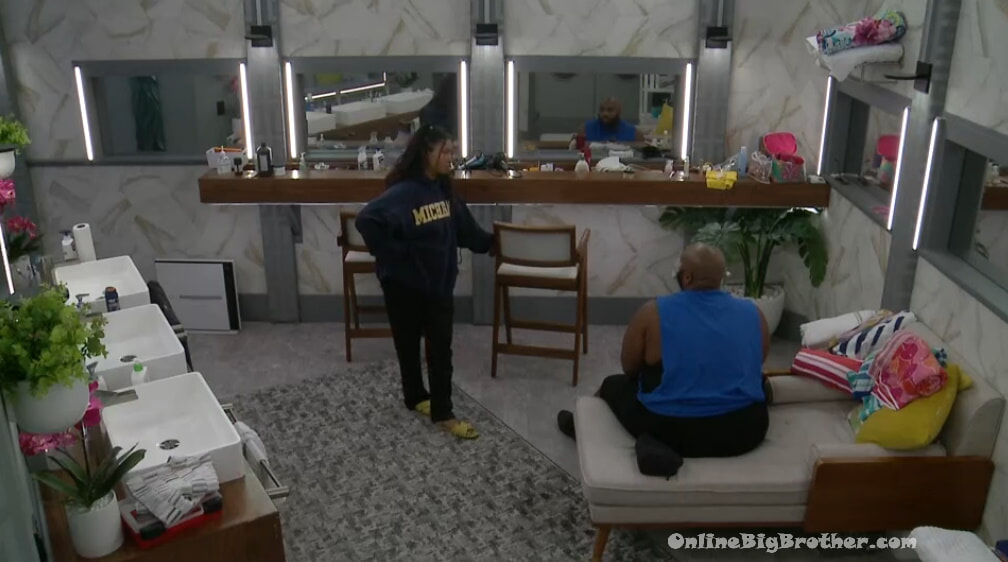 10:20 am DF and Hannah
DF says he's willing to win the next HOH so that the rest of the cookout can play in the 6th HOH. (throw the next HOH to me so I can win it)

10:00 am Azah and X
Azah asks if he's talked to Tiff about where his head is at when they get to six
X says he hasn't "There's only two people that have gone against the grain of the group" (Ky/Tiff)
Azah – Kyland has put Claire up twice and Claire wouldn't put up Kyland.
X – really
Azah – yeah
Azah now says that Tiff told her Claire wouldn't expect her to put up Kyland
Azah – maybe I'm missing something I thought they didn't like Kyland too
Azah – can I be honest X. Claire probably sees you as a threat.
X points out Tiff, Kyland and HIm all won the most competitions and only he's the only one to sacrifice sh1t.
(Veto is apparently in the basement this week)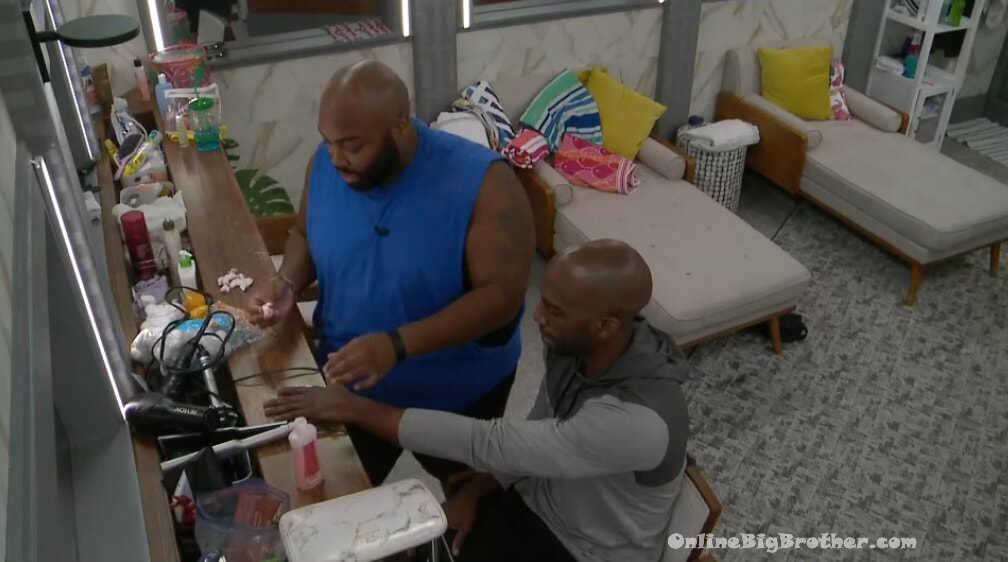 10:55 am DF helping X with his nails.

11:30 am
waiting for the Veto to start.

11:36 am
After spending the last 30 minutes outside of the yacht room the Jokers head back to sleep.
11:55 am everyone chit chating or sleeping. Waiting for the veto to start.
Please consider a donation to keep the madness going.