HOH: Tiffany
HAVENOTS: BIGD, Alyssa and Claire
Nominations: Alyssa and Xavier
Power of Veto Players: Xavier, Alyssa, Tiffany, Hannah, Azah, BIGD | Host : Claire
Power of Veto:
Power of Veto Ceremony:
Big Brother 23 Houseguest Rankings – – RANK THE HOUSEGUESTS –
View the previous day ranks on the – Ranking Grid
Big Brother Spoilers – Alyssa and X are nominated. Alyssa is the target. Alyssa winning Veto could bring some drama.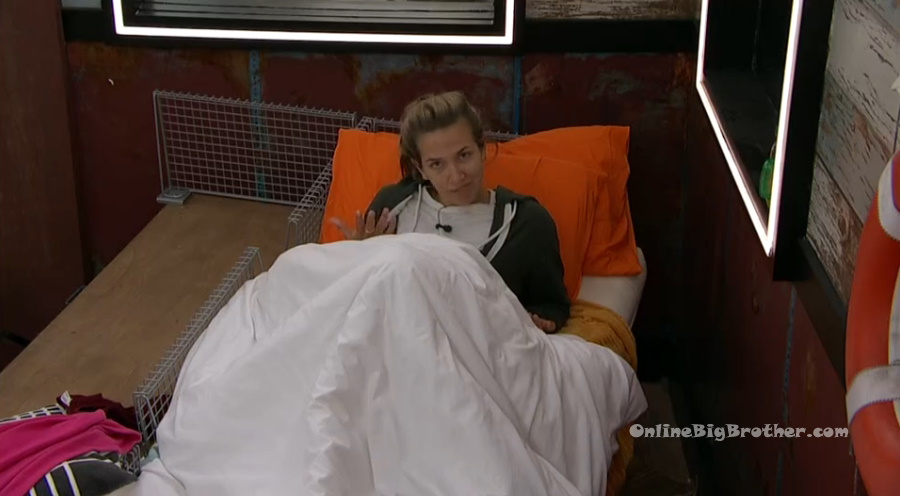 12:35pm Havenot room – Claire talking to the cameras.
Claire – I am still nervous. I am going to let him (KY) think that I would go to the end with him. That I would cut Tiff before him but actually ..and I am going to try and let him think that. Maybe he will take me further because at the end of the day I still want to get further. X … I think Ky might be lying when he is talking about X with me. That is my assumption. He doesn't want X to go. Claire starts studying the days / events of the season. Claire – so Ky I need to keep having him think that I would go with him. That I'm paranoid about other people. And make him think that I am worried about like the Jokers getting to the end. I am not really that worried about them. Have him think that I am worried about Chaddha and where Chaddha's allegiance lies. I know where Chaddha's allegiance lies. I need to let him think that he is getting to me. Ky has to think that he is the mastermind. Claire shakes her head no. I am buying 20% of what Ky is selling. So we'll see. And I do want him to be worried about X and that he will beat X because I do want him to go after X in the double and not me and Tiff. So that is why Tiff might also want to start getting into his head. I am also starting to talk to Chaddha about being weary that the big threats are going to look out for each other. Big D leaving next week is good for Tiff's game but its not good for my game. And its not good for Chaddha's game. And For Chaddha's game it probably is good if Ky leaves. Chaddha could be playing me a little bit. I think she is young and just honest. That's okay. I am also being honest with her. Azah, I have a good relationship with her but don't talk much game. I think she does want Ky out and I do believe that. And I would rather have X go than Ky but as long as X or Ky go I believe I am in an okay spot but I don't want a super big threat going. X over Ky for me because I do think Ky would keep me. Alyssa staying would f**k things up. So if X leaves, then maybe we take a shot at Alyssa next week. But I want Tiff to be the only big threat. The only guaranteed winner at five. I think I could start painting in Ky's head that he doesn't know what the f**k is going on. He has no power. He hasn't been able to do anything. And maybe I could send that message with Alyssa to jury and start down playing him and ruining his chances with the jury. And I have to start diminishing what Tiff is doing and Chaddha. F**k I have to really start changing my perspective of the house. I need to be less goofy and more serious. I have to have more game talks with people. I have to have serious game talks with people as they leave out the door. X is my weak spot. Well Big D is also my weak spot but I think he would vote me out. Like I am okay if its Alyssa, X and I am okay with Big D. And the five would be Me, Tiff, Ky, Chaddha and Azah. That is pretty nice for me and its probably pretty good for Tiff. F**k! I really have to think about Ky being in the end. What would I give credit for? Maybe for actually starting the Royal Flush. He probably had something to do with Alyssa / Christian that week. He had something with SB. He probably had something with Big D. They had the Butchers. They had the Slaughterhouse.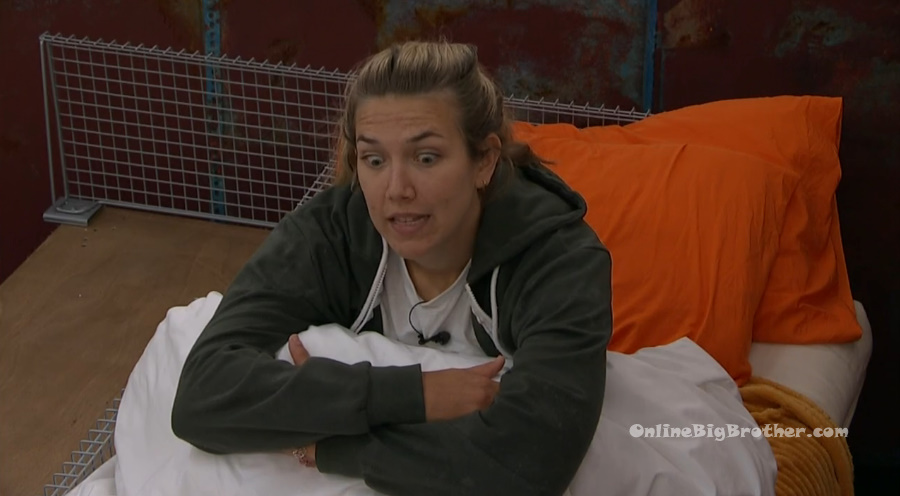 12:40pm Living room – Alyssa and Xavier are studying the days / events of the season just in case the veto is a memory comp.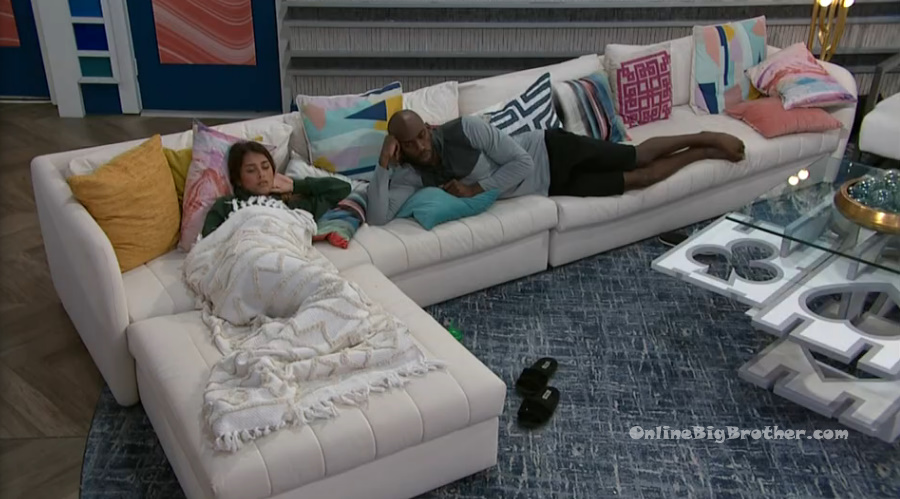 1pm – 1:25pm The house guests are studying the memory wall in case its the face morph comp.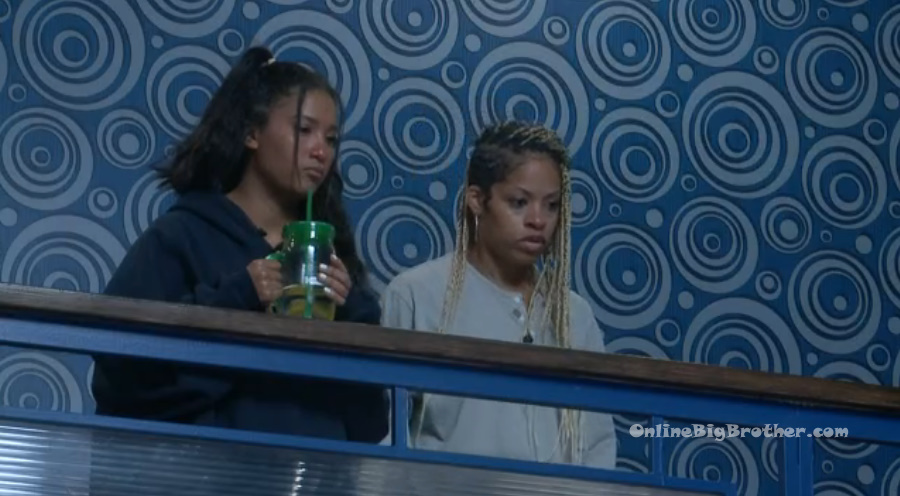 Big D is prepping for the comp the way he has all season. He knows its going to be an eating comp and he's going to crush it.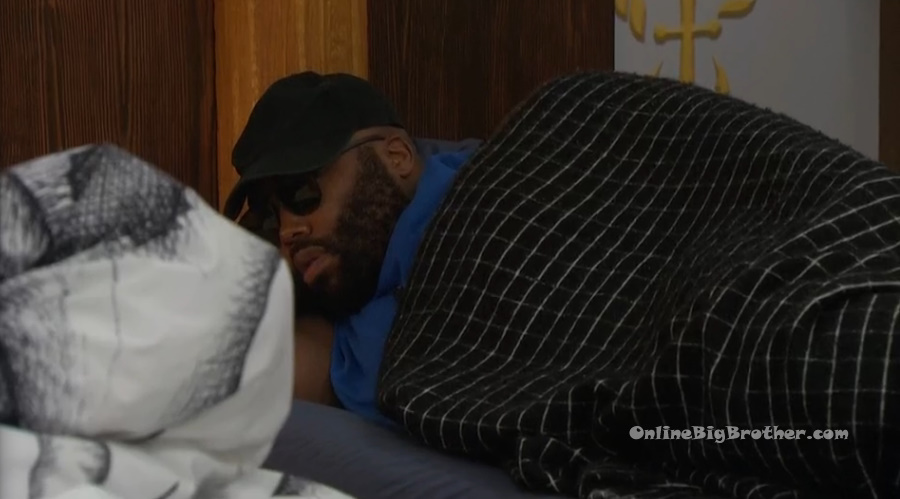 1:45pm The live feeds switch to the kitty cams.. The veto is starting now..
3:35pm Still blocked.
4:15pm The feeds return..
Tip jar 😉 Without your support this site and these spoilers wouldn't be possible.
Consider a donation to keep the madness going.