POV Holder:
?
Next POV
July 25th
POV Used
?
POV Ceremony
July 27th
HOH Winner Team 1:
Jackie
HOH Winner Team 2:
Vanessa
Nominations 1 :
James & LIz
Nominations 2:
Clay & Becky
Battle of the Block Winner
?
Next HOH/ Next BOB
July 30th / July 24th
Original Nominations:
?
Current Nominations:
?
Have Nots
?
2:54pm Austin and Vanessa
Austin saying he's cursed now he tried to banish the Audrey spirit and all of a sudden he got sick.
3:27pm Austin and Liz
Austin tells her the BOB might be in 20 minutes (Twins have switched Julia is out Liz back in)
Liz – I don't know what to do I'm literally dying right now
Austin – Steve threw the HOH
Liz – what a dumb f***
Austin says he wanted to go up and throw it to keep Liz safe but vanessa put Clay up . The plan is to backdoor steve so she should be OK.
Austin says if she doesn't win the BOB he still can win the veto and get her off the block. (No idea he's the target)
Austin thinks no one knows he voted for Audrey everyone thinks it's steve they are all sick of him. The house thinks Steve is America's player. (The story the house is telling Austin)
Liz is freaking out. she's worried she's going home if her and James stay on the block.
Austin says the house is getting really cliquish with social groups but it's good Liz is part of that social group.
Austin keep telling her she's safe this week.
Austin says Julia hangs out with Steve and JohnnyMac. He was trying to tell her to stop doing that.
Austin lets her know he told Jason about the twins.
Austin – I tried to cast a spell to expel Audrey's juju and I got sick.. I had to cast it out I got that spirit I got the spirit inside me
Liz laughs "It's bad juju"
Austin – you are not going to go there's no way..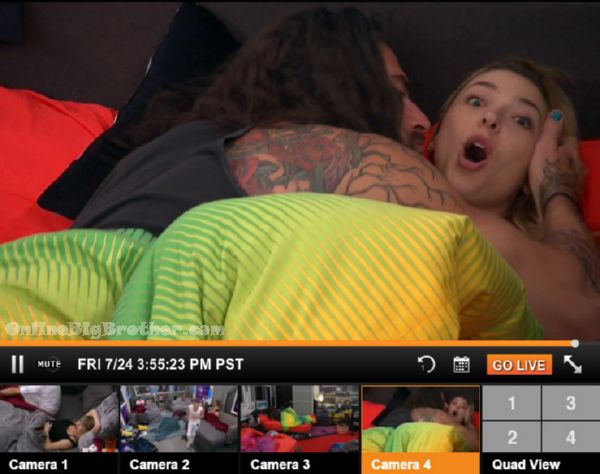 (Seconds before Austin kisses her they get called for the final wackstret boys performance)
3:43pm they move to the bedroom…
Liz – why didn't vanessa put up Becky
Austin – you are not going anywhere..
Liz – did you die when you say Jackie won
Austin – yes, I went up there and really talked to Jackie..
Austin is pissed that Julia is spending so much time with Steve and Johnnymac.
Austin tells her if she's up against Steve they have the votes to keep her. Counts Shelli, Clay as votes.
Austin recaps his conversation with JAson when he told him about Julia and said he wants them both in the game. Austin makes it clear that he told jason he knows he's caught in the middle of the twins.
Austin explain he was trying to open the doors with Jason trying to make him think they can communicate together, " I can be someone who can be reasoned with and talked to"
Austin doesn't know if any of this got back to Vanessa or not he's never told her the full story and she brought it up with him, "I didn't tell her EVERYTHING"
Austin adds he never had a real chance to talk yet. "I'm not trying to keep anything from her I just don't know what to say about anything right now.. I'm scared, I'm scared for you.."
Austin says he voted out Audrey he did. It was Judas that voted out Johnnymac,
Austin recaps the finale show says the music wasn't playing in the house only in the studio so thing were messed up. Austin adds that jmac's speech was funny.
3:32pm Clay and Shelli
Scheming against Austin Shelli says Austin has a tattoo on his back that says J S that means Judas
3:44pm Jmac and Steve
Steve says the question they have to ask themselves do they want the twins or do they want a Jace, Da or Audrey. He would rather have the twins
Steve expands the question asks if he would rather have a jury member come back or the keep the twins,.
Jmac says he would rather have a jury member come back because it might be him
Steve – that's a good point..I never thought of that;.. hmm…
Jmac tells him to chill this week and don't play the game too much.
Jmac leaves..
(A Jmac, Steve, Liz, Julia, Becky alliance would break the internet.
3:56pm Final performance of the wackstreet boys on the elusive sky bridge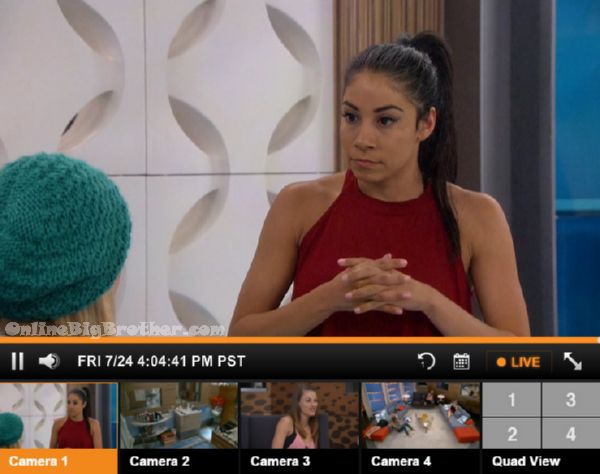 4:02pm Vanessa and JAckie
Vanessa says Austin knows what is up she can tell how he's smiling at her.
They start a heart to heart Vanessa says she never lost her virginity until she was 19 she got married early he was her best friend he was an amazing professional gambler. "I loved him until the day he passed away.. I met him when I was 22.. we broke up when I was 27.. but we stayed best friends. even when I started dating women"
Vanessa says after they got divorced her ex got diagnosed with terminal cancer and died. "even though our marriage didn't work out we were best friends till the end.
VAnessa says being a gambler never made her feel good she was just finding little loop holes and exploiting them that is why she went to music being a DJ.
Vanessa – I'm attracted to guys but i'm better with women for a relationship ..I've realized what works for me.
Vanessa really plays up how much she likes Meg
Jackie says she likes Julia more than liz
Vanessa agrees says Julia has her head in the game more but Liz is fun and goofy
Vanessa inquires if Jackie was every interested in Austin.
Jackie says she was never into Austin at all it was just for fun.
Jackie feels bad for breaking up a showmance
Vanessa says She's doing the twins a favour getting rid of Austin he was fine with the twin leaving That is such a douche mood "he's wanting to get a$$ in the jury house"
Vanessa says Austin only cares about getting a$$ in the jury house he's being a super douche
Vanessa – I find the whole thing gross.. the way it was said
Jackie – the Julia one talks a lot .. the other one is with Austin all the time. that's why I like her
Jackie is going to share something "My parent .. I never said what they do… you'll see.. so my mom she's a sergeant in the LA PD my Dad is commander of the LA PD.. they are both retired.. "
Jackie – My dad like ran LA the whole west side.. like the commander's' daughter.. my dad was the captain of internal affairs.. you have to be on your fucking sh1t..
Jackie highlights how loyal and lawful her dad was.
Jackie says she's been close to James since Day 1.
[envira-gallery id="123801″]
4:32pm Liz and Austin
The BOB is going to start soon Liz is so nervous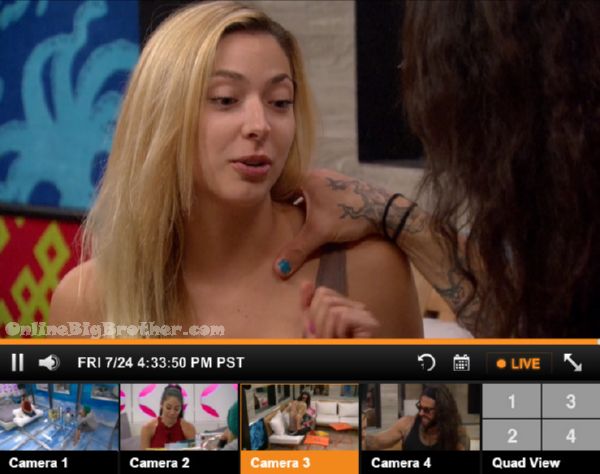 [envira-gallery id="123787″]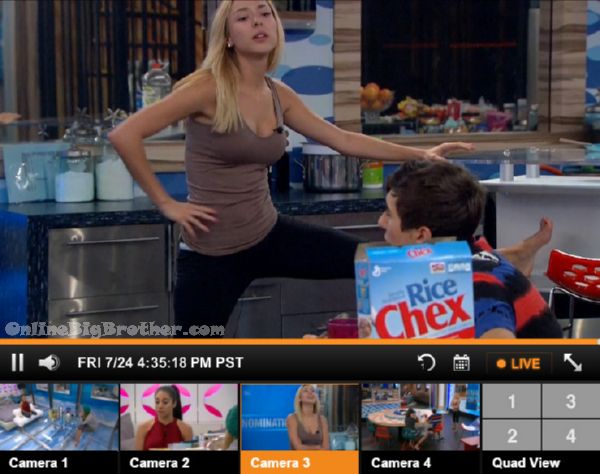 4:50pm BOB Competition has begun
6:52pm Feeds still down
Austin gives Liz a kiss before the last wackstreet performance #BB17 @DawgsBigBrother pic.twitter.com/iuaG5DTDTh

— OnlineBigBrother.com (@bigbspoilers) July 25, 2015
Live Feed subscription gives you CBS All Access thousands of archived shows. Live Shows like Big Brother, all the Big Brother Seasons, and 24/7 coverage of what is happening inside the Big Brother House. Plus there's flashback that lets you go back to any second of the feeds and rewatch what happened. Simon and Dawg will index the season just watch the parts worth watching. All this for $5.99 a month try it out 1 week free. Support our efforts and get your feeds via a link on this site. Live feed subscription Sign up
[polldaddy poll=8994045]
Share it YO!!
Tweet