POV Holder:
Big Meech
POV Competition
July 23rd
POV Used
NO
POV Ceremony
July 25th
HOH
James
Next HOH
July 28th
Original Nominations:
Frank AND Bridgette
After POV Nominations:
Frank AND Bridgette
Have Nots
?
CBS All Access: Live feeds are only $5.99 per month – Try it FREE for 1 WEEK!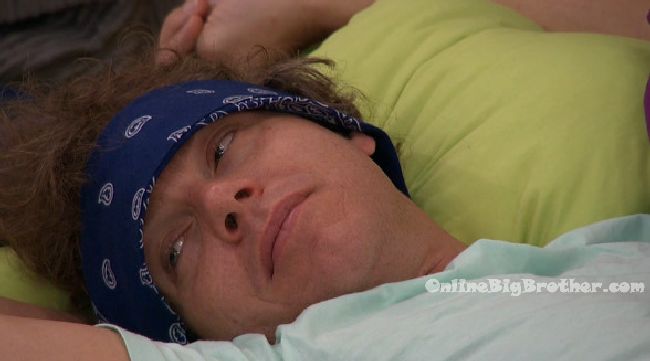 5:05pm Bedroom – Frank and Bridgette. Frank says I'm tired of talking about those stupid f**king tickets in the DR! Quit trying to get my hopes up. I don't know about you but the way they talk about the damn house and that whole riddle thing… makes me think the whole house is against us. Bridgette asks what the riddle thing? Frank says the secret thing. Bridgette asks that tickets? Frank says yes. Frank asks do they not pose questions to you like that? Bridgette asks what? Big Brother blocks the feeds. Whne the feeds come back – Frank asks am I that scary?! Bridgette says some times. Frank says I like that. Bridgette says not that scary. You're kind of intense some times though. Frank says I really did want to tell a couple people F**K YOU! Bridgette says that's not a good move. Frank says I don't think there is a right move. Paul is one of them.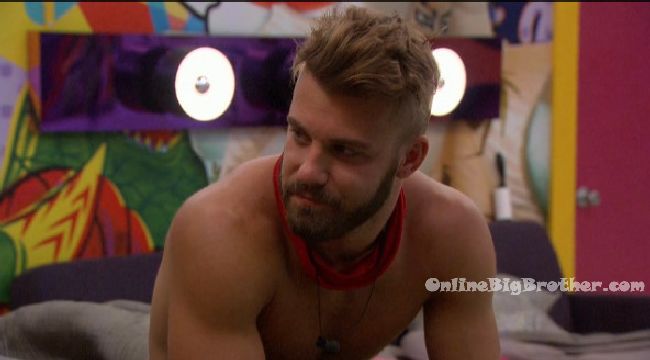 5:45pm Paulie and Corey – Paulie says that Da was talking to Paul and I.. she said that Corey and Nicole are working with Frank and Bridgette secretly. And I'm like I don't think so. She keeps trying to me personally to put a wedge between us. That's how I know she needs to go because she keeps doing stuff. When I talked to Frank and Paul talked to Bridgette .. we came back with Mama Da is just trying to put heat on Corey for no reason. Corey says I'm about to call her out for it because I'm about tired of my name coming out of her mouth. Paulie says na, lets just put her on the block and send her home. I heard from James that she wants to put me on the block. The main thing for me .. is if I ever hear your name or James names about being put on the block or anything I would just come to you. Frank said he would put James & Nicole. Bridgette said she would put you and Nicole on the block. Corey asks me really?! Paulie says I thought we should take care of Da first .. maybe we should take care of Bridgette first. Corey asks why would she put me on the block, it makes no sense. Paul joins them. Paulie says apparently Frank is going to call you or I out. Paul asks why? Paulie says he's going to say eat sh*t and die! For telling Bridgette.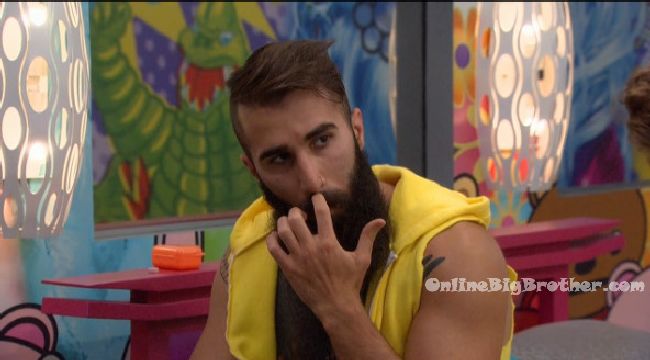 CBS All Access: Live feeds are only $5.99 per month – Try it FREE for 1 WEEK!

6:15pm – 6:45pm HOH room – James and Natalie. Paul joins them and says he tried yesterday and told Bridgette. I was like do you want to go home!? I also cleared everyone's name. I cleared all the boys from the sh*t list and all the girls from the sh*t list. She mentioned constantly that James's f**king lied. I was like you heard his speech he said it has nothing to do with you. Pull yourself off. We're all after Frank and you've just been attached to him this whole time. Don't blame James, he did what the house wanted. I did a lot for a lot of people. James says damn I was still on her sh*t list. Then I talked to Frank. He said he was coming after me. I was like yeah dude .. if you stay. Natalie asks so who is going home? I'm confused. Paul says FRANK .. that's where my vote is going. Paul says Frank was pissed that I told everything to Bridgette. I heard he might call me out later. Paulie joins them. Paul says he put her on the block and then put her two close friends on the block and lied about it. how many things does he have to do to to you before you say f**k you. Paulie says I'm voting Frank out. James asks who else did he say he was putting up besides me? Paulie says Nicole. James says damn. Paulie says I asked him (Frank) what happened with Da. And he said na man we're good .. we talked. James says I can't be mad at Frank .. I put him on the block. Paulie says the only way he is staying in the house is if he has the round ticket. Paul says he also didn't like how Frank was calling Bridgette a fatty and telling her to work out to burn off the chub. Its not a joke. Bullying is bullying. Natalie asks so everyone is voting out Frank? Paulie? Paulie says yes. Paul says there's 3 votes right here. I can put my nuts on it that Da and Z are voting for Frank too. I can bet you my balls Da and Z are voting him out. Jame says Nicole said you can give me 5K and I wouldn't flip my vote. Paul says dude, after this week you guys won't hear my voice for a long time. All I wanted was Frank & Bridgette gone. After that I'm going to hide and sleep and you guys can figure sh*t out. I'll put my balls in this one because I know how damaging they could have been.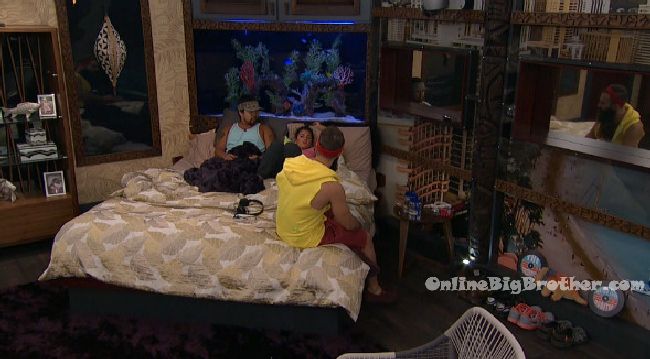 7:10pm Frank tells Nicole how they were really trying to tell Bridgette that I was campaigning against her. Nicole asks who? Frank says Paul, Victor a little bit and Da too. Nicole says I told Corey .. I would literally campaign no matter what. Frank says that's the thing. I've literally asked 3 people were their votes are. You.. Nicole says I swear to god I didn't tell anyone. Frank says no but you wouldn't even call that campaigning would you? Nicole says no. Frank says I said you better not vote me out or Ashton and I aren't taking you to the Melting Pot. They called that campaigning. I asked Victor if I had his vote and he said if the votes are there you have my vote. Frank says they took me and Bridgette talking about missing home and turned it around to me saying she wants to go home. Nicole says worst comes to worst .. its a compliment and you could come right back in. Frank says if you want to help me out I would appreciate it and if not help her (Bridgette) out next week. Nicole says well I'm assuming that since my name is coming out of your mouth every person you talk to that I'm going to be her target too because whoever your target is .. is her target. Frank says not necessarily. Frank says don't take my speech tomorrow personal. I'm not calling people out. I'm going to compliment Bridgette and then talk sh*t about people in the house.
7:30pm – 7:45pm Safari room – Paulie says I don't trust Da or Nicole. But which one goes first… Frank said if he wins HOH he is putting up Nicole next to James or Da. Bridgette said she would put up Corey up next to James Da. Vic asks so its us 3 (Paulie, Vic and Paul) and who else do we trust? Nobody? Paulie says no one else do we trust with information. Once Natalie is gone we trust James and once Nicole is gong we trust Corey. Vic says we can't trust them until the umbilical cord is cut. Paul and Corey join them.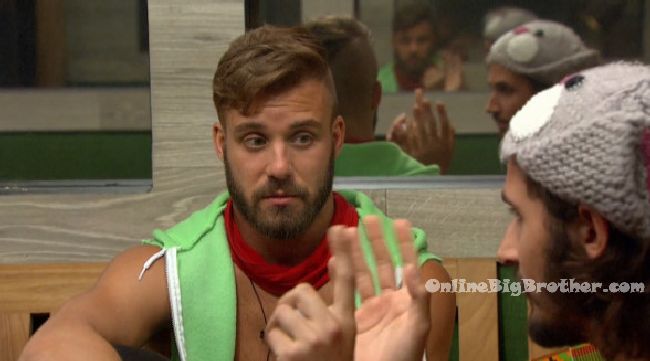 7:55pm Paul and Da are talking. Da says Nicole has her hands in a lot of pots. A lot of pots! Paul says if that's the case then we've got to put in Vic. Our numbers are being weird. Da says we've got me, you, Paulie, Z and homeboy. That's 5.
[polldaddy poll=9477458]
[polldaddy poll=9477456]