Head of Household Winner – Dani
Have nots – Da'Vonne, David, Ian
Nominations – David Tyler and Kevin
Power of Veto Players are – Ian, Kevin, Dani, Tyler, Enzo, Da'Vonne.
POV Host: – Nicole
Power of Veto holder – DaVonne
Power of Veto Ceremony –
Powers – Christmas, Dani, David
Live feeds —-> Grab your Live feeds here. Try it free.
Rank the houseguests —-> Big Brother 22 Ranking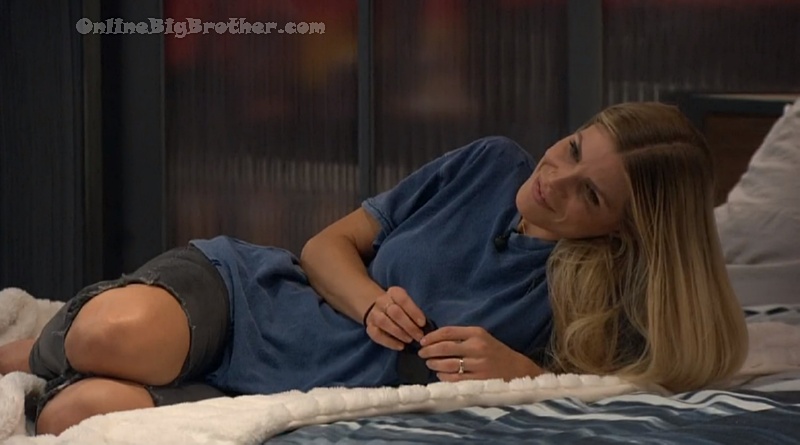 2:00 am Feeds return after an hour of pound puppies. Dani and Cody in the HOH everyone else sleeping
They're talking about if Ian goes up how does it affect them game wise.
Cody – Enzo doesn't give zero fucks about anything.. it's not affecting us with him .
Cody doesn't think anybody will mind
Cody now goes on about how Ian has 'Opened up" so much now that they've made jury hes "Chipper" and Cody is "Liking him a lot more"
Cody – personally it would suck but thinking of it at a game level. IF Da'Vonne uses it and Ian goes up we'll deal with the pushback we wanted him out we didn't want him going deep in the game anyways
Dani – I know
Cody – you and I have had this conversation for weeks now personally it might be really tough
Dani – it just sucks because it's all on me .. I"m going to be the bad guy not you and Nicole
Cody – no
Dani – how
Cody – at the end of the day he's coming to Nicole and I and asking do I have the votes and who is literally going to blindside him? you?
Cody – you're putting him on the block you'll have a conversation with him
Cody – he's going to feel betrayed by Nicole, He'll feel a certain way about you and a certain way about me. The only problem is to make it seem like 'Ian there was nothing I could do you are a pawn' If he feels like Nicole knew he was going up like.. the chaos is going to ensue .
Dani – we have to figure out exactly what I would say to him
Cody – My best case scenario is if she doesn't use the f***ing veto. I can't believe shes putting you in this scenario. I don't understand why you are not more personally irritated by that
Cody – her reasoning is what I would look like to the audience if I don't use it
Dani – that because she's saying ..
Feeds cut.. when we're back
Cody is saying that Da'Vonne was saying she was close to Kevin so he would be the person she got put up next too other than Bayleigh "now you are using the veto on him?"
Dani – yeah, because now she doesn't have other people though like.. Listen. She also thought she had like the slick 6 and everything and that's obviously gone. that's why I was suggesting bringing something back to her where she feels part of the group (Slick 5?)
Cody – she needs to be convinced to not use the veto before anything is brought to her. If it's brought to her before the veto I feel that it will confirm to her 'I need to use the veto because they are going to try and send Kevin home..'
Dani says Da'Vonne using the veto on Kevin "is the worst thing she can do for herself in this game"
Cody says Da'vonne has 'Exhausted her only win of the season"
Cody – it's over all such a bad play for her to use it
DAni – I would want Kevin out over her, you wouldn't?
Dani points out that Kevin has come in second on every competition.
Cody says if Da'Vonne uses the veto "Ian is going home 1 million percent" (assuming Dani put Ian up)
He adds if the veto isn't played they probably can convince the committee to send Tyler home.
Dani agrees.
Cody – nobody will send Tyler home over Ian..
Feeds flip to sleeping houseguests.. When we're back..
Cody saying if production wakes him up early tomorrow he's going to get "Mean" adds that he wants Alcohol tomorrow.
Dani says she's heard theirs a light maybe.. feeds cut..
when we're back..
Cody – I can't tell how much these shenanigans with David makes me want him out of this house.
Dani – I know I feel the same.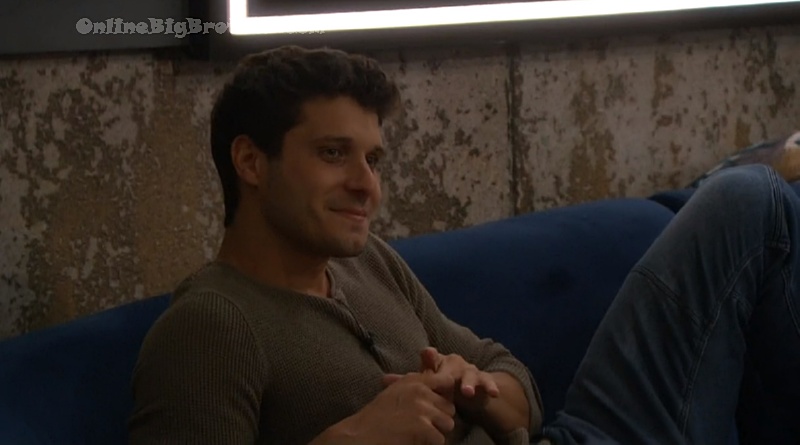 Dani – if you get HOH who will you put up
Cody – David and Kevin .. easy ..
Dani – if they're here
Cody – DAvid and Kevin are the easy noms and if one of them come down.. YO Christmas you're going up whether you want to be the pawn or not like you'll be my pawn this week you pawned for Enzo so pawn for your alliance and I'll literally put her on the block. that will be our convo, I have no problem doing that with her. We're not that tight
Cody says in the scenario that Da'Vonne uses the veto and Ian goes home in his mind the new Ian is Tyler.
Cody – he's the person that could win a f** ton of competitions
Dani says Christmas has won "4 f***ing comps she's got to go and she's won a power but we have to wait for the powers to be done"
Cody points out some of Christmas' wins were under the most competitive circumstances.
Dani says it doesn't matter if she gets to the end with 8 wins.. that's 8 wins.
Cody – when is she getting to the end.. lets be realistic.. get real
Dani – after the powers she has to go
Cody – you think her before Tyler
Dani – I think Kevin, David, Christmas, Tyler and Ian those are the five that have to go next
Cody says Kevin is a much more capable player than David.
Dani says if they send Memphis home they will be seen as heroes "everyone hates him"
Dani – he would be so good sitting final 2.. he is hated.. there's no way around it
COdy – you think? I don't know if he's even on the show to be honest..
Feeds cut.. when we're back..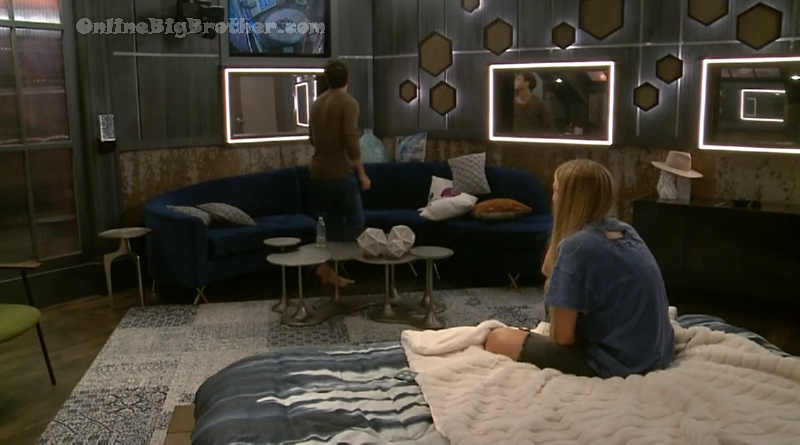 They're agreeing the five that have to go first are Kevin, David, Christmas, Tyler and Ian
Dani starts complaining about her power "It's embarrassing"
Dani says if Christmas does actually have the third power and it's really good like David's she'll be Furious
2:40 am they head to the kitchen to giggle some more..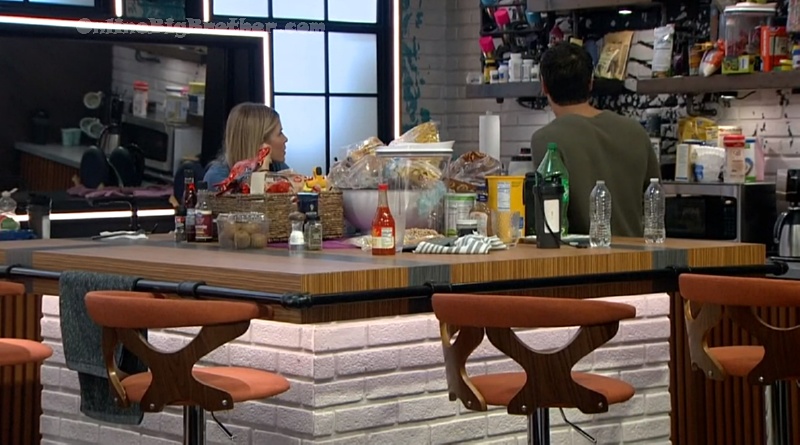 2:47 am Cody and Dani
Giggling about past seasons.. Cody says he's finding himself talking more and more like Enzo.
Cody notices and mound of white powers on the ledge says it looks like "Blow"
Cody – i'm not saying I would do it I'm saying that it looks like f***n .. .
THey talk about the ant killing traps spending the next 15 minutes throwing out old traps setting new ones..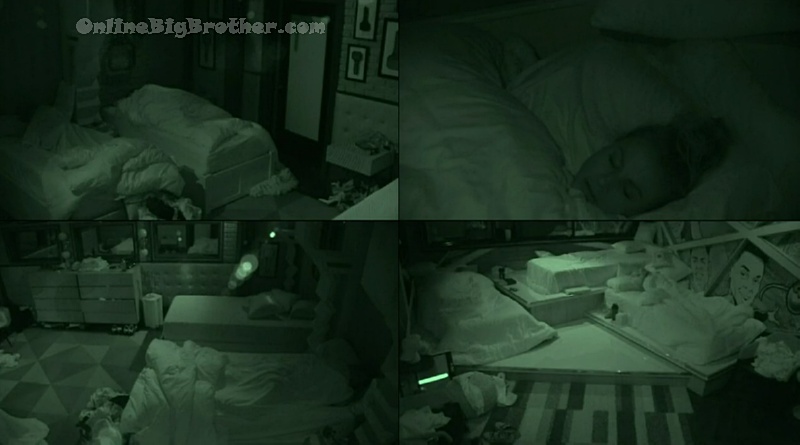 3:00 am all feeds show sleepers.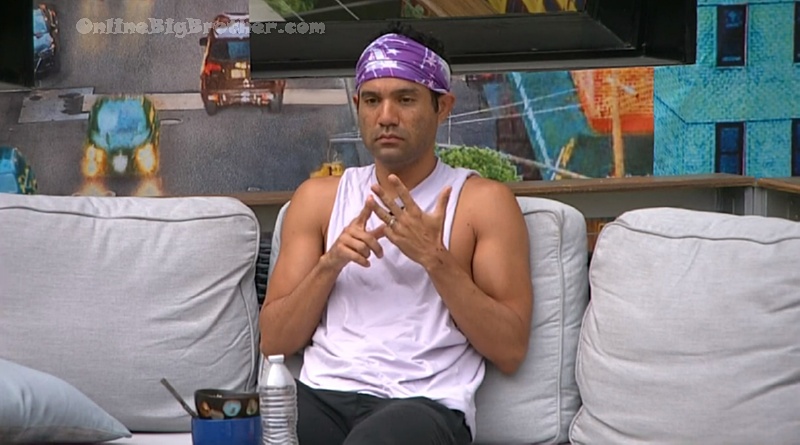 9:41 am Kevin
Kevin – I want to talk to people like normal to get their votes. Including Memphis, but I'm going to talk to Da'Vonne to see if we can form an alliance with this power (POV) meaning what if I can talk to Tyler to say Hey if there's a way we can convince Dani to put up a Higher value target next to you moving forward could we all work together.
Kevin – Da'Vonne, David, Kevin, Tyler, and maybe one more person I know this sounds Bizarre but maybe even Dani or Enzo but 5 people would have the majority moving forward. Tyler will feel like he's grateful for us having saved him even though I know he has a power but he can save his power. If it's true that he feels some kinda way about screwing Bayleigh then maybe he'll.. Hi Memphis
Grandpa Memphis joins him.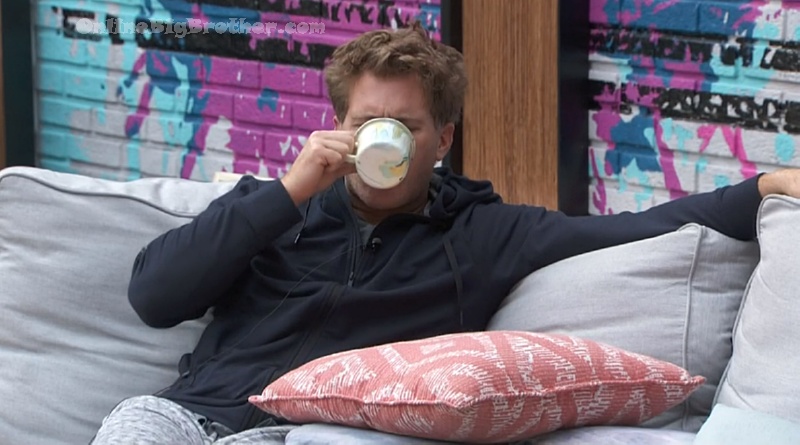 9:45 am Memphis and Kevin
Memphis – the sun is going to be out today.
Kevin – it's going to be nice. I'm here for it. Birds are chirping it's warm. How'd you sleep?
Memphis – it was good.. I mean as good as I f****g can in this house
Kevin – do you think I'm going to get the votes to stay
Memphis – I mean I don't..
Kevin – I need 5 to be sure. I still haven't talked to Dani
Memphis – who the f* wants to rely on a split vote anyways.. I don't think the house is divided I don't see any reason why you couldn't.
Memphis – There's no alliance with like 5 people so if that's not the case I don't see why you couldn't get the votes. You have to go one by one
Kevin – that's what I'm going to do today (ugh)
Kevin – I'm a block professional at this point..
Memphis- using the veto on somebody is a lot of pressure it a big game decision. I think for anyone when you look at the game and you think ok I'm going to pull someone off the block that's the biggest move as far as showing your cards and who you are playing with. From that angle I think you got to look at it like that. obviously you want her to use it who cares about her game you just want to get off the F***g block that at least gets you safety to next week. I can't read her we haven't talk about it I don't know what she is planning on doing.. and I don't think she's ever won the veto
Kevin – she hasn't won anything
Memphis – There's potential for you to get the votes.
Memphis – Me, David, Da'Vonne and Christmas. That's four right now. you just need to convince Cody… or Enzo. You know what I mean
Kevin says there's declared obvious pairs that are not being targeted.
Memphis – when you get down to the 6 and 7 then you start saying Okay i'm putting these people up because I have an alliance with X.. because whatever there's so many less people
Memphis brings up concerns about Nicole and Ian. Saying it's obvious the two past winners would have an agreement.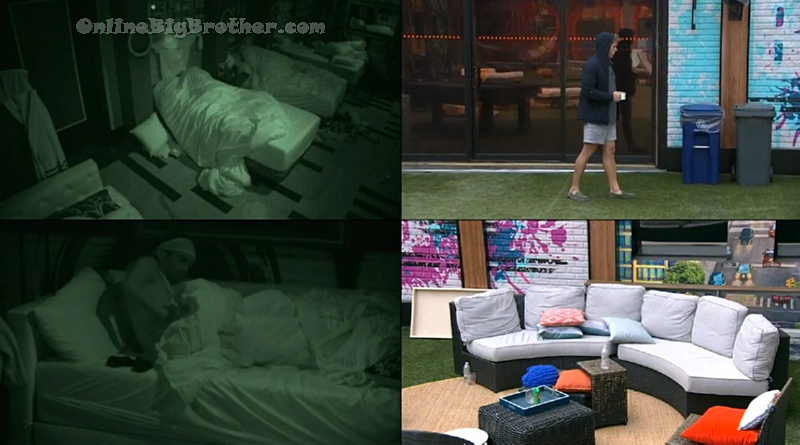 10:35 am Kevin crawls back into bed leaving Memphis outside pacing..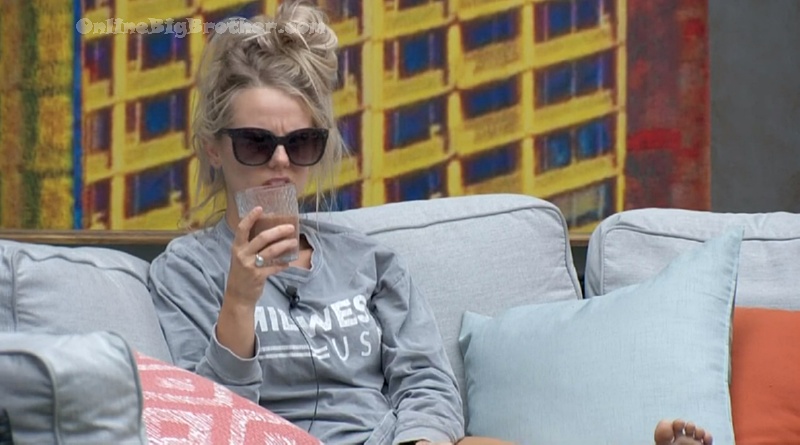 11:32 am Nicole
Nicole – I'm currently trying to figure out what I want this week I don't want Ian to go home. Ian going home is so bad.
Nicole – this is what i'm thinking. If Tyler and Ian are on the block. Ian is gone according to Dani and Cody
Nicole – I would rather Tyler goes.. apparently Kevin leaving is not an option at this point..
Nicole – why does my best ally have to leave and not hers?
Nicole – that's so weird …
Nicole – I'm not losing Ian this week that makes no sense.. no sense..
Nicole – It come down to losing Tyler or Ian I'll lose Tyler.
Nicole – I got ammo too, Tell Christmas Tyler was telling people about the women's alliance but Cody won't let me use it. I might use it still
Nicole – I need to talk to Memphis.. why would Memphis ever vote out Tyler instead of Kevin? Doesn't make sense.
Nicole – this is a terrible HOH week. Terrible.
Nicole – like no offense but getting someone that's on your team is so dumb.. so dumb ..
Nicole – I came here to play the game not just be like .. ohh whatever..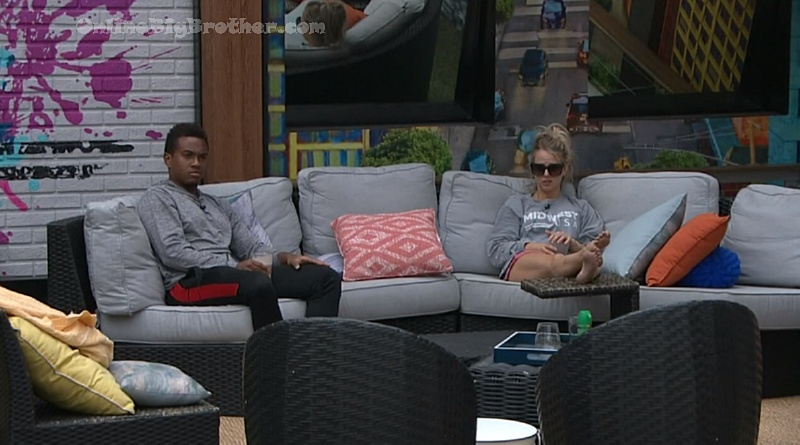 Noon DAvid and Nicole
Nicole says he's in a good position he gets to play in the HOH next week and he's safe "It's amazing"
David says he thought Dani and Tyler were tight.