Head of Household Winner – Dani
Have nots – Da'Vonne, David, Ian
Nominations – David Tyler and Kevin
Power of Veto Players are – Ian, Kevin, Dani, Tyler, Enzo, Da'Vonne.
POV Host: – Nicole
Power of Veto holder – DaVonne
Power of Veto Ceremony –
Powers – Christmas, Dani, David
Live feeds —-> Grab your Live feeds here. Try it free.
Rank the houseguests —-> Big Brother 22 Ranking
12:25pm HOH room. Nicole and Dani.
Nicole – in this game it is almost impossible to please everyone too. So even if you're trying to ..you know?! Dani – yeah you're going to screw somebody. Nicole – what does Cody want this week. Dani – he wants best case scenario for everyone for me to do whatever I can to convince DaVonne not to use it and then vote Kevin out. If it comes down to it and she uses it on Kevin .. and I put up Ian .. you're going to vote him out? Because if you give him a pitty vote .. you know that I have to break a tie. Right!? Nicole – really? Dani – so like we would all have to be in it together. Because I know that you would want to and I was just thinking about it. Nicole – yeah I would want to because I don't like Tyler but I don't want you to have to break a tie. Are you sure everyone else would vote him out? Dani – Day, David and Kevin, and then you. Nicole – oh my god Dani! Nicole – that is going to be really hard … for me I would rather blindside DaVonne. That's how hard it is for me.. to vote him out after everything. I am his best friend in here. If he voted me out I would be so pissed at him. Dani – that's why we have to pull out every trick, every string, to get her not to use the veto. Nicole – I know.. are you on board now? Dani – I think so. Nicole – Geezzzzz Dani this is stressing me out. Dani – I feel so horrible. Nicole – you're so nice. Dani – I don't know what it is .. I connected with Day since the very beginning. Unfortunately I already had other people that I was already tighter with. There is something about her.. I am so drawn to her. I don't want to hurt her. The thought of screwing her over .. like it hurts me thinking about that. It make me feel horrible, horrible. Nicole – and thats how I feel about Ian. He is like my brother. Its like me voting out my brother and it sucks. Dani – this game sucks. Nicole – we have to get her not to use it. Dani – we have to, we have to..if she uses it.. it would be horrible for her game. She would be the number one target. People would put up her and Kevin.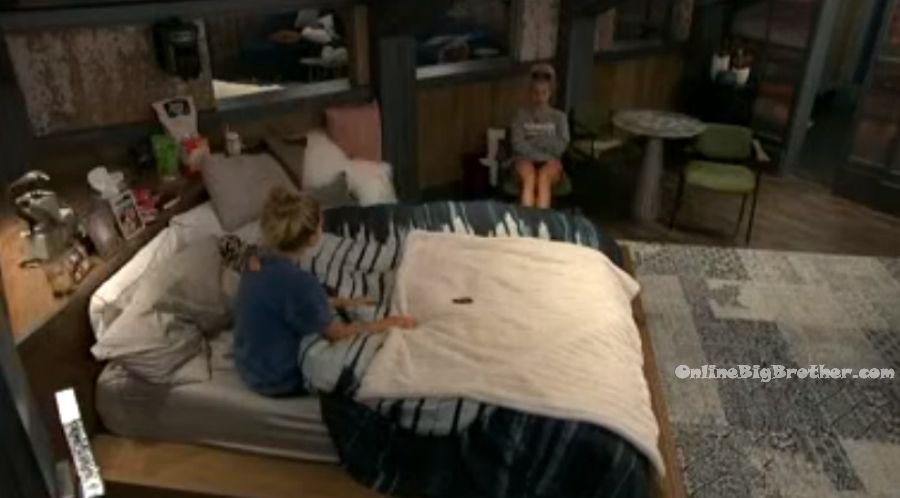 Cody said to not to bring up a five person alliance with her until after the veto ceremony because it might make her weary. Nicole – I won't be able to comfort Ian all week. Like he will see it all over my face. Dani – he cannot know. Goal number one – get Day not to use the veto. Goal number two – If we want Tyler to go home, that's what we go for. Nicole – I already worked on Christmas last night. I didnt say anything about voting him out. Dani – I am scared of her. I feel like she is going to start yelling at me. Nicole – she told me that he said if he goes to jury he isn't going to stay. And then America will have to vote for him. Dani – Ian told me that too yesterday. Nicole – she said I think he just wants to go home. Do you think I wasted all this time on him? She said please tell me if he ever says anything about me. I feel like she confided in him and now she is worried .. that's that vibe I get. She said if Day uses it will Dani have to put up Ian. So I think we should talk to her. That was all organic .. not planned or anything. Dani – okay good.
HOH room. Dani and Enzo.
Dani – I think Day is going to use the veto so I am freaking out. Like that is the worst game move she could make. All day I am going to talk to her. Enzo – I'm going to convince her not to use it. Dani – I am going to tell you something but please keep this only to yourself. If she uses it people are saying your name to throw you up. Like Tyler thinks I am going to throw you up there and Christmas thinks I am going to throw you up there too. Like they've brought up your name. Just know that I would never ever put you up there. Like I am core four 100%! Enzo – Is she saying that because she knows we will vote Tyler out? You know what I'm saying? Because I am with it .. if you want to get rid of Tyler, lets get rid of him. Dani – At this point I don't care if its Kevin or Tyler. I just don't want her to use the veto. I don't want to have to put someone else up there. That is my main concern because its going to screw me in the long run. Enzo – why would she even use it .. we have the votes to keep Kevin. Dani – here is what I am thinking. I talked to Cody yesterday and he said not to use it until after the veto. Day is tight with Kevin and David. And she wants to be a part of something bigger. Lets pull in Nicole, and lets kick out Tyler. SO its the give of us .. lets go! I think that will make her more secure.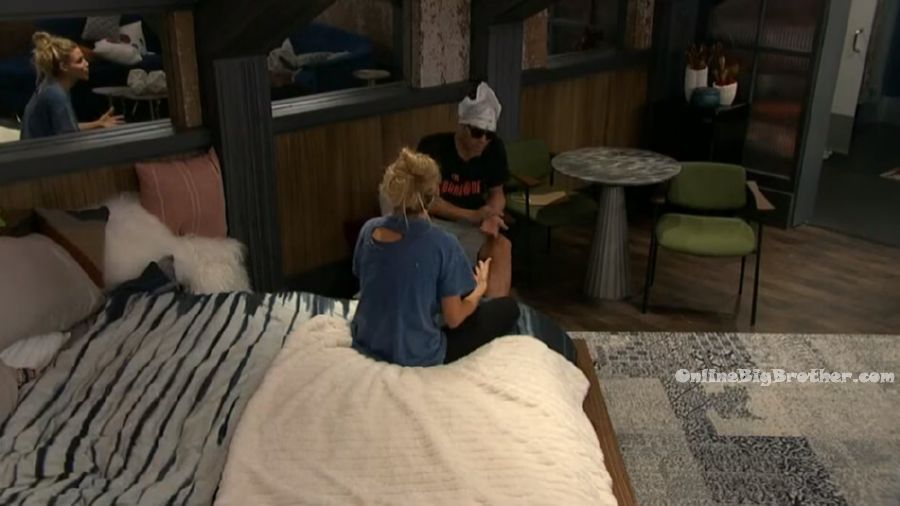 1:52pm – 2:15pm HOH room Kevin and Dani.
Kevin – what is happening.. Tyler is on the block. Dani – I don't know if Day is using the veto or not .. I don't know what is happening. Kevin – assume she keeps it the same.. Dani – well you know my goal obviously .. its clear as day. I didn't have time to prep people (about voting out Tyler) so now it is thrown out there. Kevin – did you post prep? Dani – I haven't had time and just need time to think about everything. Kevin – thats what I am worried about .. will there be pushed to keep Tyler. Dani – I don't know. Kevin – do you think you have support? Dani – I don't know .. I need to figure it out. Maybe you need to work the angle of being the pawn if you stay. If I stay you can throw me on the block as a pawn. We need to work whatever angle to make sure Tyler goes and you stay. Dani – if you got HOH next week who do you think you would put up. Kevin – I was advised that Memphis and David would be a good option. Dani – stop, you wouldn't put up David. They talk about how they suspect David is lying about the power. (Kevin doesn't reveal that David told him about his power) I am going to work every single person and you should work every angle too. I do not want you to go home. You're a good big brother player .. stop saying that you're not. Pull it out of you. Lets get what we want! Let do it. Kevin – I thought you were close to Tyler. I thought you were going to put up Day. Dani – I would never put up Day. Dani talks about the drama Tyler had stirred up involving her name. Kevin – so that was confirmed? Dani – yeah Day told me.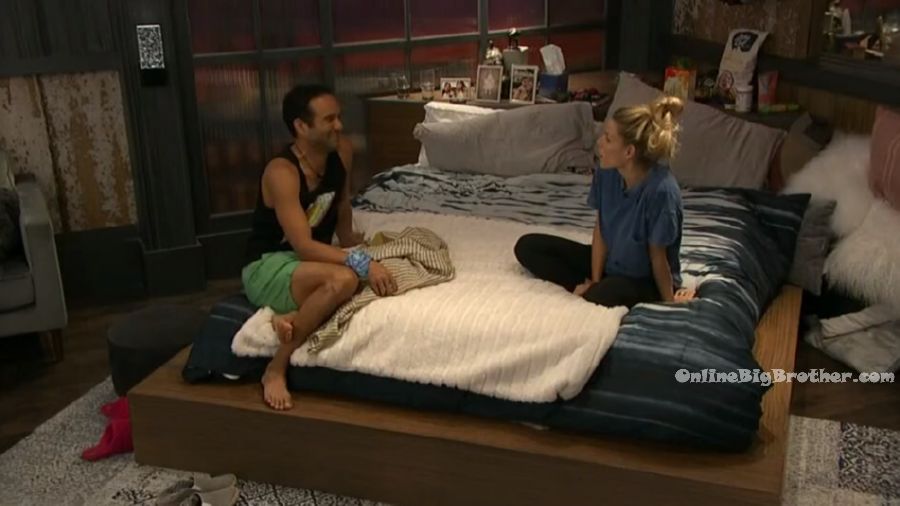 2:30pm Backyard. Cody – if she uses it ..she will be nominated every single week with him (Kevin) until they're both gone. Memphis – I wonder if she knows that? Cody – because the thing is with all the stuff last week and the David stuff .. she is not like an immediate target. Like you're just going to bring yourself to the forefront. Memphis – and I think he (Kevin) knows that too. He was like I know if she uses it on me .. its going to be dicey. I think she will make the smarter play and not use. And then he will think he has the votes to stay. Cody – I just feel bad for Dani. Memphis – if Dani wants us to vote Tyler out .. she can go F**K herself! I just find it odd that she (Dani) would put one of us up against him.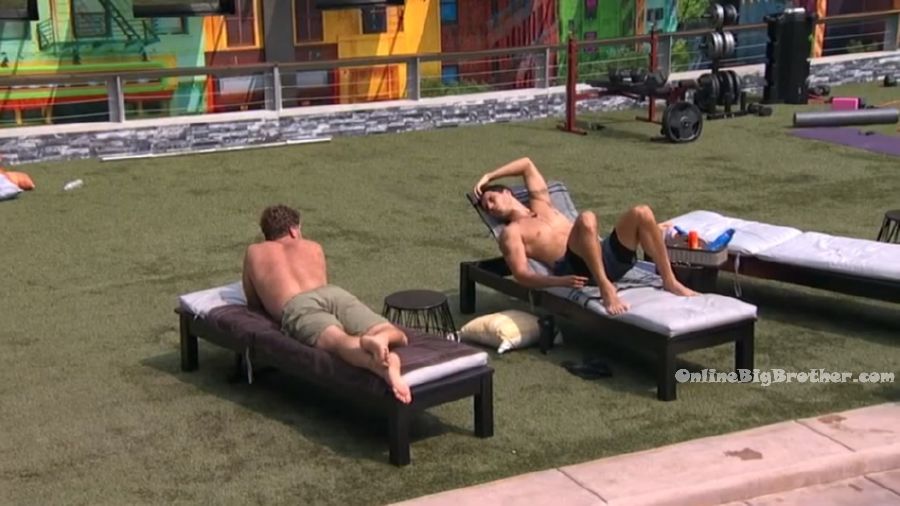 3pm Backyard relaxing..
3pm Bathroom. Nicole and Kevin.
Nicole – you would totally have my vote if he (Tyler) stayed on the block. Kevin – I appreciate that. I will 100% pay you back so thank you. Kevin – I appreciate how you immediately tell me you've got me.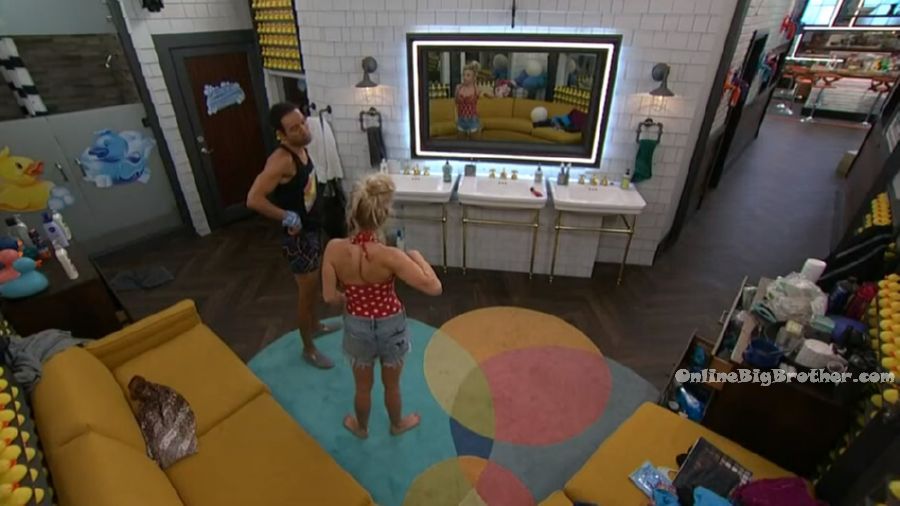 3:05pm Backyard. Cody and Tyler.
Tyler – do you think its going to be used? Cody – I really hope not. Tyler – if she f**king puts Enzo up next to me .. I am not campaigning at all. Cody – if she put Enzo up next to you like that is our relationship is .. we are not allies. Tyler – if she does I will f**king put her straight up on the block next week if I'm still here. It makes no sense why she would put me up over Day.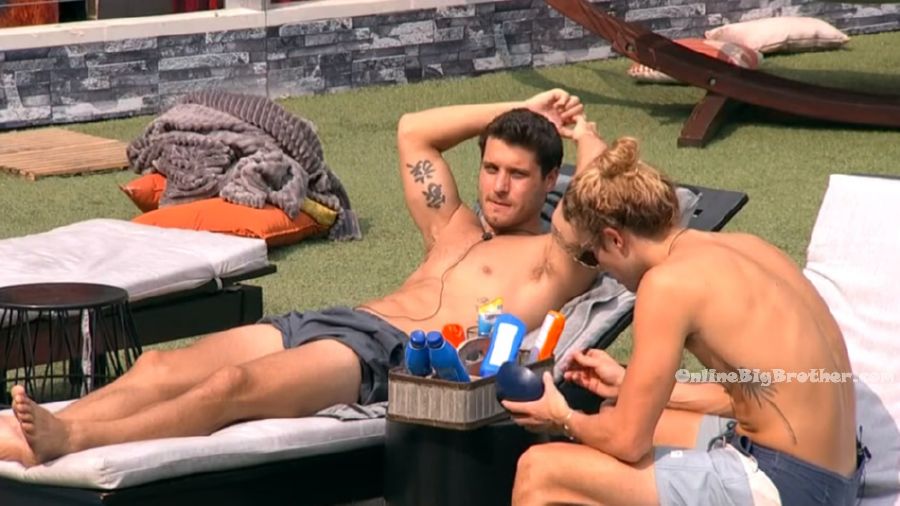 3:25pm Bedroom. Nicole and Dani.
Dani – its operation Christmas. We're going to make her do whatever the hell we want! Nicole – but what is your main objective .. do you want Tyler out? Dani – I don't care at this point .. either one. Yes that would be better but Kevin or Tyler. I just want her to be on the same page. If Kevin is not up there then Tyler needs to go. Tonight is the night! Nicole – sounds good .. what are we going to do? Dani – I am going to go in the diary room and request bubble bath. We're going to go all out and make Christmas feel its GIRLS GIRLS GIRLS! Nicole – are you going to give her some wine? Dani – YUP! Nicole laughs – there's the Dani I know!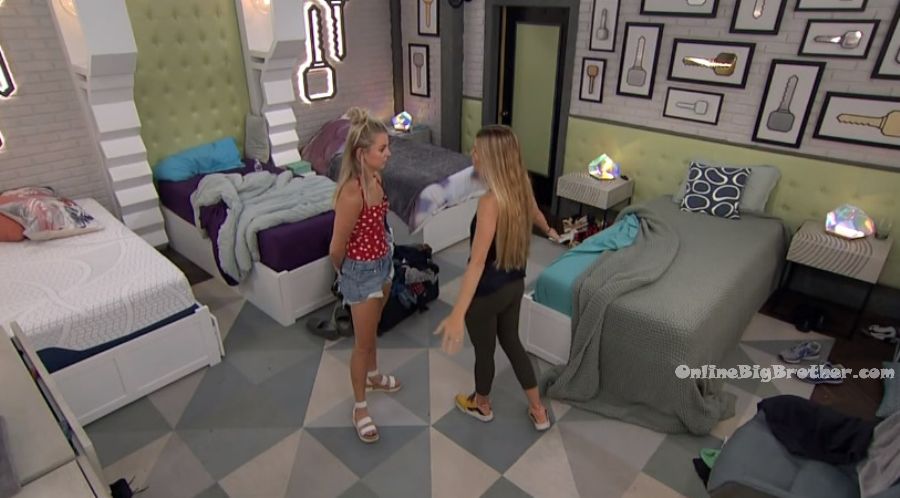 3:58pm – 4:30pm Day and Kevin.
Kevin – she is ensuring me that I am staying. Day – but according to you everyone is coming to you giving you the same script. Everyone is trying to make me comfortable so that I don't use the veto including her because then she doesn't have to put anyone else up. Kevin – but she is also thinking about jury votes because that would be a personal screw she would be responsible for. She has the most motivation to follow through with it.
Day – want to go to the havenot room.. I don't trust this b***h. They head to the havenot room. Day – I am trying to figure out a way to make them shoot. When Tyler was talking to me .. I could not tell if he was campaigning for me to use the veto on himself or not use it at all. Kevin – why? Day – it was very muddy. Everyone has the same script .. almost as if they had a meeting. This is going to be crazy. She wanted to talk to me later so that she could pick me for information. I want her to be shook in the moment. Kevin – I think we're at the stage in the game where shots have been fired. And you didn't start it, Dani fired the shot at Tyler. Day – If I go through with this and use this veto.. that its not Enzo ..It cannot be Enzo.. I am only saying it to you because then she might.. Kevin – threaten it. Day – exactly and I know they won't vote him out.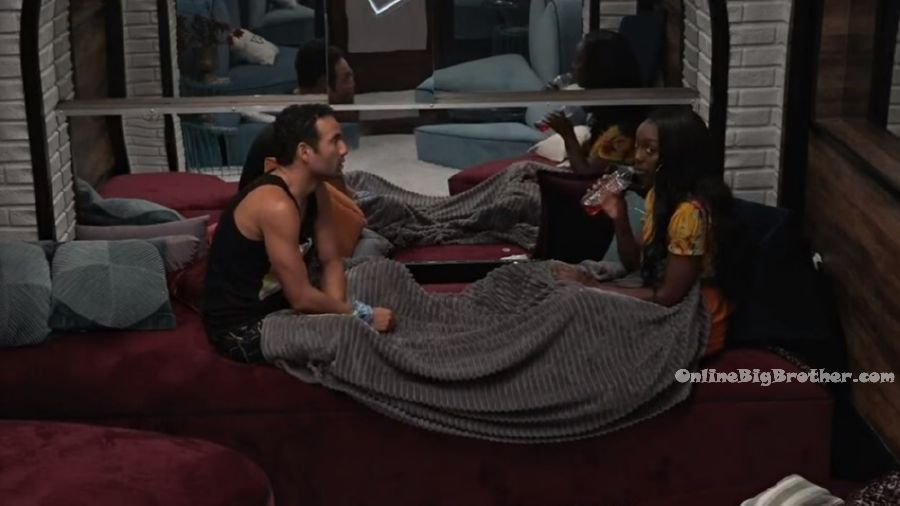 5:45pm – 6pm Nicole and Ian
They talk about how going to jury first would be horrible. Ian – the handler in jury would have a really hard time because I would be in a really bad mood if I was in jury. Nicole – i would be tortured in jury too. I don't even want to think about it. Nicole – you're very loved inside and outside this house. Ian – I just keep replaying the nightmare in my head of being the first to jury. And it would be even worse knowing that our close ally was HOH. Ian – I can get real piss-y when things aren't going my way or perceived to be going my way. I just don't want to be stuck in jury. I just know that I'm a piss poor sport. I don't think I would be a target. Nicole – I don't think so either. Hopefully one of us wins HOH though.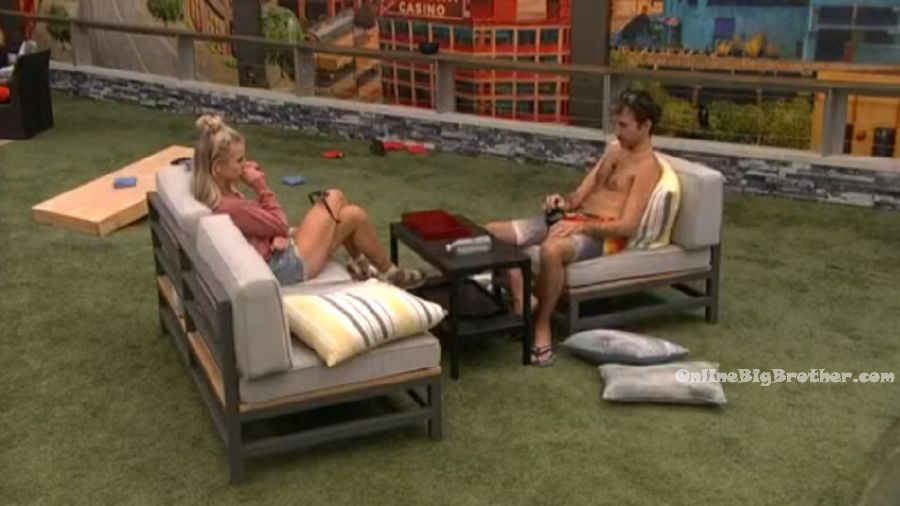 6:20pm Backyard. Christmas and David.
David – I am tried of this game! Stupid game! Christmas – why are you saying that you got f**king saved this week. That is the dumbest thing for you to say. That doesn't make sense at all. David – I get I was put up .. that was it. It is what it is. I am just talking about getting put up. Christmas – but we're all going to be put up. David – I can be frustrated. Its just. I don't think its an odd emotion to have. Christmas – its kind of an odd emotion for you to say that you're done with this game and that its stupid. David – its just me being facetious. Christmas – is it though. David – its just the emotional highs and lows everyone else has been through it for 100 days. You know!? Christmas – I don't know if I had that type of hail mary .. I would be like this game rocks. David – and I'm on slop right now. I am not in the best of moods. Christmas – but you're not on the block and you can't be a replacement nom. I would be happy to be on the slop to not be on the block.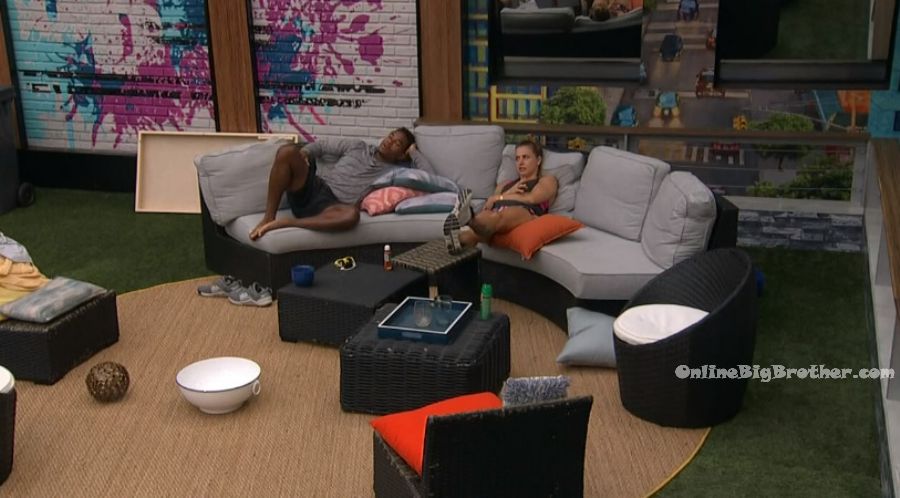 6:30pm Big Brother calls for an indoor lockdown.
8:10pm The live feeds are still blocked.
9:15pm Still blocked.
10:03pm No feeds for you..
11:19pm Nothing but kitties..
12:07pm Still not back yet..
Show your support by making a donation.
If you're enjoying our live feed updates this season, please consider donating.
Any amount is greatly appreciated! Your donations go directly to paying the fees required to run this site.