POV Holder:
Austin
POV Competition
Sept 5th
POV Used
?
POV Ceremony
Sept 7th
HOH
STEVE
Next HOH
Sept 10th
Original Nominations:
Austin and liz
After POV Nominations:
? and ?
3:43pm Bathroom
Vanessa continues to swear on her mother she never tried to do them any wrong. The twins eat it all up..
3:44pm Hammock Vanessa and Austin
Austin – what are you saying to them..
Vanessa – I think you are a piece of shit right now..
Vanessa – throw it to Julia what happens.,
Austin – we were going to get Johnnymac up
Vanessa – Julia wining should have been your damn worst case scenario..
Austin – I thought you were in on what I was thinking.. we were going to get Johnymac up
Vanessa – Steve is not doing that.
Austin explains in the heat of the moment during the POV he felt that everyone
Austin – I'm not mad at you right now..
Austin – honestly I've had the feeling all week that Steve was lying to me.. I can see him flipping it
Vanessa – I knew nothing about it.. everything he told me and Johnnymac
Austin asks her for help doing damage control with Liz.
Vanessa says she's not a evil person she's trying to hepk Asuint with Liz
Austin says he's not mad at Vanessa at all. He apologizes for throwing her under the bus to the twins. (Vanessa doesn't return the apology)
[envira-gallery id="132297″]
3:46pm BAthroom Liz and Julia
Liz says they were the targets this week.
Julia says she trusts Vanessa and Vanessa has more information about Austin
Julia – I trust her.. he was the same guy that told Jason.. Lied to my face and said you can target her when I entered the game.
Julia does not trust Austin trusts Vanessa's way more
Julia doesn't understand Austin knew he had the vote why didn't he throw the POV to liz
Liz bring sup Austin telling her about getting Steve to put Vanessa up
Liz won't do that..

Julia – It's done.. One of us is leaving
Liz – I'm going to bed right now
They head to the bedroom. They agree Austin's play to get Steve to put up Vanessa is a bad idea.
Julia – we can't change Steve's mind he's going to put up me and if it's me and you..
Liz – It's me
Julia – I possible can get into the finales in this game I haven't' won anything.. we have to realize one of us it going home.. we have to make the decisions what is best.. you are the only link becuase use and Austin if you're gone I hate Austin.. the only person I have in this game is Vanessa.
Liz starts to cry "you have to win something you won't win if you don't"
Liz – you have to stick with Vanessa
Julia – I f** up I knew I should have picked John
Liz – I cannot believe you never picked john
Julia says she was going to pick John.. "I never asked her what to do Liz I just looked in her direction.. she said Austin.. I just trusted her"
Liz – You should have listened to yourself.
Liz – Oh my god.. He (Jmac) would have gone twice in a row
Julia – we're in checkmate one of us is going.. I just have to be cool with Austin because what if he wins and puts me up.. I have a bad feeling about him
Julia – I believe Vanesa she says she has a lot of information
The twins thing Austin is scared that Vanessa is going to spill all these nasty things about him to the twins that is why he's "Cowering" in the hammock room talking to her.
Julia – It sickens me.. what are you saying about us (Austin to Vanessaa)
liz – I know
Julia – I'm not going after Austin I'm going after Steve
Liz – I can't look at him.. I don't trust Austin at all..
Julia – I know Liz
Liz about Austin "Look you and me weren't meant to be so we should just end this amicably" @bigbspoilers #bb17 pic.twitter.com/1bw5fEMuC1

— Dawg (@DawgsBigBrother) September 5, 2015
[envira-gallery id="132292″]
4:08pm Steve, Austin and Vanessa
they fill Steve in on the drama they tell him it's all water under the bridge
4:11pm Austin and Liz
Liz ignoring Austin. She eventuality tells him to leave.. After some more bawling around 4:25pm she's called into the Diary room.
Liz "Honestly just leave me alone!" Austin "Yeah" @bigbspoilers #bb17 pic.twitter.com/vNBCoBHuSy

— Dawg (@DawgsBigBrother) September 5, 2015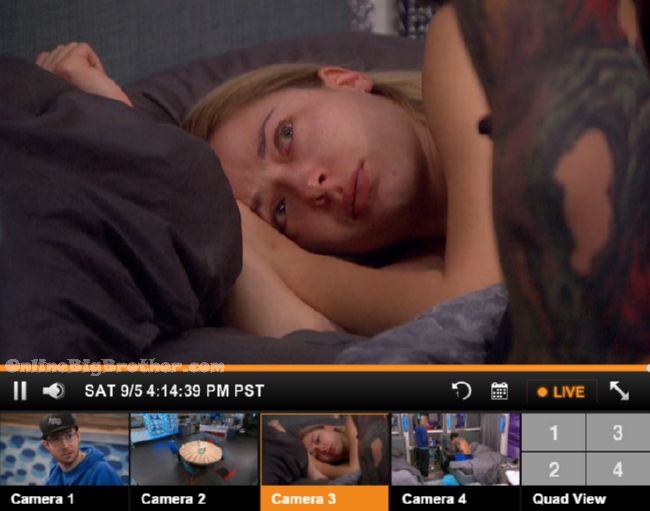 4:14pm Vanessa, Liz, and Austin
Vanessa tries to comfort Liz says Austin really cares about her, "I never played you and your sister that would be evil in my book that's not me.. that's not me"
Vanessa – I'm, really really sorry I hope we can move past this..
Vanessa leaves Liz rolls over continues to ignore Austin
4:34pm Liz getting ready to go to the Diary room.. Tells Julia she's done sleeping in the same bed as Austin. She starts calling Ausitn Fake.
Liz "I'm sleeping with you the rest of the week. He is getting no loving from this girl!" @bigbspoilers #bb17 pic.twitter.com/qFEW5ngJOG

— Dawg (@DawgsBigBrother) September 5, 2015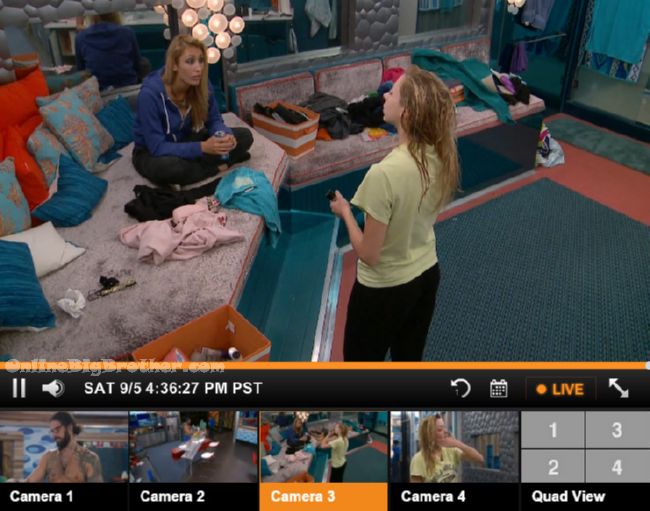 4:33pm Vanessa and Julia
Vanessa saying that Austin isn't mad at Julia he's mad at her.
Julia going on and on about Austin winning the POV no matter what "He was really good"
Vanessa – you have to trust me I understand Austin really well..
Vanessa – He really does love your sister however he wants to try to win the game he's got a tattoo on his ankle.. Clay never watched the game.. he's got a right to come here and play
Vanessa – I believe him he does really really cares about your sister
Julia – She's embarrassed he's playing her.. this happened with McCrae and Amanda.. this is what happens.
Julia doesn't think she could have beat Jmac anyways so she's not beating herself over this.
Austin joins them and Vanessa goes on and on convincing them she wasn't trying to play them during the POV (Which was exactly what she was doing.. Jmac saw it)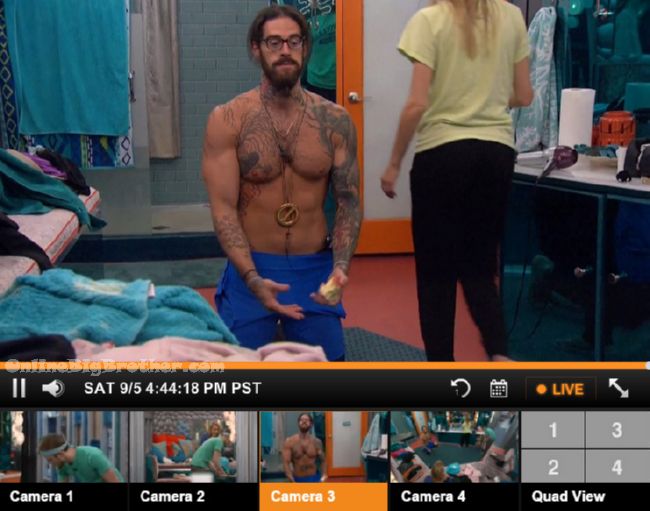 4:46pm Bathroom, Julia, Vanessa, jmac, Austin
Austin explains his trick in the POV. Sounds like getting dissy was a major component. He would do the bowling on his knees which allowed him to be more stable. Vanessa says that was genius.
If you've enjoyed the spoilers please consider a donation using the drop down box below. Simon and I work 24/7 all season long to keep you updated on everything that happens inside the Big Brother house.
[polldaddy poll=9059938]