POV Holder:
Austin
POV Competition
Sept 5th
POV Used
?
POV Ceremony
Sept 7th
HOH
STEVE
Next HOH
Sept 10th
Original Nominations:
Austin and liz
After POV Nominations:
? and ?
Austin Wins VETO
12:50pm Big Brother switched the feeds to the live feed highlights for the Power of Veto competition to take place. As we're down to the final 6 all of the house guests are competing in today's Veto comp.
3:09pm Feeds come back Austin wins
Vanessa is freaking out. Austin caught whiff of that Vanesas and Julia were trying to get him out. He tells Jmac in the side bedroom this says he's got Jmac's back moving forward.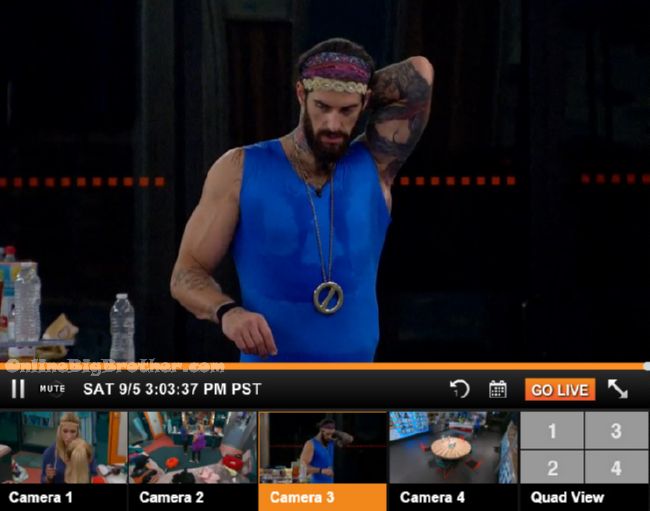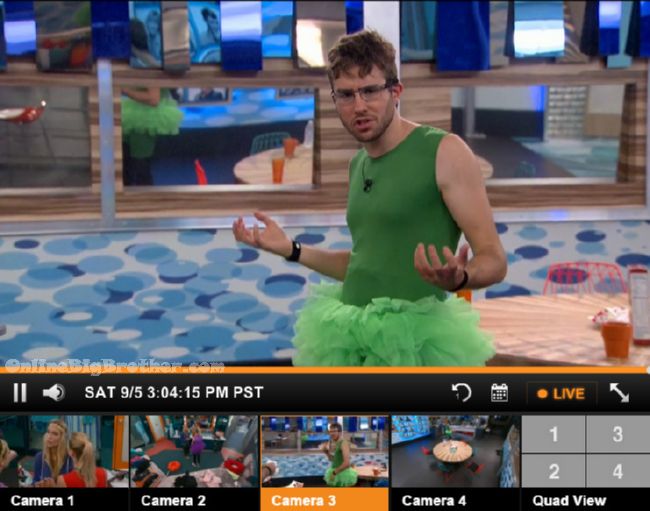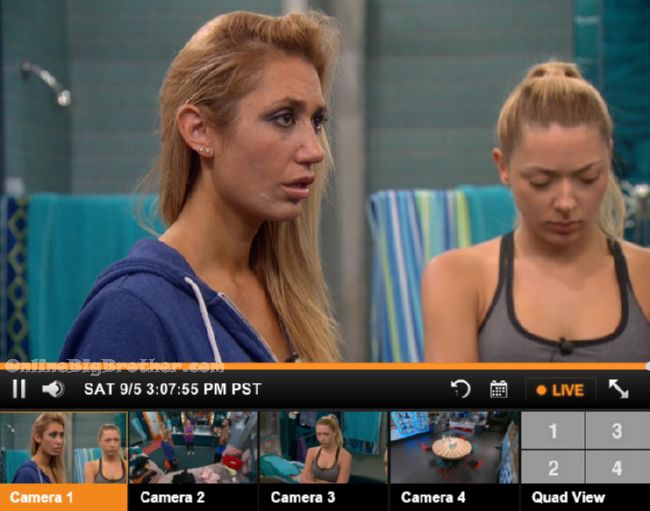 3:11pm Vanessa telling Julia that she knows thing That doesn't and Austin want to get rid of the twins.
Vanessa says Julia is staying over liz 100%.
Vanessa – the vote is joynnymac and I, I mean it's a really easy play
Vanessa goes on about how they cannot trust Vanessa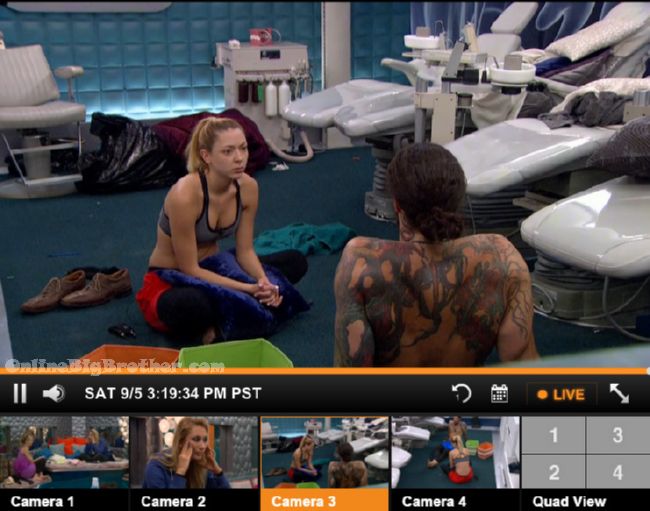 3:14pm Austin and Liz
Austin says Vanessa set this all up before to take him out of the game..
Liz starts to cry
Austin asks her if she knew about the plan
Liz says no.
Austin – Steve and Johnnymac think I'm cool with you guys going, I was trying to cool everyone down so Julia wins POV and I can convince them to put Vanessa on there block
Austin – I believe the who time I was the target.. The whle plan was to taek me out.
Austin – James and Meg were f****G right we should have stuck with them
liz – he was going to take us out
Austin – he would have honoured it to 5..
Austin – you are everything to me.. LIZ.
Liz – is there something that Vanessa knows..
Austin – what am I trying to take you guys out
liz – no I don't know
Austin says their plan was to take them out Austin first Liz second, "You have to believe me.. she is your twin sister this is the second time in the game she almost took me out of the game for saying stuff, not trusting me"
Austin says all Julia had to do was pick Johnnymac then they would have been able who wins the veto..
Austin says Vanessa is capable of convincing Julia anything.. "Now unless Vanessa votes for you Julia just sealed your own fate"
Austin – you know Vanessa has been gunning for Steve a long f***G time… you go up to that f***g HOH room say Austin comes down you put Her (Vanessa) Up
Liz – I'm over this.. I'm over this game.. the plotting.. I'm going.. going out
Austin followers her "Liz that's not how this game works.. do you really want to give up"
Austin "I think its time we bury the hatchet!" Johnny "Lets do it!" Austin "ROCKSTAR Status!" @bigbspoilers #bb17 pic.twitter.com/mtvujvCB6o

— Dawg (@DawgsBigBrother) September 5, 2015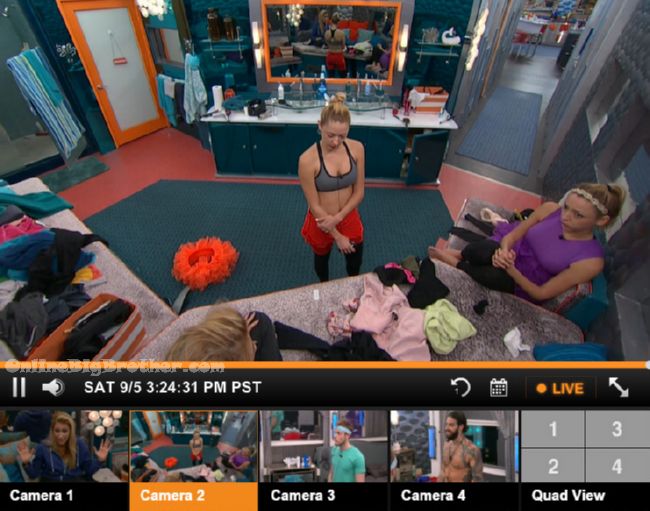 3:22pm Liz, Vanessa and Julia
Vanessa says her feelings are hurt by Austin for saying she was trying to get him out.
Julia – He wasn't going to throw it to me
Vanessa says he wanted to win it
Liz – I've learnt he's pretty selfish and he's no clay no knight in shiny armour
Vanessa says she's put her hand on a bible she's never made a move against them
Vanessa crying says she's a good person she doesn't do evil
Vanessa – I kept my mouth shut because that's the person I am..
Vanessa says the only person that would get in the way of Julia and Liz going home is Austin.
Liz says Austin thinks Steve and John wanted to separate the twins and that was their plan all along.
Liz – If it came down to me and him he would have probably tried to take me out
Vanessa – he has to, of course..
Liz – I'm like I never want to talk to him again
Liz says what hurt the most is she thought Austin would use the veto on her.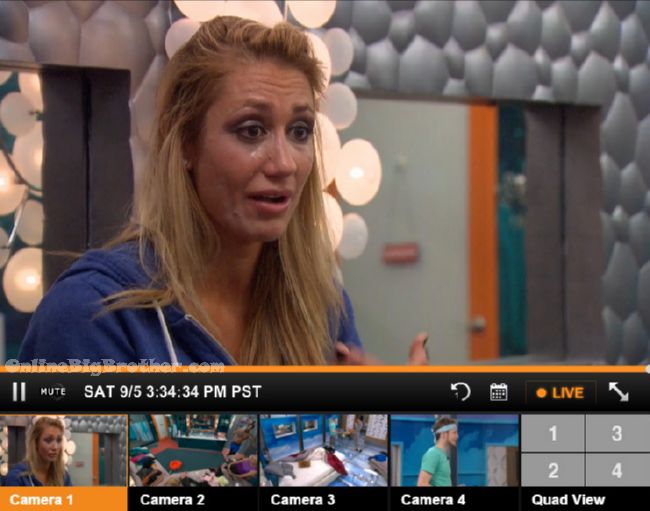 3:29pm BAthroom Austin twins and Vanessa
Vanessa start to cry says how upset she is. They get into a discussion about the drama around the POV Competitions. (It's hard to piece together)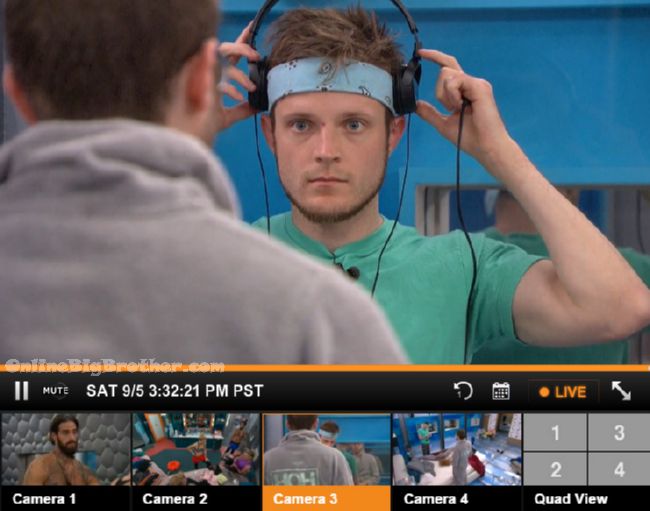 3:31pm HOH Jmac and Steve
Jmac saying they should take Julia out
Jmac – Vanessa was setting herself up so she's good with the twins
Steve – She isn't now
They agree to let it sit for a bit..
Jmac – the one thing we don't have to worry about is a vanessa austin final 2
Steve – they hate each other now
Jmac says Vanessa was using the POV to build her relationship up with the twins so if they don't win the HOH she's good.
Jmac adds Vanessa was telling Julia to take out Austin because if he won the veto she would go up. Adds that Vanessa didn't want Julia to win because she knew she would go up if she did./
If you've enjoyed the spoilers please consider a donation using the drop down box below. Simon and I work 24/7 all season long to keep you updated on everything that happens inside the Big Brother house.
[polldaddy poll=9059938]