POV Holder:
Vanessa
POV Competition
Aug 22nd
POV Used
?
POV Ceremony
Aug 24th
HOH
Austin
Next HOH
Aug 27th
Original Nominations:
Steve and Jmac
After POV Nominations:
? and ?
Have Nots
No have nots this week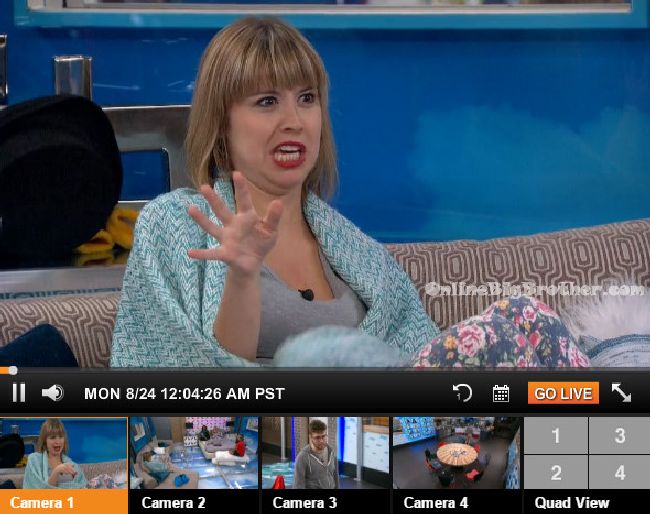 12am HOH room – Meg and James are talking to Liz and Austin. Meg says that he (Johnny Mac) has been trying to turn Vanessa on me. I told Vanessa that these things are the smallest little things that mean nothing. Of course they're going to say things because they want me to go up. Austin says well you're not going up. Austin says Steve was so adamant of not going up with Johnny Mac .. so that's exactly what I did. Austin says that next week it will likely be the days comp and Steve & Vanessa will be the front runners on that. Austin says that he was so dead set on Steve not going this week but he's doing a lot of talking for Johnny Mac. Meg says he is very sneaky. Austin says that if Johnny Mac and Steve stay on the block they're going to explode. Liz says they try to bring up things about people that aren't here any more. Austin says that he thinks we're all good again. Just don't cry in front of her or her wheels start spinning. James says f**king Johnny Mac .. punch him in the face! Austin brings up how Steve was threatening me before he went up that if he went up with Johnny Mac .. it meant I am more with Meg and James then him. Meg says when Jason left he said get Shelli out and Steve out. James says when I f**ked Shelli and Clay over Steve told me I did a good thing. I was like oh sh*t Steve just talked game with me. James says he wants to asks Vanessa if she can do some detective work.
Try the Live Feeds FREE for 7 DAYS! Click here for your: Big Brother 17 FREE Trial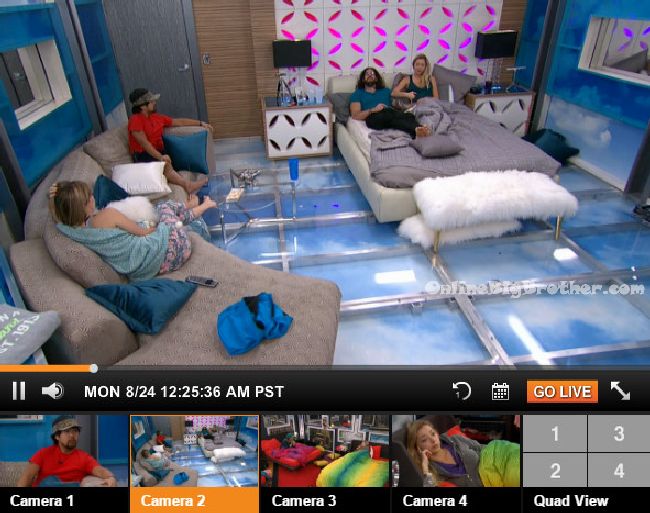 12am Comic room – Steve runs to tell Vanessa that they're together right now. Vanessa asks who? Steve says James and Meg are talking to Lis and Austin. Steve says they're a very strong force in this game. Steve says I think we're going to have to make friends with whoever comes back. Vanessa says I just hope its not Jackie. Steve asks can I have a hug? I like hugs. Vanessa hugs him. You going to be okay. Steve says he needs to come up with a speech tomorrow. Vanessa asks do you think it would be okay for me to use it on you? Steve says yes but no, not with Austin's blessing. Vanessa says maybe we can use it on you and put one of them up so they can procrastinate on the James decision. Steve says Austin would never do that. Steve leaves.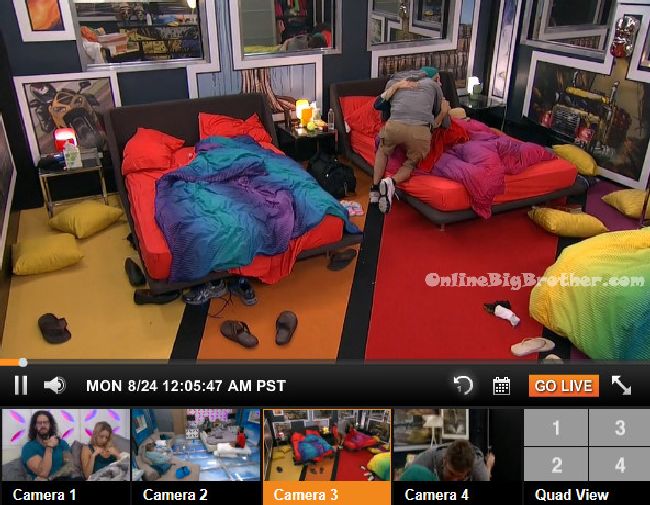 Julia joins Vanessa in the comic room. Vanessa says she has no idea what's going on. Austin said he needed to talk to James and Meg and so I left the room. Vanessa says that she talked to James and if she could trust him. Julia asks so can you? Vanessa says for one week. He said he would go after Jackie if she returned. Julia doesn't believe it. Meg is all talk and no action. And in action I mean that she will never win to make a move. Vanessa asks Julia have you done any thinking about where you are with your sister and Austin. You can't all three go to the finals. Julia says she is just going with it but can't really think about it until final 5 or 4. Julia says in the final 3 I would choose her and she would choose me. Vanessa says its a strange thing. Julia says I think the only reason Liz and I have made it this far is because of Austin. Vanessa says that Austin needed to clear up something with James and Meg. Julia says I am afraid he will do what he did to Clelli, he will do to Austin and Liz. Julia says as an HOH he is not reasonable. Vanessa says if we get rid of James we leave more potential targets in the house. Julia says if you used it .. then Austin would be pissed. Vanessa says yeah I'm not going to use it without his permission. James joins them. James asks Vanessa if she can find out if Johnny Mac is bullsh*tting. He told Austin that before the HOH comp .. he says that I told him I was going to throw it to me if it got down to me and him. Then he went to Austin and told him I was going to throw it to him. Vanessa asks so that wasn't true? James says it wasn't true. I didn't talk any game to him about any of that.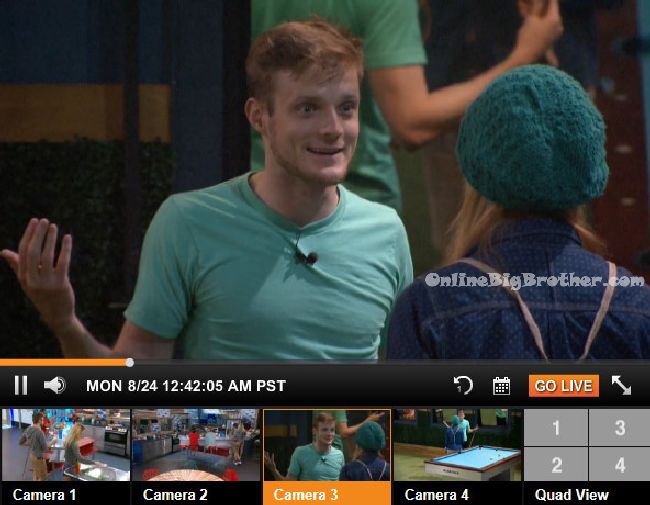 12:35am – 12:40am Vanessa talks to Johnny mac. Did you have any deals with anyone coming into this HOH? Johnny says yes. Vanessa asks did you have any throwing deals? Johnny says yes, that Austin would throw it to me and James would throw it to me. Vanessa asks 100% he would throw it to you. Johnny Mac says yes. It wasn't a deal but he was like if we're the last 2 left I will throw it to you. Vanessa asks he said that? For a million percent sure? Johnny says yes. Vanessa says weird because he swears he didn't. Vanessa asks why? Johnny Mac says because at the time everyone wanted you out and they knew I was frustrated with you and I was like I'll do it. Vanessa says that makes sense. Vanessa says that's weird that he's lying about it. It might be something helpful. Vanessa then goes and tells James.. Vanessa tells James that Johnny Mac swears it happened because everyone was on board with getting me out. And everyone wanted to get me out and everyone knew he would be willing to do it. Vanessa asks does it make sense that I was the target and you didn't want to be the one to do it. James says I didn't say it. I don't even talk game with him. Vanessa says its very possible that he thinks you said something when you didn't. James says there is no way it would have happened. If it did I would have told Meg about it. I tell her everything.
12:45am James tells Johnny Mac he needs to talk to him outside. James asks what conversation did I have with you that I said I would throw it to you. Johnny says yeah we were all on board with getting Vanessa out and you said you would throw it to me if it came down to it. James says I don't throw HOH's to anyone. Johnny says it wasn't like it was a hard deal. Austin said he would throw it to me. Steve its not like he wanted to do it. James says I don't throw HOH's to anyone. I don't have a problem putting anybody up. Johnny says yeah it wasn't a deal but it was said. If it comes down to me and you, I will let you have it. James says I don't remember the conversation. James says well f**k if you said I said it then I guess I said it. Its not even a big thing and I'm not even tripping. But you said even Austin said it? Johnny says yeah.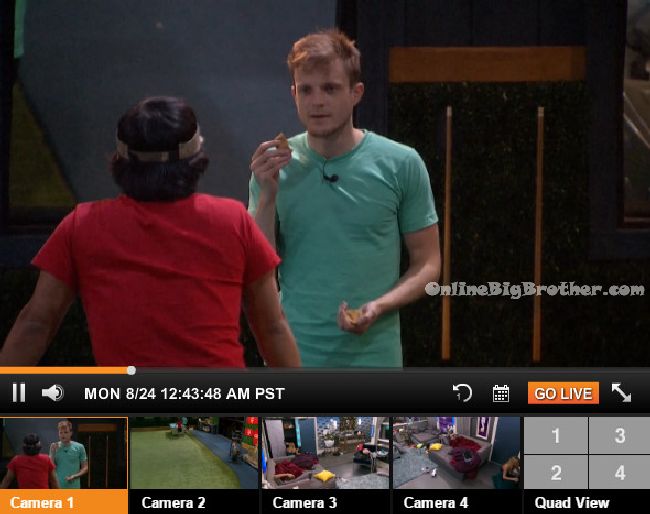 12:50am Austin comes out of the diary room and tells the others he has a card. They all head out into the backyard and tells them the live feeders want them to play a game of hide and seek.
Steve goes next. They can't find Johnny Mac. Julia asks is he in the closet? Steve says no he's straight. Johnny Mac stumps them all by hiding under a dentist chair.

Watch the NEXT WEEK of the Live Feeds for FREE! Click here for your: 1 Week Trial
James is up up next.

Liz is next.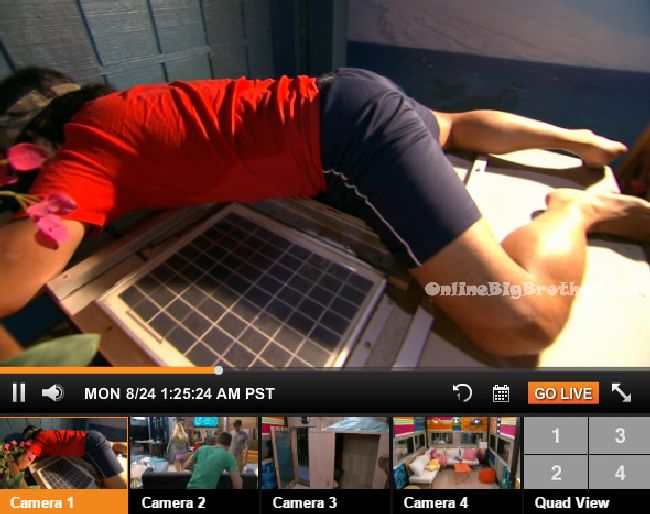 1:45am – 2:30am HOH room – Vanessa talks to Austin. Austin says I thought I caught Johnny Mac in a lie. Vanessa says they both seemed like they were telling the truth, it was really strange. Austin says and Johnny Mac told James that I told him I was going to throw it too. Like thanks a lot Johnny Mac. Like why would you tells James that. Austin says I think Johnny Mac needs to stay up there and go! I don't like it. Vanessa says I think it was to target me. Austin talks about how he doesn't like how Steve's story about how Johnny Mac and him came together changed 3 times. I want to keep the noms the same. Steve is really smart and dangerous. Austin says I feel better about James and Meg than Steve and Johnny Mac. They're (Steve & Johnny Mac) going to get to the final four if we don't get one of them out. Steve joins them and asks what can I do to help you? Austin says just don't say anything. I need to sleep on it. I am just uneasy on Vanessa using it. As of right now I don't want her to use it. Vanessa says if Becky comes back we will be happy JMac isn't here. But if Jackie comes back I'm just worried she will hook up with them. Austin says I hope Steve is really loyal but this whole week made me doubt it. Austin says I feel better about keeping it the same. Austin says I think it might be Johnny Mac. Liz says talking to Johnny Mac is like we're talking German and he's talking Chinese. He is not, like he cannot talk. Vanessa says talking to Steve is like you're talking to a computer with no feelings or sense of morality. They talk about Vanessa speech tomorrow for not using the veto. Vanessa heads to bed. Liz says Jackie is the one person I do not want to come back. F**k that girl. I would want Shelli to come back. Austin says or we pull a Lawon (BB13) and send one of us so we can come back.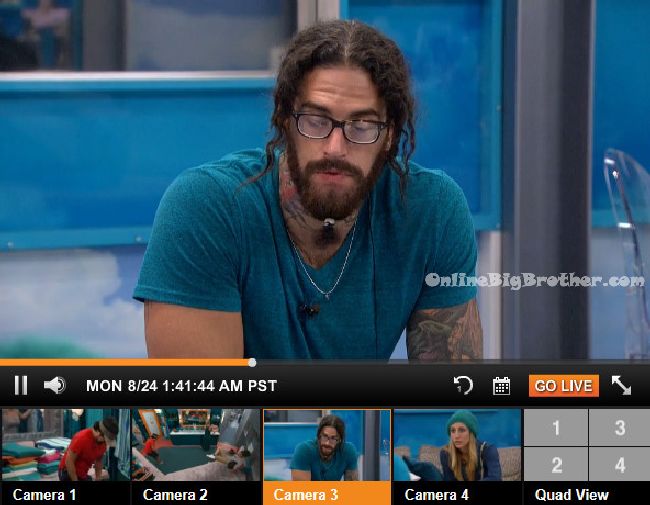 1:50am – 2:40am Bedroom – James tells Meg that Johnny Mac says I hinted to him that I would throw the HOH to him. I told Austin that he said he would throw it too. Meg says Austin would never throw a comp to anyone. James says that Vanessa said she could look at both of us and know that neither of us were lying. James says that Vanessa doesn't know that Austin was going to do it too. Do we tell her? Meg says this is all so dumb. James says you know what's f**ked up we pretty much told them if Jackie comes back we would put her up. Meg says we'll just deal with it when we get there.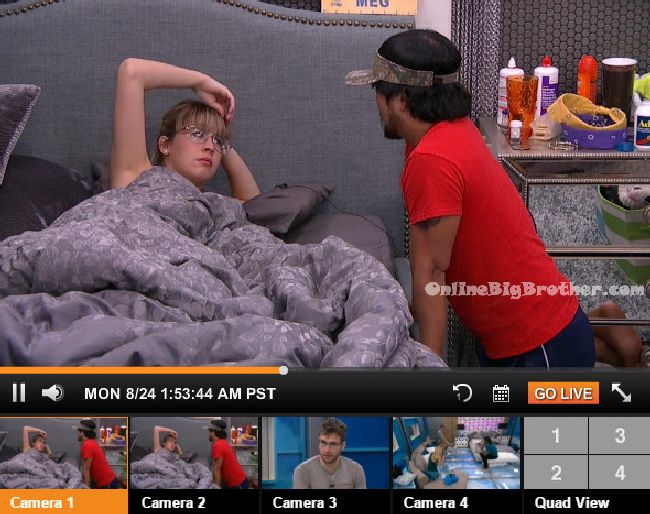 James scares LIZ @bigbspoilers #bb17 pic.twitter.com/MxzQldO6Vd

— Dawg (@DawgsBigBrother) August 24, 2015
James scares Steve "AHHh FUCK!" @bigbspoilers #bb17 pic.twitter.com/FjyMmpUtYM

— Dawg (@DawgsBigBrother) August 24, 2015
3am – 4am HOH room –Austin says that Steve told Vanessa Austin and the twins are a powerful force. Austin and Liz talk about how Steve is heated about the Johnny Mac thing. We told him at the beginning of the week that we trust him more than anyone. Austin and Liz go to bed / make out.
Austin wonders if @ZingbotOfficial was right about him smelling bad @bigbspoilers #bb17 pic.twitter.com/u7tfGccjl1

— Dawg (@DawgsBigBrother) August 24, 2015
Help support all the live feed updates we provide. Show your support by making a donation. Any amount is greatly appreciated!