HOH: Xavier
SAFE: Christian, Alyssa and Sarah Beth
HAVENOTS: Claire, Kyland, Tiffany
WILDCARD Competition Winner: Tiffany
Nominations: Brent & Britini
Power of Veto Players: Xavier, Brit, Brent, DF, Whitney, Christian
Power of Veto: Christian
Power of Veto Ceremony: Veto Not used The original nominations are locked.
Big Brother 23 Houseguest Rankings – – RANK THE HOUSEGUESTS –
View the previous day ranks on the – Ranking Grid
Big Brother Live Feeds / Paramount + Try it FREE!

Big Brother Spoilers – Brent is getting evicted. I'm getting the feeling that Tiffany is overplaying now. Changing plans every 24 hours. Talking game with everyone all the time.. I've seen this before. Vanessa Russo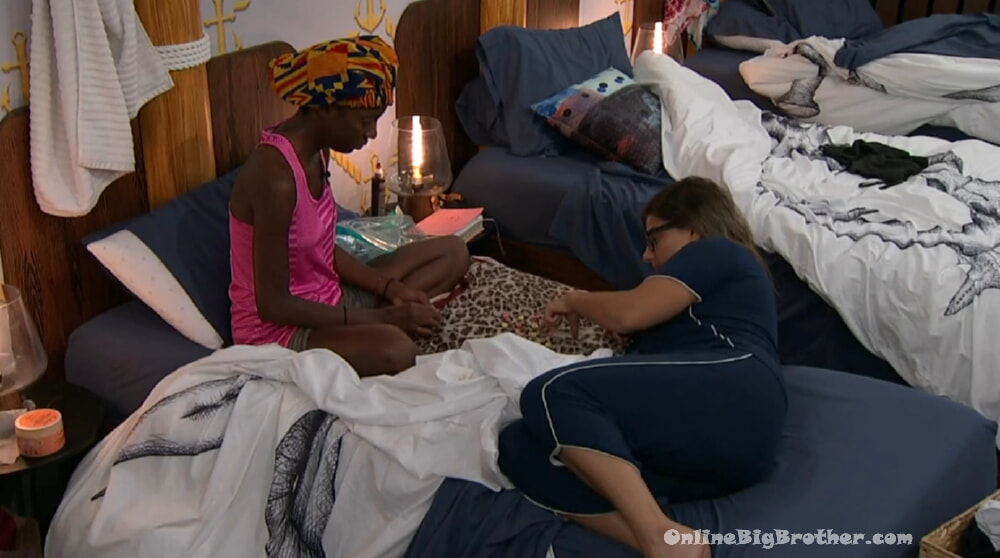 9:35 am Azah and Brit
Studying days using fruit loops.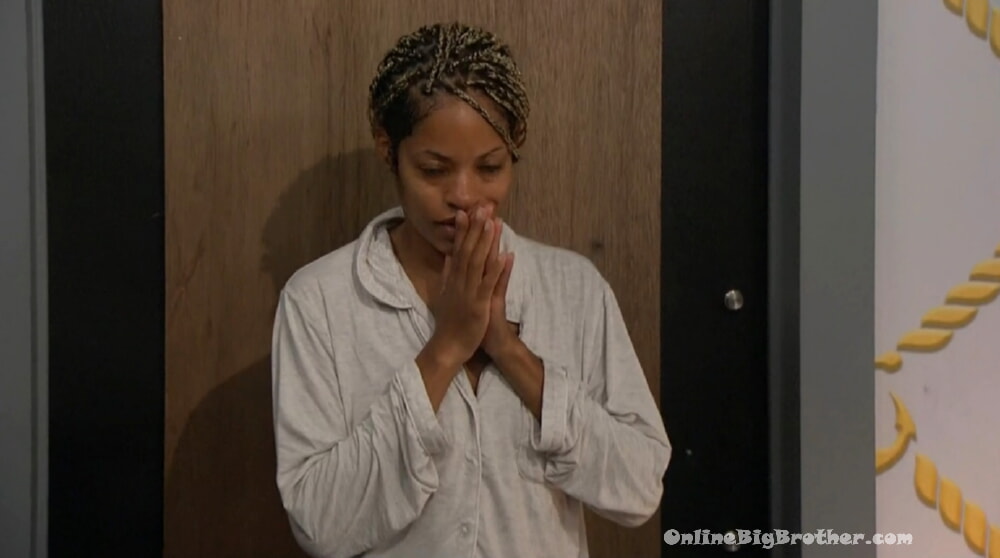 Tiffany comes in says she feels good today. She sits down next to DF "I have a plan. I had a dream last night.."
Tiffany looks at the camera – "I love you America I don't know what You all sent me I was struggling last night.. I figured it out"
Tiff whispers to DF "I figured out a way to bring the cookout to the end"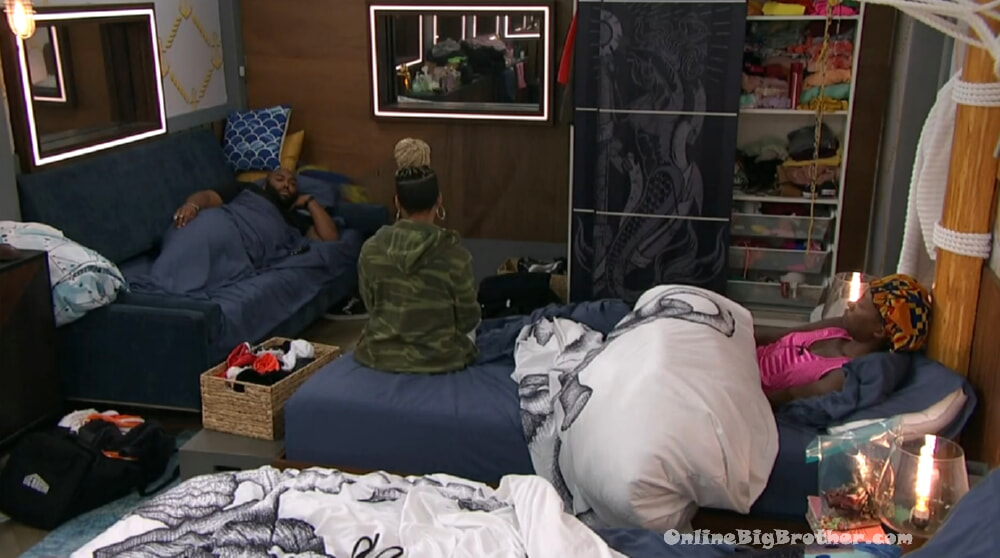 9:55 am Azah, Tiffany and DF
Tiff – I have a way to get our six to the end
Tiff looks at Azah – Do you have a way?
Tiff looks at DF – Do you have a way?
They don't
Tiff – the only way for this to work is none of us 6 goes home before 5
Tiff says to Azah "I know you like Britini, I like Claire, Ky like Sarah Beth, X likes Christian.. that's perfect. We're going to take them to 11"
Tiff – we need to get rid of two of them. I am cool if it was Whitney and Alyssa if each one of us has one other person we are working with. We have been working with and they tin we're working with. Once we get down to 6 and 5. There will be Britini, Claire, Sarah Beth, Christian,
Azah says Christian needs to go before Jury
Tiff – it doesn't matter, Christian, Sarah Beth, Claire, Britini, and DerekX. If she (azah) had brit, I have Claire, Hannah has DerekX, I have Sarah Beth and X has Christian. At that point it's 6 vs 5 as long as one of us doesn't go to Jury first we will always control the vote.. always.
Tiff – we have to determine us 6 which one of the 5 goes first. it should be whoever figures out we're working together. It doesn't matter we always have the votes. WE'll have some biter people. I think that Sarah Beth and Claire will be the most biter
DF agrees
Tiff – then Britini or Christian .. we really do need to get DX and Christian out before they get out one of our guys.
DF – I love that.. everyone gets a chance
Tiff – everyone keeps a person we all have to agree on the 6 and 5
Azah – Whitney needs to go before Jury
Tiff agrees "Whitney has to stay this week"
Azah – I don't agree with that
Tiff – Listen to me.. If Whitney stays she will go after the kings which is Christian and Alyssa. If she goes it f**s up the plan because ethe kings will be at 4 and they will come after somebody.
Tiff asks Azah "Okay you tell me your plan"
Azah – I don't agree with it but I am listening
Tiff – then tell me your plan
Azah – I don't have a plan
Tiff – three of THEM have to leave..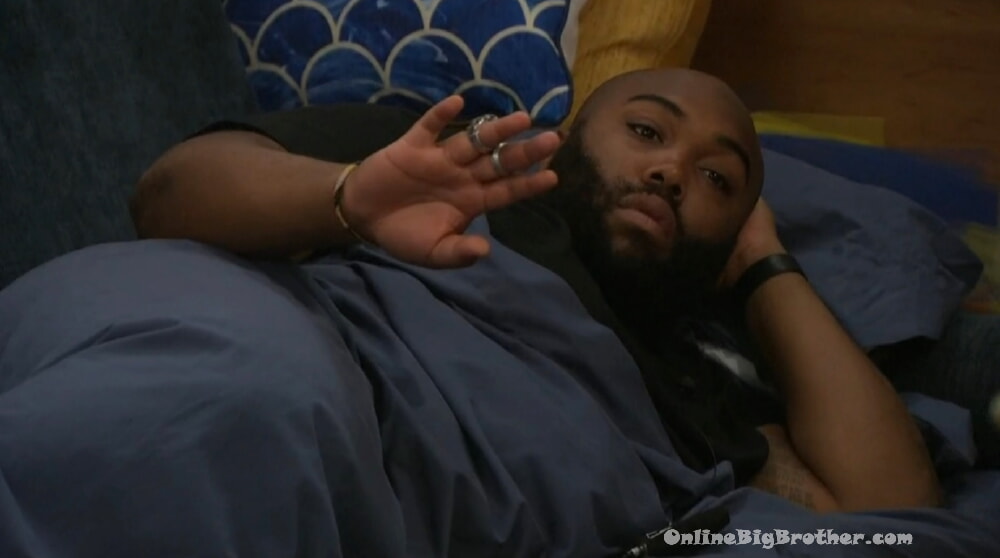 Azah says she thinks Tiff's plan is going to work and she's not disagreeing with her she just thinks there are different paths to get there.
Tiff – if we don't get three out, Back to back to back and one of us goes we are 50/50. It's 5 of them and 5 of us
DF – the next person to go is Alyssa
Tiff – I don't care. It's pre-jury. It can be Alyssa, Whitney, Christian
Tiff – If Chrisitan goes third then Hannah will have to give up DX. me and her (azah) have to decide on Claire and Britini. Then Claire has to go. Britini will go after.
Feeds cut.. When we're back
Tiff asking Azah if she agrees with her plan for 3 to go in a row when they hit Jury.
Azah – mmhmm
Tiff – no I don't want you to just agree with me. we all have to be in agreement
Azah – I don't know what you want me to agree with
Tiff – 3 have to go in a row, 3 of the none cookout
Azah – yeah they have to go anyone that is none cookout has to go in a row
DF and Azah say as far as they're concerned the cookout is 5. (they don't include Hannah for some reason)
Tiff warns them that it will be Sarah Beth that will figure out the cookout first.
DF – This is perfect..
Tiff leaves to talk to X.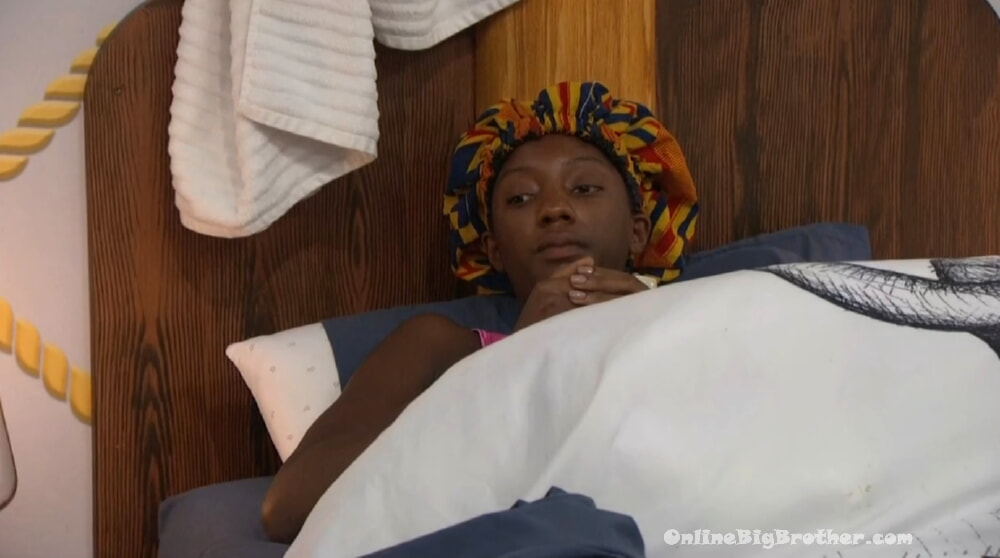 DF asks Azah "how do you feel? do you not like that plan?"
Azah – I didn't say I didn't like it
DF – I can't tell if you do or not.. where's your heads at?
Azah – it makes sense. I kinda thought that's how we were thinking already
Azah just doesn't agree with the order she wants Whitney gone first
Azah – in this game I really don't like Concrete plans things can change you have to go with the flow
DF – I will be 100 with you
DF explains the way she's acting it looks like she doesn't give 2 sh1ts about the plan "this is a game and we're working together, you see how I act.. if I win HOH and I decides Whitney first he'll do that"
Azah brings up when she told Tiff "I'm not trying to be defensive with you" Tiff snapped back "I don't care if you are being defensive"
Azah – Okay I'll just shut up then. I just need to shut my a$4 up and say yes yes yes
Brit and Claire join them.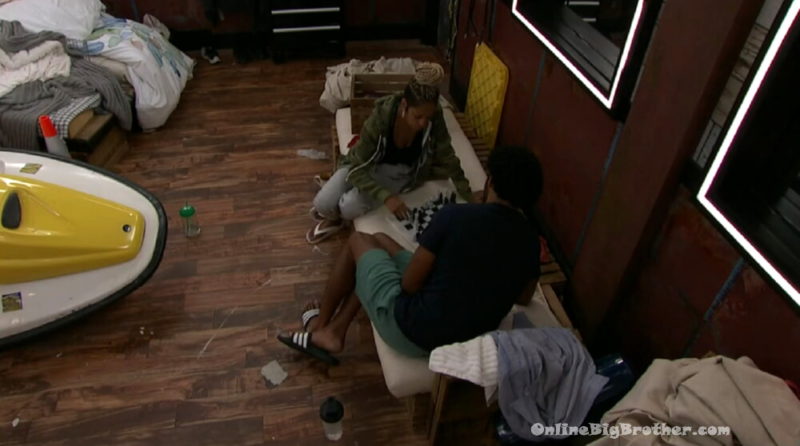 10:09 am Tiff and Ky
Tiff is going over her plan with Ky using the chessboard.
Tiff – I have a plan for 6 to get to the end.
They agree a KING cannot win this next week HOH.
Ky – I don't know how to ensure that happens, Wthiney doesn't want to win
Tiff – I'm so tired of these people that don't want to win (LOL)
Tiff – three in a row has to go us six are not going to make it.
Ky isn't worried they can do it.
Tiff – it would be nice if we can figure out which three have to go.
Tiff says she couldn't sleep last night going over the order of people they need to evict, "America must have been mad at me I said sh1t to the camera I don't know about the 6.. I couldn't sleep America must have sent me .. somebody was not letting me sleep last night and had my brain up until I came up with this"
Tiff says the cookout is staying alive "America you don't have to hate me no more.. I'm not going rogue"
Ky – I never thought you would
Tiff says everyone in the cookout has to be on the same page, "Not like Azah, I tried to explain today. She feels like Whitney needs to go this week."
Tiff – why does Whitney need to go this week?
Ky – if she puts up Whitney and a king goes home.. numbers-wise
Ky says her plan is crystal clear.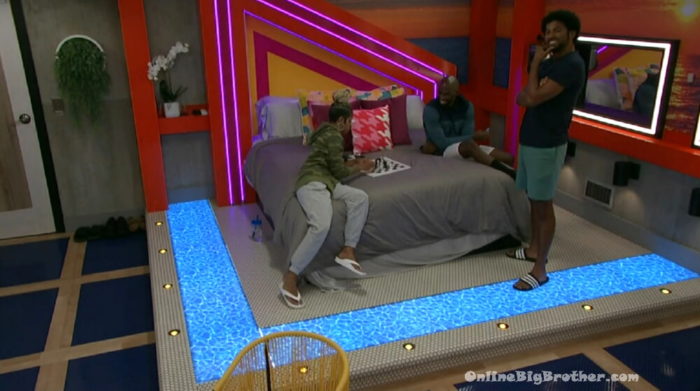 10:33 am Xavier, Ky and Tiff
Tiff runs through her plan using the chessboard. "blacks are guys whites are girls"
Tiff – three in a row has to go
X and Tiff agree Brit should be the first to hit the jury.
Tiff – If I lose Claire, SB has to go the next week. If you lose Christian, Hannah needs to lose DX the next week. If Ky loses Sarah Beth I lose Claire.
X says the last two should be Claire and Sarah Beth. He says Christian and DX will be harder to beat
Tiff says they can throw people off by putting a cookout member up they have the votes.
Ky – we can make it past the first week before doing that (talking when they hit Jury)
Tiff asks X if he's cool with Alyssa and Whitney being the next two or does he want Christian out?
X is worried about Christian in physical competitions but if it's mental he would rather face him.
Tiff says Sarah Beth makes her nervous.
X doesn't want Chrisitan and Alyssa in Jury together.
X – I think people are having suspicions about Hannah based on how she's playing the game. They think she's very intelligent.
feeds cut ..
Ky says a KING can't win this HOH.
X asks who do they want to win HOH?
Tiff asks out of Christian, Whitney, Alyssa who would he want out next.
Xavier wants Whitney
Ky – I would prefer Whitney also I wonder if this week is the best to get out King every team has a reason
X – everyone on my team is going for it if people want it they'll have to beat them.
Tiff doesn't want a KING to win it jeopardizes their plan.
Tiff – what if I win and put up one of your players? what does that do to the flush? Or do I tell them they're a pawn
X – the only player that would believe that is Sarah Beth.. I can tell you right now Alyssa and Christian will be more pissed.
X says Brit won't put up Alyssa and Christian but Azah would.
Tiff and Kyland think Brit will.
Tiff – I think if she won she would take the shot..
X says he can't convince his team to throw the HOH and not look suspicious.
X says if his team wins HOH he suspects Whitney and Hannah will go up. they have to steer the conversation onto Whitney going.
Ky says he's not winning the HOH. If a joker wins Whitney will go.
Ky – Christian is a better competitor and an emotional voter
X agrees.
Their new order is Whitney then Christian.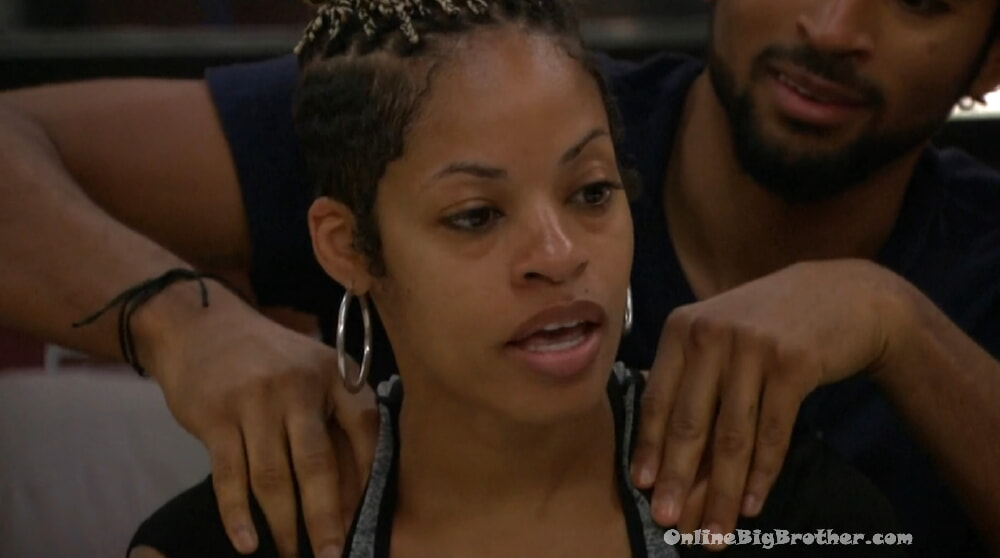 10:54 am Tiff and Ky
Tiff – I need a hug now..
Ky – you'll get a massage
Tiff – I feel so much better, America I know y'all hated me last night I figured it out.
Tiff – the 6 is making it.
They agree X is the least emotional and Azah is the most.
Tiff says when Azah losses Brit she'll be ok because she'll have BIGD
Tiff and Ky say they feel like they're "saving everyone else's game" in the cookout.
Tiff says he needs to chill out his social game he's been making connections with too many people. "Chill your charismatic down"
Tiff – I told Claire last night that we have to stick together. I don't want her to feel…
Tiff – DerekX is very smart. he thinks very far ahead. let him continue getting close to Hannah. If we are going to keep him expendable
Tiff doesn't see DX trusting Hannah too much because he won't trust her knowledge in the game. Tiff and Ky agree Hannah doesn't know what is going on.
Tiff – we have to keep the 6 we have to.. everyone is saying that but they don't have a plan.
Tiff says she went to Azah and BIGD this morning
Ky – they don't know what's going n
Tiff – I think she just wants to disagree with me on everything but it's okay.. I did say I don't know if Whitney should go this week.
Ky says him and DX are going Whitney before the HOH and telling her if she doesn't win she's going up.
Tiff – who will she put up?
Ky – the kings
They have zero trust in Whitney.
Ky – the two closest people to her will steer her away from you and I
Tiff – I had a conversation with Whitney last night I was like you know I was just I don't even know if we are doing the right thing by getting rid of Brent she said 'I was wondering the same thing'
Ky – oh my god.. what was her reasoning.
Tiff – she's looking at all things trying to figure it out.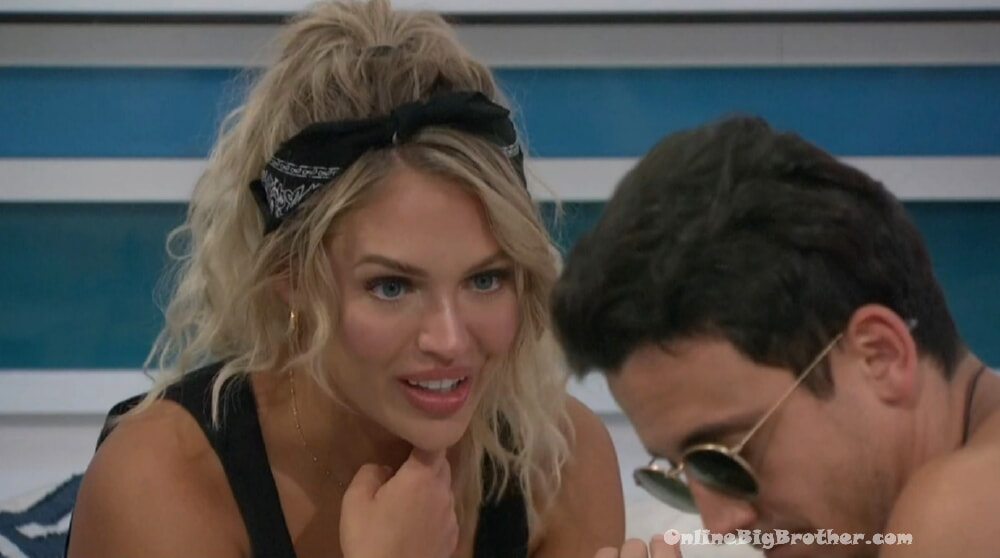 11:30 am Brent and Whitney
Apparently, Brent doesn't help with dishes because he says he washes his own right after he uses them. Whitney explains how this is wrong.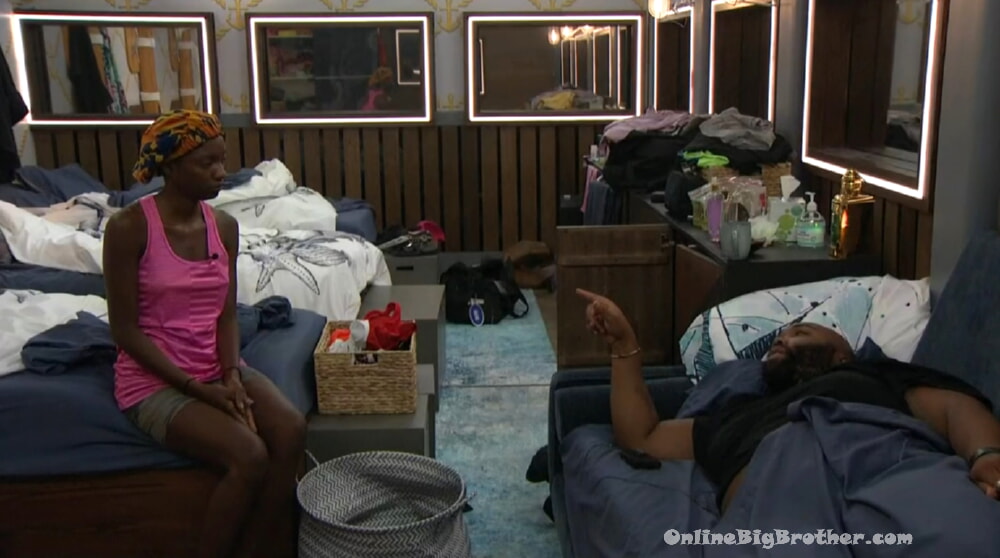 11:33 am Azah and BIGD
Azah – I know this is a team I don't want it to affect my game. I just need to agree with what she says that is the best thing.
Azah – it gets confusing.. all of them they were telling me this whole time we're playing our respected games. Tiffany, you can't come and say this is the only way this is going to work.
Azah – I get it you've come up with this plan and all these things but you can't say this is the only way it'll work. In my head, Whitney is a bad target.
Azah – you (tiff) get defensive and mad say "NO" that's not true. There are different avenues to get to the six
DF wants to get a Cookout meeting together so they can talk.
DF says he's learned how to bullsh1t he says he's the best one in the house "if someone is telling me a plan.. YEAH I LOVE THAT that's a really good plan I like that.. no what you said is right .. "
DF – you have to be more like that
Azah – I want it to be us five in the end..
Azah – I'm nervous.. I'm honestly nervous. I told you what happened with saying that to Christian
Df says they need to get together and talk "The five of us, I'm not worried about Hannah"
Azah – didn't I say I agree with it and what did she say "I don't want you to just agree with everything"
DF – I told you how look.. girl fix our face
Azah – she was just rude to me.. I sincerely said I think this is a good plan..
Azah keeps repeating the snapbacks Tiffany gave to her.
Azah highlights how Tiffany told them it's not going to work any other way than her plan.
DF – she's older and she thinks differently than us.
DF gives her advice on how to bullshit.
Azah – I work in sales I know
Azah says she knows Brit will go and the other non-cookout members.
Azah – I have a level of respect for people as people like I'm not going to manipulate or lie to DerekX I'm not going to manipulate or lie to Claire. You know.
DF – I have respect for people to .. if I win this week I have the hardest HOH I will have to put up two people that think I would never put them up
DF – am I doing it for the sake of me? NO I'm doing it for you guys
DF suggests she meet with Tiff "Hey girl I love your plan… just agree with the plan"
Xavier has been doing one on one..
If you like these spoilers and read this blog regularly please consider a donation to keep the madness going. We accept donations via paypal How to support OBB