POV Holder:
PAulie
POV Competition
July 30th
POV Used
Yes
POV Ceremony
Aug 1st
HOH
Paul
Next HOH
Aug 4th
Original Nominations:
Bridgette AND Paulie
After POV Nominations:
Bridgette AND Da'Vonne
Have Nots
Natalie, Paulie, Corey, Zakiyah
CBS All Access: Live feeds are only $5.99 per month – Try it FREE for 1 WEEK!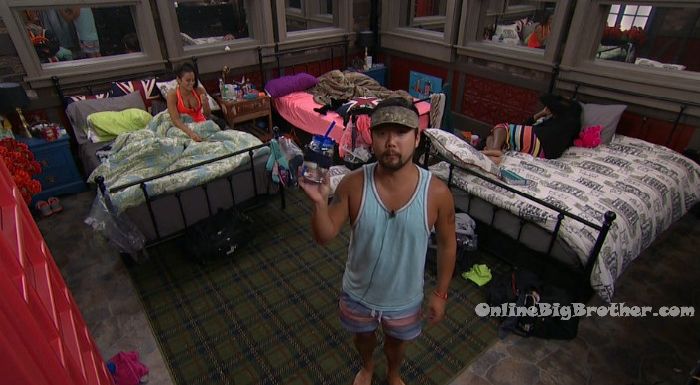 12:25am Bedroom – James looks at the camera and says that she (Natalie) put salt water in his cup. He looks at her and says I declare war on this girl. By the time I get down with this girl she is going to be one sad puppy! You're going to be one little sad nugget. Da asks what was this about Michelle scared you into a fighting stance. Natalie shows how Michelle popped out and scared James into his fighting stance. James asks Natalie why she is always pranking him. James says I've got the record for pranks of last season and big brother and you will not come in between me and my pranks. Natalie says we're only counting this season. James says you don't know what is going to come. Natalie says this is BB18 and I'm closer to being 18 than you are! James yells who is this girl!!! Natalie leaves the room. James says I'm going to stuff her in a little box. She does not know who she is messing with. Da says she is winning. James says I declare war on Natalie!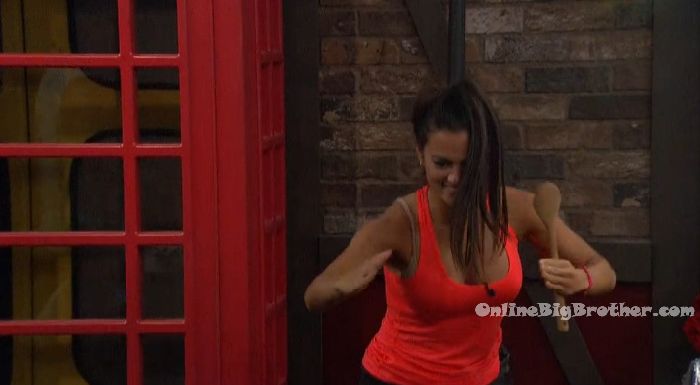 12:25pm HOH room – Paulie tells Z that they planted the seed with Vic about being the "Executives" and how Vic would be the CEO. Paulie says that Vic was like why do I have to be the CEO. Vic was like why don't we just call ourselves the "Advancement" and I was like no Vic, its got to be something better than that. I was like what do you think about the executives and he was like yeah that's good. Z says he really does believe it. That's good. He's going to hate you. Paulie says na, he'll laugh it off. Da joins them and asks Paulie is everything good for THursday. Paulie says as far as I know. Da asks as far as voting Bridgette out. Paulie says I think so unless something else is going on. Natalie said is voting to keep Bridgette, she said she was going to do that. Da says I'm just making sure the plan didn't change. You're definitely voting Bridgette out right?! Paulie says I'll vote Bridgette out. If that's what Paul wants. Da asks is that what you want?! Don't talk in circles. Do you want me to stay in the house? Paulie says yeah. Da says I just wanted to come talk to you and see if everything was okay. All this friendship didn't start with Bridgette until I got put on the block. Da leaves. Paulie tells Z that he thinks Da will respect good game play. Z asks Paulie if he thinks she is faking her feelings for him. Paulie says no, I don't think you're faking it. Paulie tells Z that his last relationship ended because she couldn't handle all the attention that was coming my and my families way.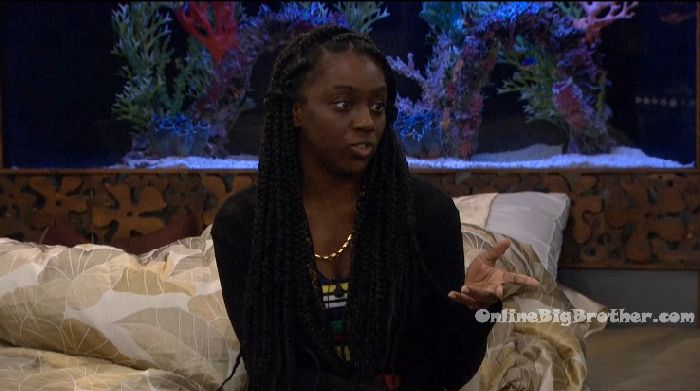 12:50am In the bedroom – Natalie says I beat you and you can't even congratulate me to America! James then congratulates Natalie on pranking. She won today. James says America she's a really good prankster. She's the best. She did a really good job today and is on her way to the top. She is at the top. Natalie asks who won on day 49? James says you did! James tells Natalie her sneakers might be frozen. Natalie says if you mess with my body you mess with my heart!
Paulie says what scares me about Mama Da is that she said she is going to squeeze Bridgette for everything she knows. Z says I almost wish I heard her say your name so that I could tell you but I think she just knows we're close.
1:10pm Michelle and Da are in the safari room talking. Michelle says I'm just keeping my mouth shut. I just don't want to deal with people right now. It so frustrating. I just want people giving me advice from the outside. That would be a good care package. Da tells Michelle about her talk with Paulie. Michelle says I just want to know what he's saying to Z. Da says nothing, that's why she's frustrated. I think she really does like him. Z joins them and talks about how she and Paulie talked. He makes me feel weird. I'm guarded at this point. Da says he was talking to me like he is playing Derricks game. Z leaves. Da says they're running out of pawns. I wouldn't be surprised if I went home on Thursday. Michelle says I would be pissed. Do you really think they would lie to Z and I? Da says yes. Michelle says I would have a conversation with James and just ask him. Da says I did and he keeps telling me he hasn't heard anything. Michelle says maybe it is true then. Da says I really want to win HOH and have a powershift in this house.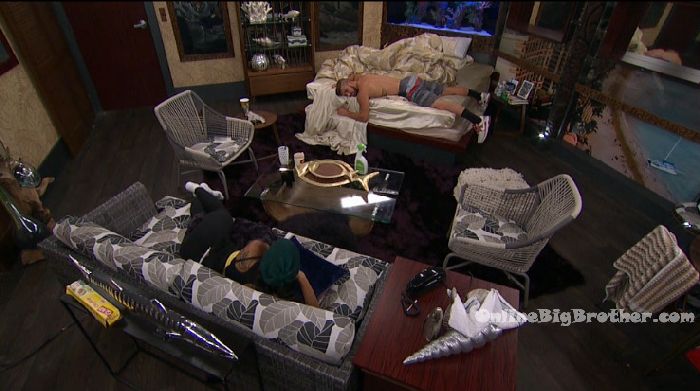 1:50am – 2:20am – Paulie says I think Z, Da and Michelle are kind of piecing things together. They see us all talking to you and they're freaking out. Bridgette says they're f**king a$$holes! Paulie talks about how he caught Z in three lies. It had to do with her, Michelle and Da. I know for a fact that it happened a certain way and she still lied about it. If they walked in here right now and saw us talking to you they would know. They would be pissed. We want it to be only Michelle and Z voting for her so that they are shocked. At the end of the day they're afraid of you Bridge. Bridgette asks why are they afraid of me? Paulie says because you're smart.
2:35am – 4am Michelle, Da and Z are talking in the safari room – Da says its getting way too real. I was in the room with James and Natalie going over the votes. James said I should have a talk with Paul to make sure he would break the tie to keep me. I said what if he said he didn't want to break the tie to keep me. And he said then he would have to vote the other way. Michelle says man. I'm pretty sure you're safe though. I would tell you. Da asks how do you tell somebody that. Even if you knew the house was going to vote the other way you two would still vote for me. Z says as far as I know you're fine. Da says three times today I caught James, Corey and Nicole in the room with the door shut. Z says it is what it is. We've got to start winning comps and take some of these people out. If you won HOH would you take him out? Z says I want someone else to take him out. I've said enough in there that the people that I trust in this house.. they would be like you did a back flip somersault. Da asks if you're vote was necessary would you vote him out. Z says I would. Da says I don't think anybody is going to take a swing at him.
4:20am Michelle and Da are still up staring at the memory wall. They look at the different facial features of each house guest for the face morph comp. Da heads to bed. Michelle goes to the safari room and sits by herself.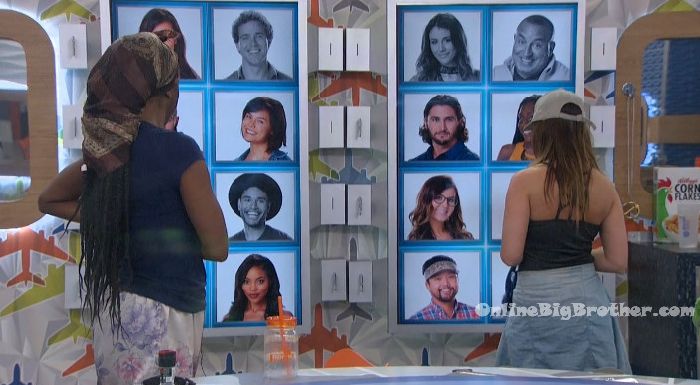 5am All the house guests are sleeping..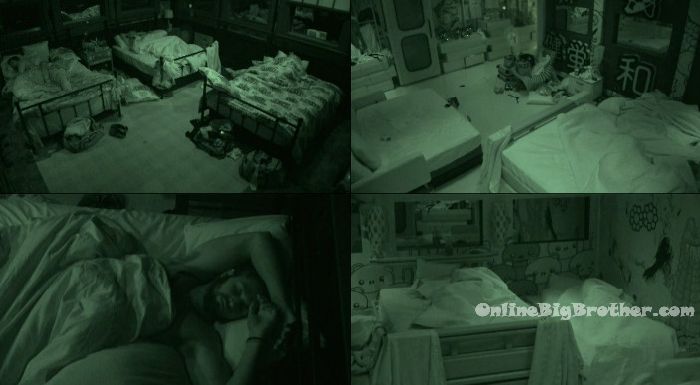 11:00am zzzzzzzzzzzzzz
2:00pm People now slowly waking up

[polldaddy poll=9486231]
[polldaddy poll=9485811]
[polldaddy poll=9485817]