| | | | |
| --- | --- | --- | --- |
| POV: | Brett | Next POV: | Aug 18th |
| POV Used | YES | POV Ceremony | Aug 20th |
| HOH: | FES | Next HOH: | Aug 23th |
| Noms: | Brett Kaycee & Scottie | Have Nots | |
A real easy way to support the site if you are an amazon shopper is to make your purchases through our link. You pay the exact same thing but we get a small % commission. It doesn't cost you anything and helps us out.
Amazon Canada
Amazon USA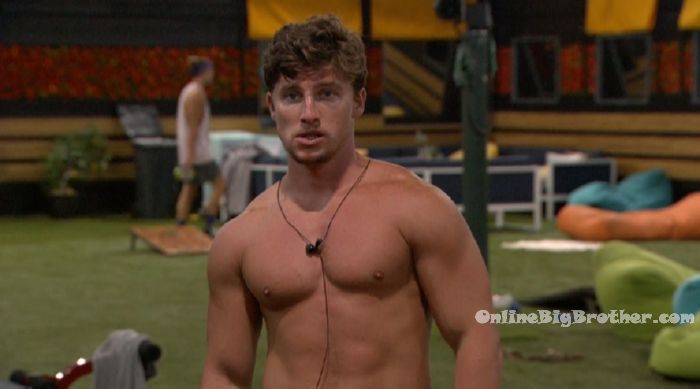 8:05pm Hammock. Angela and Brett are studying the days / events of the season. Brett – I made a map with M&M's of all the dates and then when I came back in one day it was all gone. Angela – who took it? Brett – them (production). If I win HOH, no matter what I do there are going to be butting heads. Like there is no easy choice. Angela – well kind of. Brett – I am just saying I am going to get push back hardcore. Angela – but I feel like it is kind of easy for you. Brett – one. There would only be one person in the house that would nominate me. Because Scottie is going home. But be mindful of your GBM's (goodbye messages) I didn't give a f**k about jury votes but I didn't even think about battle back. Angle – Bayleigh's was okay. Brett – Bayleigh's was okay. Angela – Rockstar's was mean. Brett – Mine was bad! Oh bad! So bad! And there is no way that she did not vote for her to stay.
8:14pm Kitchen.
Kaycee to Fes – I wonder what his (Scottie) master plan is? Have you heard? Fes – no. Kaycee – You know he is trying to think of something.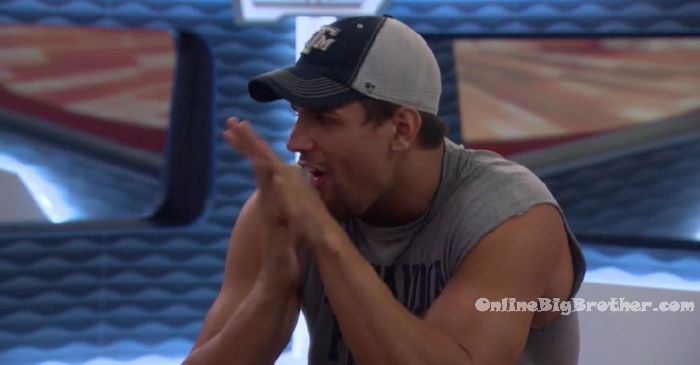 8:27pm Kitchen. Fes, Angela and Kaycee. Fes – he (Scottie) might not have done all the things people say he did but he probably did most of them. I would be baffled if we get out of here and he didn't do any of them. But I am pretty sure he did do them and then he's in the DR (acting like an evil genius). Fes – he is a great kid though. I have no problem with him but on a game level he has done a lot and he's not owning up to it. If I get called out, I don't know how I would act. I haven't been called out this season. Kaycee – just stay clam. Brett – I would want to say some sh*t back.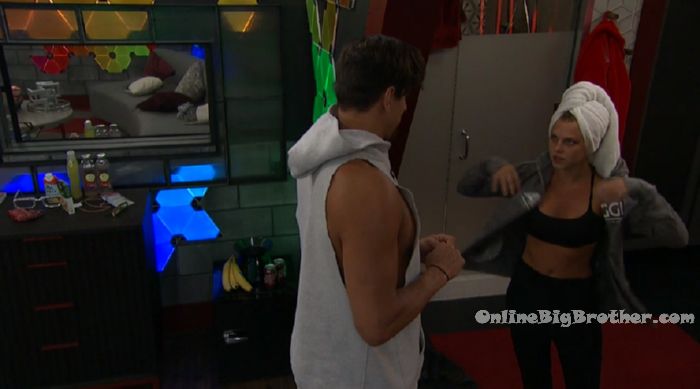 9:30pm HOH room. Fes and Halegh. Fes – Or do I need to worry about you. Fes – is this week going to be smooth? Haleigh – I don't know, I'm not a mind reader. Fes – or do I need to worry about you? Haleigh – Fessie! Are you f**king kidding me? You're joking?! I don't know if you are ligidimately trying to fight with me? Are you f**king kidding me?! Like I am the liability?! Fes – I don't have to worry about you. Haleigh – that's exactly what you're doing. Fes – meaning.. Listen.. Haleigh – I know exactly what you said. Do you have to worry about me flipping. I know exactly what you said. Fes – what I don't want is because he's your friend you're telling him all week that you're going to vote for him to stay. And then he is telling other people and they freak out and sh*t. Haleigh – we're at day 60 and you're still questioning me!? Fes – I'm not questioning you! Haleigh – what do you need me to do stand out on the balcony and say this is how I'm voting? Fes – come here! Haleigh – no, you're literally questioning me!? I've asked you this entire season to stop doing it. Fes – I just didn't want you to worry like when he asks you for his vote. Haleigh – why don't you let me worry about that. Fes – can I not be paranoid in this game too!? Haleigh – no you can't, not with me! Haleigh leaves the HOH room.

10:20pm Kaycee, JC, Angela, Haleigh, and Tyler are talking about the possibility of a double eviction and how it would work.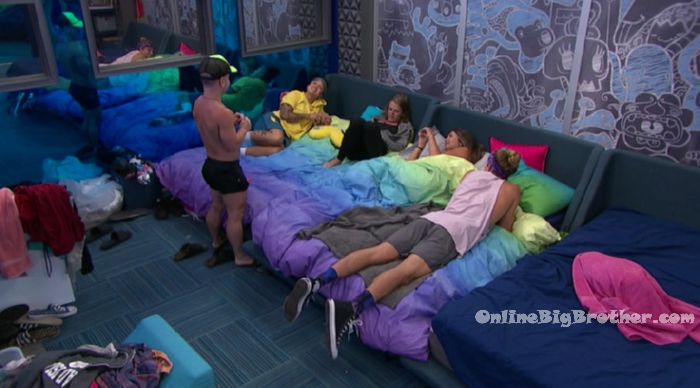 10:35pm Bedroom. Scottie makes a "mega mattress" by stacking two mattresses on top of each other. He questions why the second mattress from the end has so many stains on it.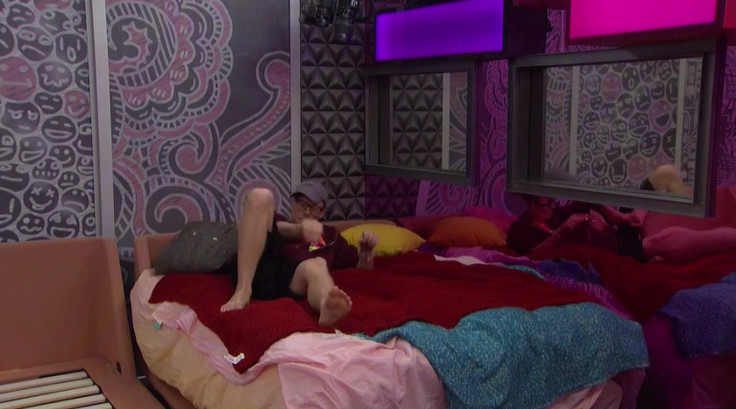 Scottie sets up "guards" at the bedroom door. He then goes to the storage room and puts on gloves. He digs around in the cupboards looking at the pantie liners and plastic tampons. Scottie – why would someone put a plastic tampon in their tw@t?" He then grabs the baby powder, opens it up and hits it to see how much will come out. He states that he though more would come out.
10:45pm – 11:10pm Backyard. Fes, Brett and Haleigh chat about Rachel, Kaitlyn and other past house guests. Fes – what do you think Scottie's eviction speech is going to be like? Haleigh – its going to be pretty wild. Brett – the kid does improv… he literally does on the spot acting every weekend. He is good. This is what he does. He spends his Friday and Saturday doing improv. Its an art.
11:55pm Sam smoking alone in the backyard. Sam – I am kind of scared. As much good stuff there is waiting out there for me there is a lot of bad stuff too.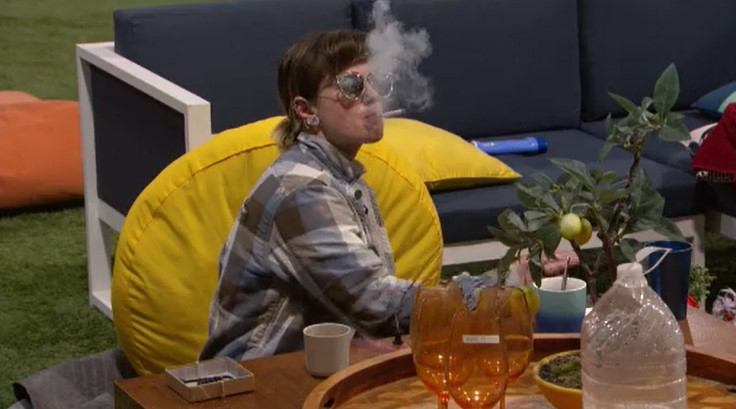 12:27pm – 12:40am Haleigh is listening to the HOH music. Meanwhile Brett and Sam are talking in the backyard. (Wasn't she supposed to be mute for 24 hours?!) Sam – can you explain anything to me? Brett – the only read I have on it is Scottie went to do what his original plan was, that got shot down and he felt terrible about it. And whatever he did today was plan B. Sam – why would he be so adamant about getting rid of me or Haleigh? Brett – I think that he thinks you two are the only two that he could beat on the block. Sam – that makes no sense. I don't think he really thinks that. Brett – I think he has an emotional attachment to Haleigh. He felt bad and then he went after you. Sam – I am close to everyone that's why none of this makes sense. I don't understand why Haleigh hates me so much. Sam – I feel all alone all over again. I haven't been playing up until this point. I have no idea what is going one. I don't understand why Scottie said what he said about me. Sam – how can I believe what you have to say? Brett – what the f**k do I have to do with any of this? Sam – you helped Rockstar with her eviction speech .. so did you not help Scottie? Brett – he didn't ask for my help. I tried to stay out of it as much as possible. Sam – I think he got the short end of the stick. Brett – Why do you think he got the short end of the stick? He didn't get the short end of the stick he just made the wrong move.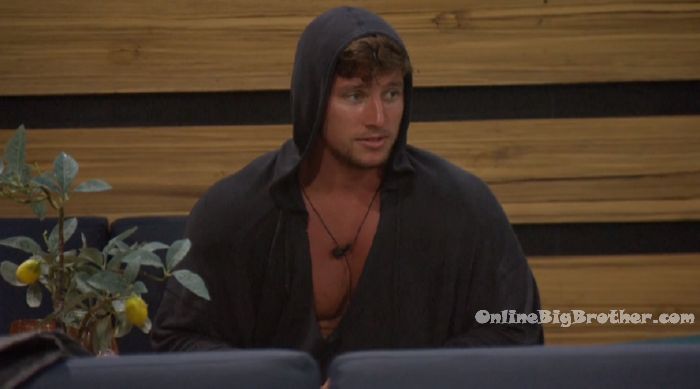 1:30am Kitchen. Sam and Scottie. Sam – do you have anything you want to tell me? Scottie – I still have a few things to sort out. Sam – Is your eviction speech going to make me cry? Scottie – no. Sam – it is isn't it? Your whole veto speech was pretty rough. Scottie – I am getting played from somewhere and I really need to figure it out. Sam and Scottie head outside. Sam – why did you say for me to go up? Scottie – because you've been a target they've had in the past. Sam – then why did you say I've been playing everyone? Because I've done the opposite. Scottie – because you explained week one to Kaitlyn that your power was that you could take someone that voted you out and put them on the block. Sam – that is a lie. Scottie – that's what Im saying I'm being lied to from every angle. Sam – so all this starts week one?! Scottie – that's where it all starts. Sam – so you used me as the scapegoat? Scottie – no, that's the way I was pitched to believe it and going forward that is how you were painted to be. And apparently you made a bunch of deals with Rockstar and then voted her out. Sam – why did you not just ask me? Scottie – because every time I confront someone about something I get blamed for something. Just like if Haleigh comes to me I will tell her all the terrible things I said about her. I took a vow of silence and that lasted all of 3 hours because JC started having a very uncomfortable conversation right above me and I blew up. Scottie – his reason for putting me up is because of week 2. Sam – There isn't anything that you can do to change how I feel about you. And any gamey stuff that you hear about is probably coming from met too. I think you can do it because you're pretty tough.

2:50am All the house guests are sleeping..
If you're enjoying our updates please consider making a donation. All donations go directly to pay the considerable costs associated with running this site. Any amount is greatly appreciated.
Rank the houseguests!
Easiest way to Rank the house guests use link below