POV Holder:
Vanessa
POV Competition
Aug 22nd
POV Used
No
POV Ceremony
Aug 24th
HOH
Austin
Next HOH
Aug 27th
Original Nominations:
Steve and Jmac
After POV Nominations:
Steve and Jmac
Have Nots
No have nots this week
5:17pm – 6:05pm HOH Vanessa, Austin and Liz
Vanessa going over her conversation with Johnnymac where he was campaigning for her vote.
Liz says Johnnymac came up here and was fighting hard to get Vanessa up
Austin – he squeals on everyone and everything it's nuts this guy has no strategy
Vanessa – apparently I am his enemy
Liz – Him and Becky said the same thing I want Vanessa out so bad
Vanessa – the words coming out his mouth means he's coming after you
Vanessa say she's very loyal to Austin and the twins
Austin says the easiest target was Johnnymac this week he says the hardest move was to take out vanessa that's what the house wanted.
Austin says Jmac is devious
Vanessa – he's a strong talker
Austin – If Johnnymac wants a war he's got one
Vanessa – we have to be smart incase he comes back
Austin doesn't see a way that Jmac will not put them up if he wins HOH and comes back.
Vanessa – he feels desperate and has this kamikaze gene in him.. like taxi driver he wants to make a big move and go balls to the walls
Vanessa makes up some scheme to keep Johnnymac and use him to take out the returnee.
Austin doesn't think they can trust Jmac.. next thing they know he's coming to the nominations with a mohawk (Ala taxi driver)
Liz tells them she's done working with Johnnymac
Austin says everyone in jury is tied with Johnnymac
Vanessa says they should let Jmac try and get James and Meg's vote to see how it works out.
Vanessa- it's a trust building test, do they come and tell you I came and told you that's trust
Austin is worried something will come out if Vanessa starts "testing" the goblins thinks it might be unnecessary.
Liz says Julia is a pitbull they have to cool her down about Johnny Mac because she will say something
Liz – I freaking cook for him every night, what the hell
Vanessa says jmac doesn't know how close they are he thinks she against Austin and the twins.
Liz and Vanessa love the idea of seeing how loyal Meg and James are. Vanessa will got to Jmac tell him she has his vote if he can get the goblins. She will tell him he can't make her vote public. After jmac talks to them they'll see what the goblins come back to them with.
They agree the "official" reason to get Jmac out will be he's got ties with everyone in the jury house.
Austin – Jmac checkmated himself he never talked to us
Austin – Every week I would talk to him about personal things..
Austin – he never tried to talk to us and when he finally does it's too late it's a numbers game and he's at the bottom
Vanessa – he was everyone's b1tch
Austin – he was the pawn for everyone, throwing competitions left and right for everyone.. this guy played the most pansy game
Austin – he is not a soldier of war he's a goofball
Vanessa says Jmac is going to be wealthy in life
Liz – my sister worked of a dentist they are crazy
Austin – they are medical school drop outs, It's a Seinfeld joke
Austin – we love dentists
Vanessa – we love dentists
Vanessa says he's going to talk to Jmac find out if he's lying about rockstar
Austin also suggest Vanessa go to Jmac and tell him the twins vote is still in play, "Just to see what he does"
Vanessa says she's doesn't care which two of the guys go, she's lost a lot of trust with Steve.
Austin says he would be really shocked if Meg and James flipped
Vanessa says the favorite to win the Jury competitions are Jmac and Becky, unless it's questions in that case it will be Shelli.
Vanessa says tonight or tomorrow she wants to Jedi drill.
Vanessa – 100% this is s critical week we stay in power
Austin – it's a critical week to maintain Meg and James in case it's endurance comp.. if those girls come back they will be tough in endurance.
Vanessa asks why James is so good at endurance.
Austin says James was in the military he's "Battle tested"
Austin – "was in baseball probably was a catcher can squat down"
Liz – he's a friggin ninja
[envira-gallery id="130420″]
6:08pm HOH Steve joins Vanessa Austin and Liz
Steve says she doesn't know what to say to the goblins when they ask him who he's going to put up if he wins HOH.
Austin – the returning Jury
Steve – but who is the pawn
Vanessa – you can say I'm your backup target
Steve – are you OK with me saying that
Vanessa – as long as it's not true
Steve suggest he could say Austin and Vanessa re his backups because they all thinks he's at odds with them.
Vanessa – Meg would be a perfect pawn for you because you would have no blood yo8u've already pout her up
Austin says everyone is onboard with getting the returning jury member out
Vanessa – except for Jackie
Austin – that's the cog in the wheel
Vanessa – I don't see them putting Becky up
6:00pm Looking like Jmac needs to win the Jury competition to continue his BB run.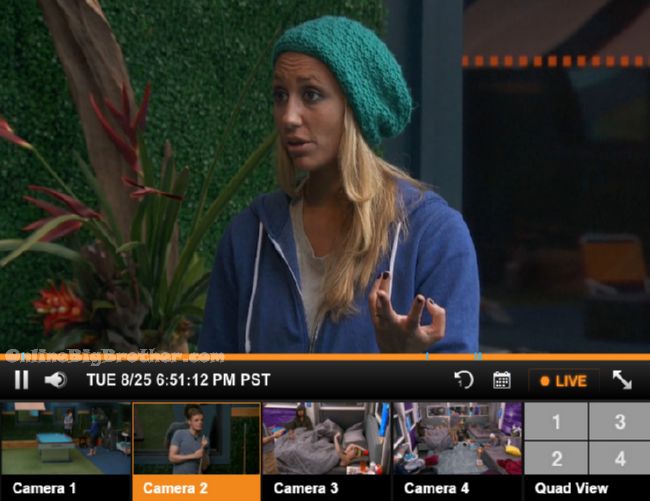 6:32pm Jmac and Vanessa
Vanessa asks him if he's talked to James
jmac – I'm going to wait until later.
Vanessa recommends he does it in public
Jmac – I can get Meg and James easier than the twins.
Jmac says last week the twins were telling Becky they didn't know whaT THEY were doing but they told him what they were doing, "When they twins tell you they don't know what they're doing they're voting your out"
Vanessa – I feel like they are really torn.
Jmac – really
Vanessa – will you be willing to throw the next HOH
Jmac- ummm hmmm
Jmac about the twins "At the end of the day they love Steve more than me"
Vanessa says on a personal level the twins like Steve more but on a game level they are very scared of Steve because he's so strong in the mental competitions.
Vanessa says she never thought once that Jmac had a issue with her.
Vanessa – my read is you have a shot
Jmac – if I go the meg/james way I have more freedom
Jmac says it was Meg and James that were pushing for Shelli to go"I've seen them save their a$$ before"
Vanessa wonders why the goblins were pushing to backdooring Vanessa and in the end they voted out Shelli
(They're goblins)
Vanessa says it's easier for her to vote for him if it's austin and the twins on board.
Jamc says if he goes to the twins he'll have to make a deal to target the goblins if he goes to the goblins he has to make a deal won't go after Austin and the twins. He wasn't to go to the goblins.
Vanessa- it's not that I hate Steve, what he did to my face.. I cried to him last week and I asked him if he knew anything and he said no all while he's making an alliance against me took me under his wing as his friend.
Vanessa- he's so two faced too me
(Keep in mind this is EXACTLY what Vanessa does to everyone)
Steve says he was fully on board with the 5 person alliance to get Vanessa out if it kept him safe.
Vanessa says she's OK with Becky and her not agreeing on 'Words"
Vanessa – "I like deal she doesn't like deals.. that's OK.. "
Vanessa says there's 3 tools in Big brother, Deals, Competitions and integrity
Vanessa – Becky doesn't like Deals she should have just told me she didn't like those words I would have stopped using them. (LOL )
Vanessa tells him it's easier for her if he tries to work something out with the twins.
Jmac warns the twins did go after her making that 5 person deal
vanessa – they didn't once I had a chance to talk to them.
Vanessa tells him he needs to address the fact he's close to everyone in the jury
Jmac – Steve's close to teh Jury to
Vanessa a- not like you
Jmac – he's close to Becky, not Jackie, He's close to Shelli
Jmac says Vanessa has a chance to salvage things with Becky, "She pissed at James and Meg for turning on her so quicK"
[envira-gallery id="130432″]
6:47pm Liz and the goblins
Meg is saying Jackie is probably going after Vanessa.
Liz thinks she's going to go after Steve.
Liz is pushing that Jmac will team up with whoever comes back from the jury.
Meg feels that both Steve and Jmac will.
7:08pm Bathroom Vanessa and twins
Comparing notes, Vanessa telling them about her parts of her Jmac conversation. Liz telling about parts of her conversation with the goblins.
Steve comes in and Liz leaves.
Vanessa tells him everything she's told him is real "We're good"
Steve – I got three votes
Vanessa says she told Jmac that the twins haven't made up their mind.
Steve says he caught Jmac in a lie today "You were in the DR when you were upstairs"
Vanessa – he thought I was in the DR
Steve – oh, so he actually thought you were in the DR
Vanessa – he didn't lie
Steve tells them the season has been using the backdoor definition wrong a backdoor means the person never competed in the POV competition.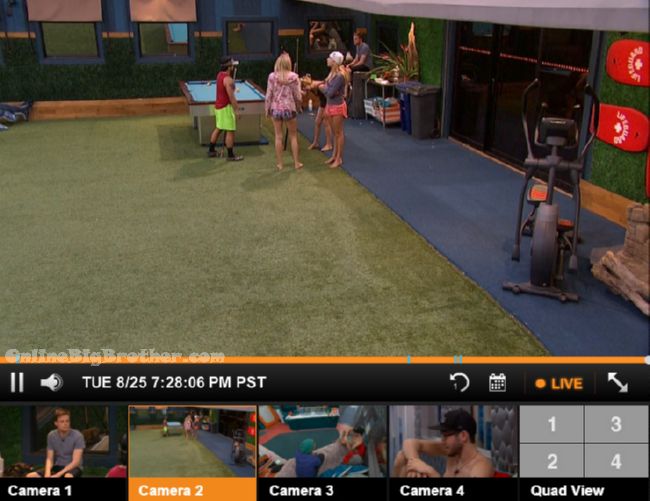 7:26pm Backyard Pool chit chat etc…
"Jammmmmmeeeeeesssssssssssssssssssssssssssssssssssssssssssssssssssssssssssssssssss-UAH"
7:30pm – 7:50pm Twins in the HOH
Comparing notes. Liz is filling JUJU in on the conversation with Steve and Vanessa earlier today.
They are agreeing Steve likes them "way better" than who is in the Jury house.
Liz mention show Jmac never talked to them and now he's thinking he can move in and play the game with them.
Liz wants JUJU to be mean to Jamc in case he comes back
JUJU – I'm not fake.
Liz says JUJU has a good chance to win the game because the house will take a shot at Liz and Austin first. "No one is threaten by you"
Julia mentions talking to Jeff in the storage room and right after he ran up to the HOH and told everyone what she said.
Julia- that is why I'm so mad at you for voting for him"
Liz says Jeff had the hots for her and she had the hots for him.. (WTF)
The twins cannot understand why jmac dislikes them so much they are very pissed at jmac.
Liz – news flash Johnnymac you are the low man on the totem poll with everyone
Julia- it's so sad a 28 year old man is screaming over a girl
Julia – you're so fake dude
Liz – what do we do when Jmac campaigns with us
Julia – we act like we don't know what to do
The twins cannot understand jmac doesn't do much in the house yet they can hear him screaming in the Diary room all the time.
Julia says she's calling himn out over that.
Liz wants her that Jmac is a jury vote and he might come back in the game.
Austin joins them says he's going to take a shower.
Austin – why are you so sad liz
Julia – She's telling me everything because i'm always the last to hear
Austin starts giving them some advice to talk to Jmac "say I want to clear the air from yesterday.. that's a perfectly fine conversation to have after a fight.. that's not being fishy that's being nice"
Austin – he could come back
Julia offers to come with Liz
Austin says for them to pull Jmac aside right now and talk to him.
Liz – I'm not going to do it when Steve's there
Austin – we told Steve we were going to
Liz – Austin shut up I'm going to do what I want
The twins get up to leave the HOH
Liz – Go Shower Stinky
They leave as the door closes
Austin – you guys don't know this game as well I do
you can hear them laughing
Austin – FU**
7:54pm Goblins playing pool alone
James tells her Becky, Jackie and Shelli have all come together and are like Vanessa and Austin they are running the house.
James adds that it's obvious Vanessa is trying to get in good with whoever stays this week Steve or jmac. He's feeling good that the person coming back will go after Austin and Vanessa.
ALLIANCES:
"Goblins/Gremlins" = James and Meg
"The Generals" = anyone allied with Becky
"SOS" (Students of Sound) = Steve and Vanessa
Rockstars = Steve and Jmac
AUS-Twins = Austin, Julia and Liz
"Austin's Angels" = Austin, Liz, Julia, Vanessa
"Brass Tacks" = Gobins and Austwins
The new "Brass Tacks" = Aus-Twins, Meg, James + Vanessa
"Freaks and Geeks" "The Scamper Squad" = Aus-Twins, Vanessa, Steve
"The new Freaks and Geeks minus Vanessa" = Austin, Liz, Julia, Steve, Johnny Mac
"The Authority" = Austin, Liz, Julia, Steve
[polldaddy poll=9035699]