Quick Big Brother Spoilers
Head of Household:  Taylor
Nominees: Turner & Brittany
POV Players: Taylor, Brittany, Turner, Monte
POV Winner: Monte
Veto Ceremony:
Lock your ranks in before midnight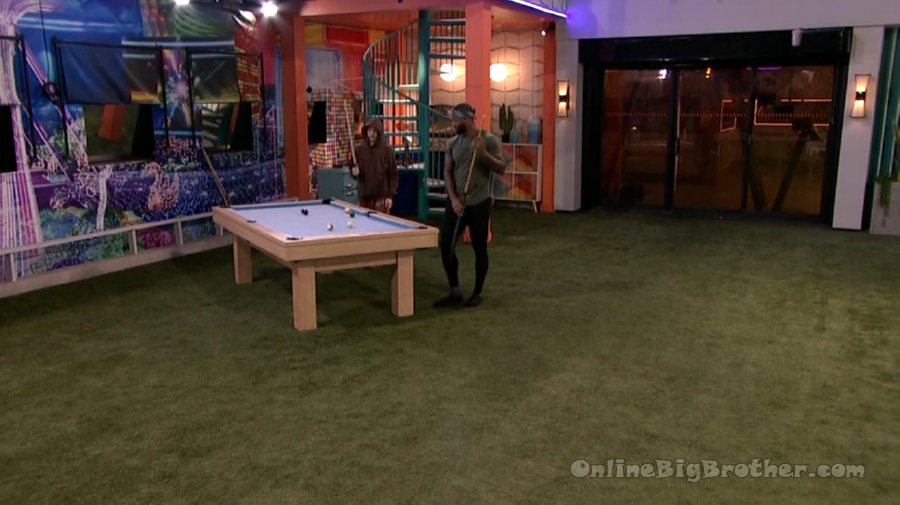 1:00 am Monte alone waiting for Turner
Monte – All I have to do is win that Veto comp.. I have to make sure Brittany doesn't win the veto comp. I had a great conversations with Taylor how she still wants to take Brittany to final 3 which I understand because what that will lead to if she has a decision to make to final 2 she'll pick Brittany cause it's a easy DUB call it a day.
Monte – However I respect the gangster is not what's best for me what's best for me is to take her and Turner to the final 3 although Brittany will be somebody I can beat in a physical comp I think she is smart and witty enough to potentially win some of these mental comps that being said She's a higher risk of a lot of these mental comps that we have. So she must go.
Turner joins him for a game of pool.
Monte – Here's the thing.. America has got to not stand Brittany. Look at her BB comic and zingbot.. I mean
Turner – BB comic, Zingbot that whole Kyle thing
Monte – that's what I'm saying. I don't think umm.. I don't think America likes her a whole lot
Turner – I don't either holy shit
Monte – or production she hasn't been getting a lot of love on these outward reflections of her game.
Feeds flip to Taylor in the HOH bathroom. When we're back
Monte – I was thinking about the damn Veto.. Three to one. I feel good about my conversation with Taylor about the three of us. The fact she was willing to put up Brittany was a good sign.
Turner – we talked about our final three. She said at first I was uncomfortable going to the final three with you. Your resume is way bigger than anybody elses but I've seen the way myself, you and Monte operate and you are the only people in the house I want to be in the end with.
Turner – I Don't think my resume is any bigger than either of you to. I don't think my jury management is as good.
Monte – it's got to be reassuring to hear
Turner – she was like if I wasn't committed I wouldn't have named it. I said Two girls one guy? she said 'NO Guys Girls'
They laugh
Monte – The crazy part is that you know how we all got here started from a large Paranoia from Kyle and I think it came from people not necessarily sharing what the hell was actually happening like when it came to that whole Old Skool thing. I come to find out that wasn't actually a thing. Quite the discovery. I find no reason for Alyssa to lie about that I still want to hear from everybody after the show this sh1t was actually not something. Kyle made it seem like it was a thing. Even Joe said that Jasmine filled him in on Old Skool when they brought him in.
Turner – When I went inside Taylor was Screaming upstairs she was like 'NO'
Turner – I'm dying to know what that was about
Monte – she has a flair for the dramatic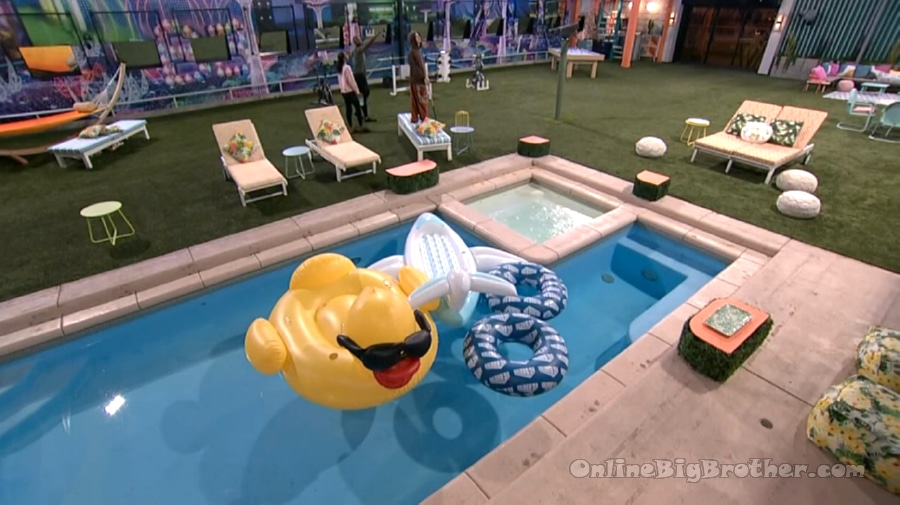 Taylor joins them says she was singing to Beyonce. "I'm not even a Beyonce stand but this b1tch is in the f**ing bag damn"
Monte – I would like to hear it
Brittany joins them. starts swaying from side to side. They talk about the turf in the backyard.
They bring up how the tight rope is gone. Feeds cut. When we're back Taylor and Brittany head inside leaving Monte and Turner to their pool game.
Turner and Monte talk about how Turner broke a pool stick and production never said anything about it.
Monte – Unbelievable
Monte – Brittany is walking around in there doing nothing
Turner – the only reason she came out is because I was out here and Turner was out here.
Monte – she's the only person she feels comfortable speaking to is Taylor. Even then Taylor must be doing a good job duping her. I think Brittany has to know especially after noms that Taylor not believing whatever the f*** she's saying
Turner – yeah BIG time
Monte – if she did believe her she wouldn't have put you up
Turner – it was a satisfying moment seeing Brittany's face up there first..
Monte – I was worried if I say you face first I would be next.
Monte about Brittany "I don't trust her and you've been clearly sabotaged by her or an attempted sabotage"
Turner – she must know how much pressure there is for her to win this comp
Monte – it's really for everybody but for her especially it's do or die. If I am deciding it's pretty clear what the hell has to happen.
Turner about Brittany – if you make a move like that at least look me in the eye and talk to me not like 'HUH i'm sorry you feel that way'
Monte – yeah
Turner – it's so frigging UGH
Monte – it's really bad.. to me being a GOOD Big Brother player doesn't mean you make overtly obvious manipulations and lies or whatever. Your sh1t should be subtle at least. It's so obvious at this point
Turner – for weeks
Monte – FOR WEEKS.. She's not very good at playing the game. I think honestly her dependency on Michael throughout the game I think has led her to believe she has to play this hard for her to get some sort of street cred or jury cred whatever the f***. Clearly just misplaced. we have one job and one job only win a competition
Turner – we've done it many times
Monte – we've done it when it was needed most
Turner – with more people
Monte – 12 days till freedom
Turner- 12 days until me your or taylor are f**ing rich
Monte brings up that second place gets 75K

Monte – Honestly to me the money like I'm going to figure that out. i almost think it'll add more stress. Not like a MO Money MO Problems thing more like a.. do I have to think differently about the people around me because I won this 750K.
Monte – for you.. you know thankfully you have a loving girlfriend who was with you before you got that you know what I mean. now I have to think about you know am I getting attention for the wrong reasons?
Turner- that's true Mo Money Mo Problems
Monte – Mo Money Mo Problems, I would rather have that problem than not having it.
they laugh
Turner facts
Turner – that 75K that can be produced within a year it's a nice advance
Monte – knowing it'll be in good hands regardless is what give me peace
Turner – For sure. just the thought of me you and Taylor all good people whoever wins I am f**ing stoked about
Monte – right right very much so
Monte about Brittany – we literally talked about Daniel doing this to Michael. Why would you do this to your damn self?
Monte – the fact that she did that shows she's sketchy
Turner – BIG TIME… did what?
Monte laughs were you not paying attention.. how he (daniel) needs the money and Why he needs to be in Jury because of it.
Feeds flip to Brittany wandering around. When we're back
Turner about Brittany – she really put all her eggs in one basket. What does she think will happen if one of us wins?
Monte – yeah, Honestly this is a sign of desperation. You have to think about it what was her game before when Michael was here? Let Michael win and save me every time. That was essentially what her game was.
They talk about Brittany asking Turner for a final 2 out of the blue, "it was desperation man"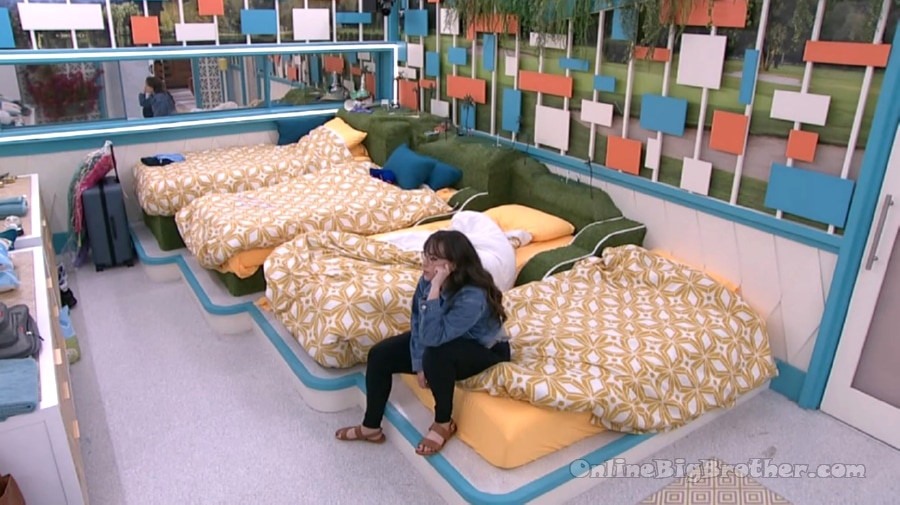 Feeds flip back to Brittany staring at the wall. after 5 minutes we're back to Monte and Turner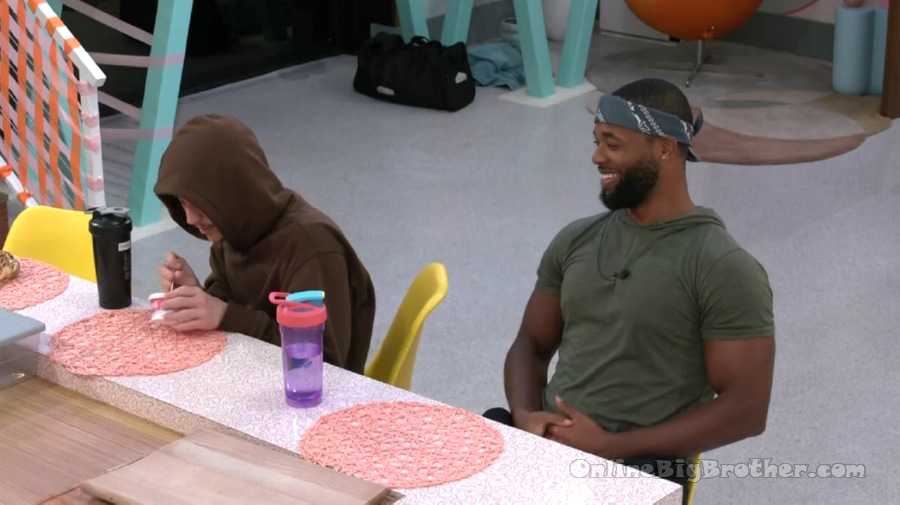 1:50 am Turner and Taylor chit chat about various topics like the amount of water is used in the production of Almond Milk.
Monte – I watched something on Netflix about the water crisis.. I was definitely High when I watched it the sh1t but. Apparently there are parts of the world some places where there's civilisation where it's hard to um.. get ample supply of water.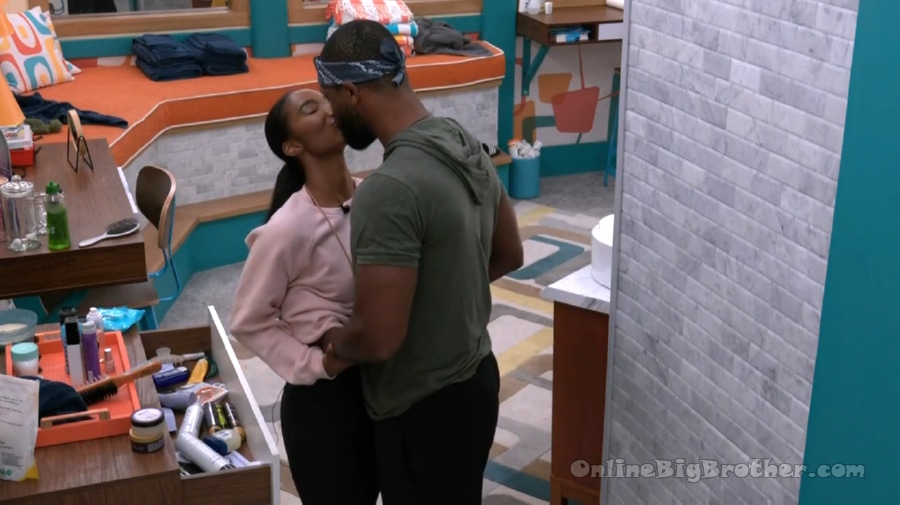 2:11 am Monte and Taylor
Taylor says she's going to de-glam and go to bed "I'm cuddly tired"
Monte – That is the best kind of Tired
The camera zooms in
Monte – and the camera is zooming..
Taylor – enough
Monte – did you get what you wanted for tonight?
Taylor – no they did not
Monte – live feeders
Taylor – nosey mother f***ers
Monte – we see you see us
Monte – how you doing?
Taylor smiles "Good chilling.. I'm not leaving this house until finale night"
Taylor is happy she'll never see the Jury house
Taylor – you'll never see the Jury house
Monte – I'm not going to say that
Taylor – I did my job.
Monte – when things are high pressure I tend to figure it out somehow. I think i'll do it (Win veto)
Taylor – good. need you there.. Like you needed me there this week I'll need you there next
Monte – I'll make sure to be there.
They had briefly talked about meeting up tonight.
Taylor – Come here..
They start to make out. Taylor says 'not making a move until week 11'
Monte – means we can both here here for it
Taylor yes ohh my god.. to the end
Taylor leaves "I'll see you upstairs later"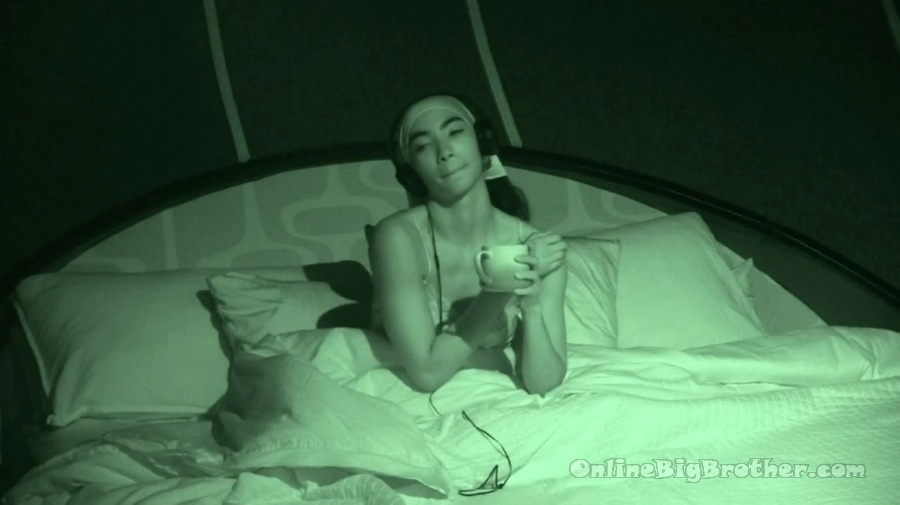 3:40 am Taylor waiting for Monte
3:46 am Taylor gives up waiting for Monte. It's hard not to notice the movements under the sheets for a couple minutes
at 3:49 am Taylor "Ahh yes"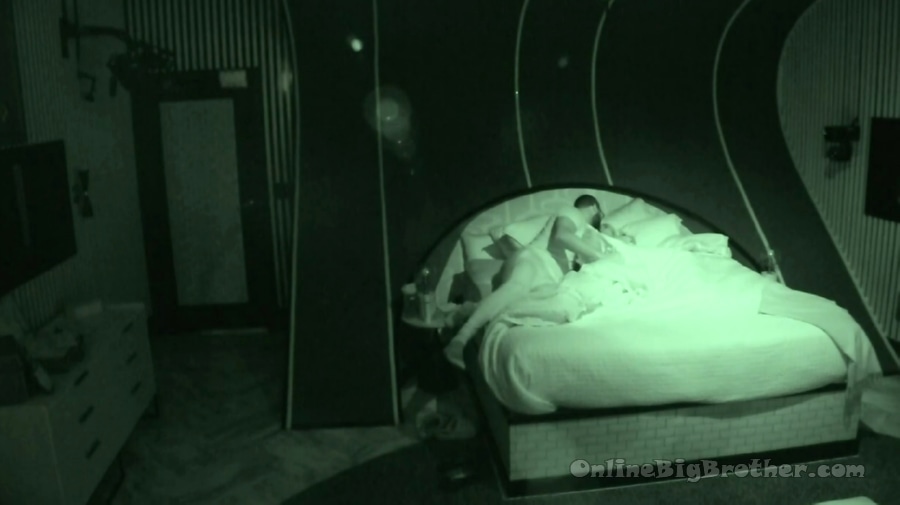 4:02 am Monte finally makes it up to the HOH.
Monte – sorry I came up so late Turner was up forever. I almost slipped and fell asleep..
Taylor – you made it
Monte – I did make it
Feeds flip..
4:16 am periodically the feeds flip for a second to the HOH where Monte and Taylor are cuddling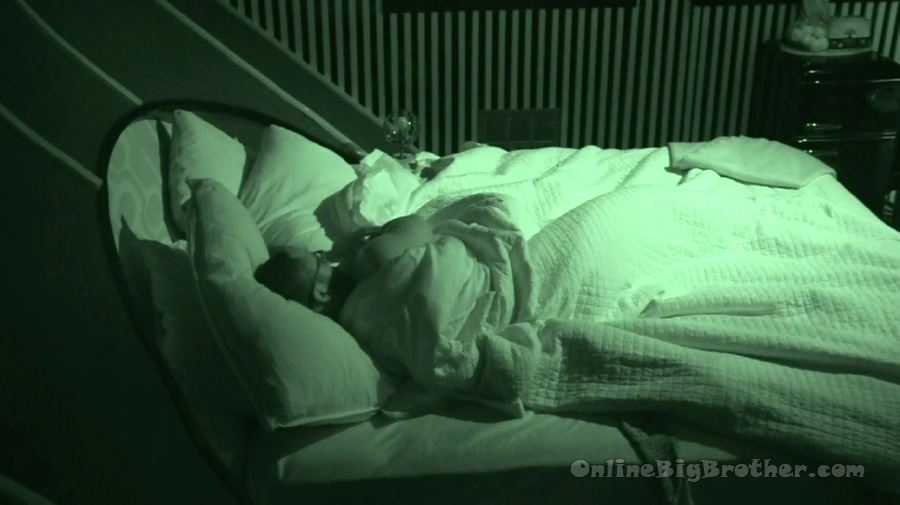 4:38 am Kissing and talking about getting out of the game and adjusting to the outside world
Taylor – make sure you stay in LA after
Taylor – I think I like you Monte
Monte laughs "I do to"
They talk about when they can stop hiding their showmance. They plan to wait until after the veto is played.
Taylor – since day one.. You're a patient man.
Monte – I like to focus I don't want to give people a reason to target me
Taylor – I don't think you are a Kyle. Please don't have s$x with me then lie to me about the game.
Monte – I told you want time it was
Taylor – I trust you
Monte – what we talked about on the couch is exactly how I feel
Monte says he needs to "Pee real quick"
Monte start looking for his underwear "it's helpful to keep underwear on one leg. It's easy to find" (BB Protips)
Feeds flip. When we're back.
Monte is telling her about when he started liking her it was during Big BroChella.
Monte – yeah.. seeing you in your natural hair is like seeing you in a different light I just .. i don't know what it is I am a very.. I can see you doing very well in a photo shoot where it's a forest and you are there with you natural hair down. It's very RAW and very adam and eve-ish. that attracts me.. that's good stuff right there. Also us spending more time together. there is a side of you that is.. told bitchy side you embrace I also know there is another side..
They kiss more.
5:15 am Still up kissing and chatting
Monte brings up smoking weed "all sensations are heightened. Like if you've had a climax then you've not had a climax until you've had one when you're High"
Monte – It is like something you don't forget just believe. Especially with me I'm not going to sit here and brag but you;ll get to some place you've never been before.
Monte – it's ready and available. just a new experience I think would be fun
6:00 am zzzzz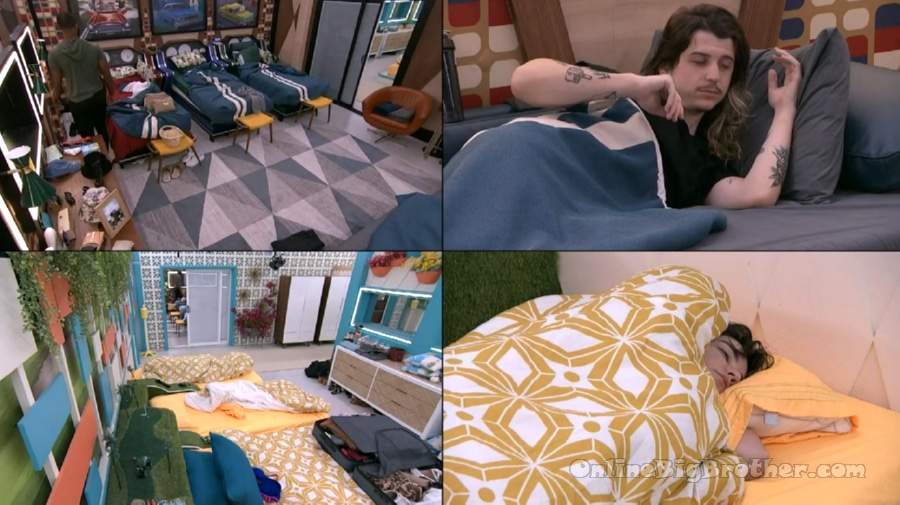 7:20 am Lights on!
Monte is the only one out and about. He's doing laundry outside.
8:30 am Feeds go to pound
Without reader support this site and these spoilers wouldn't be possible.
Please consider a donation to keep the madness going.
Any amount is greatly appreciated!