HOH: Sarah Beth
HAVENOTS: DX, Ky, Tiff
Nominations: BIGD Xavier DX and Claire
Power of Veto Players: Azah, Alyssa, DF, Xavier, Sb and Claire
Power of Veto: Xavier
Power of Veto Ceremony: Xavier used the veto on himself. Sb nominated DX in his place.
Big Brother 23 Houseguest Rankings – – RANK THE HOUSEGUESTS –
View the previous day ranks on the – Ranking Grid
Big Brother Spoilers – X enters Solitary today and won't be released until the vote tomorrow.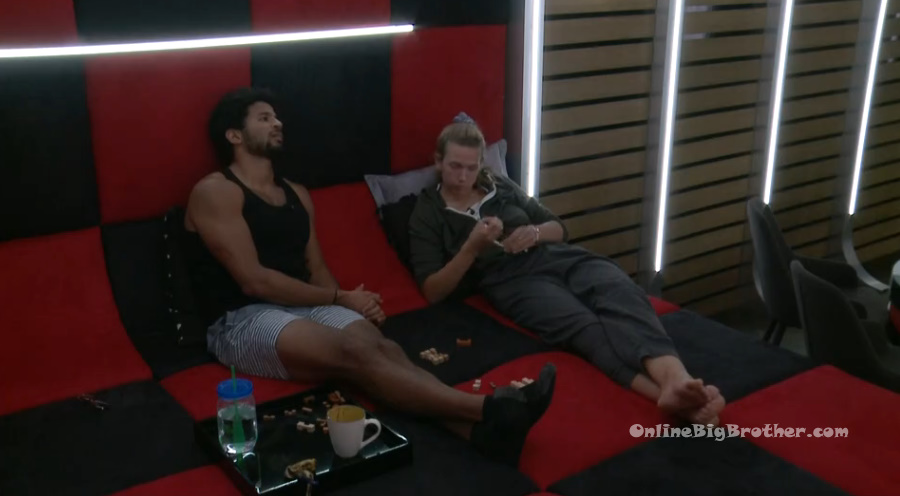 7pm Chess room – Kyland and Claire.
(Read at your own risk) Kyland – I don't feel like I have a set path to the end of this game but I don't have a.. but I do have people that I want to work with and I have people that I trust and I am trying to find where those align the most. And I think that is where.. I think that was most tricky because it came from like you know .. like a week ago or like 10 days ago like… ummm you know the.. ahh.. I was looking at the detectives and queens and I felt like I was in a position like are you sure that because DX said his mental strategy was to eliminate threats that could beat him and his allies. I was like .. I think the hidden implied message about my strategy in the game is to eliminate threats that can beat me and I think that at some point that would include me because if he is looking at it from risk aversion he wants to eliminate anyone that can beat him. And I haven't beat him in all fairness in anything but maybe he feels like I am more likely to than some other people. Granted does it happen soon, does it happen later? Claire – but it will happen. Ky – And I feel like I am more inline with like .. like I said ummmm… to a … I think when I look at like .. when I look at the ahhhh.. at what… at how ..to move forward in the game I am looking at uummmmm… I think that SB looks at these two (Alyssa & X)… so its tricky. SB trusts those two .. I think a week ago those two would have taken shots at SB. They will no longer take a shot at her… ummm and by proxy me. Claire – yeah. Ky – That being said I know that given any opportunity they would vote to keep her over me.. should that opportunity come to pass. Here are three people that are going to work together. If the third nominee (Xavier) was voted out next week, why wouldn't I be next. Claire – I think that is a fair fear.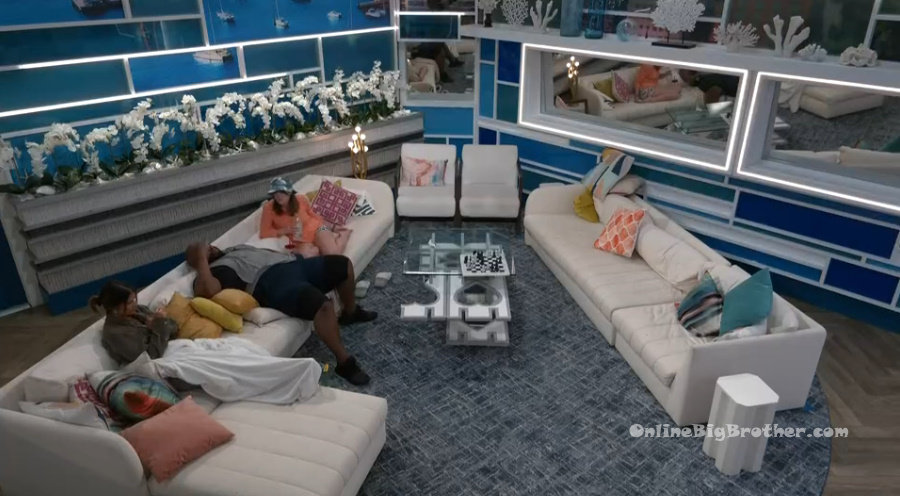 7:20pm Living Room – Big D, Alyssa and Sarah are studying and sharing what they remember from the video clips they saw. Alysa and Hannah then head to the bedroom to quiz each other. They then head to the back bedroom to chat / study with Derek and Azah.

7:55pm HOH room – Big D and Sarah.
Big D – …stupid, the f**k! Like obviously it means I didn't win the coin toss and someone else f**king did. But we have confidence I am going to win. Sarah – I really think that you're the only one that is going to be able to play. Other people are lying but I don't know if they are. Big D – SB you are going to get played like a motherf**ker! If you can't read… you have to see.. Sarah – I feel like I am not that bad at seeing through BS. Big D – remember I said outside there are certain things that I ask .. that make me go… did you really play!? Remember I asked Tiff, did you get a practice shot before you went and she was like no I just started. They literally said for us to practice before we started.. which makes me go okay you really didn't play in the first one. Hannah ..when she came back it looked like she just took her jacket off to make it look like she played. Alyssa came back and her hair was like … from doing the spins. Hannah's hair was still in place like she didn't do anything. People are good at f**king lying. And that is why I am kind of like what the f**k. I know it is hard to see it but out of everyone here we know Derek X has it but he is leaving. Claire – I don't believe she has it. SO the only two people I think that have it are Tiff, and even though Hannah said oh I played in the last one.. I don't know. The other night she was asking where do you think your BB bucks are at? ..like out of the blue. And I was like oh I think I have enough. And she was like okay I just wanted to know. Why is she asking that. No one is asking where my BB bucks are at unless they're planning to play and trying to see if I have enough. Sarah – I can totally see them lying about it to the rest of the house but I feel like both of them would have told somebody. Big D – but how do we know that they didn't make a plan with each other .. we're committed to ourselves and not going to tell anyone. They're studying together. You can tell who is working with each other because they're studying together. Like its over a coin flip and I could lose in the coin flip and everyone could blame it all on me. And that is when I am going to flip the f**k out because I don't like being everyone's punching bag and I don't like being lied on. OH MY GOD SB this might be the first f**king time I flip out. SB – don't do it. Big Brother blocks the feeds.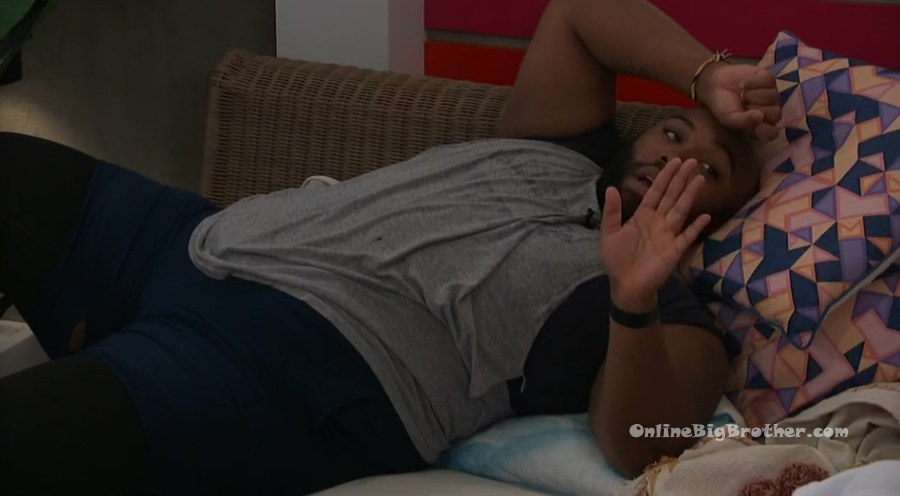 8:19pm – 8:40pm HOH room – Claire and Sarah.
Claire – I feel like my one on ones went really well. Nobody raised any concerns and most everyone said yeah you have my vote. I was really expecting a fight here. I feel pretty good. I feel like Ky is good with it. For some reason he is the one I am most nervous about but not really. He feels like he is losing DX. Sarah – I don't think he is totally happy with it .. and not anything against you just that he feels close with DX. Claire – next week will be weird. Sarah – I am fairly certain Big D is the only one with enough money. I am pretty sure Big D has it. But also he kind of slipped up because he told everyone that he made $50 the first week and then he said he got $75 this week. So if he got $50 he wouldn't have enough .. but he has told me multiple times this week that he can definitely play. So those number don't add but.. but also it is Big D and maybe he doesn't realize it yet. Sarah – I honestly don't know what Big D would do. Claire – I don't know either. Sarah – and it just sucks with X on the block because then you have to compete against him. Claire – yeah, and he will be good. They start studying what they remember from the videos.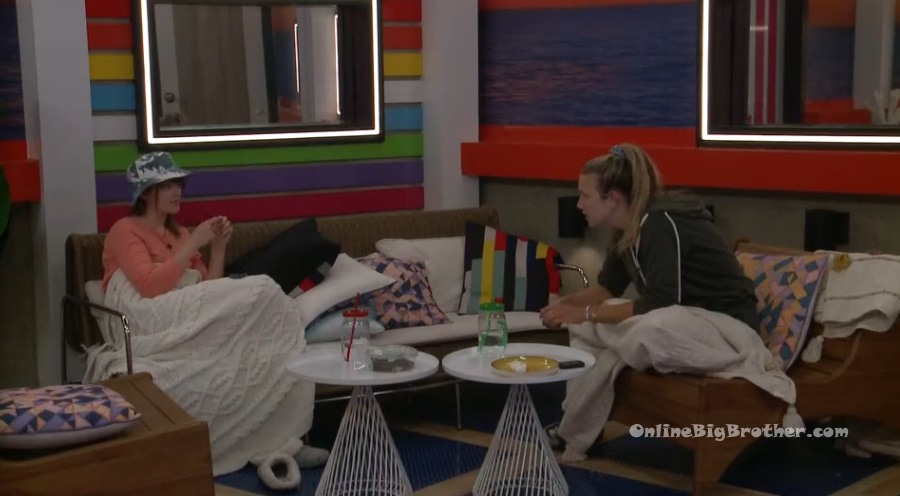 8:46pm Kitchen. Tiff – I'll drink a coors light. Is this what I need in my life? I feel like the world is telling me no. Azah – I can study with three shots in.. not right now though because I'm a light weight. Tiff puts it back in the fridge.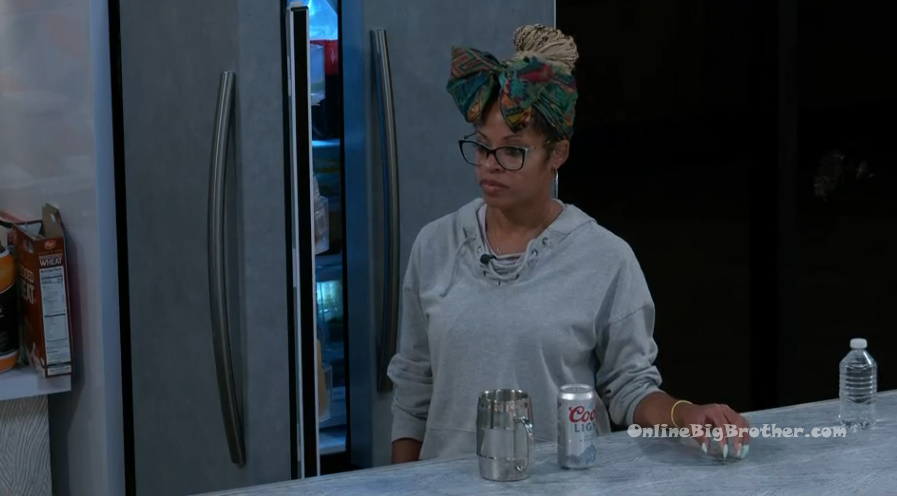 9pm – 10pm Bedroom – Alyssa and Big D.
Big D – lets cheers.. you know what we're going to cheers to? Me or you winning tomorrow. Alyssa – YES! Big D – Its time! Alyssa – its time! What if we do win!? We are going to be cracking up!! Big D – B***h I am going to be … can you picture me laughing… I am going to go.. ALL YOU ARE F**KED!!! You guys are in some trouble now! Alyssa – And I am going to be like now do you see why I saved Big D! Big D – MMmmmhmmm YUP! They start studying. Azah joins them to study. Alyssa comments on how she is still being asked about Christian in the diary room. She doesn't want to keep talking about him because she doesn't want to look like a fool if he now feels different about her now that he's in the outside world.
Alyssa & Big D cheers to winning HOH tomorrow..

Big D "I am going to go.. ALL YOU ARE F**KED!!!" @bigbspoilers #BB23 pic.twitter.com/VDZLidHWCg

— Dawg (@DawgsBigBrother) August 26, 2021
9:10pm Chess room – Kyland, Sarah and Derek X are studying together.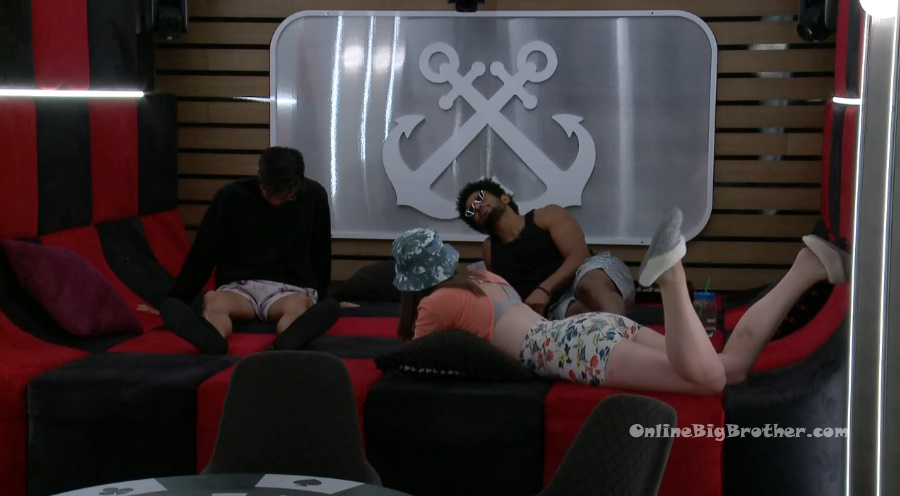 9:30pm – 10pm Kitchen – Tiffany, Claire and Hannah are studying.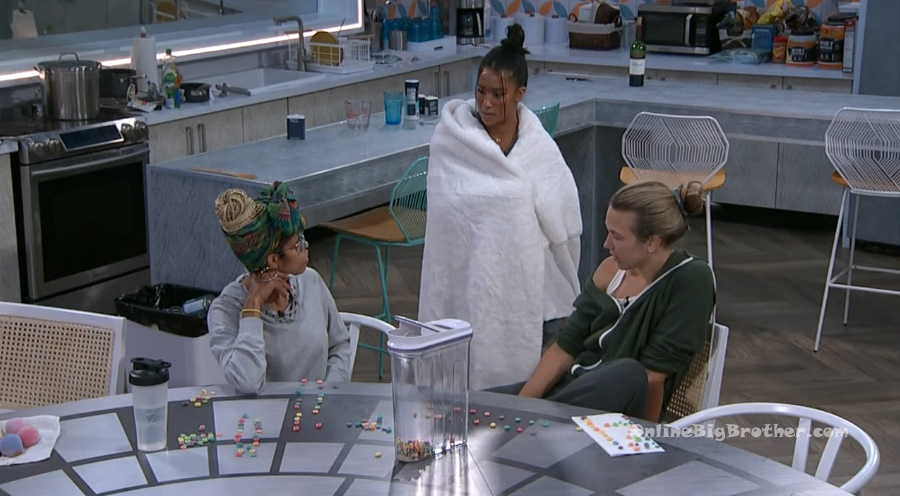 11pm Bedroom. Claire, Azah, Hannah, Big D and Tiffany are still studying.
12:30am Ky and Derek X are making dinner.
1am Bedroom. Hannah and Tiffany.
Hannah – Azah is going to vote to keep Claire? Tiffany – I think so yeah. Hannah – so is it going to be a 6 – 1 vote of 5 – 2? Tiffany – I think Ky is going to give him a vote. Hannah – okay. So it will be 5 – 2 instead of 6 – 1. Tiffany nods yes. Why what are you thinking? Hannah – well I would prefer it to be 4 – 3. Tiffany – well tell her to vote for him. Hannah – Azah? Tiffany – yeah. Hannah – I don't think Azah is comfortable with it being 4 – 3 vote. Tiffany – why? Hannah – too close. Tiffany – I am not going to flip.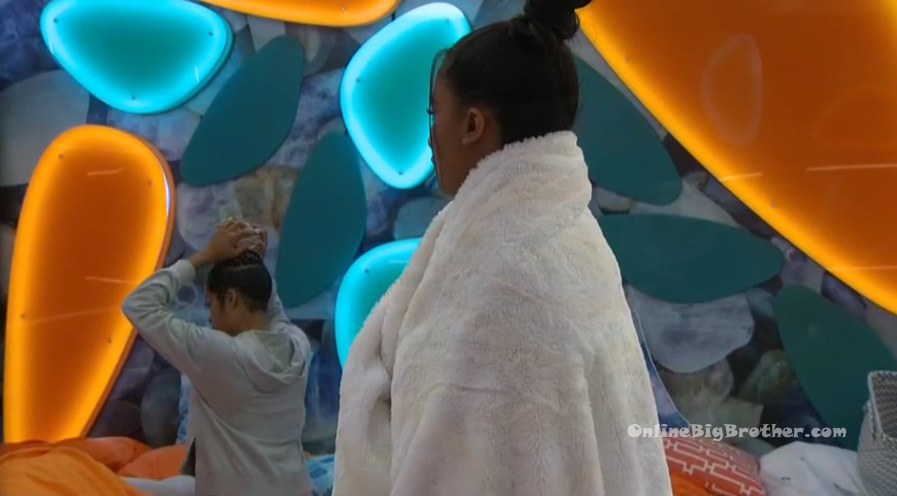 2am – 2:15am HOH room. Derek X and Sarah.
Derek – the goal is to paint the picture of you having way more longevity in the game with me in the house. I have tried in the past but this time hopefully it will be a little clearer with visual aids. Maybe this is what the game becomes .. this is over simplifying it but I think it is way more complex than this. If any of these people win HOH who do you think will go up? Sarah – I think it will either be Tiff & Claire or me and Ky. Derek – the vibe that I am getting is that its you and Ky. I can see why on the surface this four (SB, Ky, Alyssa, X) makes sense .. a strong group of four dominating competitions .. and you can maybe run it to the end. There is a lot of game still to be played. I think this other side will win HOH and I think you and Ky are shielding X and Alyssa. Sarah agrees. Derek – lets say before this happens you are able to take out one or two. I random comp will happen where lets say they take out you. If I am still in the game, I can promise you I will not come for you. You will have less people looking at you and more chances of winning HOH. In this scenario, you've made it to final 6 whereas in the previous example .. if anyone gets the shot .. you are the first to go. This is the read that I have of the house and again it could be totally off target who knows but I feel decently confident in this. If you keep me, I will always look at them before looking at you and Ky. Sarah – I think I have a slightly different perspective. I think with you in the house it is way more likely for me to leave because you have more influence over these people than me. Derek continues to run through possible scenarios..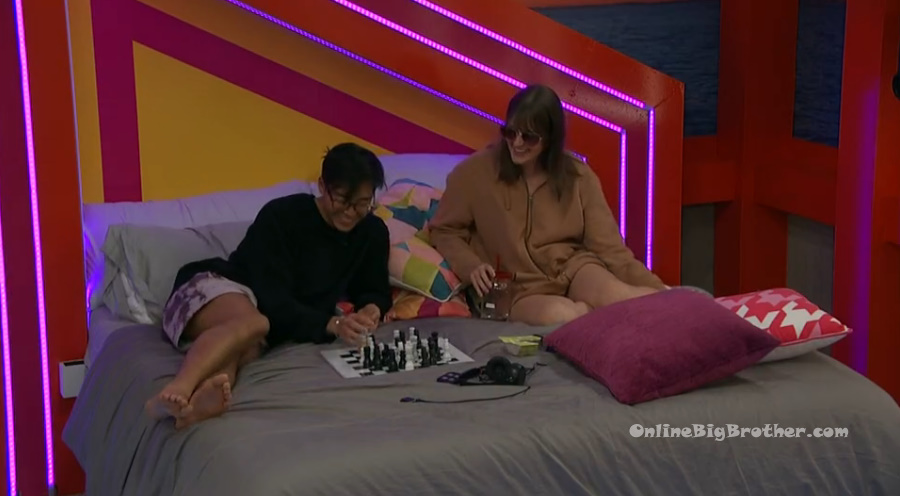 5:00 am Ky finally goes to bed having spent the last couple hours with the sweet Sarah Beth chatting.
We'll be back tonight for Eviction and HOH. Then round the clock all weekend for noms, HIgh roller, Veto and Veto ceremony. Doesn't look like BabyD is going to stay. If you like sleep then hope for Ky to not win HOH.
Help support Onlinebigbrother.com 🙂 Donate for 48 hours of good luck karma 😉 Without your support this site and these spoilers wouldn't be possible.
Donations to keep the madness going.