8:20am – 9:30am Big Brother wakes up the house guests. When the live feeds return – Andy, Judd, Elissa and Ginamarie head inside from having a dance party to the wake up music in the backyard. Ginamarie heads back up to the HOH room to start getting ready. Judd and Elissa get ready in the bathroom. Everyone else is sleeping. Elissa does her run out in the backyard and then comes back into the bathroom. She asks Judd how much time they have before the veto meeting. Judd figures they have another 45 minutes, give or take 10 minutes.
9:37am JUDD cleans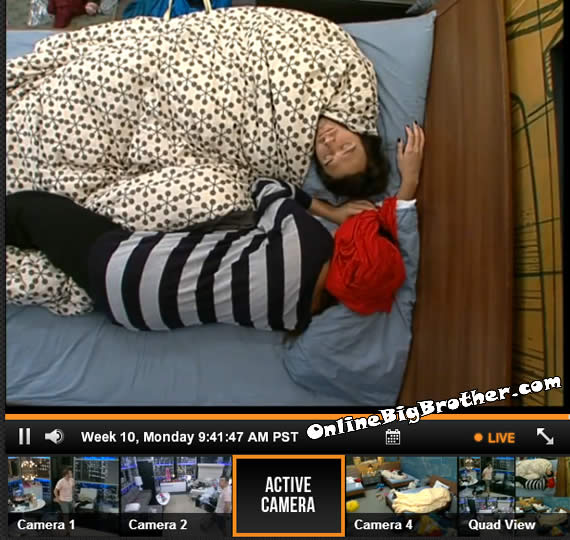 9:42am The calm before the veto ceremony
(They're the underdogs now ;) )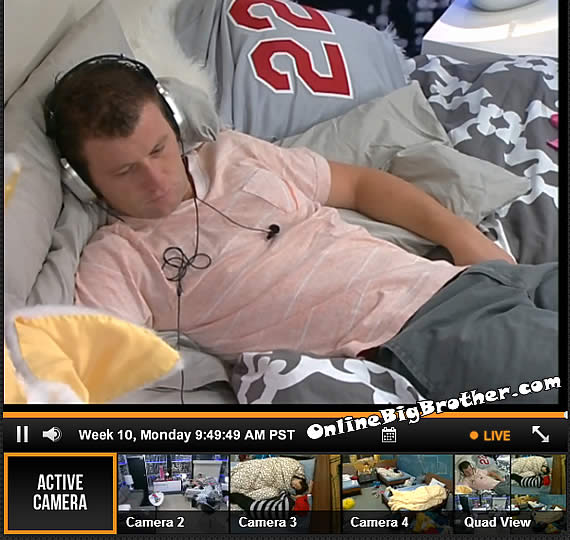 10:08AM HOH GM and JUDD
Gm – 'What's cooking good looking'
JUDD – 'nothin.. what's cooking mMMHMmhmhm' (He mumbles out the last bit)
JUDD asks her if there is anything new. GM says Amanda came in late last night but GM pretended she was sleeping.
JUDD says that Amanda is pissed she thinks GM wants to get them out because they are a couple.
GM – 'She's going to use that because I have Nick'
JUDD more or less tells GM that Amanda says GM is jealous of her and McCrae and that is why she is on the block. This more or less enrages GM.
JUSS adds that Amanda is saying she's grabbing Nick's hate on her way out on Thursday.
GM ' I am so jealous because you are going to marry PIzza boy and NIck is F**** awesome'
GM – 'F*** this i'm not going to give them my room on wednesday'
JUDD says Amanda they had sex in every room in the house and she gave MC a Bl!w job in the bathroom stall.. do ou know how gross it is in there'
GM – What a dirty f*** skank'
JUIDD – 'I want to get a tetanus shot after this'
GM: "Can't believe she used the F*** card that I am jealous of her she's jealous of me because I got her fucking ass out.. I won 2 HOH competitions'
10:12AM Trivia POV ceremony
Share it YO!!
Tweet