Head of Household Winner – Jackson
Have note are:
Nominations are: Jess and Chrsitie
Power of Veto Players are: Jackson, Christie, Jess, Nicole, Cliff, Tommy
Power of Veto holder: TommyF
Power of Veto Ceremony:
Grab your live feeds —-> BB21 Live Feeds Subscription Link
Rank your houseguests —-> Big Brother 21 Ranking


12pm All the house guests are sitting around in the backyard chatting about random things like if Jackson had pretended to be gay coming into the house.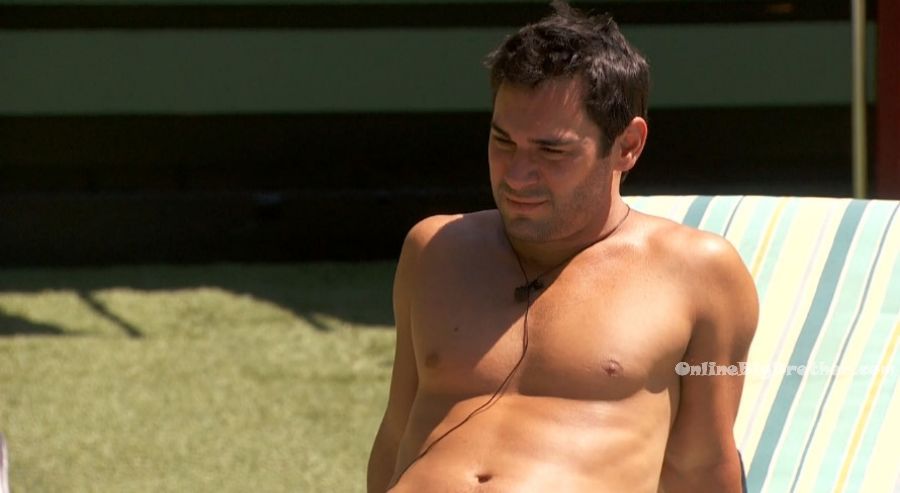 12:38pm Pool. Christie and Tommy.
Tommy – I am so excited because we never know what could happen. Like I do believe Michie when he says you wouldn't be going regardless but I don't want to take that chance. He is unpredictable. Christie agrees. Tommy – so I want to make sure that's what… and that's what I said. Christie – when we were all in his HOH .. there were a couple moments where I was nervous. Tommy – yeah, yeah, yeah. Christie – Like how much do you really trust that, you know!? Tommy – right. Christie – and I don't. Like your spot (hide the veto) was great but it wasn't that great. Tommy – yeah, I know.. it was in a mattress. But I am telling you I had a feeling.. I f**king did. Christie – and that song that came on.. Bebe Rexha – if its meant to be… and you know that song was the song that Bebe Rexha came and played for the cast last year. Tommy – oh wow, I didn't even think about that. Christie – I was told that .. I was reminded by god. Tommy – I was deciding over a few spots and I was like no this feels good. I just had a feeling .. I really did. Like its been done before, people wouldn't be stupid enough to put it in a mattress. Tommy – final six! It feels good!
12:47pm Bedroom. Holly and Jackson.
Holly – I am annoyed at my body. I started my period today. I am annoyed at my body for the ability to make me that miserable for two days. Like I literally walked down this morning and said to Jess and Christie .. well the b***h is gone .. Holly is back! I am emotionally depleted. I am not used to doing that. Letting stuff out. Jackson – well its day 75 ..we've got 25 days left. Holly – what are you thinking? Jackson – whether or not you should throw the next HOH. Holly – as long as you're not planning on turning on me because I pissed you off. Jackson – that's on a personal level.. you and I on a game level have to work together. There are six people left. Cliff and Nicole, Tommy and Christie. Holly – is that what you want though… to only to be game? Actually I don't even want.. Jackson – what? Talk to me? Holly – I don't know if I want to ask questions that I don't want the answers to. I can't handle it right now. Jackson – I want you to talk to me. Holly – is that all you want to only be working together on a game level? Jackson – I don't know anymore. Holly – that's why I stopped myself because I don't want to ask questions. Jackson – I don't know but I don't want personal sh*t to pull you down or me down. There are 24 days left in this thing. We can make it to finale night if we just stay focused. Holly – I know. In the game, I am very focused. I just don't want to lose you in the process. Jackson – give me a hug. Come here. They hug. Jackson – I told you last night .. I mean sh*t we live 30 minutes from each other. Holly – I still don't know what is going to happen when we leave here in the real world. Jackson – I don't know either. Holly – and we will cross that bridge when we come to it. I just don't want to cross it here. Jackson – I am not the one putting a ton of emphasis on the outside world. You have been from the very beginning. You're the one crossing that bridge in here. I am taking each day by day in here. You've been thinking about day 102 since day 1. I am not being mean I am just being honest. Holly – yeah. Jackson – what is going on in your mind? Holly – I just want to take back the last 24 hours. I worried about the outside world more so in the beginning when things were fresh. But I stopped and was being in the present and then Zingbot threw me back to worrying about things. That and then my emotional hormonal mind.. I had a chemical imbalance. Do you ever have it where you only see red.. that has only happened a couple times in my life.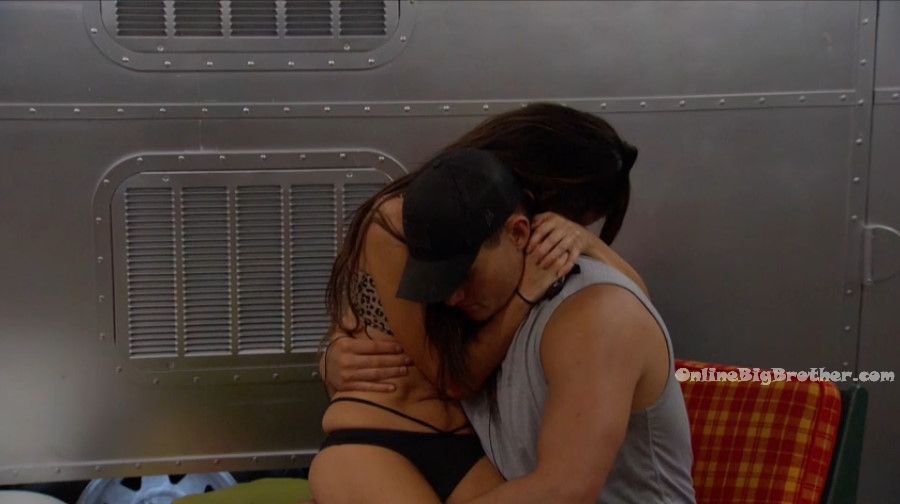 1:35pm – 2:10pm Suntanning and watermelon..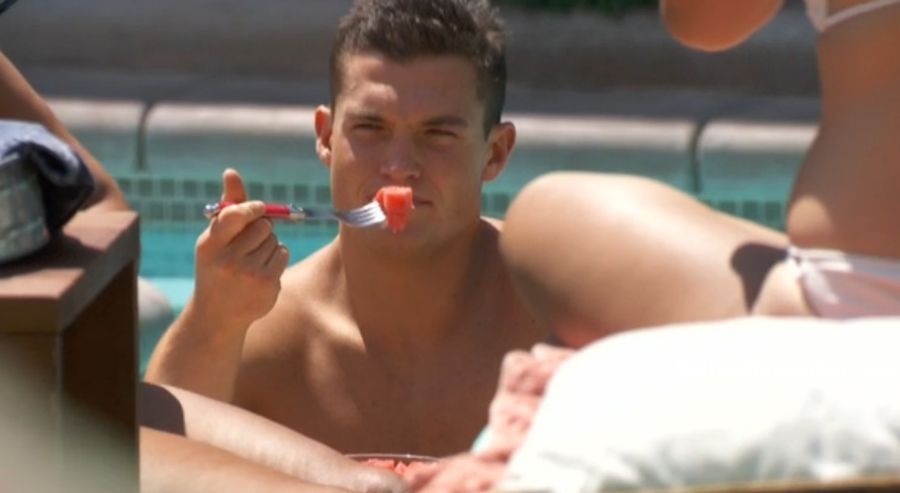 3:50pm The house guests are lounging around in the backyard / in the house chatting about random things.. Holly telling stories about when she met Billy Bob Thornton.
4:20pm The Watermelon king and queen eat watermelon in silence..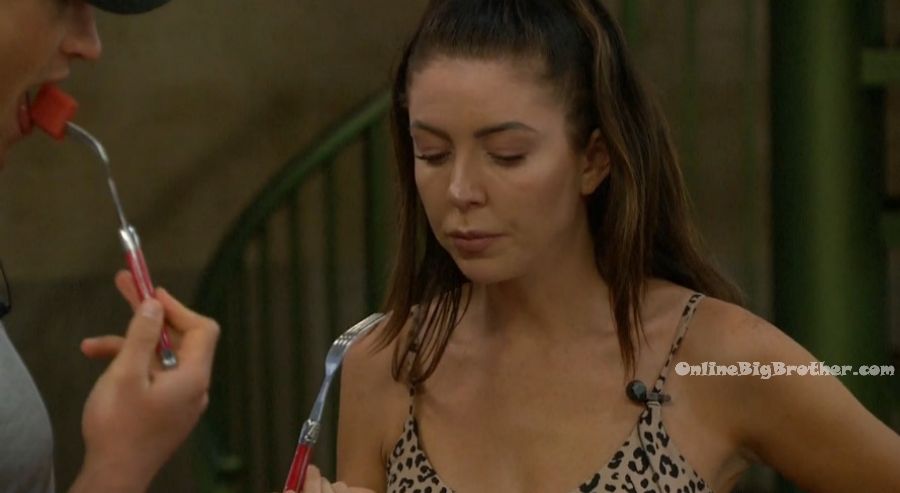 4:46pm – 5:40pm Jackson and Holly in the backyard.
Holly – regardless of anything else I value you. Jackson – likewise. Holly – and I hope that is always conveyed. And there are uncertainties but that doesn't change how I feel about you or how I value you and I made that very clear. Jackson – same. NO matter what all I want is for you to be happy. Holly – but you also know that you make me happy. Jackson – but I also make you unhappy or bring things that make you unhappy and that's what hurts. Holly – its this setting that brings unhappiness. I hope that you can distinguish the two. Jackson – I know its just a sh*tty feeling .. that you are something that someone regrets or is embarrassed of. (My god these two are broken records.) Holly – but its not to do with you. Jackson – I know but I can't help the fact that I am 24.. all I can do is try and be the best that I can for you. Its frustrating that I continue to hear you voice frustrations and concerns about that .. I am doing the best I can. Holly – I know. Its not that I regret you or aspects of you. Its just the situation. It just boils down to being so exposed to millions. As you know I build walls around my life. Jackson – so do I.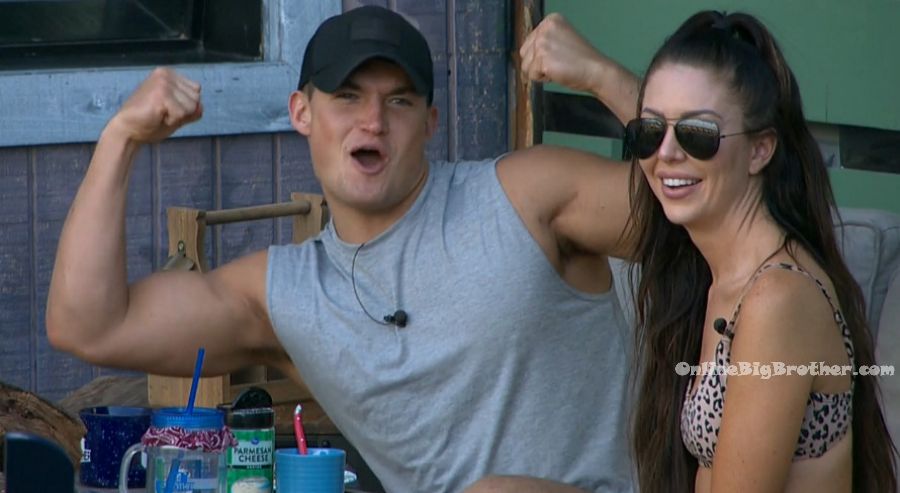 5:56pm All is good in the world again.. the watermelon king and queen are back together. Jackson – I think we're a lot more on the same page than we express to each other. Holly – I hope so. They start making out.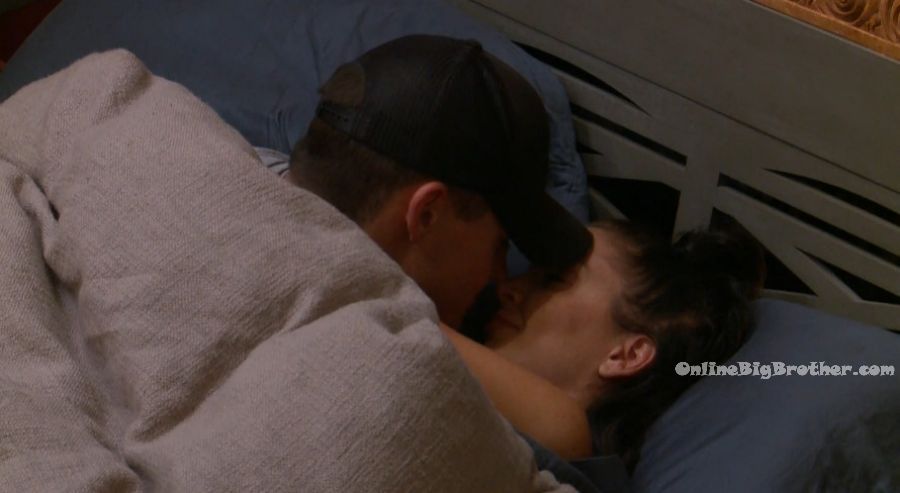 6:49pm Hammock. Nicole and Jess.
Jess – In my thought process we were good. He was like yeah. So me being put up I was like WOW.. Nicole – me too.. I was extremely shocked. Jess – and then like WOW again because we had talked about like you know .. you're not my threat. Its a wash. I banished you, you put me up. Its a wash and Ummm.. you always kind of what to .. at this point you don't know who that person could be and you don't want to say it in situations like his. I am just .. in an awww.. state. I wonder if people had these conversations about Paul. People are having these conversations about Michie and Holly the same way they did about Paul.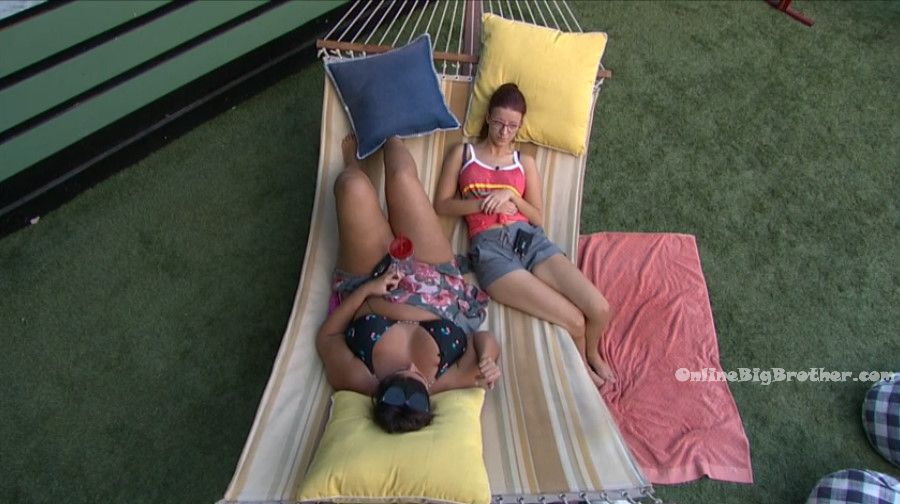 7:30pm HOH room. Jackson and Tommy.
Jackson – so what are you thinking? Tommy – I think I'm going to use it. I'm going to take her (Christie) off the block.. just in case something wonky happens. Jackson – dude, I don't blame you. I don't want her to go anywhere. Its better for me because I didn't want to make that decision .. so I don't have to deal with Jessica being saltier at me. Really the main goal ..I think Cliff needs to go next. I just want Jess out the door before he does. Does that make sense. Tommy – yeah. Jackson – because if he stays.. I don't want him in the house against just me and you. With the potential of a mental comp coming. Tommy – just so you know I told Jess I am thinking of leaning towards using the veto on Christie. Just so she didn't think her fate was sealed.. I said I am hoping this gives you more of a chance. Jackson – Cliff is a strong threat and needs to go.. I just want Jess to go first. Tommy – but we can beat him. Christie and Holly join them. Jackson talks about how he thinks he can beat Cliff and Nicole easier than Jess. Especially in BB comics… she is a photographer and a model. (LOL) Tommy – she won't be able to hold herself. (Fact!) Tommy – if she does come to you with a sick deal its okay. Jackson – oh I know. Cliff joins them.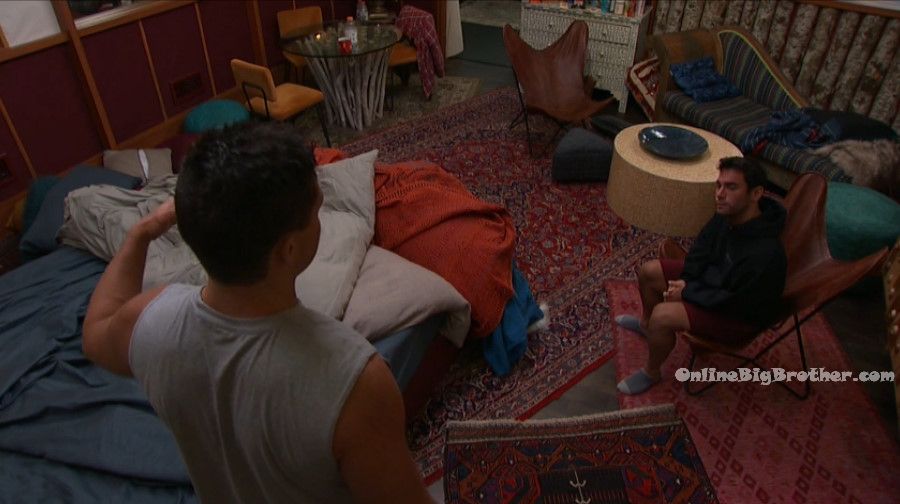 7:54pm HOH room. Cliff, Holly and Jackson.
Jackson to Cliff – Tommy said that he is more than likely going to use it. Cliff – okay. Jackson – and I played off the I think Cliff is a threat .. I am not saying that he is not but I would rather see Jess go first. So if he comes back to you .. know that it is to keep us four under wraps. In no way do I want you to go anywhere. He kept hitting at that you were a threat. I am not going to vote to evict you. I will not vote to evict you in a tie. You have two votes locked.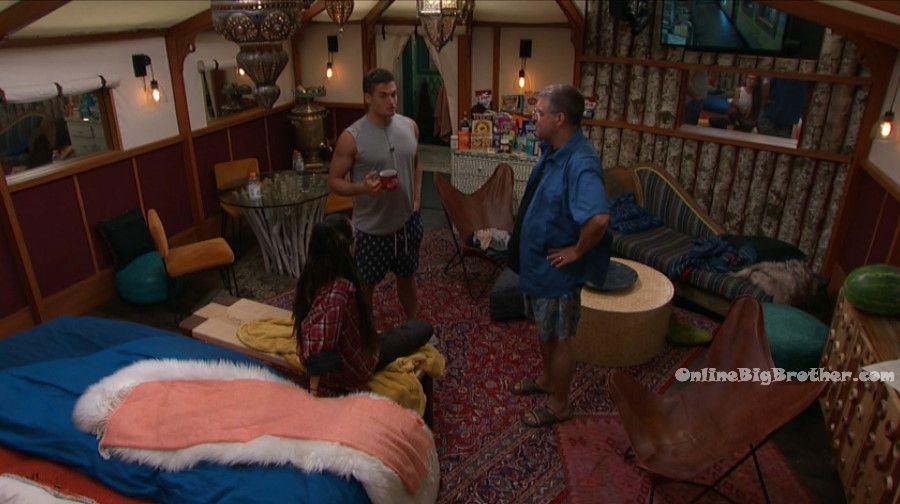 Show your appreciation for all the sleepless nights Simon and I have put in for the last 75 days straight. Not to mention this site costs us a considerable amount to maintain. If that wasn't enough we also wanted to give a little more to those that donate: Click here for more information.
Any amount is greatly appreciated! Thank you so much in advance!