Head of Household Winner: Jackson
Have note are:
Nominations are: Jess and Chrsitie
Power of Veto Players are: Jackson, Christie, Jess, Nicole, Cliff, Tommy
Power of Veto holder: Tommy
Power of Veto Ceremony – Tommy used veto on Christie. Cliff nominated
This coming Thursday is Double eviction.
Grab your live feeds —-> BB21 Live Feeds Subscription Link
Rank your houseguests —-> Big Brother 21 Ranking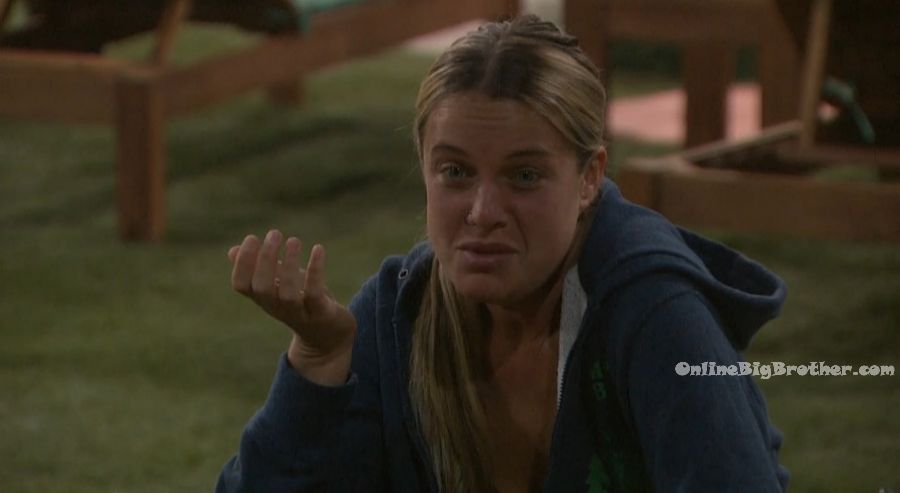 8:09pm Hammock. Christie and Cliff.
Christie – I wanted to talk to you because we were up in the HOH and Tommy was saying that he wanted to use the veto on me. Thank god. I am so happy. I spoke to him about it a little yesterday and he was worried saying he didn't want to piss off Michie because he doens't want the noms to change. I said to him at this point in the game there's six of us .. if Michie and Holly have each other don't you want to have someone. Cliff – that worries me. Christie – I said I'll have your back. Also he wanted to talk to Michie and feel out who would go up. So it obviously will be you or Nicole. Cliff – it will be me, he already talked to me. Christie – you will have my vote. Cliff – well thank you. Christie – even if you do go up, you will be safe. Going into next week I am kind of worried .. I feel like Michie feels like he is working with everyone. Cliff – I'm sure he does. I've been worried about that for a long time.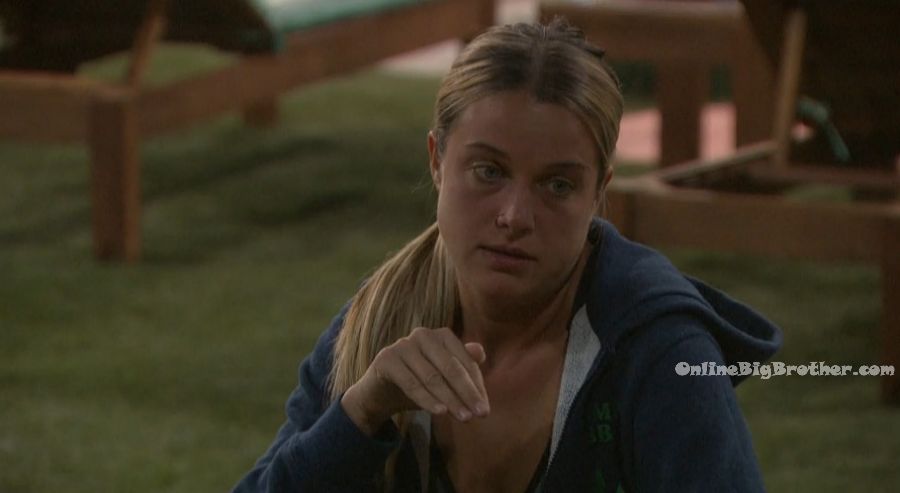 Christie – Michie feels like he has me. I don't 100% trust him. He is making it really clear that he is working with me and Tommy. Cliff – he is saying that to everyone. Christie – I am not taking that bait .. even a little bit. So I just want you to know that. Cliff – I haven't felt as threatened while they've been up there but they also don't talk game strategy with me. I just have this feeling that they see Nicole and I as easy pickins.. Christie – even just the way he was just talking about how it has to be Jess to go .. he was like I know I can beat Nicole and Cliff. He was like as long as one of you guys meaning Tommy or me… please keep this between us.. I've always felt like you're someone I can trust. He was like as long as one of you guys win HOH he was like we're good. I just don't want to sit with Michie in the end. Cliff – I have never settled to finish with sixth place, fourth place or third place. I know the writing on the wall. Christie – I think that since they've been in power so long he just assumes people will continue to kiss his a$$. He has nominated me twice. My contract is null and void at this point. If I win an HOH .. something needs to be done. Cliff – If he wants to think of me as easy pickins .. I am not going to make waves with the HOH. Jess joins them and the conversation ends.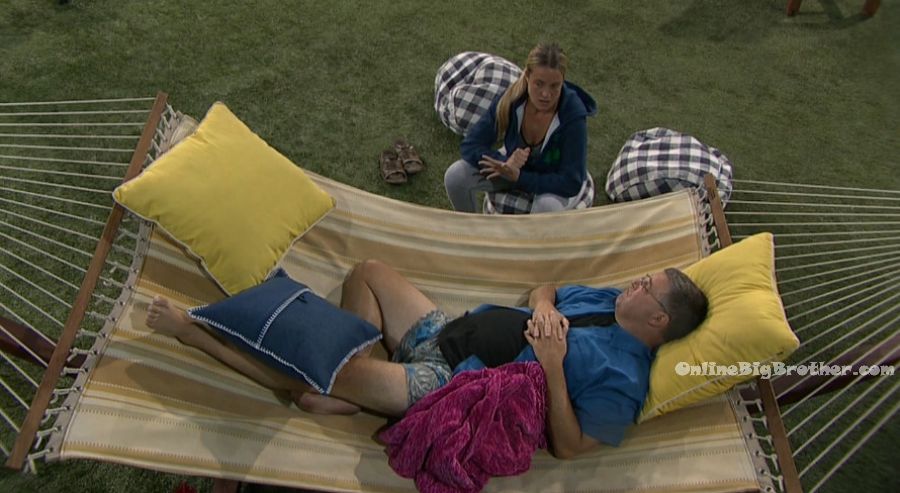 8:50pm HOH room. Holly and Jackson.
Jackson – I think you and I need to throw the next two HOH's. Holly – lets just get through one and then figure it out. Jackson – you and me go into Cliff and Nicole, Christie and Tommy .. lets say Christie or Tommy wins.. Holly – takes out Cliff. Jackson – they're going to put up Cliff and Nicole. Holly – say Cliff goes. Jackson – lets say Tommy or Christie wins .. me and you will be the majority vote. If its Cliff and Nicole on the block .. and that's that. Holly – yeah. If one of them comes down, then one of us is going up. Jackson – but we'll still have the numbers. Us four me, you, Christie, Tommy. So if its you and Nicole on the block .. me and Tommy will vote to keep you. Holly – I just really worry about Christie and Tommy going rogue. I really worry. Jackson – I know. Holly – I trust Cliff and Nicole farther than I trust Christie and Tommy. At what point does Christie's loyalty run out? At what point does Tommy's paranoia take over. Jackson – at what point do they realize they have to compete against us. Holly – yes exactly. Jackson – but if you win this HOH and have to put up two people .. it shows our cards. Holly – yeah, no way.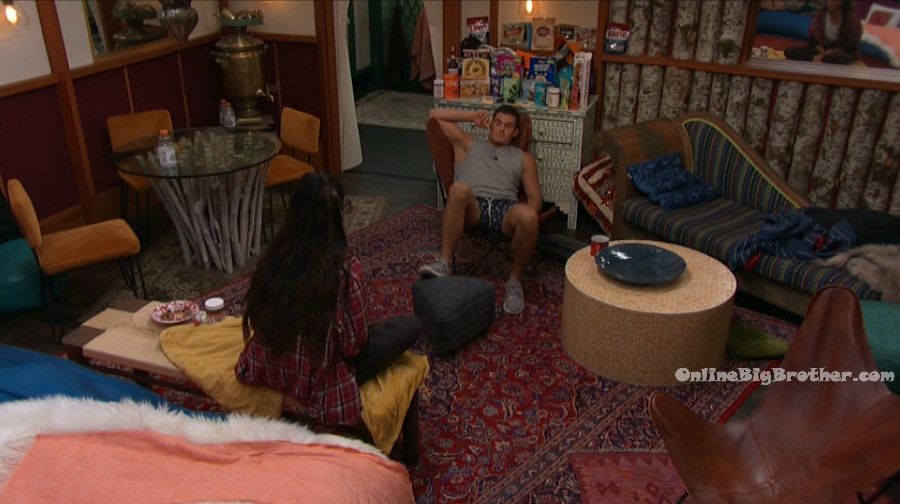 9:10pm 9:20pmAll the house guests are in the backyard laughing and chatting..
10pm Jackson got his HOH snap chat glasses. They head to the backyard and do re-enactments of their episode intro dance moves.

10:30pm Kitchen. Holly, Nicole and Cliff.
Holly – we talked to Tommy earlier and he said he is going to use it on Christie. Nicole – okay. Cliff – as long as I've got y'all's votes. Nicole – absolutely. Cliff – I think I have Holly, Tommy and Christie so.. Nicole – okay.
11:05pm The house guests are chatting about random life stories from outside the house.
11:30pm Holly to Jackson – what are you going to do when you see me outside of here without studio lighting. Jackson – run! Holly – crows feet. Nicole – they're actually called buzzard feet. Jackson – ZING! Nicole – sorry. Holly – never apologize for a good Zing! That was one of the best zings I've heard you say.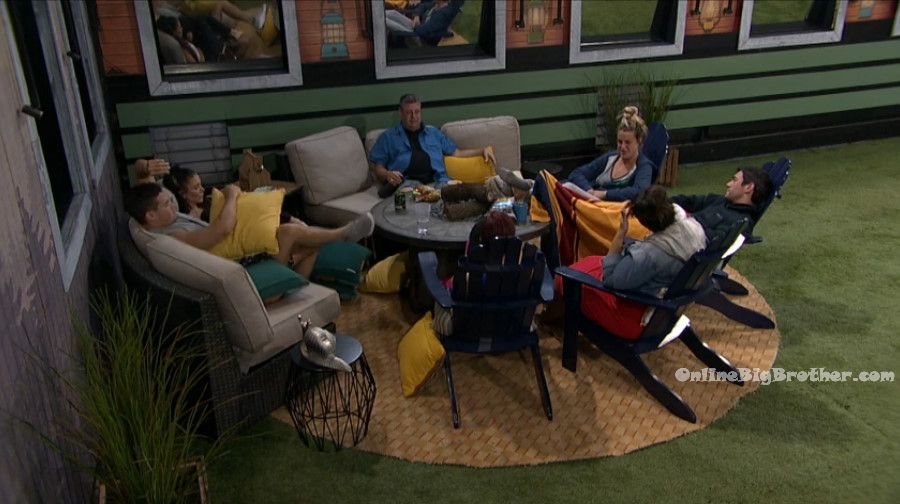 12:13am Bedroom. Cliff talking to the live feeders.
Cliff – Tomorrow is going to be kind of a rough day. EEeee.. sort of .. veto ceremony.. I am pretty certain I am going up on the block. But I am also pretty certain I will be okay on Thursday. And if not .. well then I'm getting played and nothing I can do about it at this point anyway. The bigger concern is the HOH competition on Thursday. No wiggle room .. I have to win. Or put another way there are certain people that can't win. With 6 people left .. you don't have a whole lot of targets to pick from.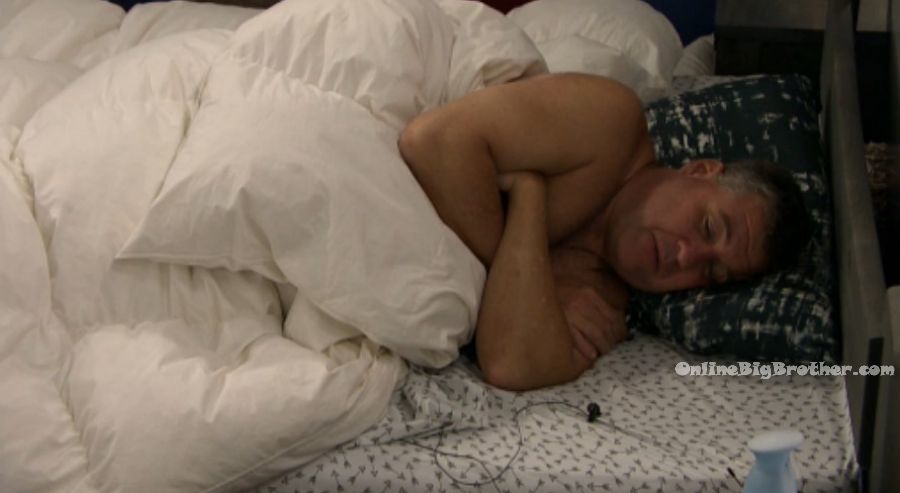 12:28am HOH room. Jackson and Holly.
Holly – I am starting to continue feeling nervous about.. Jackson – Jess? Holly – yes, but also Tommy and Christie not having suspicions about keeping Cliff. I think they're going to try and push hard. I can't help but think they're going to have some suspicions about keeping Cliff. I worry that a lot. Jackson – but I've said since the beginning Jess was my target.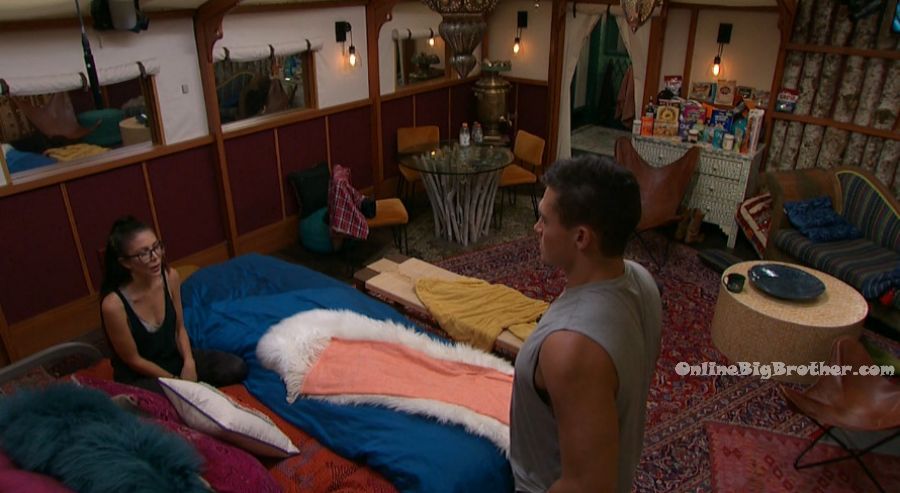 12:40am – 1:15am Backyard. Nicole and Jess.
Jess – I just hope that LIKE the person that is being voted for at the end of that .. at the end of that.. is someone that LIKE is someone that I want to vote for.. LIKE LIKE I will vote as a gamer .. because I told myself coming in I am not going to vote emotionally. I do not want to be a bitter jury .. and if I leave.. and I cannot in any way LIKE if I leave on Michie's HOH LIKE and he stays and he's LIKE final two or whatever that I don't give him my vote. I don't think that I would want to… obviously I wouldn't want to but I don't want to be a bitter juror and I don't want to be LIKE Jessica went out on his week.. Nicole – But I think it depends on what you think was good game play and if you feel that someone .. Michie feeling safe and not acting on it .. and blowing smoke up your a$$.. if that's not good game play. Like watching this show I was always like you can't be bitter, you can't be bitter. Its subjective of what you think is good game play. Jess – but it is good game play in the sense that .. no not the lying and all that other good stuff and the manipulating of information or whatever it is LIKE .. we can all omit things or say things to incriminate other people. But LIKE.. LIKE to me LIKE the game play is LIKE Michie has pretty much been a target and been on the block since week 3. Nicole – if you think of the jury house .. Sis is going to say Michie sent me here, then Nick walked in and said Holly sent me here, and now one of us is going to walk in saying Michie sent me here. And the Jury is going to be like AGAIN?! Michie, Holly, Michie..
Jess – I don't want to campaign. Nicole – you have to and you will. Jess – I don't know if I have to .. we all know each other. I know my strengths and I know my weaknesses. I know Cliff's strengths and his weaknesses. And Ummm.. I feel LIKE we are all equally good competitors. I feel like we are all threats in anybody's eyes. We all serve pretty much the same purpose. I can't speak for Cliff and I don't know if he's talked to you or where like his thought process is and who he wants to take out. Nicole – no I haven't talked to him about that yet. Jess – I don't see a next week and anybody having a chance unless someone puts them two up. Nicole – yeah. I see it. Believe me I see it. Jess – so they can do that with me and they can do that with Cliff. It just comes down to whether they're going to let Michie break that tie. Jess and Nicole head inside.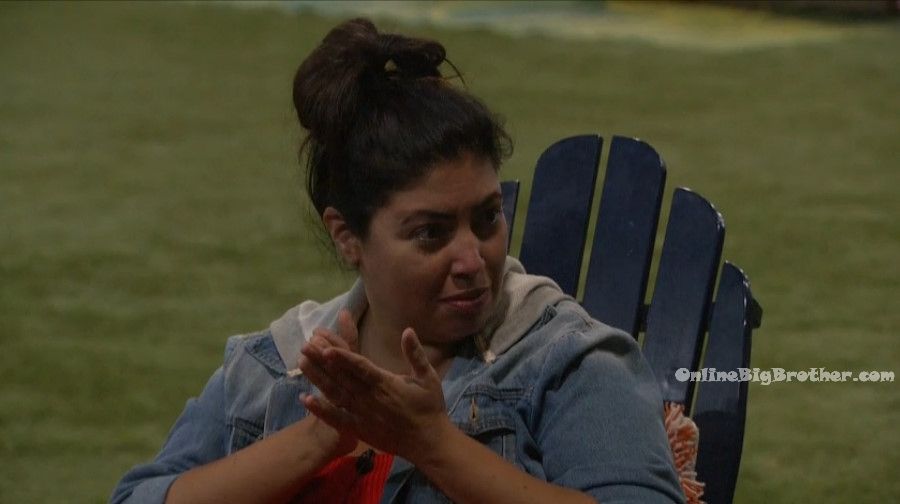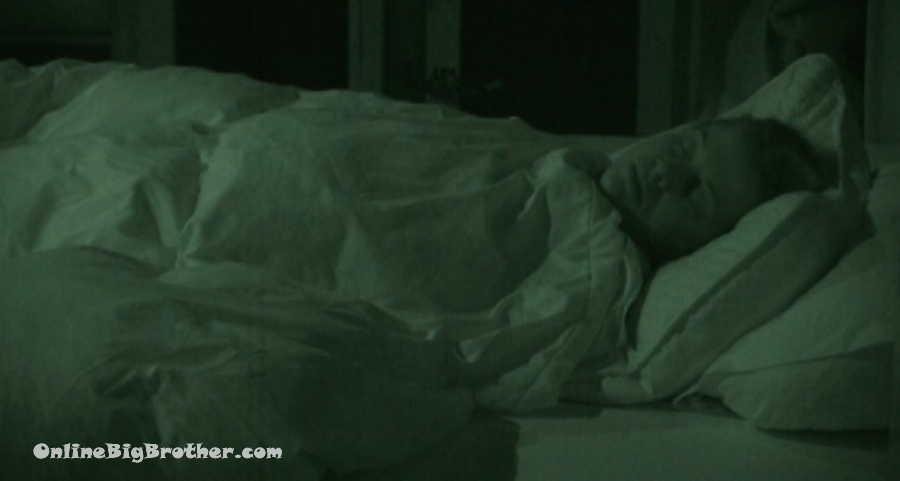 7:27 am everyone still sleeping.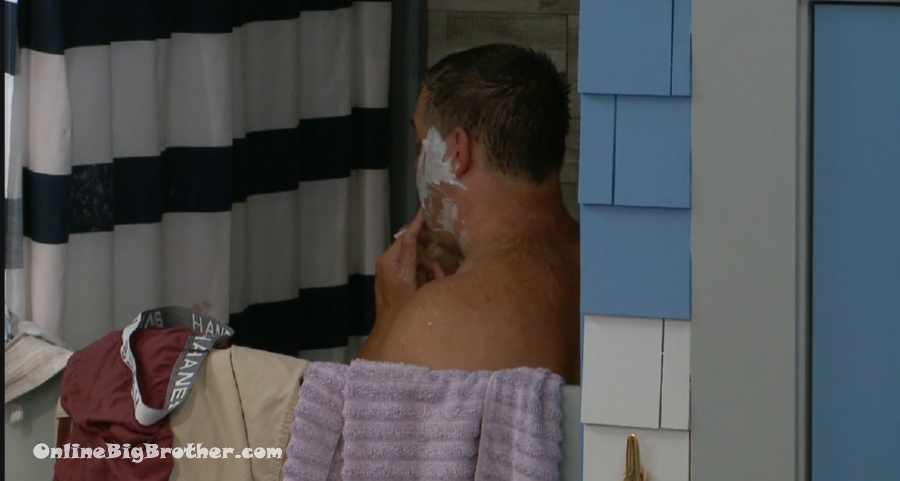 9:25 am Wake up
Cliff should shave that back.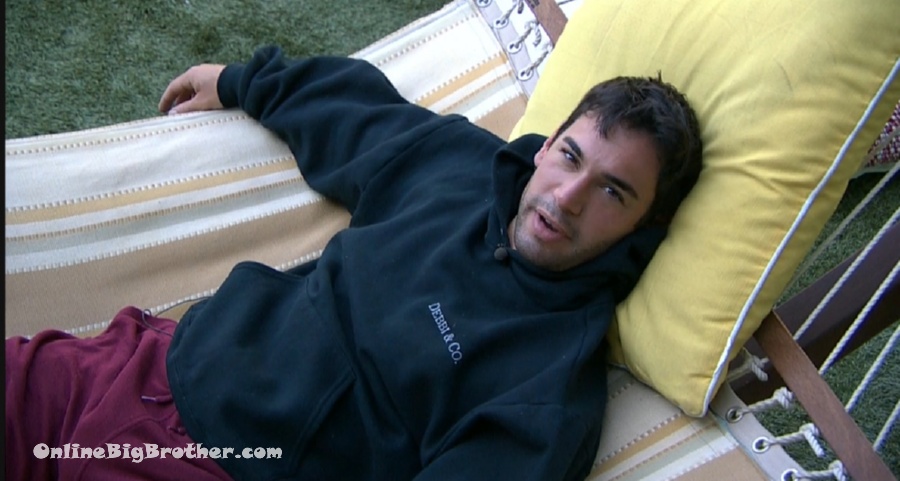 9:41 am Tommy alone talking to the camera saying he misses his family.
T – I didn't think it would be hard being in the house I thought it would be fun
Tommy goes on about it being a dream come true being on Big Brother.
9:52 am Tommy, Christie, and Jess
Hammock chit chat.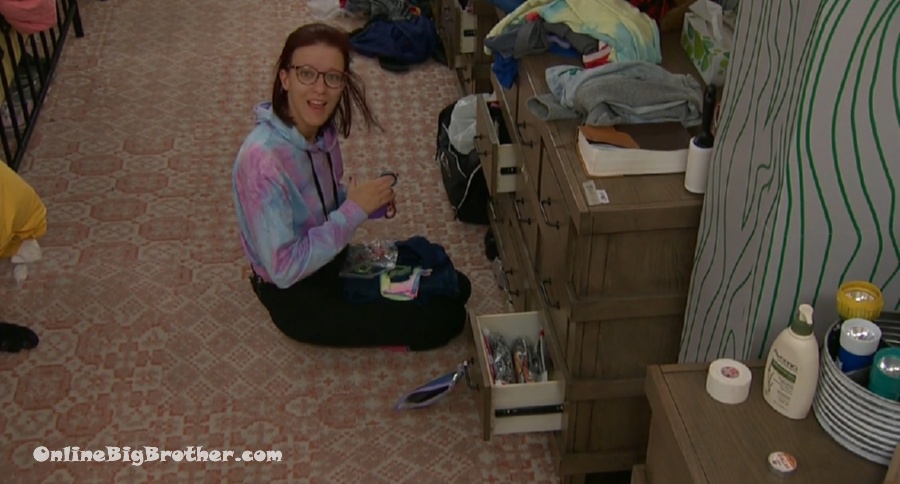 9:57 am Nicole wishing us a happy labour day!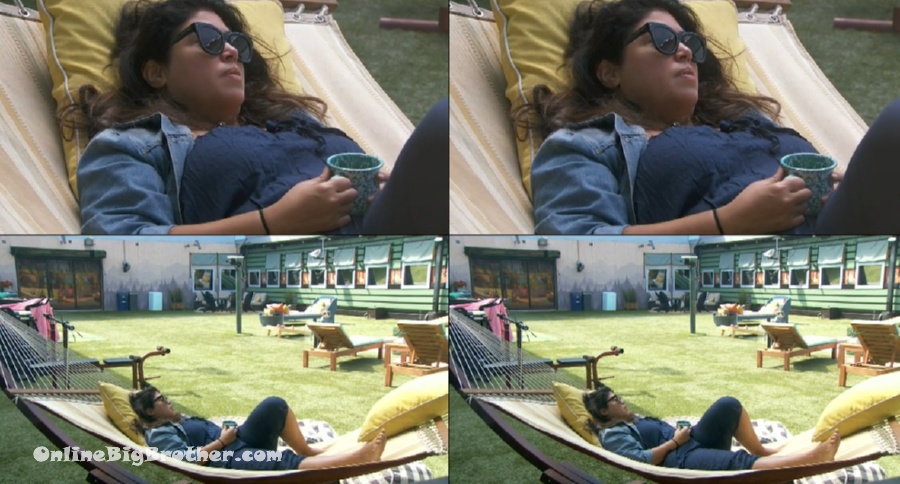 10:47 am Jess talking to the camera.
Jess – so confusing.. this game is so much harder than it looks like. seriously like.. This isn't a piece of cake or a walk in the park.
11:12 am Feeds went down for the Power of Veto Ceremony.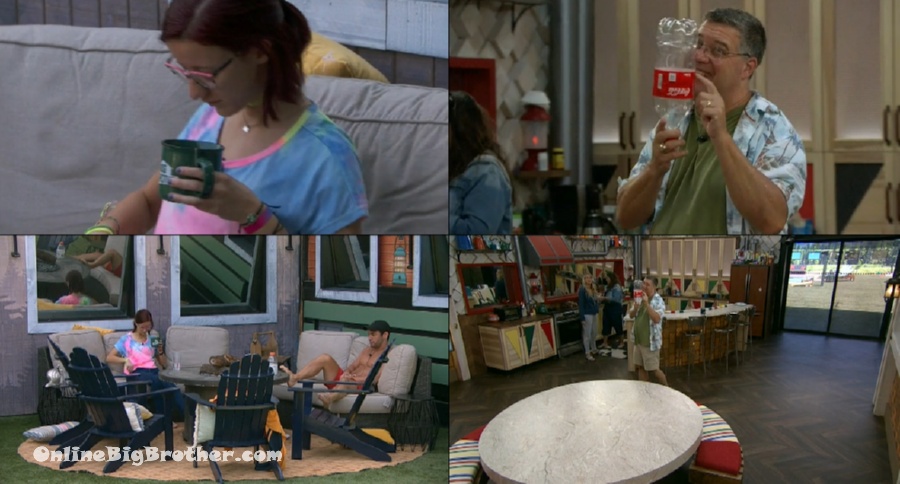 11:45 am Feeds back Tommy used the veto on Christie. Jackson nominated Cliff in her place. Jess the target.
Show your Support for all the sleepless nights Simon and I have put in for the last 75 days straight. Not to mention this site costs us a considerable amount to maintain. If that wasn't enough we also wanted to give a little more to those that donate: Click here for more information.
Any amount is greatly appreciated! Thank you so much in advance!