Head of Household Winner – Jackson
Have note are:
Nominations are: Jess and Chrsitie
Power of Veto Players are: Jackson, Christie, Jess, Nicole, Cliff, Tommy
Power of Veto holder: Tommy
Power of Veto Ceremony:
Grab your live feeds —-> BB21 Live Feeds Subscription Link
Rank your houseguests —-> Big Brother 21 Ranking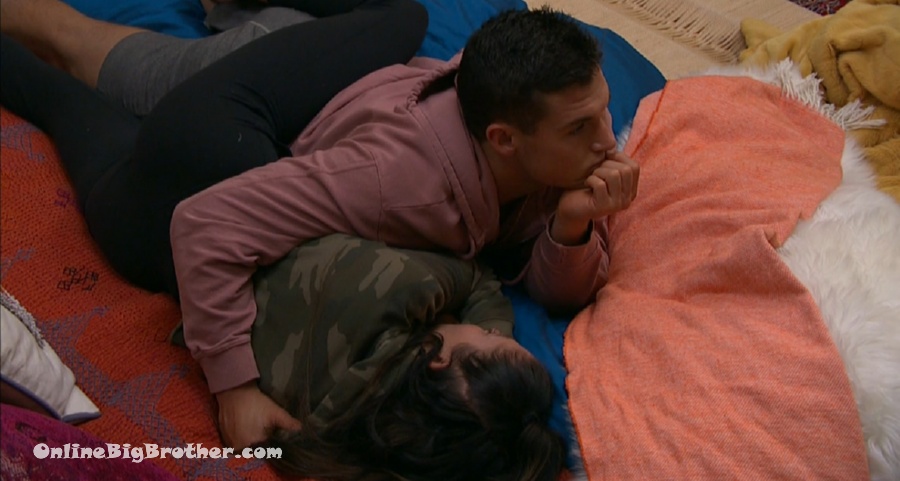 12:40 am Jackson and Holly talking endlessly about their showmance drama today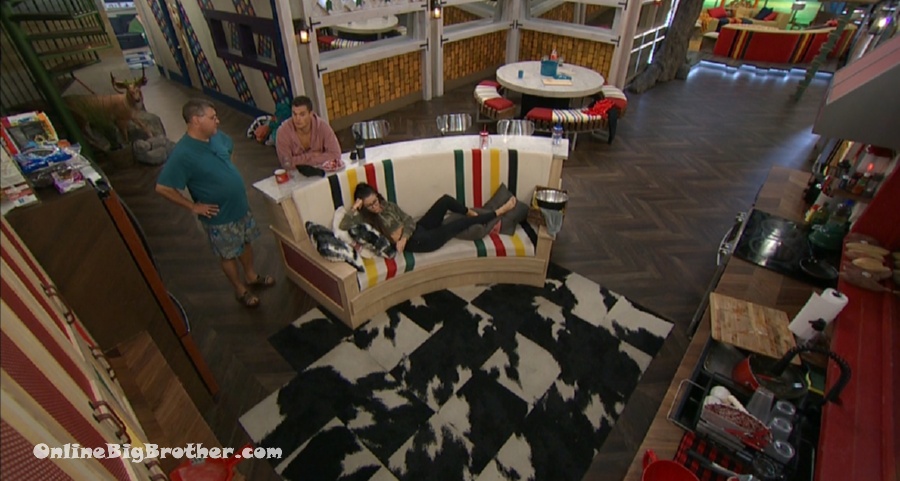 1:12 am Jackson, Holly, and Cliff
Jackson brings up talking to Tommy and he said for him to use the veto if he wanted to just don't make Jackson break a tie.
Cliff is worried Tommy will start asking about what their relationship is like. He's got a couple of ideas of what they can do to send Tommy mixed messages.
Jackson – I'm going to spin it I would rather compete against you. you're hurt and you haven't performed well in mental comps as Jess.
Cliff – we don't really haven't talked Strategy I have a feeling they are keeping me around because Nicole and I haven't exactly set the world on fire. (LOL good point)
Holly brings up that they thought Jess was going to do well in the veto today "She hid it under the materess"
Jackson – it comes down to who you want to compete against. I don't want to compete against Jess (LOL)
1:51 am Jackson and Holly
Jackson – I don't get why you would think I talk to me like that on a national level. The one person that has been praising you. Even my eviction speech I was praising your family. Why am I your punching bag you? I seem to be the outlet of your stressors.
Holly – I didn't use you as a punching bag. I said I should lay so much on you
Jackson goes on about how it was more than just this morning
H – how have I used you as a punching bag ever?
J – I came here for myself to find things in myself to grow myself, to challenge myself and I've done that. It is ignorant for me to allow anyone to jeopardize the things I've done for myself but also to jeopardize my game the whole reason why I'm here.
J – We're about to go into the final 6 and doing shit like that in front of pretty much 1/2 the house if not more. 3 outta 7.. 3 outta 6 not including us. so there were 3 people there
J – I know what I deserve and what I don't and to act it was done on national television is. Just like you said about every other thing and amplifies it.
J – it's not like you just called me a f*Ing a$$hole to the entire country
H – I didn't say it three of four times
J – listen if you are going to sp[lit hairs with me. I heard it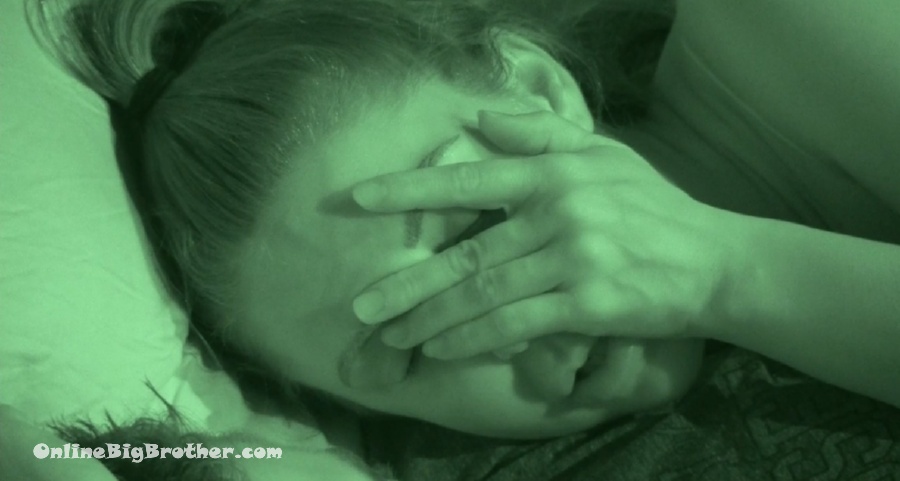 H – I thought in the moment you were being an a$$hole. I don't think you are an a$$hole
J – you can watch the tapes back in 29 days and count the number times you called me a f*ing a$$hole if you want to be nick picky about it
H – honestly I don't remember. I don't know how many ways I can say to you I'm, sorry. It's embossing for me too. I didn't have intentions to say that. That wasn't my plan at all.
J – I care so much about you and you care so much about outside these walls what those people think
H – don't say it like that
J – you do.. what do you mean don't say that. You told me that
H – that sounds.. I'm worried about my family thinks
H – strangers can write what they want. Say what they want. The reason I am worried about things in here
J – I know you say how you don't want to come across the boring girl the mean girl sitting there constantly playing with your air
J – You call me out in front of people all the time and I try to not do it to you
J – everything I've done for the past 74 days has made you feel more than good enough and clearly it's failed what am I going to do? try something different and give you a little space cause clearly what I've done for the past 2.5 months is not sufficient
H – We're both talking today. One day where I felt like you could not care less about me and could just easily toss me to the side where I called you a f*ing a$$hole.. Feeds go to fish
when we're back
J – I don't want to talk about it anymore
H – one day does not trump the past 73
J – goodnight Holly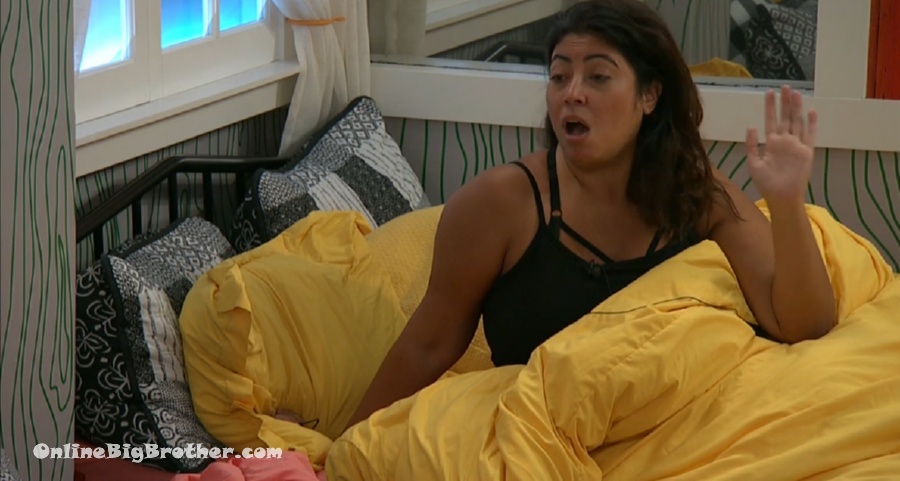 2:03 am Jess and Christie
Jess talking about the game like she has a clue about where she is. She says that there's 3 weeks left Tommy winning veto is a big move and he should have no problem using it on Christie.
Jess – unless you both are willing to give Michie the 5000 thousand dollars
Jess – like, like, like regardless if I leave this week like. I assumed that would be the next move for everybody (take Michie out)
Christie agrees.
Jess – that can't happen without you off
Christie – I know
Jess – life is about the shots you take more than the shots you don't. Like, Like, I know eactly what you like mean. I am a very realistic person and I try to humble myself
Jess – Like, I feel like .. Feeds cut .. (enough Likes already jess)
When we're back Jess is still talking
Jess saying that Tommy is Christie's person "that's your loyalty like like. he's already used a veto on you. He has voted for you to stay. Like. to not do that would lose his one than where is he in the game"
Jess says it's unlikely if the vote is a tie that Michie would not evict her (jess).
Jess continues the conversation trying to reassure Christie that Tommy will use the veto on Christie.
Christie – I feel numb to the whole thing Being on the block four weeks in a row. You've built up such an immunity to it.
Christie brings up her PMS she's going to sit back "whatever the universe has got. Whatever is meant to happen is meant to happen at this point we all made it really far I'm proud of the game we played"
Jess goes on about the girls being in a weird "PMS week, Hormonal week. We sleep a good 7 or 8 hours"
2:14 am
Jackson and Holly
They're back up.
Jackson tells her he's not randomly spouting these things out of my mouth they're based on their conversations.
J – why are you heavy sighing? If you don't want to have a mature rational conversation
H – I'm trying to you are raising your voice
J – you don't have a right to get pissed off at me for wondering these things. When you stop and look at it you're the reason I am wondering these things why is that so hard to connect.
H – It's not f*ing hard to connect don't act like I am A a bad person or B stupid
J – I never said you were a bad person or was ignorant EVER
J – you said it's not fair that I am wondering these things when it's very fair because of the things you've said and done thi8s morning
H – you are acting like I did something so huge and horrible
J – If I talked to you like that on national television you would have nothing to do with me not only would you think about how you look you would think about the way I made you look to your family, friends, EVERYONE
J – why is that so hard for you to understand. These microphones and Camera's go to 5 million people (not this season 😉 )
H – I know you've said that
J – If I called you a f*ing b1tch
H – Jackson when did I ever say you don't have a right to be mad
J – whatever
H – You're putting words in my mouth. I hate this house.
Jackson – I'm not going to sword fight with you at 2:30 in the morning. Sleep on it and have a mature rational conversation in the morning
2:25 am
Holly – you are taking it completely out of context in your mind
Jackson keeps going on about all this.. Finally, Holly breaks down and cries. The watermelon kings comfortas her
After almost an hour more of whimpering, Kisses etc etc .. we get
Jackson – Goodnight
Holly – I'm praying for you. you know. Sweet dreams
Jackson – you to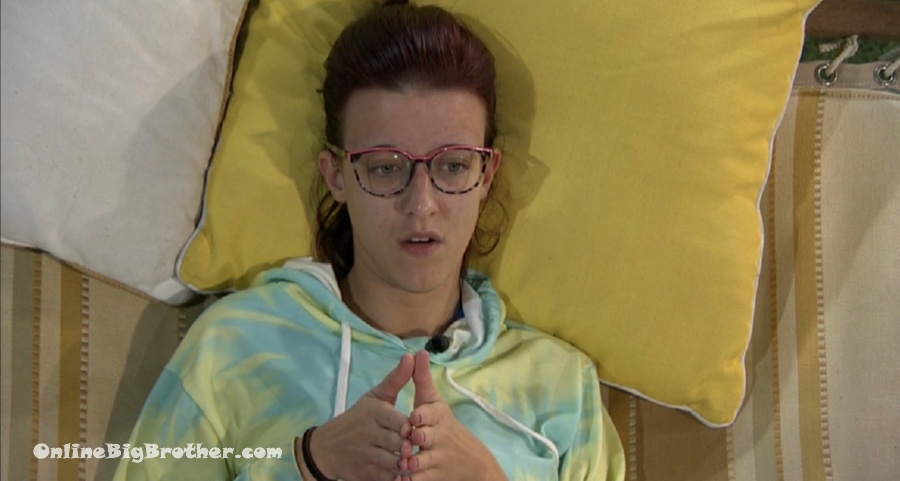 3:30 am Nicole on hammock
Nicole going on about laying in bed with Nick the other day and that was very out of character for her. Goes on about how in this house you build friendships and bonds.
Nicole hopes she doesn't embarrass anybody or make anything look a certain way.
Nicole says she was down today because of her VETO. Brings up her anxiety and her small stature for why she didnt' perform well in the hide and go veto competition. She points out that the one big guy in the house was able to flip mattresses.
Nicole points outs she's the only person in the house that hasn't won a competition. "It's helping me not be seen as a threat it's helping me maneuver."
Nicole says it was upsetting to find out Jess was the target BUT "With that being said i'm also very confused by her (jess) saying that one of the main people she doesn't trust in this house is me I get it obviously" (Jess is a powerhouse player)
Nicole – hence me and Cliff, Holly and Michie. I get it but. I feel as if as though everything that has bothered her all season she has bottled up and she's taking it out now especially on me which is understandably I get it but it does hurt.
N – She's very caught up on obsessing over Nick and his and 'I's' course of our relationship over this season. She's frustrated with me telling her not to trust Nick in the beginning then saying she could trust him. what she s not understanding that's because How I felt at the time I didn't trust Nick at the beginning but the last 2 weeks he was here I was like wow I can trust him
N – she's making me a little upset I don't need her going from person to person saying Nicole gives half-truths or Nicole gives stories ( Jess has been a f8Ing with all your games since day 1)


Nicole has some fear about Cliff going up if Tommy uses the veto on Christie. "I feel very strongly something wonky can happen and Cliff could go home. I
N – I had a conversation with Tommy and I have the utmost faith it will work out. I have a sneaky suspicion that Michie and Holly are navigating down tht middle they have a final 4 with me and Cliff and they also have a final 4 with Christie and Tommy and their hopes are that they will just skip down the middle. If Holly wins they make a decision from there or if one of the pairs win they take a shot at the other pair.
N – I see it I'm not stupid
N – the more I think about it the more it clicks. How can Christie go from Michie's #1 target to all of a sudden Sis going home
N – think about it what was Sis? SIs was a member of Nick's team so to speak. if you get rid of Sis that's an ally for Tommy, Christie, and Nick. Then Christie sits next to Nick. You get rid of Nick that's an ally for Tommy and for me
N – Now for this week you get rid of the other loose person which is jess. Get her out that's a number for Christie and for me
Nicole – if he gets out Jess he's left with the 2 pairs he's made final 4's with
N – His and Holly's plan is to navigate down the middle with a pair on each side taking shots at the other side
Nicole says in her conversation with Tommy earlier today Tommy made it clear that him and Christie want to keep Cliff to have him help them take out Jackson.
Nicole says Tommy is a smart player and there's no way he would want to go to final 4 with a couple that has dominated the game these past 3 weeks.
Nicole – just trying to navigate forward one day at a time one weeks at a time
N – I love Jess with all of my heart and I hope she watches this back and understands that I love her and wanted to work with her in this game but it's just not the way the chips. Especially the way everyone is being viewed as pairs.
N – I've been in an alliance with Cliff a lot longer I'm also worried about jess' relationship with me in this game all the hangups with Nick. He's gone what do you want me to do JESS. I hope she understands I love and adore, respect her. If I had won HOH I woudl not have put her up
N – If Jess goes this week there will be four of the original 8 still left in here and 2 of us underdogs. I'm really hoping me and Cliff can pull this out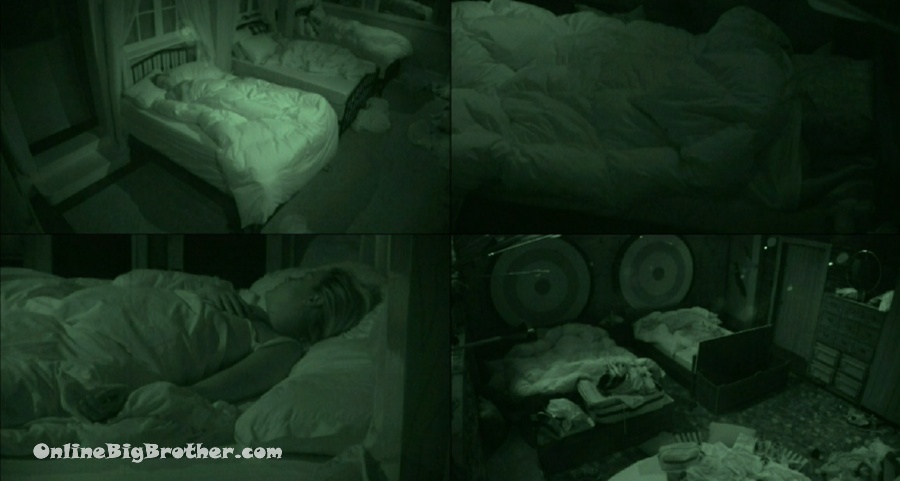 6:20 pm Everyone sleeping.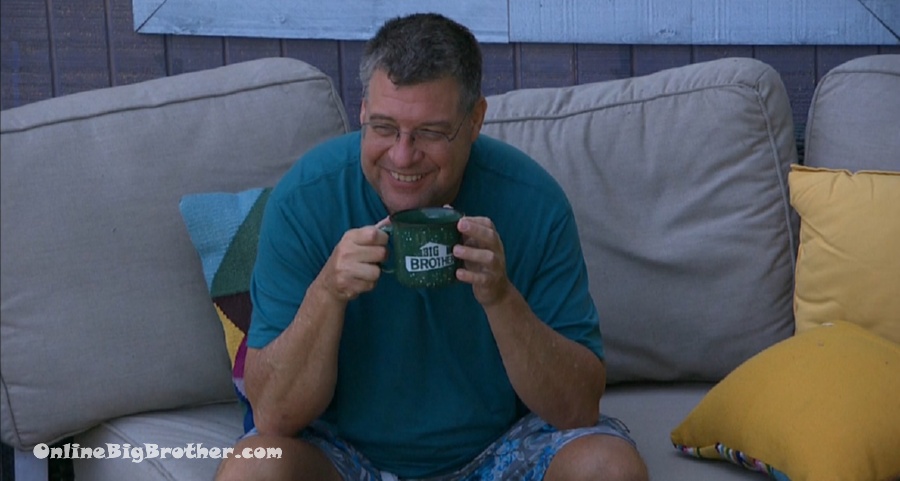 11:22 am Cliff and Nicole
Cliff – can you feel this heat? it's going to be sweltering
C – Tommy told me last night in the hammock that he's still debating what he's going to do
C – I told him if you pull someone off I'm going up I said that's not anyone else. he said if you do I don't want you to go home I swear to yo you have my vote.
Nicole says Tommy told her he's voting against Jess no matter who Jackson renoms.
Nicole mentions that Tommy is getting suspicious about how strong Michie wants Cliff to stay.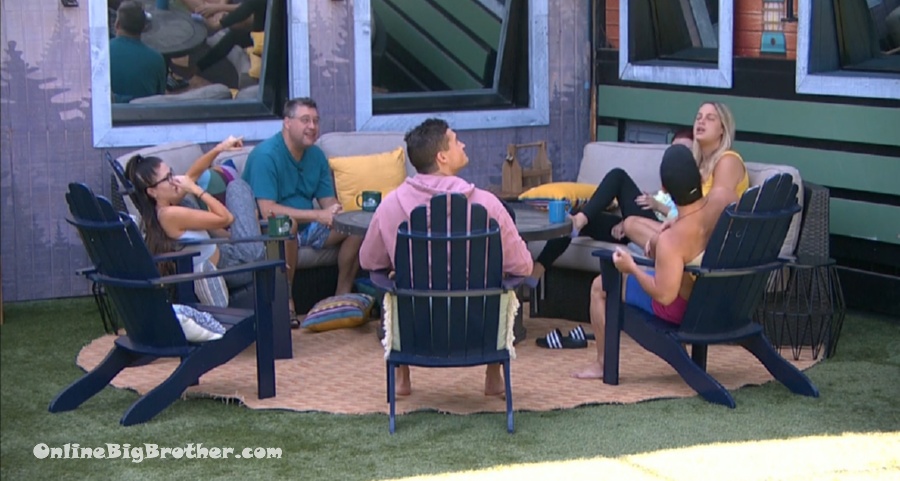 11:36 am Chit chat in the backyard
"September !"