If you plan on buying anything from Amazon. Use this link Amazon home
Doesn't cost you anything and we get a small cut.
HOH Part 2 Winner: Josh
HOH Part 3: Paul Vs Josh (Finale night Wednesday, Sept 20th)
FLASHBACK and watch everything you missed: Live Feed 7 day FREE Trial!
9:46pm The live feeds return after being blocked since 3:35pm

Christmas – I hit Raven 5 f**king times and that b***H would not f**king go down. Josh – F**king Jillian wouldn't go down. Christmas – I hit Jillian every single time. Paul – right now you guys sound like maniacs to me because I don't even know. Christmas – there were three weapons that you had to use and three parts out there. You had to knock people down but leave the people that were applicable to the answer standing up. Paul – what if you accidently hit one? Christmas – that's okay you could pull it back up. But if you pull one up that you had to knock down .. I did that with Elena and I was like what the f**k am I doing. I have to knock this b***h back down. There was a sling shot. Josh – a bow and arrow. Josh talks about how he lost it on Jillian because she wouldn't go down. Paul asks what question 3 was? Christmas – how many house guests were on the block on eviction night three times or more times. Josh – Big Brother ruined me on that comp. Christmas – I would have beat you if I didn't have to go get another round of ammo.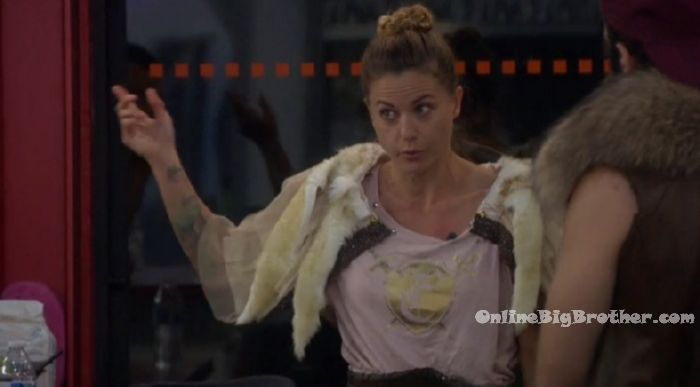 Kitchen – Paul to Josh – you motherf**ker! You almost gave me a heart attack. Good Job!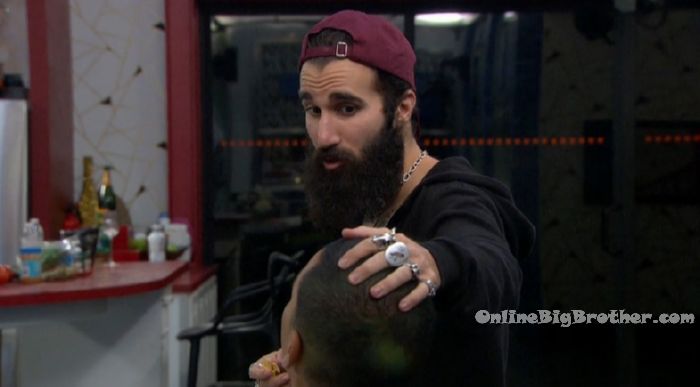 10pm Josh – Big Brother, I need a bottle of wine! I'm mind f**ked! I'll never be the same after that comp. My life is ruined from hitting card boards.
10:05pm Bedroom. Paul asks Christmas if she is okay? Christmas – yeah. Paul hugs her and says you've only got one eye and one leg. Christmas laughs.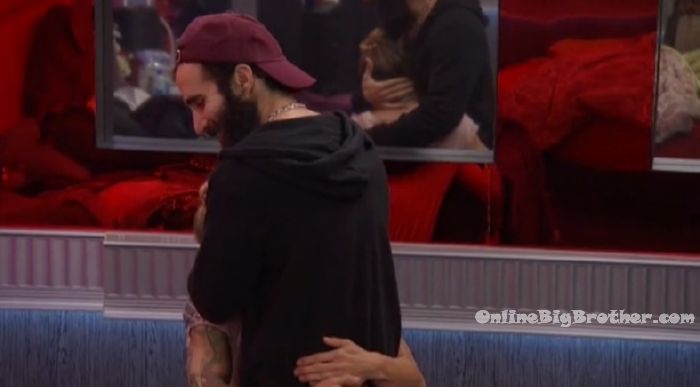 10:10pm Paul heads back to the kitchen. Josh – is she okay? Paul – yeah, she's just in her bag. Paul – we won! Its done! It doesn't matter what happens. It doesn't matter who wins the final comp now.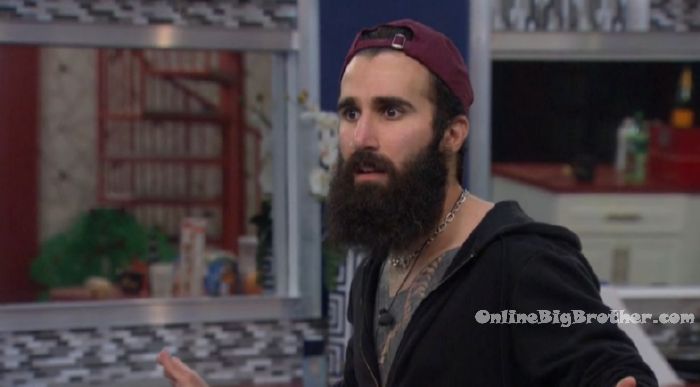 10:20pm – 10:30pm Christmas showers and gets dressed while Josh and Paul cook food.
11pm The final 3 sit down to eat. Christmas says grace. Josh – do you know what is cool about this.. we all come out winning. I don't see anyone other than one of us winning AF (America's favorite). And we all take way our friendship and you guys are stuck with me for life. Christmas – so what are we winning? Josh – all of this for the rest of your life.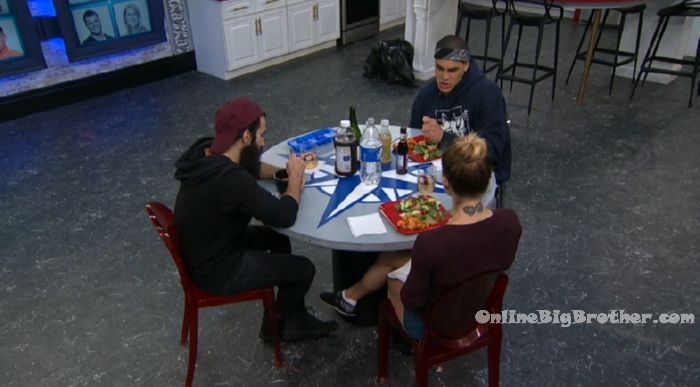 11:23pm Josh to Paul – Can I say I won (part 2)? Paul – yes. For the next few days I get to j@ckoff and do nothing.

11:35pm – 12am Josh and Paul.
Paul – right now one of us is at least 50K richer. Dude we should just ball out for like a day. Josh – when we get paid.. when do we get paid? Is it instant? Go to the club and make it rain. Paul – its like 5 days. You have money in your account though to have fun right? Josh – yeah. Paul
Josh – I think she is going to get America. Josh – I didn't think I was ever going to make it this far.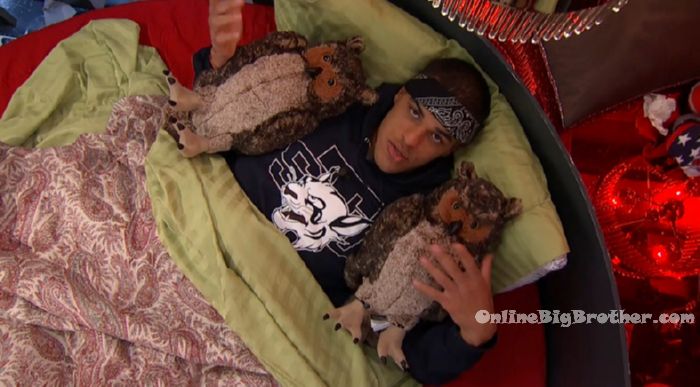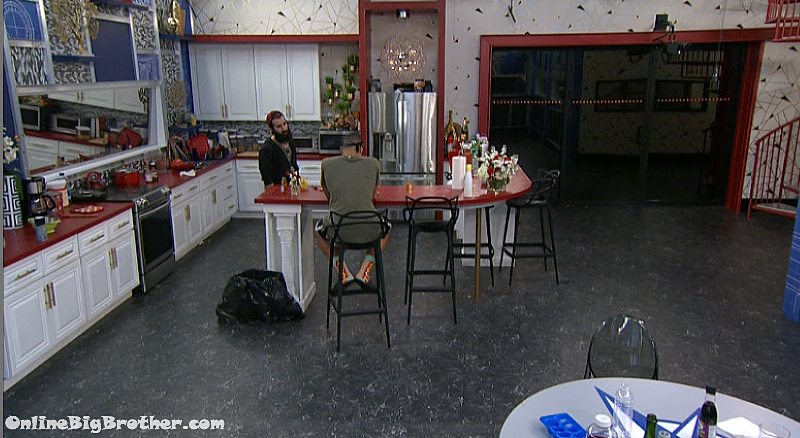 Midnight Paul and Josh
Chit chat..
Paul – I never wear hats
JOsh loves hats goes on about all his dad hats.
Josh – you know when I realized there was a lot of f*er liars in this house? when we were playing mobsters
Paul – dom thought she was good at figure out other people once I dropped mobsters I knew how everybody f*ing lied or didn't lie
Paul – becuase I knew what they were
JOsh – I was like… what the f*
Paul – they all played themselves, fell into my trap
Paul – well I was like I know how you lie and you lie and you lie .. y'all gassed yourself
Paul – if I wasn't around all you mother f*ers would have been bored as sh1t
Now JOsh is claiming that Paul would have been "bored as sh1t" if he wasn't around
Paul says Jason "that fool" dropped some "major bombs this season"
Paul – I wa slike holy sh1t you're f*ing up big time
JOsh – I tried to help him
Paul – that fool would say stuff that I was like
Paul – Cody would say shit too
JOsh says Cody was talking about killing people like it was normal like what are you having for dinner.
Josh – dude are you f*ing crazy
Josh – there was moment when if I didn't have you guys I was going to lose it
Paul – yeah
Josh – I felt so attacked like I felt that I was like I never dealt with that ever (So josh is saying he felt attacked.. Hmmm)
Paul – now you have that experience
JOsh – when people address me like that I was … so you wanna fight
Josh brings up how Matt did sh1t
Paul says he doesn't argue in his real life.
Josh says "mother f*ers" in the real world know not to f* with him
Josh – in school people knew not to f* with me
1:00am Paul and Josh
Paul says he doesn't know what his mom and dad do when he's not home.
Paul – like my sisters gumpy she doesn't..
Josh – Don't say that
Paul says one time his sister thought she was big and bad and she yelled at his mom so he made his sister cry.
Paul says he likes relationships he doesn't like being single "it's boring"
Josh – you haven't been single for awhile huh
Paul – no, this is the longest I've been single for a long a$$ time..
Paul – i've been single now.. I mean I've dated a few girls in the meantime… but no commitment ..
Paul – f* fool… I broke up with my ex when I was 22, 6 months before the Big Brother house.. let me count it.. yeah 6 months.. then I turned 23 that year.. year and a half
Josh – you f*ing look like Jesus from here (you all treated him like jesus all season)
Paul – as of December it'll be two years
Paul – 6 of those months i was in the BIg Brother house
Paul – during those 6 months what the f* would I do.. I'm sure as f* not getting into a showmance
Paul – f* that.. never in my life
Paul – so let's say a year pretty much of my livable life I've been single and I hate it.. I love it and I hate it.. I feel lonely
Paul says the way he feels about "that girls" is the same he felt for his ex 5 years ago
JOSh – it'll be fine bud she'll be waiting
Paul says his girl is really classy she isn't a "Insta hoe"
JOsh – the only people that sucked was Cody .. like sucks.. like bye
Josh says Cody should just book his flight and leave "don't even come to the wrap"
Paul – I wonder if that Hommie's still there
Josh – I think so. Do you think Matt and Jason got into it?
PAul – no
Paul says this year everyone in the house was a sissy "they didn't do sh1t"
Paul – they wanted to act hard
Josh – god I wish people would have stepped up it would have been more fun
Paul – like who MArk? that fool… I've never seen a dude that siez
Josh – that f*ing goofy..
Paul – that wimpy
JOsh – yup… like real f*ing wimpy … like just own up to one thing you say dude please give me that at least
Paul – that fool stole a pillow from me when I was a have not and I was attached to groundhog day and we had to share a f*ing bed.. that fool had the audacity to steal a pillow. (what a jerk stole a pillow from jesus Paul)
Paul – I walked in and I immediately called it out it was the pillow on top and it was from groundhog days own bed
Josh goes on about how self centered people are in the house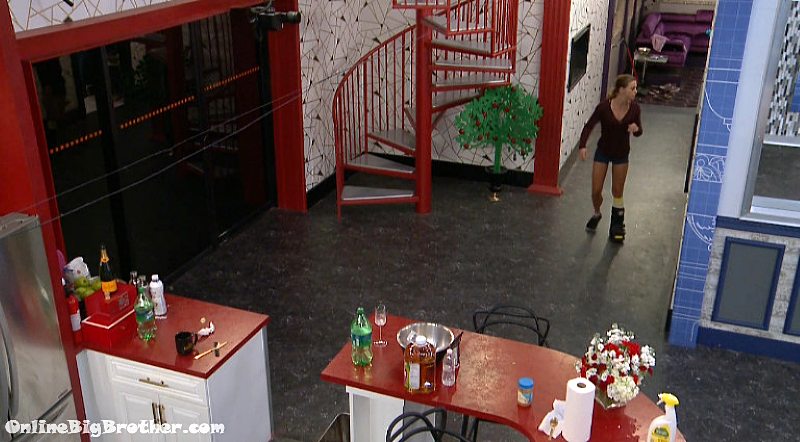 1:46am Groundhog days finally out of the jury she comments on how tiny her butt is as she walks by a mirror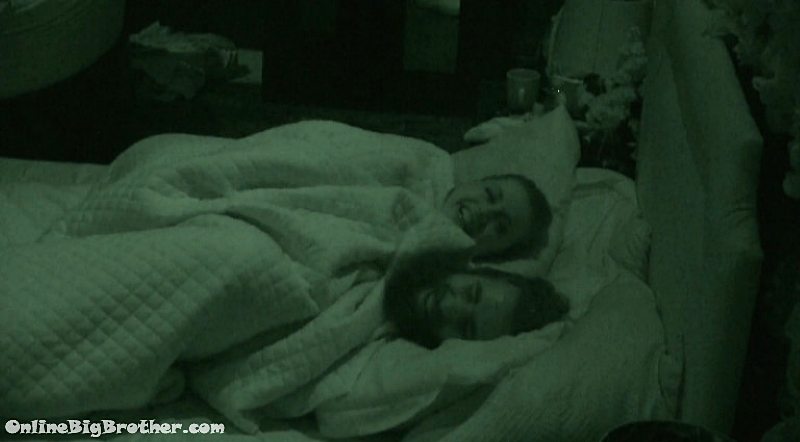 1:49am Groundhog day crawls into bed with Paul..
Paul – keep your icicles to yourself… you're so cold
Groundhog day cackles as she tickles him with her ice hands
Paul – getaway
Paul – why were you in there for 4 hours
Groundhog day – because they wanted to ask me everything
Paul – f* off..
Groundhog day – you're so warm
Paul – you're a corpse
Groundhog day – I don't know why my feet are always cold.. at least I have socks on this time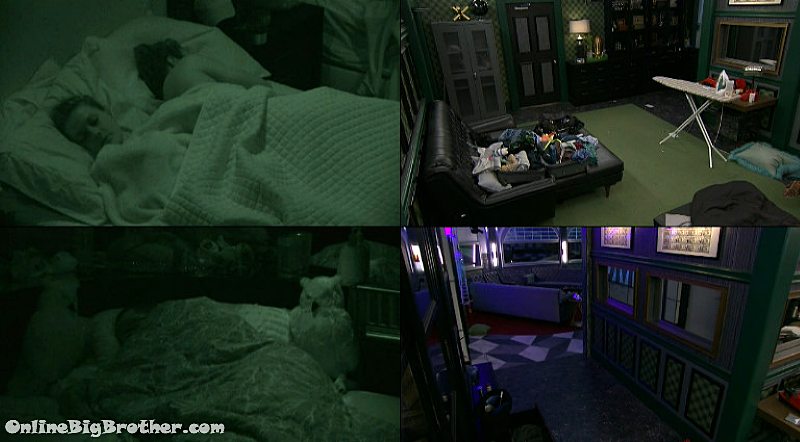 4:10am they're all sleeping
11:10am The final 3 are still sleeping..
12:10pm Josh is up and moving about the house..
If you've enjoyed our live feed updates this season, please consider donating.
Simon and I work 24/7 all season long to keep you updated on everything that happens inside the house. Any amount is greatly appreciated! Your donations go directly to paying the fees required to run this site.
Links to the ranking system
Rank your house guests here
For those of you that like Statistics here are some expanded reports.