If you plan on buying anything from Amazon. Use this link Amazon home
Doesn't cost you anything and we get a small cut.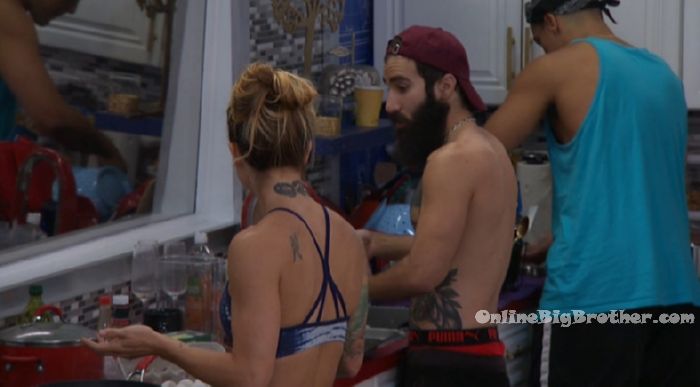 FLASHBACK and watch everything you missed: Live Feed 7 day FREE Trial!
12:25pm – 12:45pm Blocks the live feeds to wake up the house guests. When the feeds return – Josh, Paul and Christmas are in the kitchen making breakfast. Christmas tells Josh that crossfit girls don't care how big you are its all about how you move. Josh – like dance moves? Christmas – no, your form. Josh – oh, we need to work on that. Paul, Josh and Christmas head outside to eat on the backyard couches. They chat about the part 2 HOH comp, past events of the season and Paul's Halloween party, Christmas's business and Paul's car.
2:10pm Backyard. Final 3
Paul – I am gassed, I can't wait to get out of here. Josh – and you're saying you would jump right back into BBOTT? Paul – yeah depending on what they paid. I am already f**ked up so I'm going to make more money I might as well. There is no more or less, at that point the damage is done. Josh – you're crazy. Paul – I've already done 6 months in here. Josh – I would need a good break.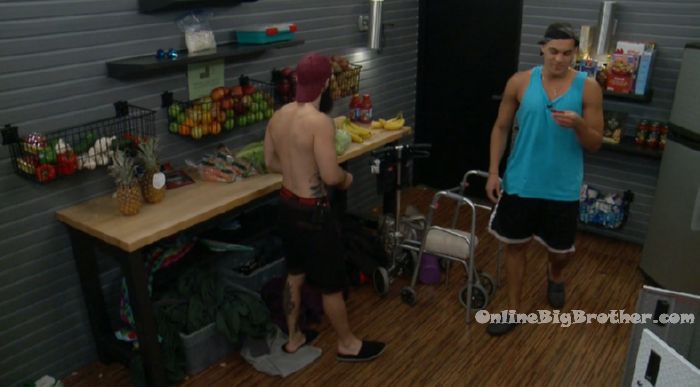 2:35pm Big Brother tells them to go to the storage room. Paul and Josh head to the storage room. They find that big brother left them 2 (budget cuts) big brother fidget spinners. They head back out into the backyard. Josh comments on how he likes hanging out with them more than his siblings.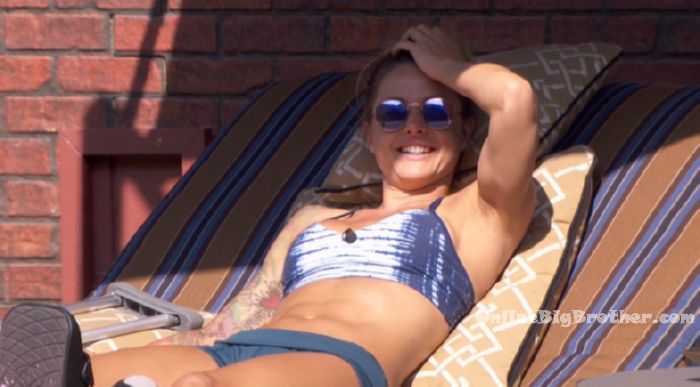 3:35pm Backyard.

Josh comments on how he doesn't like cuddling after ($ex). Christmas – so why don't you just buy your wife because all you want is someone to f**k and have kids with. Josh – hey, hey, hey, no! Christmas – what kind of love are you giving a woman if you don't want to cuddle and don't want to touch her feet, don't want her to work, won't go get her tampons. Paul tells Josh to hit reverse. Christmas – what kind of girl do you want? Do you think good girls are going to tolerate that kind of bullsh*t? Hell no! Josh – he said it not me. Christmas – do you know who tolerates stuff like that? Trifling hoes because they're stepping out on your a$$. They don't need cuddles, they don't need you to touch them, they don't need you to rub them, they don't even want you to love them. Josh – he set you up. He's lying… of course I like to do that stuff but I have to love the girl. I have to really like the girl. Big Brother says you've got to be kidding! They all laugh. Josh – they're already ganging up on me, you don't need to too… so pipe down! Paul – you played yourself.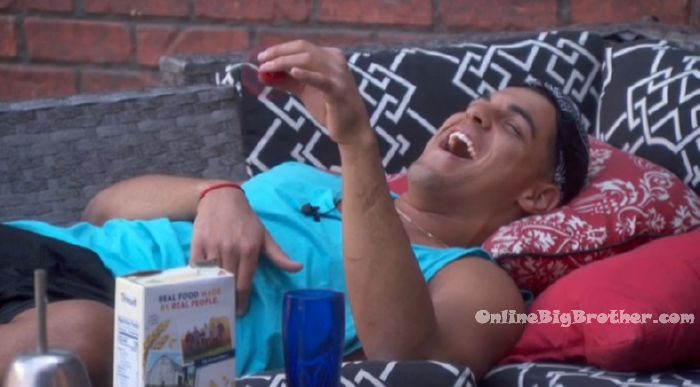 Christmas – I don't know why Raven got the clown zing because you're clowning yourself. Christmas – I want to know what you do for her?! You put your d**k in her mouth!? Josh gets under the backyard coffee table. Christmas – I bet you don't even go down. Paul – sell it Josh – AHHHAHHAHHhahhhh! Why does Paul have to add the salt and pepper. Christmas – what do you do or woman? Josh runs and jumps in the pool. Josh – I don't even want to date any more after this. Paul – its not a game, its real life and we're trying to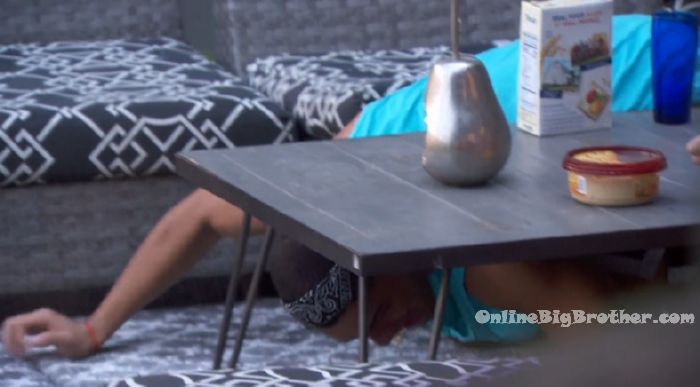 4:30pm – 6pm They sit around the hot tub talking about random things and then they all head to the hammock. Christmas talks about her fitness business and other ventures.
6:30pm – 7pm The final 3 are napping in the hammock. Josh gets up and heads inside to eat.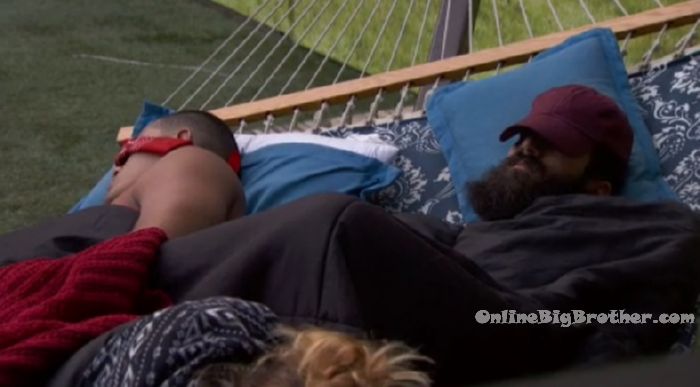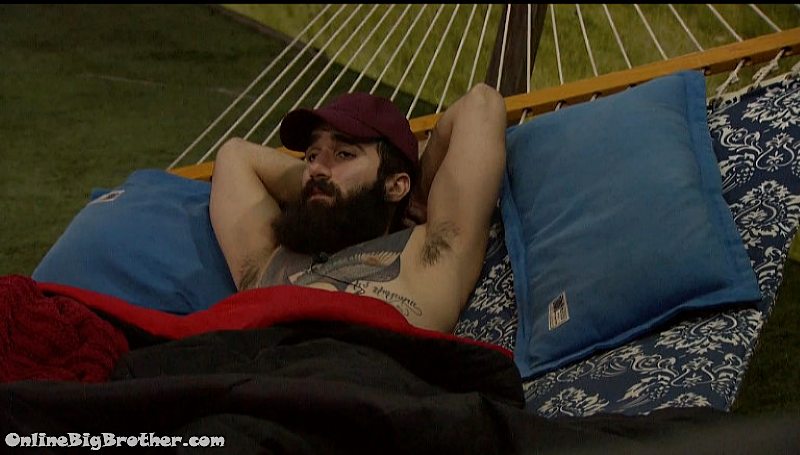 7:38pm Paul practicing his final 2 speech.. .
Paul – i was forced to play a different game.. i was the odd man out.. no time to lose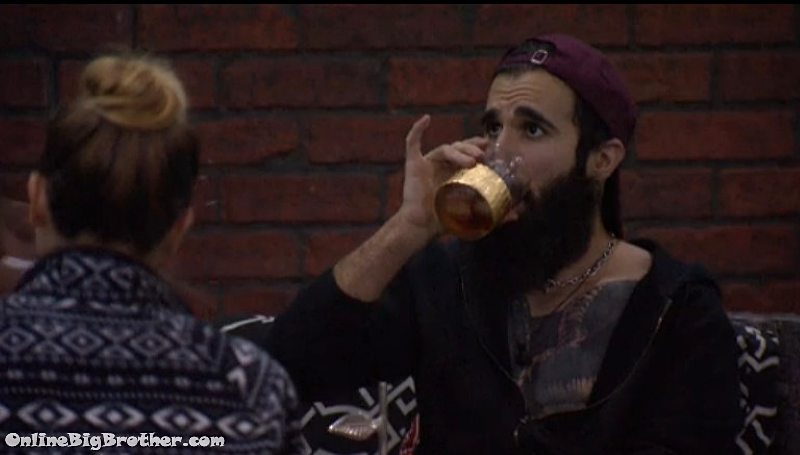 8:06pm Final three chit chat ..
8:54pm
Groundhog day showers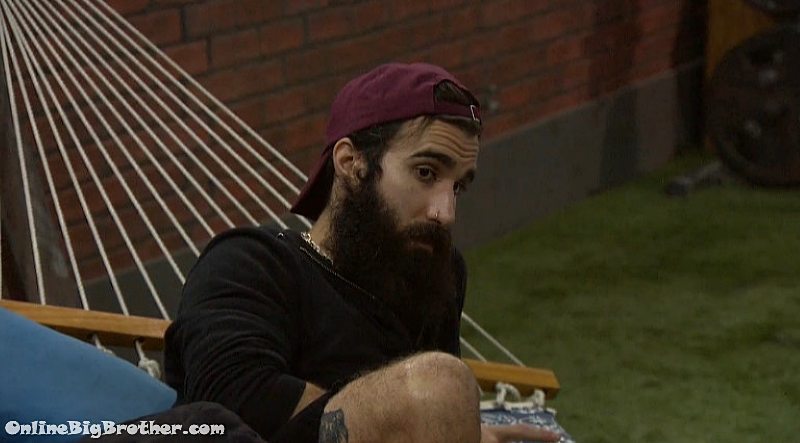 8:57pm Josh and Paul talking about how Groundhog day has checked out and she really doesn't want to win. She's got so much stuff going on. They talk about how established Groundhog day is.
Paul – this is like fun
Josh – yeah.. she's winning AF for sure
Paul – I think so (LOL:0
Paul all of our votes are going to her..
Paul – it's q acombingaiton o9f her fans. our fans.. I think she deserves oit
Josh – I think she deserves it too .. she's been awesome
Paul -she's dope
Paul goes on and on about christmas checking out "she was about to get married and some sh1t.. she's gone through … we're kids to her"
Paul – she's a f*ing women fool..
Josh going on about how he couldn't do Big Brother again..
Paul says it's a blessing hat he was able to come back.
Josh – and you would do it again
Paul – yeah.. I would like to do it again against.. vets. . top rated… Dan., Derrick, Vanessa, Frankie …
Paul says he's got a real love for this game.
Josh – I think you're going to go down
Paul – I know Dr will has won first place and second place
Josh you're going to go down in history
Paul – yeah as potty mouth
Paul – I didn't sit back, I didn't float.. I won comps made moves.. played the f*ing game so no know can say shg1t there (true Paul played the game hard)
Paul – I played harder this season… last season I weaseled my way around.. this season I was on top of sh1t
JOsh again says xmas has completely checked out
Paul agreeing.. "I'm happy for her she's made.. i wish her the best"
Paul – we're kids dude..
Paul – Canada will happen soon bro.. my manager will be booking stuff already… I told him to give me a couple months to chill then I'll be ready
Paul going on about his business and all the money he spent on marketing. Says he paid 18 grand before coming on the show
12am Paul and Josh in the hammock. Christmas is in the diary room.
Paul – I am pretty certain she (Christmas) is going to get America's favorite. Josh – I hope to god she gets it. Paul – she will, I am telling you all our votes are going to her because people know. We've been talking about it, people know. The people that vote are the f**king live feeders. The true fans are the ones voting for that sh*t. Josh – cool. I hope to god she gets it. Paul – I am telling you she will. Josh – if Kevin gets it, I will die! Paul – He already won 25K. Josh – yeah. Paul – He already cashed. They're going to someone who… think about it she broke her foot, persevered, did some bada$$ sh*t (HUH?! like what?!). She is going to win it. Nobody else had that much of a rough journey and they like that underdog sh*t. And the fact that she came close to them and didn't turn on us, I am telling you she is going to win it. Josh – good! Paul – then we all walked away with something and that's exactly what she wanted. She wanted like 20K to help her mom with her cabin. And she gets she stipend with America's Favorite, so really she gets 45K. Josh – she gets even more being a figure. She comes out with more than us. Paul – you're right. I didn't think about that. So she will get similar to what second place gets. That's dope. At lease all the homies come out with dough. Josh – that's how it should be dude. We earned it. Paul – I didn't even get that. Different. Josh – you didn't. Paul – shakes his head no. Josh – you didn't even fight it?! Paul – no. Big Brother tells them not to talk about production.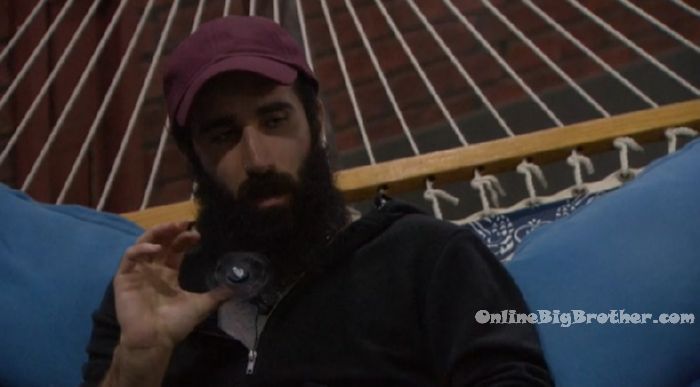 12:30am Christmas talking to herself.
Christmas – I know one of those get to secure a spot and I don't because I sucked at that comp. I really did try and my best was not enough. I know I talk about successful failure and I will learn something. Josh bugs her and then heads back inside. Christmas – I came here with a broken heart, I'm leaving with a broken heart. Super disappointed in my performance. I would not be having a pity party if I hadn't broken my foot. I don't know if I should talk to both of them separately and tell them to bring the other to final 2 and I'll just take third. I honestly don't think anyone else would have stayed with a broken foot.. so does that exceptional or does that make me the girl that got carried through because she has a broken foot. Josh joins her again. Paul comes out to sit in the hammock with them soon after. They chat about random things. Paul comments on how they get sequestered for 6 days after. Big Brother blocks the feeds.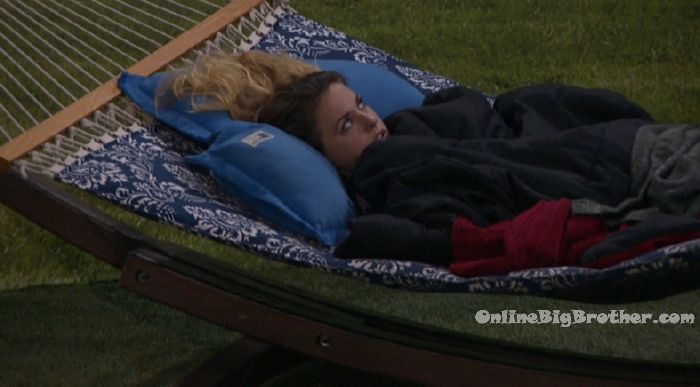 1:40am – 1:55am They head inside. Josh showers, while Paul and Christmas eat cereal.

2:33am The final 3 head to bed…

If you've enjoyed our live feed updates this season, please consider donating.
Simon and I work 24/7 all season long to keep you updated on everything that happens inside the house. Any amount is greatly appreciated! Your donations go directly to paying the fees required to run this site.
Links to the ranking system
Rank your house guests here
For those of you that like Statistics here are some expanded reports.