POV Holder:
?
POV Competition
July 23rd
POV Used
?
POV Ceremony
July 25th
HOH
James
Next HOH
July 28th
Original Nominations:
Frank AND Bridgette
After POV Nominations:
? AND ?
Have Nots
Nicole, Zakiyah, Michelle
CBS All Access: Live feeds are only $5.99 per month – Try it FREE for 1 WEEK!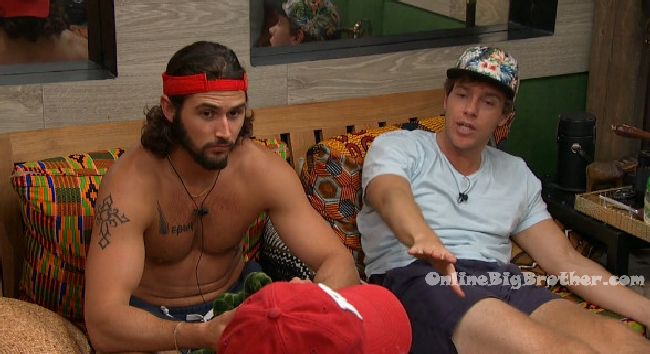 HOH WINNER: James
Nominated: Frank & Bridgette

9:05pm Safari room – Frank, Victor, Paul, Paulie and Bridgette are chatting. Frank talks about how coming in he was told he was going to be targeted right away. Frank says I'm 32 years old coming to a house with young bucks. Paulie says great players come and go but legends are here forever. We've got the most comp wins between two of us. Frank says and Vic is the battle back champ! Paulie says They haven't won anything. Frank says if one of the 5 of us wins the Veto we could go to James and say we want to use it and have DaVonne put up. Not only is he going to see we have the numbers .. he's going to be a little intimidated by our numbers. He wants to send someone home that no one will be mad about next week. Paulie and Frank talk alone. Frank asks if Paulie trust him. Paulie says I trust you. I felt like there was a point when we got lost. I know there was a point when you wanted one person. Cody told me if you find a guy you're with getting too close to a girl you've got to cut her. Frank says its not romantic (him and Bridgette). Paulie says I know. I trust you when it comes to her. If it comes to the point with Z, I would cut her if we didn't need her vote. If you can pull in James on top of Corey. Frank says steam roll city! Who do you trust more Paul or Corey? Paulie says Corey. I would trust James too if Natalie was gone. I would never get my judgement clouded because of a girl.
In the bedroom –
DaVonne says I think he is going to get a pandora's box. Z says I will be this sh*t is rigged if that happens. Corey says there is no way you win HOH after a 5 and a half hour comp and then both your nominees come down.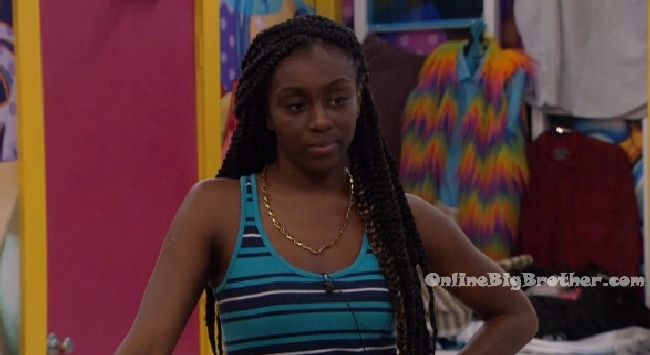 FLASHBACK and watch everything you missed: CBS All Access 1 WEEK FREE Trial!
9:20pm Paul tells James and Natalie in the havenot room how he was hearing James. Paul says I'm losing my sh*t. If they ask me another question to night, I am going to lose my sh*t. Actually, I want them to so I can instill some fear in Frank. I want to say if I'm playing in that POV tomorrow, I'm winning it and you're not getting off the block. They even asked me if I would play for them. I'm literally getting pissed off. Just the sh*t how they can go to one person and then come down stairs and sh*t on them. If they ask me one more thing, I will call them out on all their sh*t in front of everyone!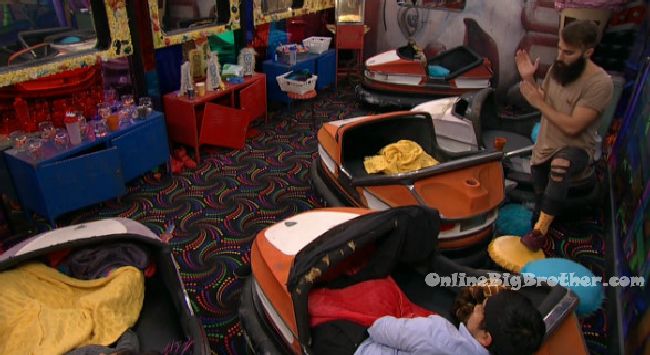 9:30pm – 9:45pm Natalie and James are talking alone. James says that Frank is pissed and he is acting like he didn't see it coming. He asked Paul if he saw it coming. And Paul was like you should have seen it coming a mile away. Natalie says that Bridgette and Frank were really upset about it. Paulie told her he had no idea you were being put up. James says that everyone is playing everyone. Frank is definitely bringing Bridgette down. She would make it a lot further if Frank was gone. Natalie says all the girls don't like her. I wish that Day would have won.. she would have put up Frank and Bridgette maybe. I know she wouldn't have put us up. James says I know a lot of people are playing dirty right now. I really didn't hve much time to think about noms. Natalie says it should have been Victor and Frank. I'm really proud of you though. People are just playing dirty. They wanted Frank up but now they're acting like they didn't want to have anything to do with it. Natalie says they're all little b***hes. James says I really didn't want to win it but I let my ego get in the way. Natalie says at least we're safe till jury. James says 100% the only person I trust in here is you. Natalie says you too. Natalie says Paulie was telling Bridgette he didn't expect her to go up … but he was up in the room telling you she should go up. .. Are you kidding me?! I really don't trust Paulie. James says I definitely feel like Frank does need to go. I feel bad about Bridgette but its done now. Frank wants to work with me an you. Natalie says even after you put him up? James says he knows its what the house wanted. I know I could fix this if I put work in. If Frank gets off .. then all the girls and the whole house are going to vote out Bridgette. Unless I put Da up. Natalie says I don't think you should put up Da. I'm not mad at this, I'm mad that you did everyone's dirty work and now they're pretending they don't know anything about it. James says Frank know how I play. Natalie says Paulie was the one trying to get you to put him but so why is he acting fake to them. James says because he's playing both sides. If Frank comes down then they're still tight.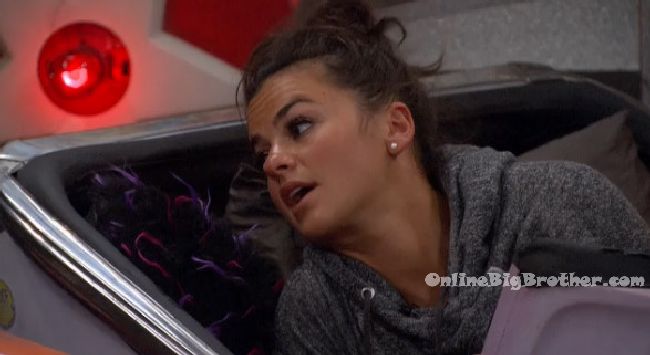 9:50pm – 10:15pm Natalie and James talk about talking to Bridgette to make sure they're still good with her. Natalie says everything can be fixed. Natalie tells James that she could have stayed up there all night, but I got a migraine. Natalie says I'm going to try and win next week. I'm going to do everything I can to try and protect you. A lot of people have blood on their hands without having won HOH. James says I haven't forgotten about the floaters .. doing dirty work on the back end. I kinda want to take a stab at the girls too. Natalie says none of them have been put up.. they feel really safe. I know you made the right decision at the end of the day. James says the house might play with Frank .. but if any of them win HOH they won't put us up. The only person I would have to worry about right now is Bridgette. Natalie says Corey will do whatever Nicole does. You need to make amends with Bridgette .. the girls bully her. Natalie says Michelle .. I like the girl a lot but she is a bully. When she says stuff like that I just walk away… I'm too old for that. She says passive aggressive things a lot. James comments on how he told Bridgette to be careful about what she says because a lot of people on BB15 lost their jobs for saying racist things. Like saying you're going to shave someones eyebrows off is not good. I don't like how Paul says Michelle looks like Buzz Lightyear without the helmet… I still start to laugh about it on the inside because its funny. Nat says everyone everyone wants them out.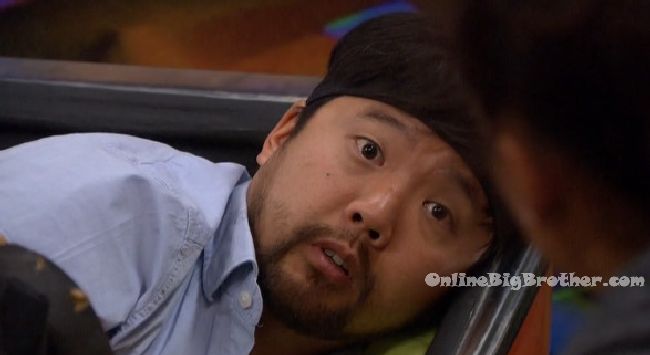 Paulie joins them. James says that Pual is pissed because Frank and Bridgette are playing victims. Paulie asks Nat how she's doing? Nat says I'm hungry and can't wait to eat. Paulie says no with everything going on. Natlaie sasy it is sad but its a game and that's what I'm learning. Paulie says I think that's why Pual is about to snap. Acting like the victims .. you put it on yourself. Natalie says I don't like people are talking shit about people .. like about their appearances and stuff like that. Its not cool. If its your physical appearance you don't make fun of that. Paulie says I feel bad about how they all did a birthday for the giraffe two days after Bridgette birthday. And did nothing for her.
Paulie says once a target is picked, people demonize each other.

10:35pm – 10:55pm Zakiyah and Nicole are in the HOH room. Zakiyah says that if Paulie doesn't come find me in bed tonight I am done with him. Nicole ssay i really how Paulie asks to sleep with you tonight. You guys would have the cutest babies. Z says I've thought about that. He's definitely considerate. Nicole says he is a great guy. I bet you treat a guy right too. Z says who ever gets me they are going to be good. Natalie says his family is good too. Z asks Nicole if she wants anything with Corey outside the house. Nicole says it would have to be really strong. He said when he cuddles me its his favourite part of the day. They talk about not making a cake for Bridgette. Nicole says it wasn't on purpose, she said she didn't want a cake or for anyone to even say happy birthday. That's so sad because I don't want to be seen as the mean girls.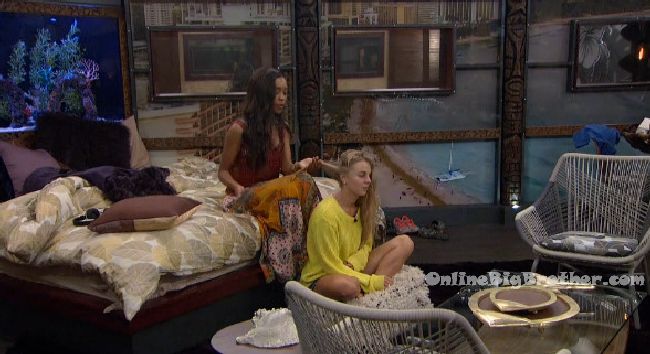 11:15pm HOH room – James says that Paulie is talking with Natalie. James says that she doesn't like him like that. Z says I don't know he doesn't like me. James says you don't know that. Z says he likes that I do his hair and I'm a nice body to lie next to. Do you asks Natalie questions. James says yeah I'm all up in her sh*t. Z says he just asks me if I'm hungry. I think he is just so focused and driven. James says he just needs to let you know. Z says yeah I'll cut it off if he wants it to just be business. Clearly I like him a lot. I want to just get to know you. James says I know I feel you. I definitely don't want to feel used. Z says if Victor happens to tickle my back.. I might be okay with it. Z asks who would you want to see after Bridgette? James says I don't .. I guess who ever the house wants. Z says Paulie is on board and everyone owes you. You did a good thing. Da trusts you so I trust you. James says I appreciate it.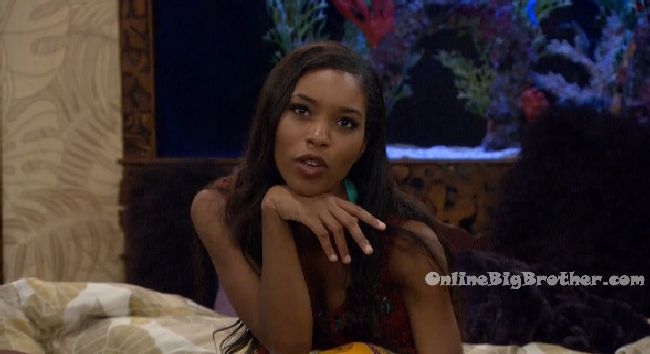 11:15pm In the kitchen –
Victor, Corey, Paulie, Natalie, Nicole, Z and James. Nicole says there's always a nerd. Paul says Bronte lied about working with kids. She does not work with kids and Tiffany does not work with kids. Natalie talks about Bronte's secret of being a mathematician. Corey says Tiffany always said she was good at something and then wasn't.
Bedroom – Frank talks to Bridgette about the Prize & Punishment veto comp. He tells her if she is second to last out, do not to take the veto because then it will get taken from you and you'll be stuck with a punishment. I was out second in my season and then I was stuck with a stupid unitard. He tells her if she's out second to last she should take the trip or money.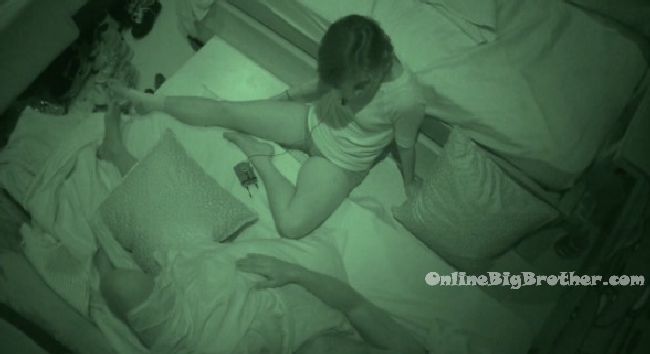 One of the clues to the secret room: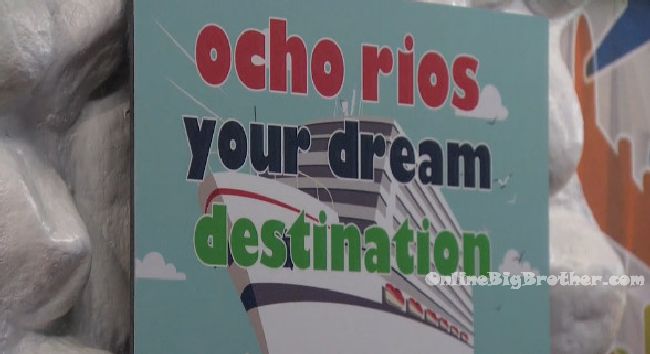 11:40pm – 12am Kitchen – Victor, Corey, Z, Paulie and Paul are chatting about random things. Victor asks whats the first thing you want to do (when you get out)? Paul says bone. Pound a 40 then bone a again. Paulie says he wants to go on a vacation. Victor asks James if someone told you, you were going to have your arm up for 5 hours would you believe it? James says nope! Natalie builds her off havenots burger to eat at 12 when shes off being a havenot.