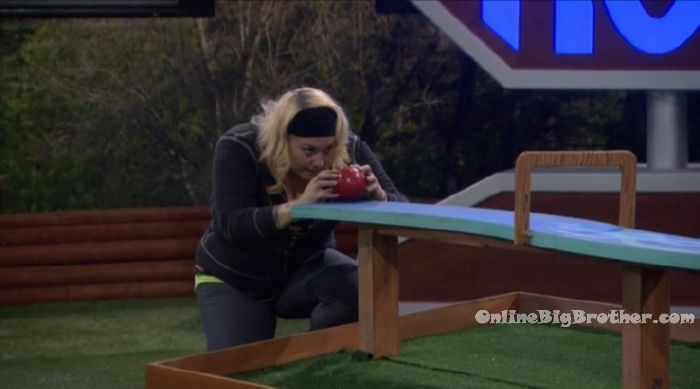 9:40pm Kryssie makes the shot and wins the competition. Kryssie is the new Head of Household! Neeley, Jason, Danielle and Justin jump for joy congratulating her. Scott hands her the head of household key. Paul then goes and does snow angels in the balls.
HOH Winner: Kryssie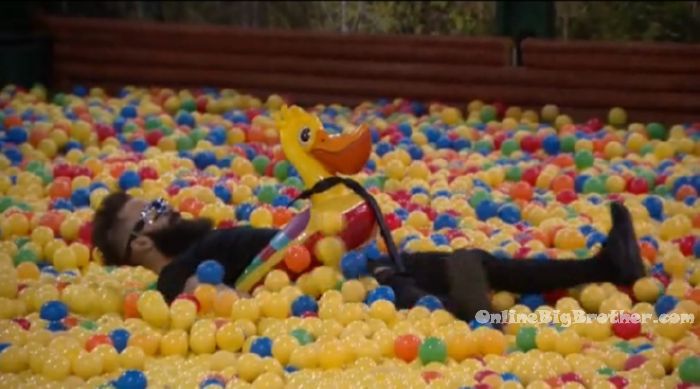 Kryssie winning HOH @bigbspoilers #BBOTT pic.twitter.com/It2P36elem

— Dawg (@DawgsBigBrother) October 20, 2016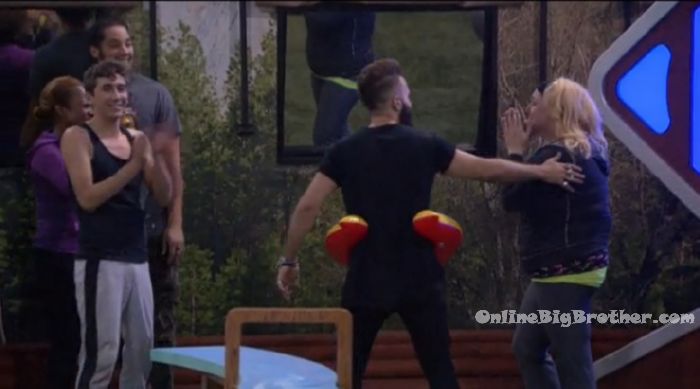 9:45pm Bathroom – Morgan, Alex and Shelby are talking. Alex its going to be one of us this week. It all comes down to the veto. I already know I'm going up, she hates me! Shelby – we need to see what the care package is. Whitney joins them. Alex – it will be me and Scott. Y'all will save me over Scott. Shelby – America we need the care package!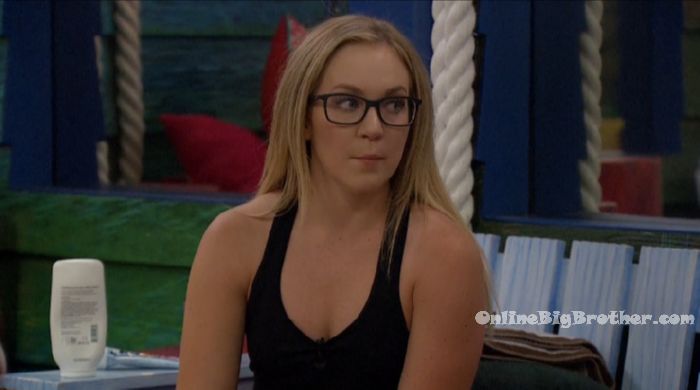 9:50pm Bedroom – Neely, Danielle, Kryssie and Jason are celebrating / talking. Jason tries on Neeley's wig. Jason – I told you we would F**king do it! Danielle it feels so f**king good. I didn't even win and it feels so good. Kryssie – how many of you sl*ts want to sleep in my bed tonight!? I'm not going to gloat. I'm not going to be like them. Danielle – I can't wait for Shane to watch this. Kryssie – I had 5 f**king balls left too! I'm going to kick everyone of them in their backdoor. Danielle – now they know how it feels to be in our shoes. Kryssie – I really hope America puts up Scott and we put up Morgan and Whitney. And if one of them comes down someone else can go up. I'm going to have individual talks with Morgan and Whitney. Neeley – don't tell them what we're going to do. Ask them who they think should go up. Jason – yup … code their hierarchy. Put to of the middle ones up, if one of them comes down but one of the high ones up. Leave Shelby alone because she's an irrelevant rat. That was so for Shane.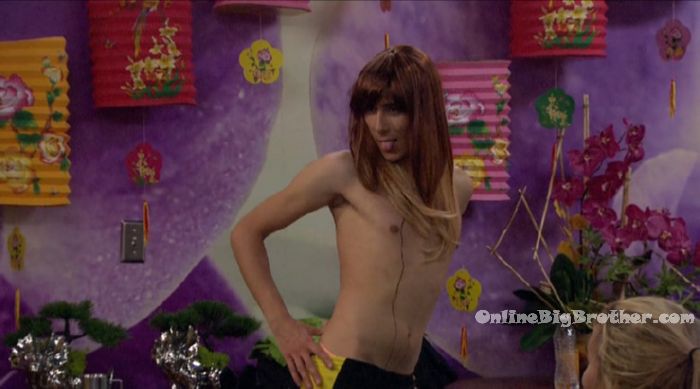 10:45pm – 12am Kitchen – Morgan, Whitney, Shelby, Scott and Alex are hanging out in the kitchen. They all hanging out chatting about random things.
12:05am Lounge room – Morgan, Shelby, Scott, Alex and Whitney are chatting.
12:35am Scott and Morgan are talking in the lounge room. Scott – If she tries to backdoor one of us .. that person wins the veto and pulls the other one off and then hopefully we can try to save Shelby. Obviously somebody in the group is going to go home but if you really want to save someone instead of Morgan or Whitney instead of Shelby that's fine but I am going to be trying to save Shelby. I don't want you going home.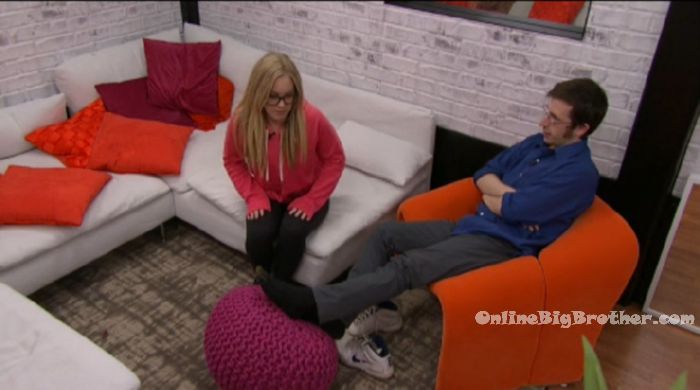 12:45am Alex, Morgan and Shelby. Alex – her (Kryssie) alliance doesn't care about her. Shelby – that's not a point to prove this week. Shelby – I feel like its going to be a boring a$$ week if one of us don't get it (veto). Alex – its about to get messy. I want to talk to Kryssie but the thing is she thinks a lot of things that aren't true. Alex – if I talk to her she is going to be fixated on me trying to put her up. Morgan – yes I would want him (Scott) to stay but I feel that as soon as Jason or Justin offer him something he would jump ship.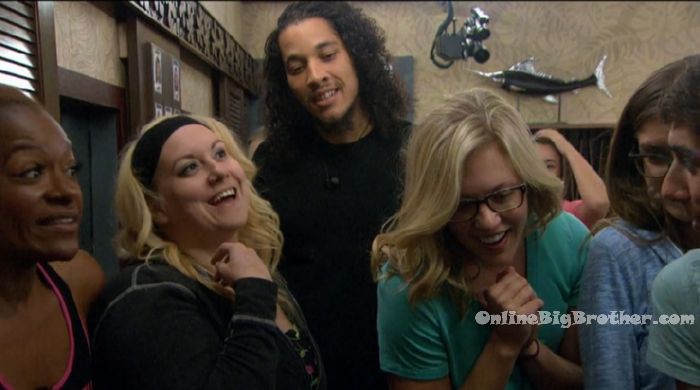 12:50am – 1:20am Kryssie gets her HOH room. She reads the letter from her boyfriend Mike. He made her a bracelet made from her hair and his hair. Everyone leaves but Danielle, Kryssie, Jason and Danielle.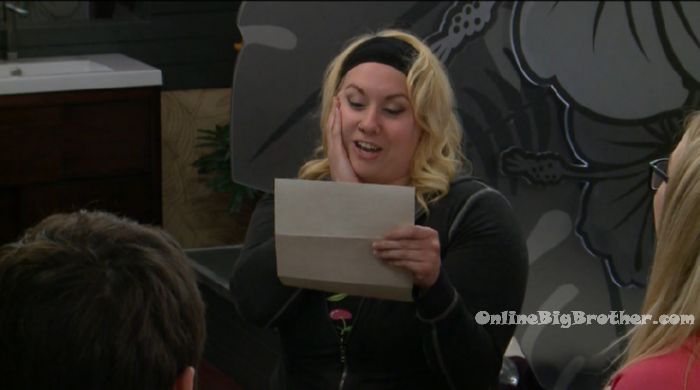 1:30am – 3:20am Jason reads the HOH BB rules to Neeley, Kryssie and Danielle. Neeley – they're all going to try and sell out Shelby .. so I'm interested to see what kind of deal Shelby tries to make. I'm really interested in what Shelby and Whitney have to say. Danielle – me and Shane offered her (Alex) a good deal that week. Neeley – to be perfectly honest I would take Shelby to the final 3 with me. America isn't going to vote for her and she isn't going to win any competitions. Neeley – Morgan and Alex are the tightest. Danielle – that's why I think they need to be up together. Jason – the other side would still pick Alex over Morgan. Danielle if it is Morgan and Whitney .. and one of them comes down we want Morgan to come down and Alex to go up against Whitney. Jason – they'll still keep Alex. Jason tells Kryssie this week is what we want to do but really its about what you want. Kryssie – I said we would do this as a team. Jason – but your preference is for Alex to go over Scott. Kryssie – yes, she's the one that back stabbed me.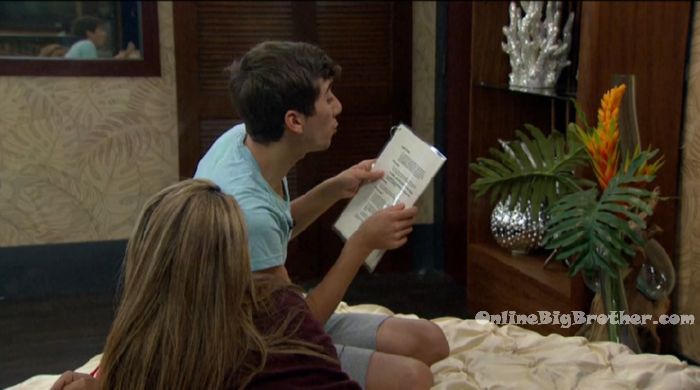 3:25am Jason and Kryssie are alone in the HOH room. Kryssie – gamewise Alex has to go. They talk about putting up Morgan and Whitney. Jason – hopefully America puts up Scott or Alex. Kryssie – Or Shelby. And then hopefully one of us can win the veto. Jason – and then throw it in Morgan and Whitney's faces.
4am All the house guests are sleeping..
[polldaddy poll=9552715]
[polldaddy poll=9552723]