Quick Big Brother Spoilers
Head of Household:  Hisam
Nominees: Reilly & Cameron
POV Players: Reilly, Cameron, Hisam, America, Matt, Blue
POV Winner: Hisam
Veto Ceremony: veto was not used.
Havenots: 
Lock your ranks in before midnight
The situation Looks like Cerie and Izzy are voting to keep Reilly. Reilly will now have the votes to stay. Looks on Hisam's face will be a highpoint. The backyard is closed down.

6:10pm Cory and Jared.
Jared – F**King best position for me to be in because I would have been public enemy number one right now and you would not be able to be next to me. Cory – no and it would have been me and you on the block and you probably would have gone home. Dude we need to talk before these competitions to find out what we're doing because now I think we're both of the mind that we need to try and win this sh*t and backdoor Hisam. Jared – yeah. Cory – and that is the plan but like because my dumb a$$ was rooting for you but at least I'll be safe. The second I learned that it wasn't going to be me being targeted, I was like thank f**king god! Jared – yeah, exactly. My thing is this, I really want my own room and besides my personal interest, I do want to win one HOH. And obviously I would never, ever, ever throw a comp. But do I feel fine not winning that sh*t? I don't really care. I am not going to lose. Cory – if it's f**king you and me and Izzy.. Jared – oh I am dropping, I don't care. I don't give a f**K. Cory – Izzy can have that sh*t. I don't care. Jared – the longer I can keep myself safe I will. Cory – the most important part about it is ..even if we lose at least we get to play again next week.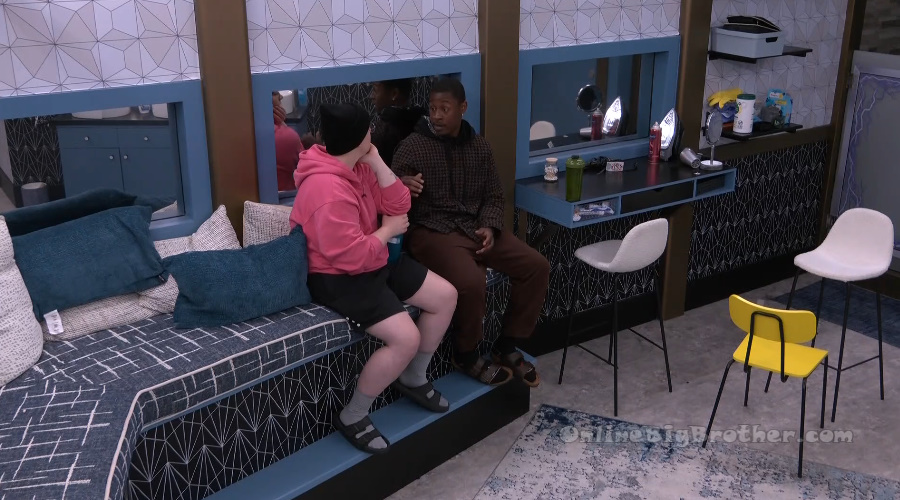 6:30pm Bathroom – Izzy and Jared.
Izzy – Unless he gets picked for the veto and then wins. I am just saying that is a possibility. Jared – a very high possibility but everyone should be on the same page and know that everybody is f**ked if that kid wins veto. Everybody is f**ked! Whoever didn't vote his way is f**ked! And he is still … and this is what kills me if he stays do ya'll not think that Jag and Blue will not go right back up there? Like I don't know what I am seeing that everyone else isn't seeing. Like they're going to go right back there too. We've still got tomorrow.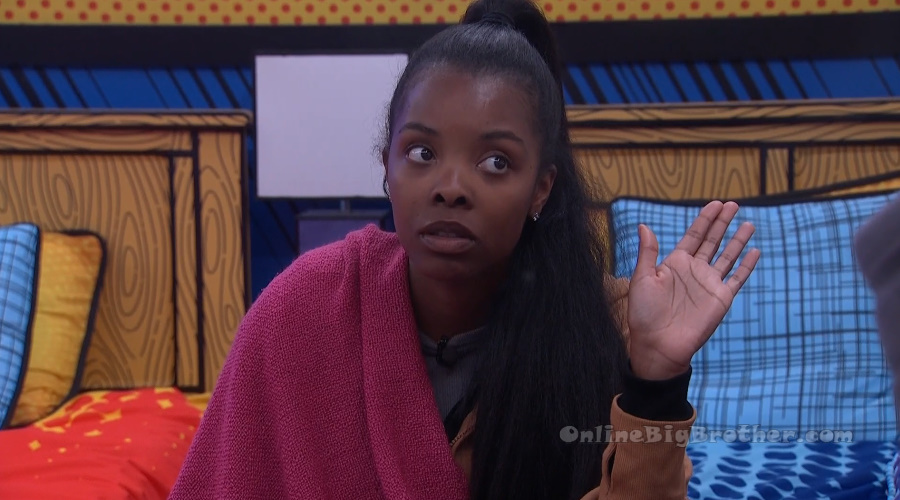 Comic bedroom – Cirie, Meme and Izzy.
Izzy walks into the Comic bedroom and clearly looks annoyed. Cirie and Meme ask her what is wrong. Izzy – I'm okay.. what ya'll talking about? Cirie – about Hisam. Meme – that's what's wrong? Izzy – na, na .. I just had a frustrating conversation but its fine.. I don't want to talk about it yet. I am just thinking about it.. I came in here because its my safe place. I am just curious if you guys came to any conclusions or anything. Meme – like I said earlier, I am not apposed to it. Cirie – I don't want to do anything that will put us in jeopardy. Meme – also I don't feel that strongly about it for me to go against it and what is in the best interest of the people. Cirie – we're trying to make the best decision for all of us. We can't be told what he wants to set him up. He is showing us the writing. He is saying I don't want to be with these losers. I can't believe he is even saying that! America of all people. Izzy – I don't think Jared thinks its the right decision. Cirie – Because Reilly has Jag, Blue and Matt. Izzy – Jared also thinks that we won't win anything. Cirie – We have a better chance at beating he (Reilly) than him.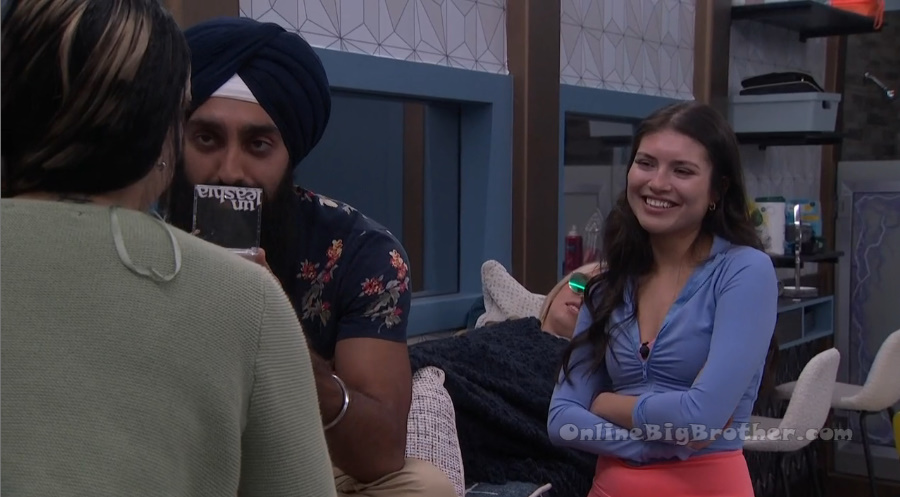 7pm Bathroom – Jag is doing Blue's makeup while Bowie and America watch and laugh. Reilly is passed out in the background. Izzy comes to look and starts laughing. Blue – its not that bad. Izzy – have you looked in the mirror lately? Jag starts on the lips. Izzy – why are you over lippin' it… you're not Kylie Jenner.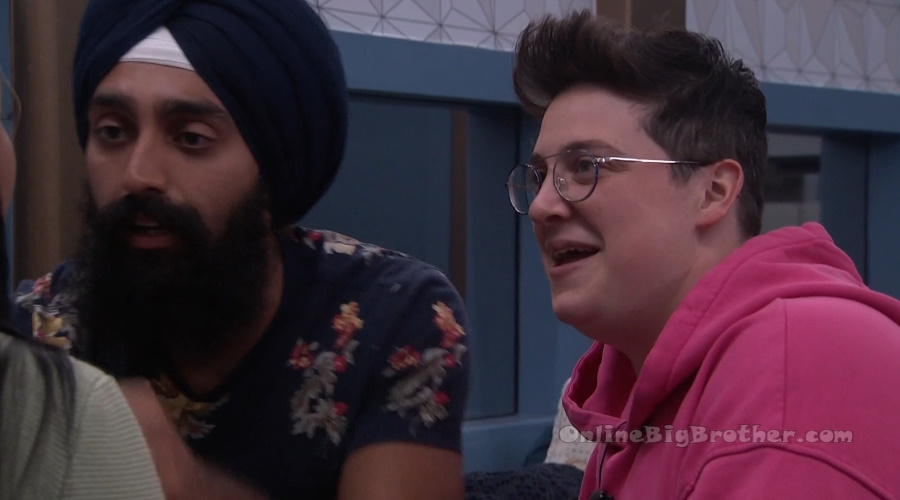 8:28pm Kitchen – Izzy and Felicia.
Izzy – do you still feel good about this? Felicia – oh yeah absolutely. Izzy – and am just going to keep checking in. Felicia – I am just trying to keep him calm because I can tell he senses something is wrong. Izzy – yeah, ok.. good. I want to get Cirie out of there. Out of her own head a little. She is fine but just for moral. Just for our hearts. Felicia – it is going to crush him but he needs to realize that .. he is going to cry just like what's her name did. Izzy – oh he is going to freak out. Felicia – You did the same thing to us that she did to them.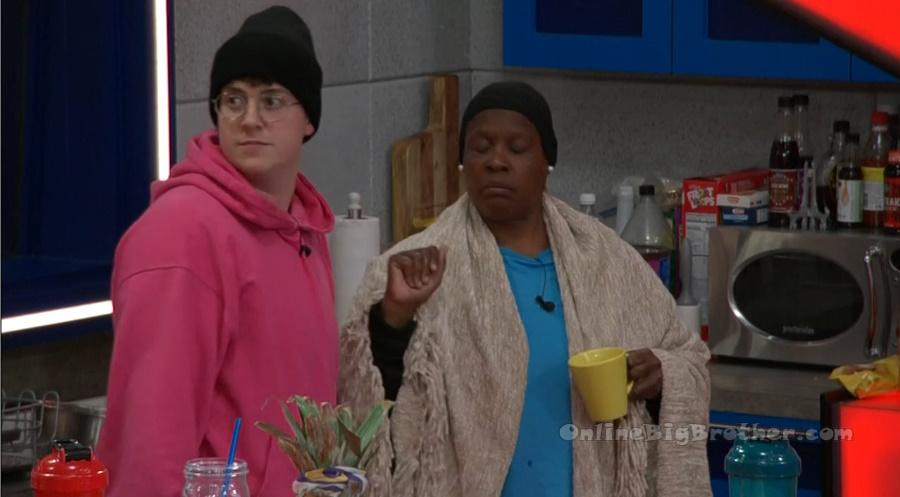 8:40pm Living Room – Jag and Izzy.
Jag – how are conversations going? Izzy – good, Hisam is fully lying about all his conversations with everyone. In some ways it makes me happy. But no he is dead set.. he has no idea and I think that is good. Jag – I think so too. Izzy – how are you feeling? Jag – I am feeling good. Izzy – I had a great conversation with America so I think this is just going to happen. They talk about trying to get together with Blue and Cirie to talk but with the backyard closed there is no where to talk without people walking in on their convos. Izzy – I think we have a really solid plan for Thursday. Jag – good. The main reason why I wanted to chat with the four of us is to see .. like talk about bringing in Reilly. Izzy – yeah. Jag – yeah I think we'll be chillin'. I trust ya'll. Izzy – yeah, f**k yeah. I think that Hisam is not thriving here. Like he is unravelling. In a way that he was placing that feeling onto Reilly. As f**ked up as this week feels I am happy because I do feel like he forced me out. Like Hisam forced me out of conversations with people. Like he is scared or created this false relationship between us. Like that is one of the things.. like don't tell people my business and don't lie about it. And also it just makes me feel like he is delusional because we're not that close. Like we don't hang out. It just makes me all the more motivated. Jag – after we talked I felt a lot .. like I felt a weight lifted off. Izzy – lets f**king fix it! Lets just fix it. I feel like Hisam felt stuck with us but we have a lot to offer… and now we're about to blindside his a$$. Jag – the fact that he said the things that he said are disrespectful. Izzy – I just want you to know that I don't have ego in all of this and I also want to prove it by making this happen this week. It is going to be fun. And like no one deserves to be threatened… Big Brother blocks the feeds.
8:55pm Storage room – Cirie and Izzy.
Cirie – once we do this to Hisam he is going to know that he has to play for his life. He can't play HOH but he can definitely play for the veto .. and that is if he is picked. If we don't do this.. Cameron is already looking at me like plant the seed of Hisam's danger. Cameron don't want to play with Hisam. The most Hisam would have is Jag and Blue. We will still have Cameron, Red, Bowie, Jared, Meme, … and it won't blow up everything. Just think about it. America is with Cory. And Cory will convince America not to do anything with Hisam if he tries. I feel that way. Izzy – I mean I think this is very logical. This blows up less things. Cirie – the only thing is Hisam is setting himself up .. but Matt will never go with Hisam. Matt will probably go with Jared and Cory who are already with us. I understand but we have got to think it through 100%. And when Cameron started telling me about Hisam threatening Matt. Matt kind of told me about that too. I think it would be better to let them go after Hisam then to have Hisam set out after us and maybe be able to pull Jag and Blue along. Izzy – I mean this was the original plan. Cirie bursts out laughing. Izzy – I think Cameron trusts me. Cirie – what is the best option for us. Izzy – Cameron is in a more desperate position than Reilly. Meaning Reilly even if she has less numbers.. will feel once again empowered by her people if she stays.. whereas Cameron if we keep him will feel grateful, won't have people because Jag and Blue don't want to be with him. Matt won't want to be with him because he is staying over his girl which is awkward.. and he needs us. The thing is I was just out on the couch with Jag, and I feel like I am f**King burying myself with him. Cirie – why? Izzy – because I was saying we're on board, this is what we're doing .. so then going back on it just feels like I am not trying to get myself out of that. Cirie – we have to come up with a reason as to why we changed our minds. Izzy – yeah. Cirie – we would have to tell him we're in a 7 person alliance which he already knows about and it was me, you and Felicia willing to do it but Bowie, Red and Meme wasn't going for it and we can't mess that up. Izzy – okay, yeah. Cirie – what do you think? Izzy – I think voting Reilly out would be the path of least resistance. Cirie – and then we have Cameron and Matt going for Hisam. What do you think? When I thought about the path of least resistance and the fact that Cameron and them want to go after Hisam its just a safer space. Izzy – well its once again potentially two birds with one stone.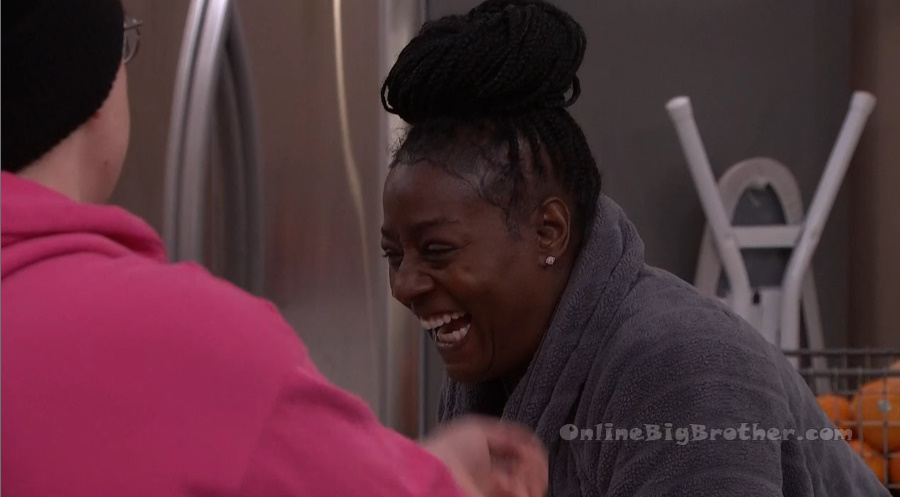 9:25pm Comic Bedroom – Cirie and Reilly.
Cirie – its like everyone was yeah.. and then Hisam threatened Matt or something. Reilly – what?! Cirie – they found out that Hisam threatened Matt about he would come after him if he used the veto on your or something. I just heard that right now.. that is why everyone is sketch. Its like I have them.. everyone is on board and then I don't know. But that is what happens when we have so much time. That is the f**king problem. Reilly – people bail. That is why I didn't want to talk to anybody. Cirie – but we had to… After tomorrow it is over. Reilly – this is the best chance to do it. Cirie – I know.. that's what I am trying to tell them but they're like no and I don't want to split from that group because I'm going to be out by myself. F**K! I don't know why they're switching. Reilly – Hisam wants to work with Matt. Cirie – they're so f**king scared of him. Reilly – Who? Who is saying they're scared? Cirie – Everybody. Reilly – F**K! Oh my god! He has ZERO power next week. Cirie – I know, I keep trying to give them that rational. Because they think that once he sees that we didn't and kept you .. then he is going to go like a mad animal to run for the veto and then the next week he would definitely win HOH and he is going to put up…. Reilly – ME!! Cirie – they don't think so .. they think .. his ego is going to be so f**king bruised that he figures he can get you but he is going to go after the people that turned against him. Reilly – he is going to go after me and Matt. Felicia joins them. Cirie – there is just so much flippity Floppity… I don't know if we can pull it off. Reilly – this is the best time to do it. I am fully prepared to do it. That is a mistake .. he is going to steamroll this house. I am fully prepared to take the wrath of whatever happens. Cirie – they're so scared that he is going to be so pissed off. Reilly – he is ONE person! Cirie – this is what was pitched to me .. that if we go with the plan (vote out Reilly) then he will relax because he already said he was going to.. But if we show him he doesn't have the votes he is going to go on high alert to win the veto and then the following weeks HOH. Reilly – he is ONE person. Cirie – I am really f**king trying for you. Reilly – I know, thank you.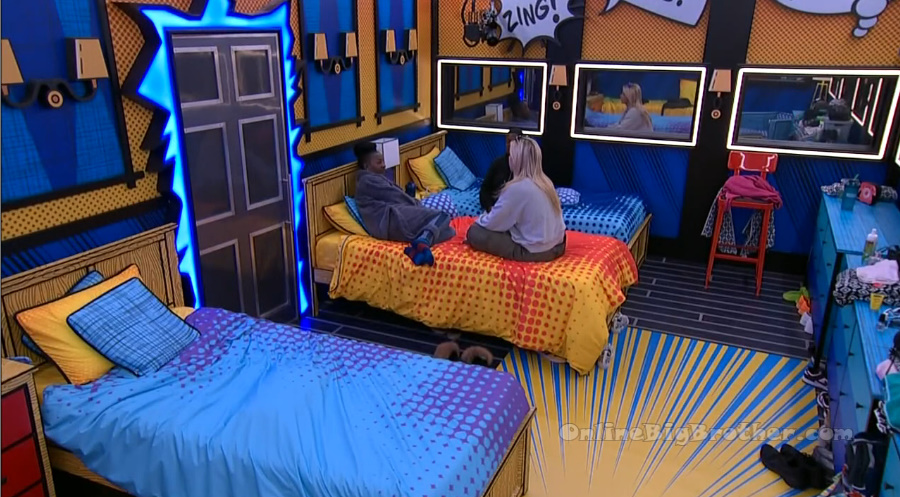 9:53pm – 10:15pm Storage room – Cory and Izzy.
Cory – Cameron and Reilly.. where the f**k are we right now? Izzy – Look out side of me and Cirie it is fine.. I am only saying that because between me and you she came to me with all of the reasons why it is smarter to keep Cameron and vote out Reilly and its all the reasons that we had already talked about. That we had already discussed and figured out. That I already felt very solid and rational about. Cory – but.. Izzy – then we got fired up and I do see the path with keeping Reilly. Ultimately I worry about firing up Hisam. I am not scared of him but I am worried about firing up Hisam by keeping Reilly. And that actually being a rational reason to do it. Like I don't want him to be fired up if he gets picked for veto and the extra I also don't want him coming directly after me and Cirie. Cory – so here is my thought.. I think that everyone thinks when Hisam wins HOH .. wins the veto, wins HOH that he is going to target them. I think I have more reason to believe than anyone that he would target me because he has been talking sh*t since night one. You're saying if you're the one he trusts the most and you betray him he will be so pissed right!? You don't think that once its a 12 – 0 vote .. he completely lost the house and people have genuine conversations like yeah you went f**king insane! I think a lot of people expect him to blow up. I don't think he is going to do that. I think he is going to do a lot of bullsh*t introspection and try to figure out a way for him to not go home. Izzy – I think there is a word where.. I mean I already know how little he thinks of me and Cirie. Cory – well you know what I want to tell him if he is pissed at me.. Because he is like Cory you gave me your word. And I will be like, yes and you gave me your word and you lied a billion f**king times. Its very straight forward. Is there a difference between him being fried up in two days or five days? Cory – so right now what do you want to do.. do you want to keep Cameron? Izzy – I think so.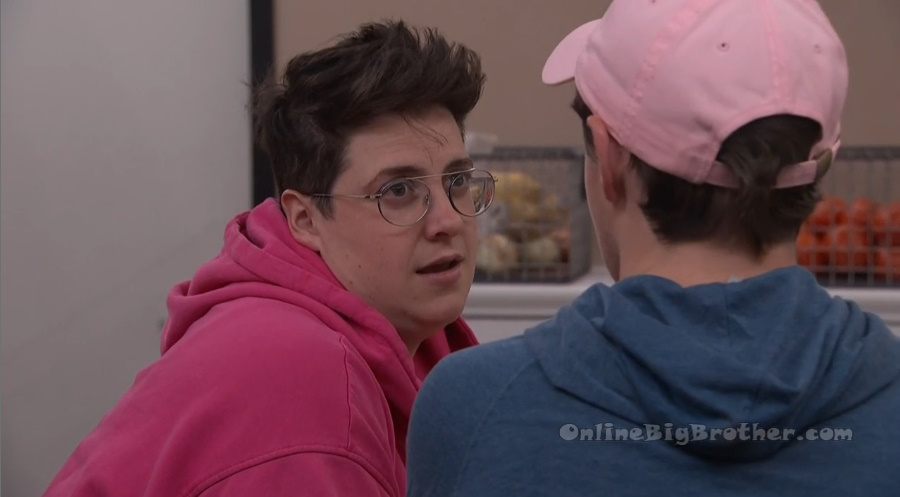 11pm Bedroom – Jag, Felicia and Blue.
Jag – Hisam is painted as this like really… as this like target .. I mean he is this competitor but it is the entire damn house against 1 guy what the f**k is he going to do!? You know what I mean?! He is not no superman that is going to win everything. Its impossible for him to win everything in a row. Do we think he is the greatest competitor in 25 seasons of Big Brother .. all of a sudden comes here and the entire house can't take him out? No, its not going to happen. And there is so many variety of competitions. True/false, luck.. there's like .. you know what I mean? Felicia – it might work to our advantage that the whole house is flipping. He might have no power. Jag – the way that I see it also is if we keep Reilly here we're gaining a really strong and loyal ally. Felicia – right. Jag – but if we keep Cameron he is a little… Blue – wishy washy. Felicia – but we realize after Hisam goes, Cameron has to go. Jag – exactly, if we keep Reilly she is playing hard. She is a competitor. I always believe in this.. if there are scenarios always go with the best scenario. I hate being scared like lets not go for best case .. lets go for middle. Hisam can't blindside us. He can't do anything. In order to do anything in this game you need numbers. Felicia – there is nothing he can do before Thursday. Jag – and then next week he can't be HOH.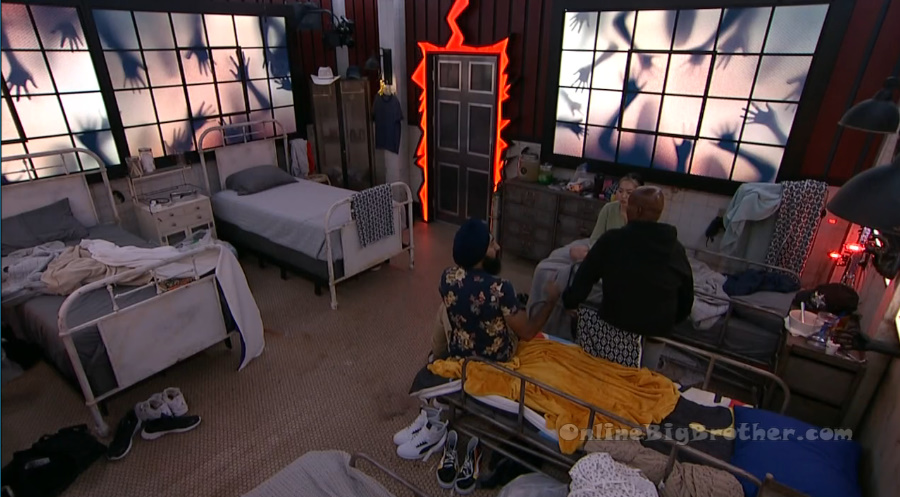 11:33pm Living room – Jared and Izzy.
Jared – I am telling you it has to be mutual. You understand that sh*t it resonates with me. Like am I getting played? Izzy – I don't feel it from her, its just me. Jared – its alright.. this house makes you crazy. Izzy – yeah I just want to do it. I just want to do it well. Jared – whenever I hear anything I am bringing it to ya'll. I have an unprecedented loyalty to ya'll. It is never going to change in the game. You hold the biggest secret to my game. You could end my game literally tomorrow. There is nothing else that I can do. Ya'll are over thinkers. We made our plan. I am trying to do my best to not get frustrated or emotional. Izzy – I f**King love Cirie. Jared – and we love you.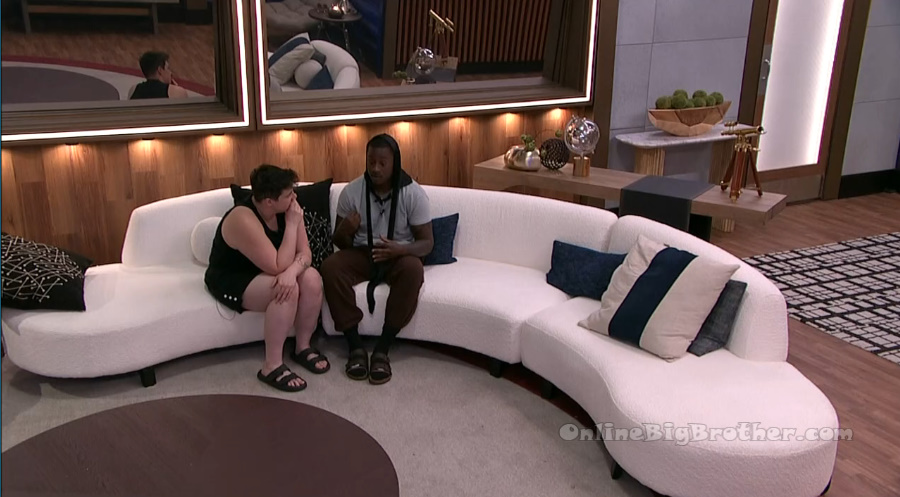 12:30am Most of the house guests are sleeping.
12:50am Bathroom – Matt and Reilly.
Reilly – I don't want to leave before him (Hisam). I want to take him down so bad! God Damnit. Matt – I see your passion. We will, we will .. we got it. I see you're stressed. We're doing everything that we can and that is all that we can do. You can only control what you can control. Like you can't control Hisam. you can control convincing other people to be on your side.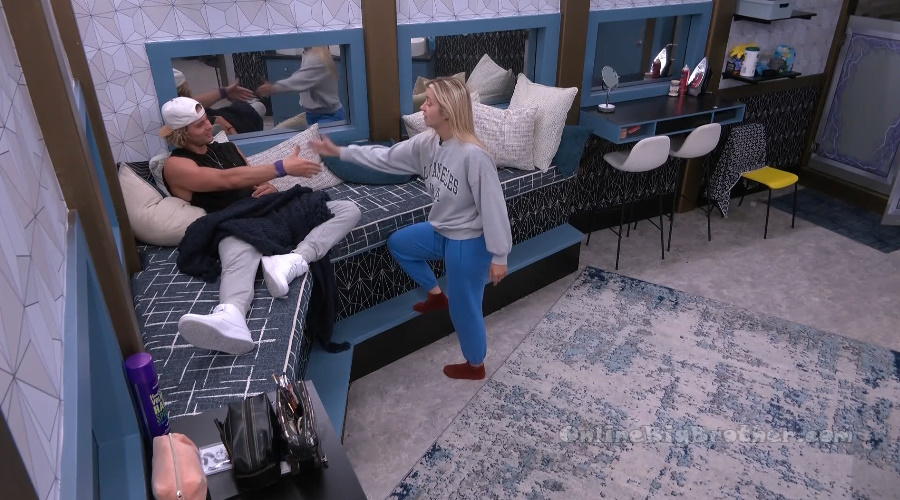 1:15am – 1:30am Havenot room – Reilly and Matt.
Matt – tomorrow is Wednesday right? Reilly – dude if we don't pull this off I will be so upset. Matt – we will. Reilly – I do not want to walk out the door. Matt – yeah that would suck. Reilly – I would cry. Matt – stop thinking like that. Reilly – I know. I think of everything. Matt – don't manifest that .. its bad energy. What is the game plan for tomorrow? Reilly – talk to Cirie, Felicia, Izzy, Jared.. Matt – me. Reilly – yeah talk to everyone and make sure everyone is solid. Matt – its just simple really. Reilly – its simple for us not for them. Its convincing them that its simple. The thing is they have too much time to think. Cirie was like if the vote was two hours ago .. you would be safe. I haven't even come up with a speech yet. Matt – its kind of hard when you have to focus on this. Reilly – I just don't want them to be scared. Everything else we can take care of. I don't know why Hisam hates me so much. Matt – I don't think he hates you. I think he is personally offended because you said his name and he wanted to work with you so he feels targeted. I would take it as personal. Don't let them see you panicking. Don't let them see you stressed. Just be yourself.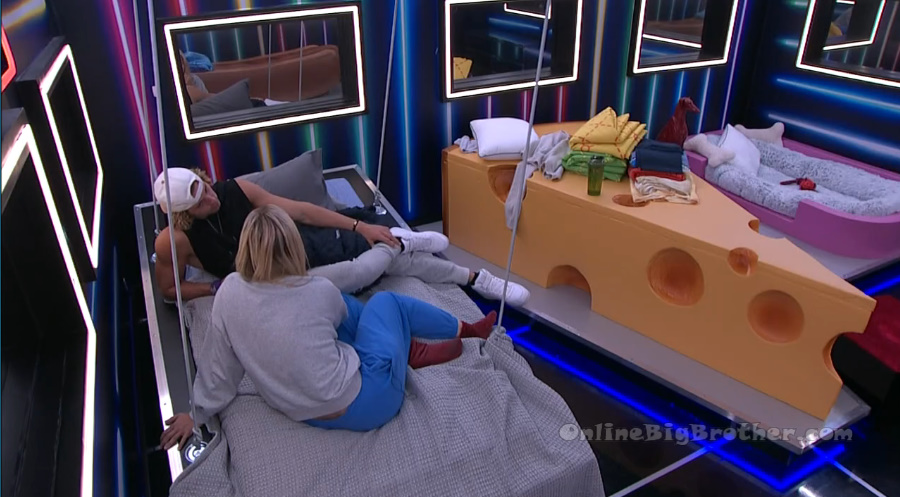 1:30am Sleeping..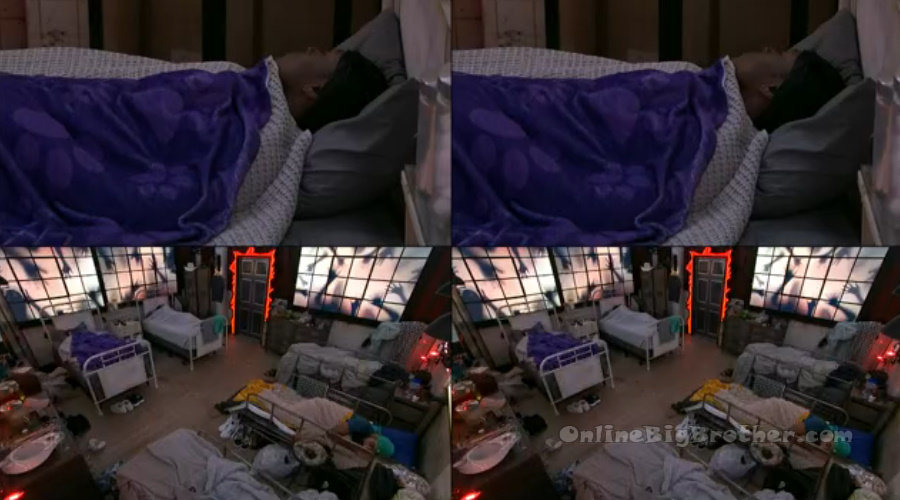 7:01 am Zzzzz
Show your support. Donations help us pay for the site costs to run this site. Any amount is greatly appreciated!
If you enjoy OnlineBigBrother, please consider donating to keep the madness going. Thank You!