Quick Big Brother Spoilers
Head of Household:  Hisam
Nominees: Reilly & Cameron
POV Players: Reilly, Cameron, Hisam, America, Matt, Blue
POV Winner: Hisam
Veto Ceremony: veto was not used.
Havenots: 
Lock your ranks in before midnight
The situation Looks like Cerie and Izzy are voting to keep Reilly. Reilly will now have the votes to stay. Looks on Hisam's face will be a highpoint. backyard is closed down.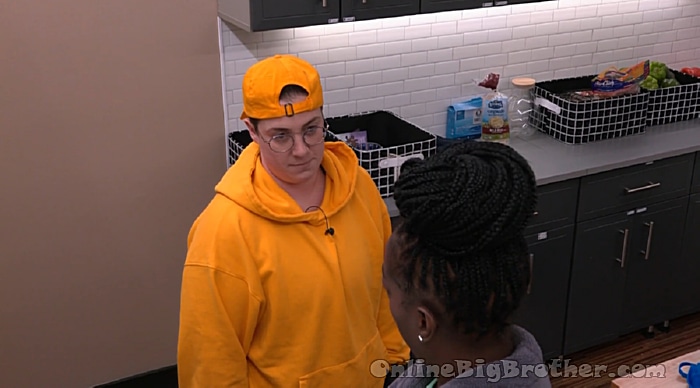 8:09 am Cerie and Izzy
Izzy – I feel better about this plan after talking to Matt. To Keep Reilly
Cerie – ok
Izzy mentions how different Cameron is with Blue, Jag, Corey, .. He's just just chilling having a good time "He was a Delight" when he's with their side he's "Always putting us down the kinda teasing I think go too far"
Izzy goes over her talk with Matt. "He told me Reilly came to me and said I have a really good feeling about Reilly. She feels really good"
Izzy – It wasn't bullshit.. I don't think he knows how to bullshit.
Izzy – He was like if Reilly stays it could be Me, You, Cerie, Reilly
Cerie – just need to fit Jared in
Izzy – I know
Cerie – Hisam just hung himself.
Izzy – Yeah
Cerie – You are in there dictating to us we don't make any named alliances.
Izzy – as if you know everything I'm doing in this game that I need you to without telling me anything you have going on. You're going off doing whatever that you are going to carry me to final two because you think it will be cool to have two gay people sitting in those final 2 chairs.
Cerie – Unbelievable
Izzy – F*** you
Cerie – What happened to the integrity.. where did it go?
Cerie – He was considering the brown people everyone safe..
Izzy – it's comical
Izzy – I'm way more on board with keeping Reilly now especially after last night but. I don't want to piss MEME too off
Cerie – if we do it do we tell MEME? I think we do
Izzy – we have to tell her.
Cerie brings up last night when Blue and jag came out of the HOH room the look on their faces after listening to Hisam going nuts. "I knew it I knew it"
Cerie – Maybe we meet with the bye bye b1tches that Includes MEME and Bowie. Fill them in so MEME understand why we are doing what we are doing
Cerie – I would rather keep Reilly over Cameron any day for both of us
Izzy – I said to him so are Jag and Blue still your targets next week
Cerie – what he say?
Izzy – He was like.. Yeah but someone else has to do it I can't be the one to do it.
Izzy – I don't work for you
Cerie – he doesn't want to get his hands dirty
Izzy – the only good thing about Hiam's nonsense and us. He's made everyone truly believe it's me and him and not me and you
Cerie – Cameron goes Hisams devastated because Rellys still here. That will benefit us
Izzy – he will be more fixated on him.
Cerie – and she will be fixated on him and her army.. she's going to keep them off us.
Feeds cut.. When we're back they are talking about the conversations they will have today. Jag and Reilly.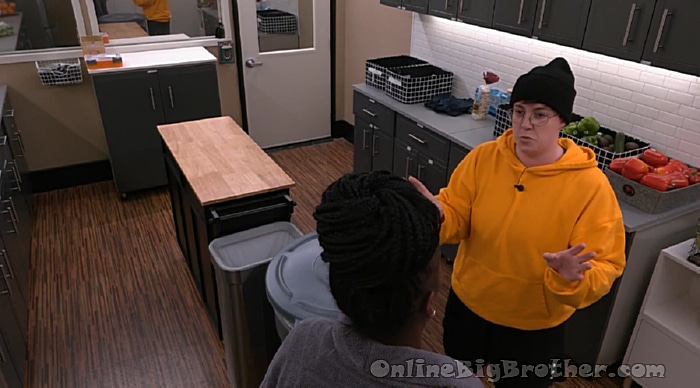 9:52 am Cerie and Izzy
Cerie – I asked Jag if anyone from our side approached you? He's like NOOOOO
Cerie – so he's still lying.
Izzy – are you concerned that if Reilly stays their not going to go back with her and still try to absorb Hisam and break up the house in three ways. That woldn't happen?
Cerie – all of them is four.
Matt joins them. Izzy leaves.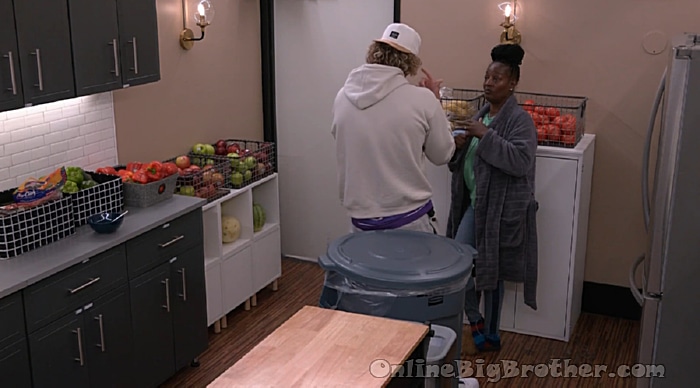 Cerie – I know we don't talk like game game.. If Reilly stays I will need to be secure with you. If we were able to rally enough people to keep Reilly here then you all have to protect me.
Matt – Yeah..
They talk about how they don't like how Hisam is telling them who to vote for.
Izzy joins them.
Cerie – I need that assurance
Matt – I can promise you that.
They go on about not liking Hisam. Matt gives them assurance he's secure with them.
They seal the deal with a hug.
Cerie – we will need to be protected
Matt – I know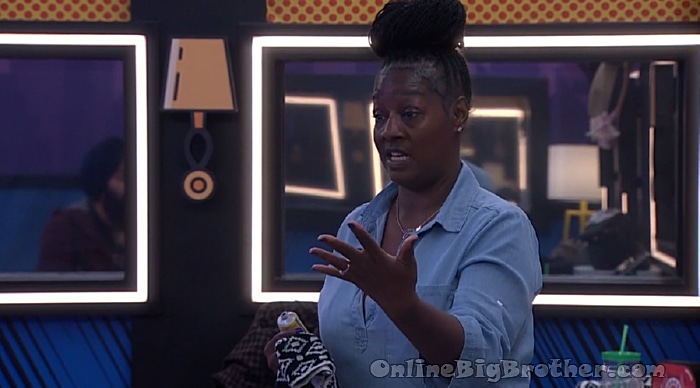 11:35 am Cerie and Jag
Jag – Me, you, Blue, Reilly..
Cerie – Reilly will pull Matt obviously I'm not a fool.. I feel more padded with that for when Hisam comes after us. He's going to come. he's going to be so pissed at her.
Jag – We'll need Felicia and Izzy to be in when we make an alliance it has to be small.
Jag asks what the smallest they can make their alliance.
Cerie – Reilly Stays. It's me, you, Reilly, Blue. Hisam will come after all of us he'll be so pissed if Reilly doesn't come home. I would say Me, you, Blue, .. I know Reilly will pull Matt I know matt will be a part of it. I want Izzy to be a part of it just because we've grown close
Jag – So should we do, Me, you, Blue, Reilly, Izzy and you are pulling Felicia..
Cerie – I think, me, you, Blue, Reilly, Izzy is going to need protection.
Jag – What do we think of Jared?
Cerie – Felicia likes Jared. Felicia will pull Jared. I like Jared to I think he's trustworthy.
Cerie – you have to pull somebody.
Jag – America. I can pull America.
They're team is a core with Izzy, Jag, Cerie, Blue, Reilly with an outer circle of America, Matt, Felicia, Jared.
Cerie – that could work.
Cerie – Hisam is going to implode when Reilly doesn't go.. If REilly don't go you are going to see him like tornado that is what she's scared of.
Jag – we are merging the two groups.. Nobody will suspect this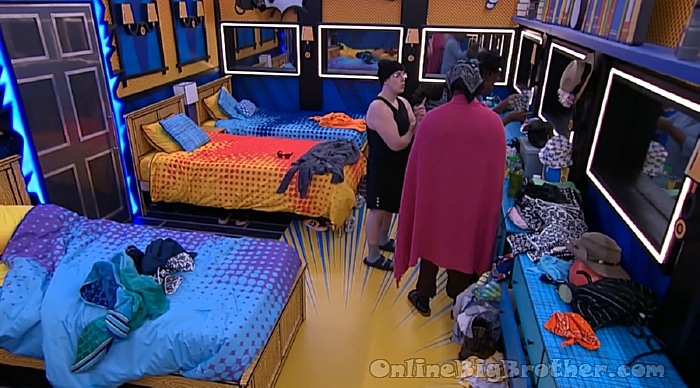 11:58 am Izzy, Jared and Cerie
They agree to join forces with Jag and Reilly.
Jared leaves. Izzy talks about how much Hisam will blow up when Reilly stays.
Cerie – I'm going to let him have it. You like it straightforward I'm going to give it to you straightforward..
Cerie plans to tell Hisam what he's accusing Reilly of he was doing the same thing.
Cerie – You told us to no protect ourselves and make alliances then you go do the exact same thing. You weren't transparent what happened to all of that Hisam. How DARE YOU.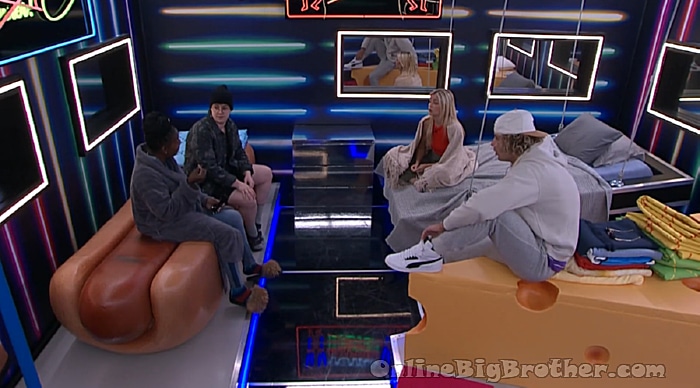 12:37 pm Cerie, Izzy, Matt and Reilly
The issue is they want this to be a blindside for Hisam but they don't want to Blindside Bowie, MEME and Red.
Cerie – I would prefer it to be a unanimous vote but the opposite way. That will knock him down some pegs. When he finds out the entire house voted against him.
Reilly laughs
Izzy – that is going to be incredible
Reilly – all I want is to see the loo on his face
Izzy – he will look at me immediately
Izzy – I'm not scared of him but I want to stay in this game. I think this is the right decision.
Cerie – our next decision is how do we handle Red, MEME and Bowie
Reilly – MEME her trust is with y'all so let her in on it. She needs to know. Explain everything to her. She's working off fear. Red will be hard to convince.
Cerie – He's going to tell Cameron and Cameron will tell Hisam.
They agree Bowie just wants to go with the flow.
They are going to have Bowie use her (If she gets one) Vote nullifier on Red.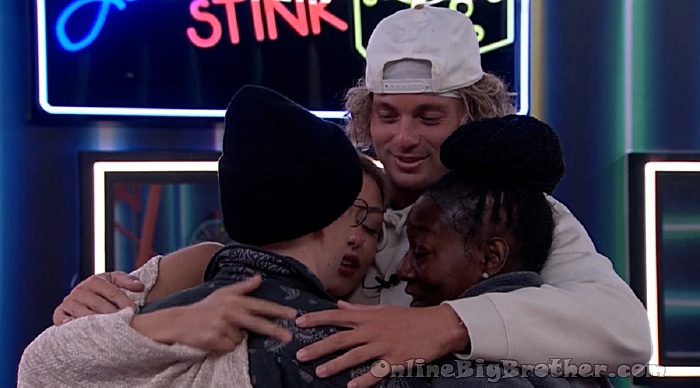 They seal their new team with a hug.
Cerie – "I like this squad"
Reilly – I love you guys.. thank you for doing this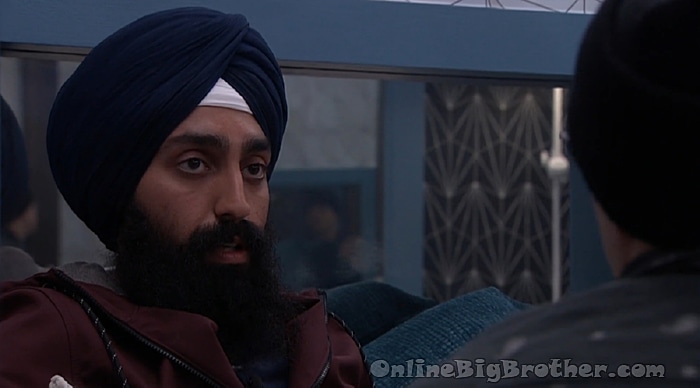 1:25 pm Izzy and Jag
Izzy says if they do this the house target next week is HIsam. "Are you okay with that?"
Jag – I don't ever want to throw a comp and Bowie wins or Red. Not a part of us
Izzy – Red doesn't want to win. Red's been telling me Ohh I don't want to win until later. Red might throw it. ideally Reilly or matt win HOH
Jag – Yeah that's a clear shot.
Feeds cut. When we're back.
Izzy saying that Hasim told her he needs to find people to protect him. "Meaning me and Cerie can't protect him we'll never win"
Jag – for someone whos careful with their words he's sometime irresponsible
Izzy – I'm a couple steps ahead of you SHOVE it
Izzy – it needs to be unanimous for him to feel fully deflated.
Jag – I think we can get there.
Izzy says she hopes that next week it's Hisam then the week after that it's a EAsy Red or Bowie.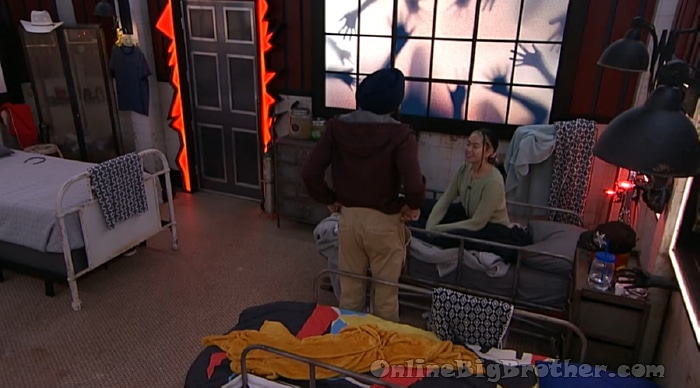 2:00 pm Jag and Blue
THey've been going over the vote. Jag says the alliance with Hisam is over. Hisam ratted them out.
He fills her in on the new alliance with Cerie.
Jag – this is an alliance we can take to the end.
Cameron walks in…
If you enjoy OnlineBigBrother, please consider donating to keep the madness going. Thank You!