HOH: Tiffany
HAVENOTS: None
Nominations: Sb and Ky via HOH, Xavier Via punishment
Coin of Destiny Coup D'etat: Claire won and kept noms the same
Power of Veto Players: SB, Claire, Hannah, Kyland, Xavier, Alyssa
Power of Veto:
Power of Veto Ceremony:
Big Brother 23 Houseguest Rankings – – RANK THE HOUSEGUESTS –
View the previous day ranks on the – Ranking Grid
Claire won the coin of destiny coup d'etat
– She kept the noms the same (Sb and Ky)
– Tiffany was dethroned as HOH and no longer has the room.
– Tiff can play for HOH again next week.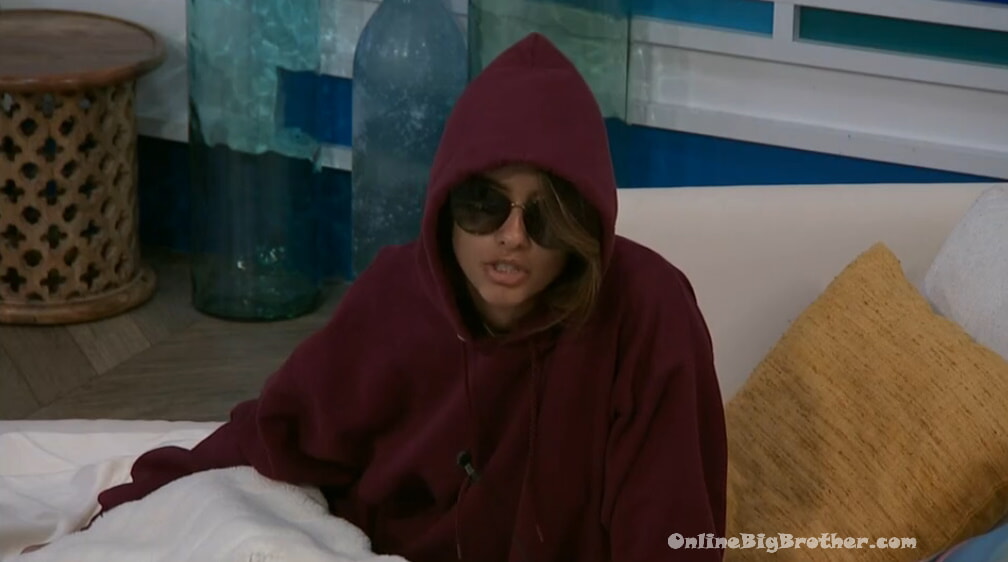 8:34 am Alyssa in the living room with X. DF is walking through.
Alyssa – since Tiff is dethroned it must be the three nominees
DF – the HOH has to play
X – but she's not HOH
DF – if the anonymous HOH can't play
Alyssa – that's what I said the nominees pick the three players.
Alyssa leaves for a minute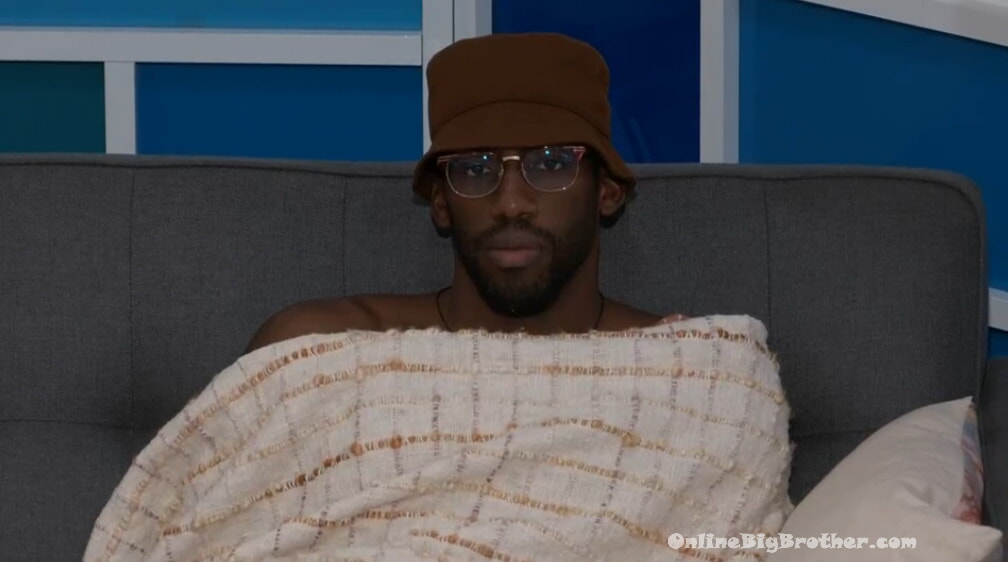 X whispers – Deductive reasoning If I go for the veto and win nominations stay the same.. If Kyland wins no one trusts him
Alyssa and X continue to speculate how the veto picks will go down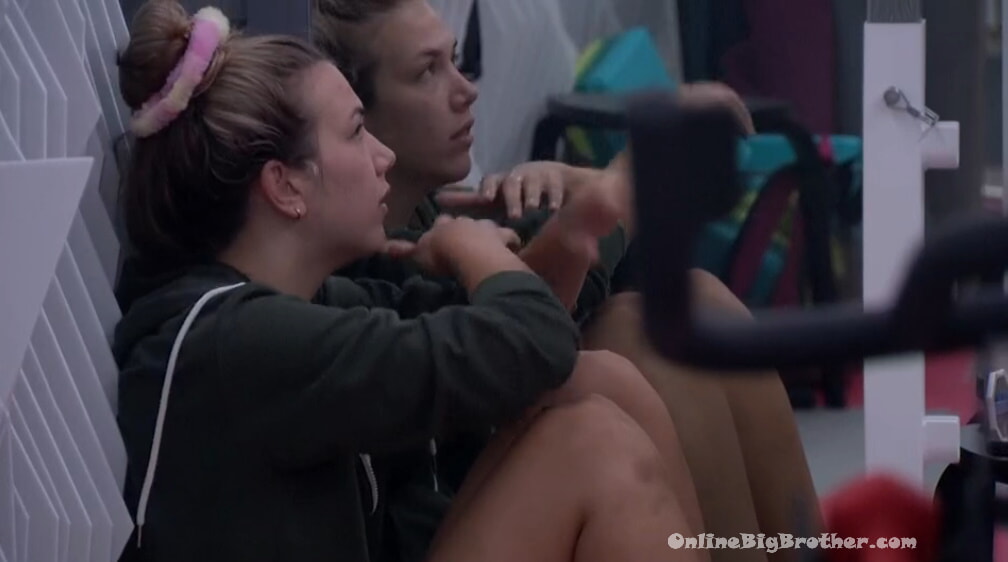 8:43 am Tiff and Claire
Tiff – I really want to compete today I really want to win
Claire – you want to do YOGA before veto
Tiff – yeah.. I feel good about it I'm not nervous I'm not intimidated I feel good
Claire – Clearly you can win things
Tiff – I don't trust Ky. Ky will try to win. that's why I am glad he is competing against X
Claire – you need four votes.
Tiff – is this a tie-breaker week
Claire – no
Tiff – who would you nominate who would be the replacement
Claire – Probably Alyssa.. (Zzzzz wake me up on finale)
Tiff – too many people said she would put us up. If Alyssa wins next week we're going on the block.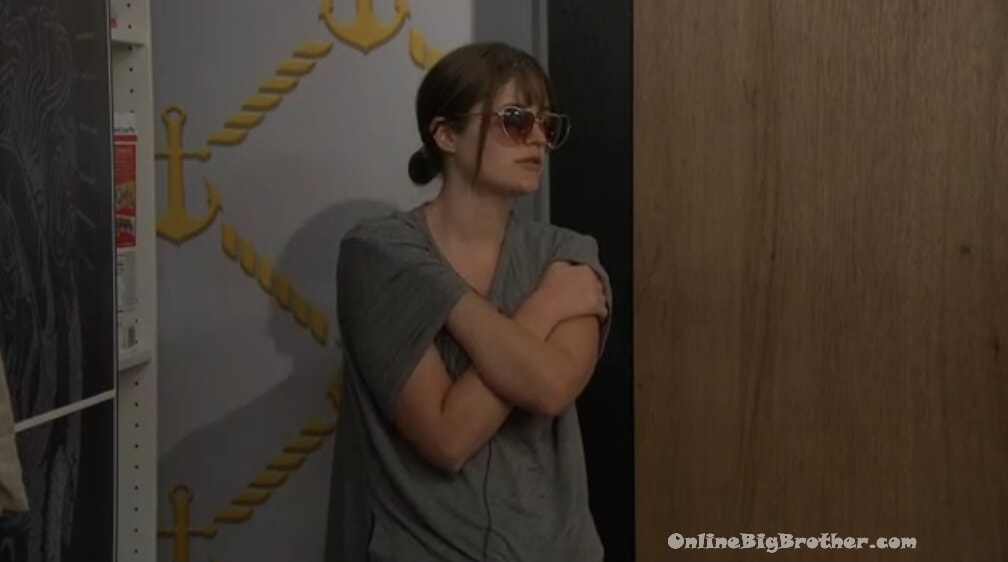 Sweet Sarah Beth thinks it's zing bot because then they don't have to pick a Host
Houseguests are either waiting around or getting ready.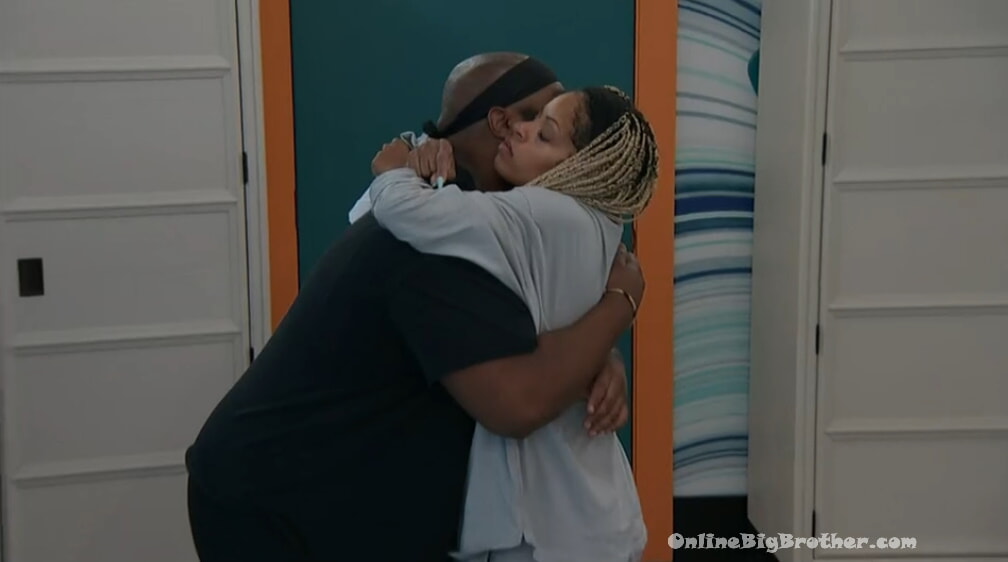 9:23 am Tiff and DF
(Feeds flip into this conversation)
Tiff – f** your attitude
DF – yeah
Tiff – let that sh1t go that's petty that's the last of that keep saying that about your attitude it's the worst sh1t you can be made about let it go.
DF – okay.. I'm trying I am I really am
Tiff – no what you're not trying is you're not trying to not.. You holding on.. it's old forget about it.. please.. okay gimmie a hug
TDF – I'm sorry I'm trying
Tiff – Bring my friend back
DF – I'm sorry I'm trying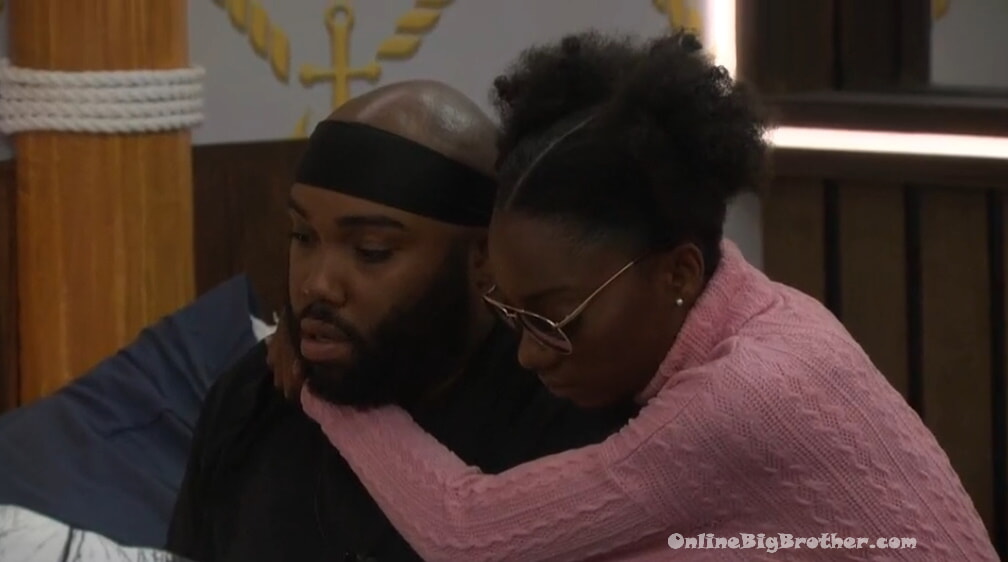 9:24 am DF and Azah
DF – I'm just beat up that's all I don't feel the same
DF – I just got to let it go. it's just hard that's all. I should be alright though
Azah – you got to push through you got to remember what you are playing for
DF – I'm embarrassed right. I feel like my reputation is
Azah – we don't have anything else to think about in the house that is why we get it stuck in our heads when something happens
DF – if it was game-related I would be cool I would get over it. I hold myself up to a high standard. We've been here for so long and we've made connections and all that I feel like certain people know how to make me sound good and certain people don't. Obviously, things I've been doing the fans like and how I've been projected. Now I feel like I'm going to be not edited or taken a certain way.. I'm jumping to conclusions
Azah – you are number one you got a whole other half of the season left
Azah – just play the game. it's not for the fans it's not for America we're here to play the game. We're not here to play for America you came here to try and win 750K dollars that's all that should matter..
Azah says she said the same thing to herself yesterday when she was down on herself about only getting 50 BBbucks from the fans. "If America don't like me OK but I've came here to play the game"
Azah – I got caught up in a lot of stuff.. Even X I got caught up with him and I realized BRAH if that guy don't like me he don't like me.. like man.. I like guys who pursue me. He don't pursue me so I need to move forward (his mistake)
DF – at the end of the day he's just something good to look at.. That's what they all are something good to look at we all know that(LOL)
DF – I might like Kyland and all nad have a crush on him at the end of the day please.. it is what it is.. I don't have time there's too much money on the line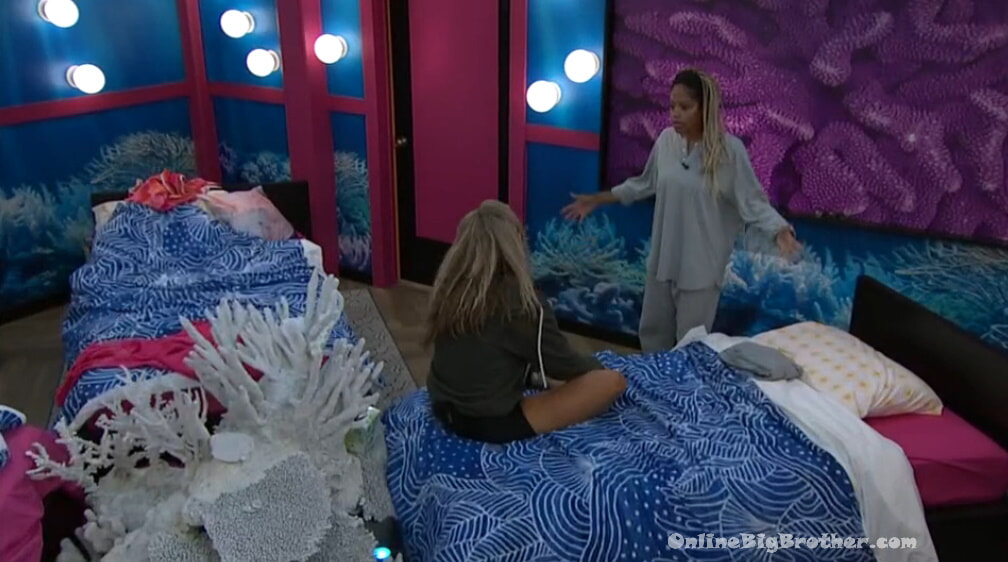 9:37 am Claire tells Tiff it's just the three nominees that get to pick
Tiff – What the hell
Claire – if your chip is drawn you play in the veto.
Tiff – I hope I get drawn
Claire – me too
Claire leaves..
Tiffany talks to the camera
"I get to play in next HOH"
"master plan in place everything looks good"
"This has never been done in History day one people aligned and they stuck it out the entire season" (6 people to)
"Not going to say it was easy. at some points I was meh I might have to play my personal game"
"we all stuck together we all still here"
"Sarah Beth has to go then, Claire or Alyssa next"
10:09 am
POV players picked
SB, Claire, Hannah, Kyland, Xavier, Alyssa
Tiffany is upset she didn't get picked. Xavier picked ALyssa's name says that every time he picked this season he either gets Alyssa or houseguest choice. He's picked Alyssa three times.
Alyssa to Azah – I'm always bumming it before veto and I get picked.. it's the non showering, non brushing your teeth wearing what you wear the last night. that's the look it works every time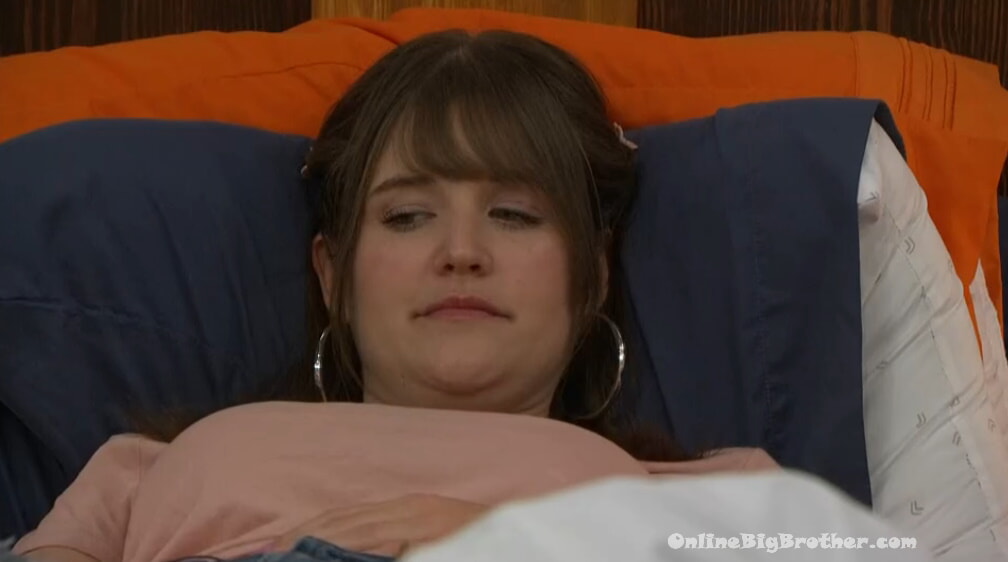 10:26 am DF, Azah, and SB Chit chat about Zingbot
DF wonders the Zing Nicole had. Sb can't remember
DF – it's crazy how far she made it all those times. It blows my mind
DF – Nicole's personality and the game she's playing.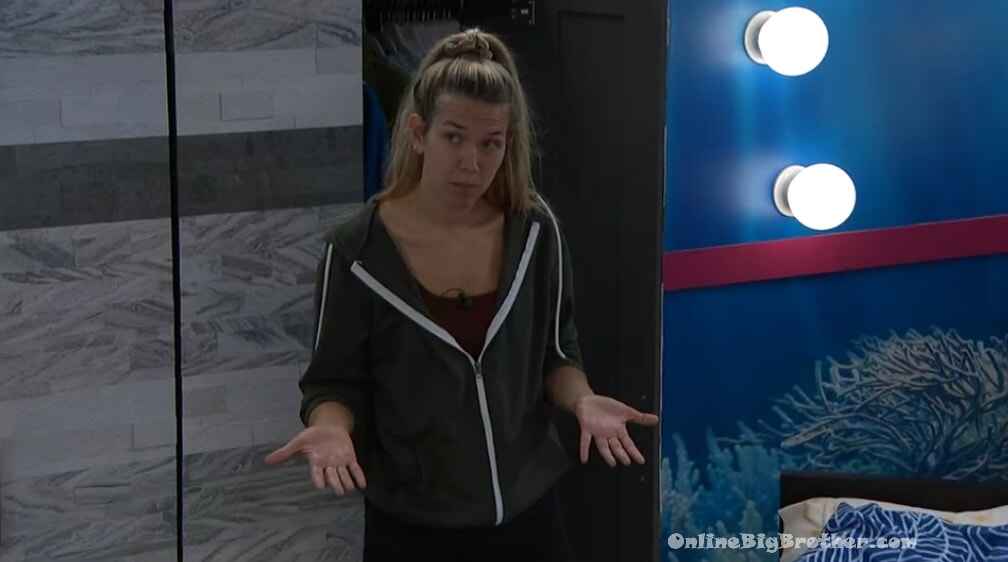 10:50 am Claire to the camera
Claire – I have a tricky road to the end but that's Big Brother (LOL you have no idea)
"is there an onion alliance.. no do I feel like there are two sides? yes"
Claire says that is what she likes about this season of Big Brother as long as the pendulum keeps swinging from side to side. "And we're not just picked off"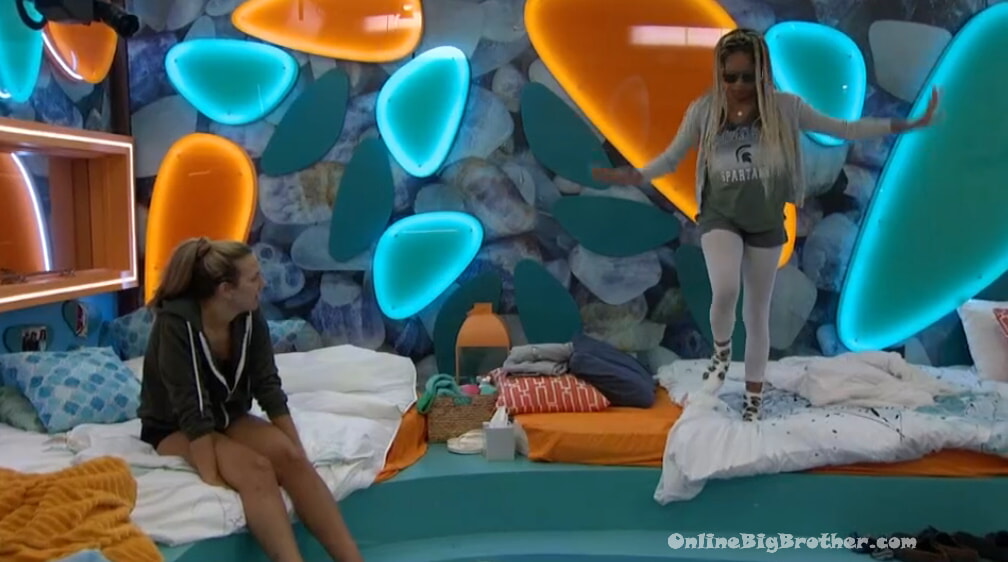 Claire walks out to chat with Tiff. Tiff says she's excited Claire gets to play Mentions how SB was happy she didn't get picked.
Claire says the order of POV winners "I win it. Hannah, X then Alyssa.. then Kyland and Sb"
Tiff – SB can't win it.
Tiff goes on about liking "Punky Brewster"
Tiff – punky brewster was so dope.. regular white girl but she was punky brewster.. loved Punky brewster that was my girl (LOL)
Tiff – this is a great week for us..
Tiff – Claire it's a nice life..
they laugh
Tiff – I am real extra in my life today
11:12 am Xavier to the camera
X – I may throw the competition to him (Kyland) that way people in the cookout don't trust him anymore
X – is that evil? slightly. it depends how comfortable I feel being on the block still.
11:20 am
X and Alyssa studying Camera flips to people on the memory wall.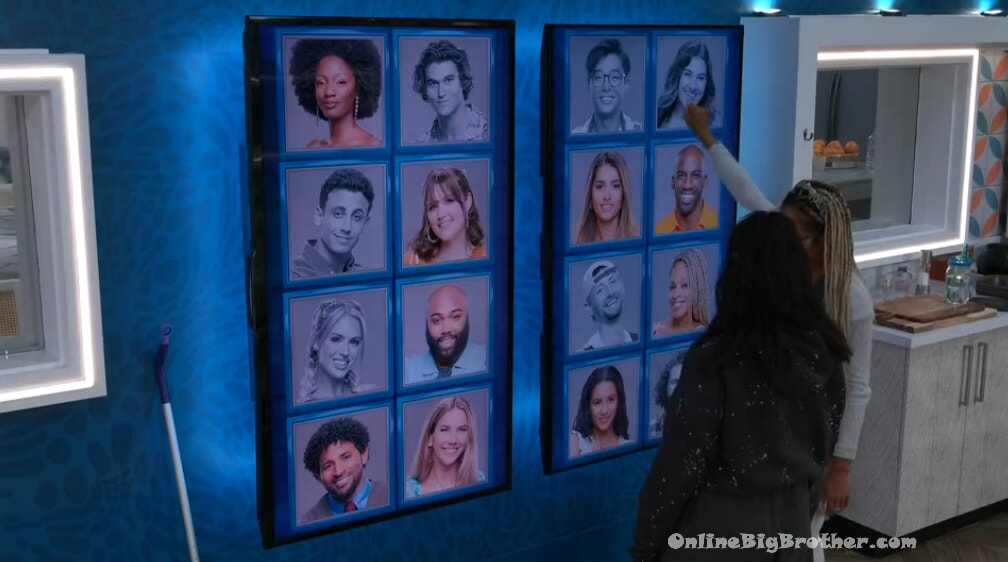 11:24 am Hannah and Tiff studying noses
Tiff – she's got a honker.. (Brit)
Tiff says Kyland's nose is like a bull because it flairs up.
Hannah says SB, Brett, and Whitney's noses all look the same
Hannah says Travis looks nasty "Nasty a$$ Travis"
Hannah – BIGD and BABYD have similar noses

Hannah says Travis looks like a serial killer
Kyland says it's not a good angle.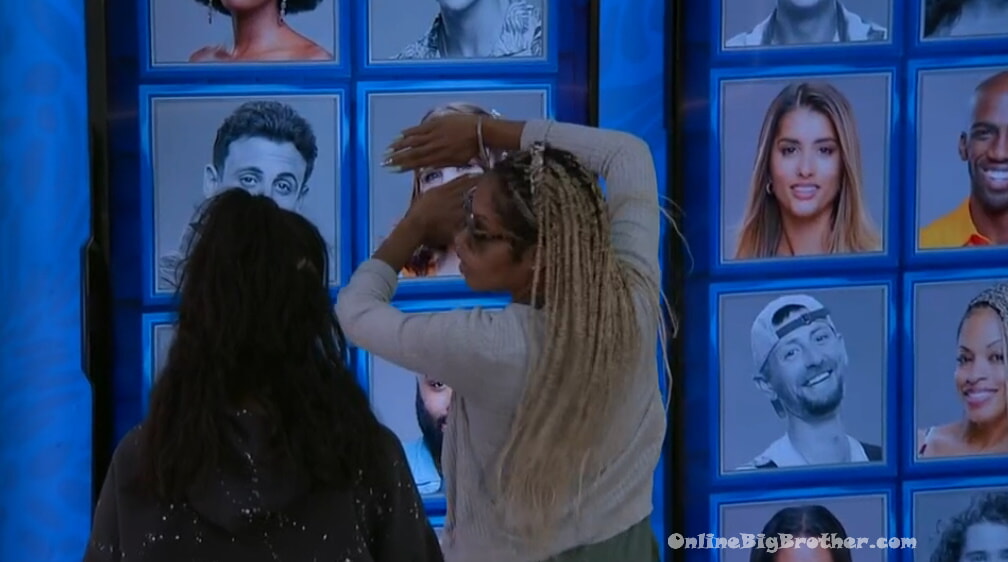 Tiff says Sb's eyes look like a serial killer
11:50 am Sweet Sarah Beth Studying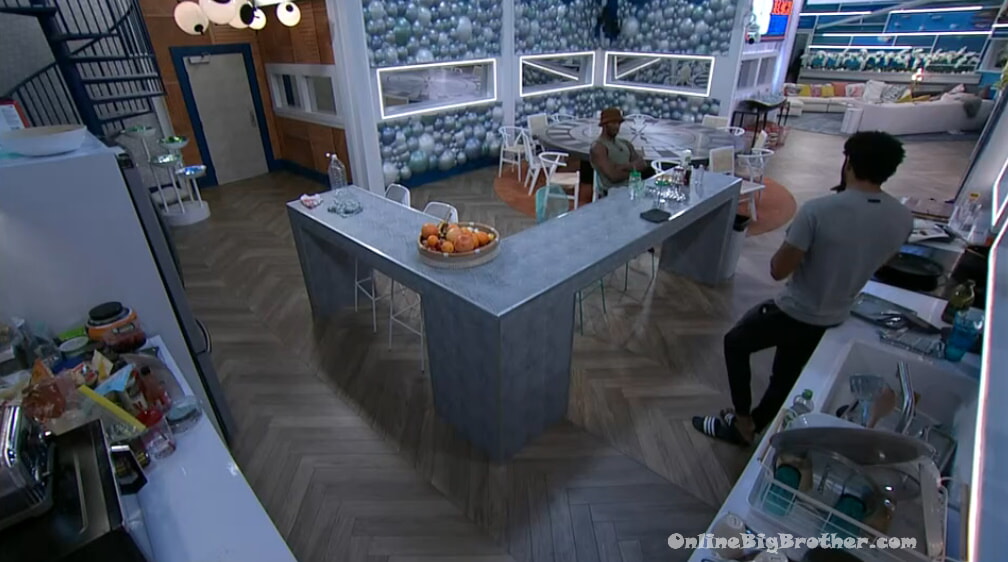 Noon in the kitchen
Kyland and X are talking about their ex girlfriends
Kyland says his last few girls he dated were 2 whites, 2 African American, 1 Mexican
X says his last two women he dated had black hair and blue eyes
X – my ex looks like Holly from season 21 my ex before that look like combine Analyse and Holly.
Kyland – so ugly
feeds flip then cut.
12:55pm The house guests are sitting around chatting / waiting for the veto to start..
1:14pm The live feeds switch to kittens. The veto competition is happening now…
3:25pm Still blocked..
4:38pm Still nothing.
Consider a donation to keep the madness going. BIG thanks to the people that have already chipped in.