POV Holder:
Paulie
POV Competition
Aug 6th
POV Used
NO!
POV Ceremony
Aug 8th
HOH
Victor
Next HOH
Aug 11th
Original Nominations:
Michelle AND Zakiyah
After POV Nominations:
Michelle AND Zakiyah
Have Nots
Bridgette, James, Corey
POV was not used nominations stay the same
Watch the next week of the feeds for FREE – 1 week Trial!
12:30am HOH room – Vic and Paulie.
Vic says yesterday I was talking about how perfect it is that your boy f**ked up because if a double evict comes and one of us gets it. Right? Like you or him and you put up him (James) against Natalie. We have, Michelle doesn't like him. Bridgette would get him out. And then me and somebody else. You or Paul .. that's all we need. Paulie says yeah or have Bridgette up with Natalie and then BD (backdoor) James. But if Bridgette is still up there then she goes home. Bridgette told Corey she doesn't want to win the double eviction. Vic asks why? Paulie says she said she would want to win the one right after. I don't know what the reason would be. I think if she went after the one after double eviction she would target Nicole and Corey. Vic says anyone that isn't us, isn't a bad thing. Paulie says even if Paul or I wins we could talk to James and ask him to go up next to Natalie because we want to backdoor Bridgette. Vic says I don't think he would fall for that, he's not dumb. Paulie says someone is talking to Natalie about an all guys alliance. There was an all girls alliance. Vic asks you don't think Corey was leaking it? Paulie says no, I was talking to Bridgette and she was talking about how observant she is. Paulie says I just don't know what Michelle would do if she won.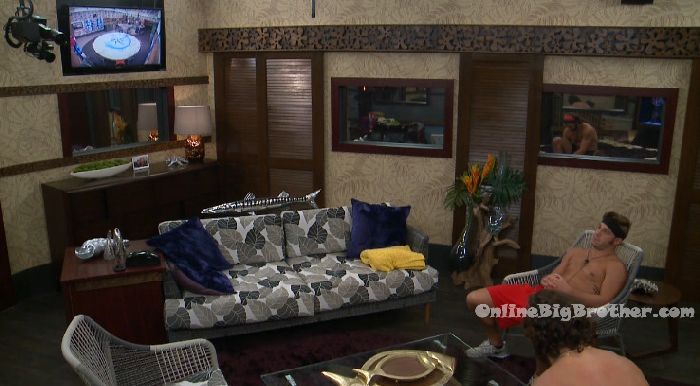 12:45am – 1:15pm Bedroom – Nicole, Corey and Paulie. Nicole asks Paulie what Vic was saying. Paulie says he was talking about.. Nicole says that he wants Z out? Paulie says not going to happen. Corey says not going to happen. Nicole says Z is completely cool with you not using it on her. She's like super cool about it. She asked me what would Corey do? I said oh I would not expect him to use it at this point and make anyone angry. Paulie says but you guys do know if it was down to you, I would 100% use the veto. Nicole asks are you going to try and get Paul on board? Paulie says I'm going to try to. Nicole tells Paulie about her conversation with Paul and his points on why he wants Z out. Paulie says I just don't see his points. I don't even let anything she (z) does bother me. Corey says Bridgette told me she didn't want to win during the double evict. Nicole says I don't believe that. Corey says she said she wanted a letter. Nicole says you get one. Corey says I said that. Nicole says that's good Bridgette and Vic won't be playing for it. Nicole says if I were to win I would just do what you guys want to do. Paulie says I think Bridgette would be next. The only other thing would be if the possibility presented itself to put Vic up there. Paulie says Michelle said she is going to blow sh*t up so I was going to talk to her after the veto ceremony. She's afraid of going home so I was thinking of telling her hey its nothing personal but you're next to Z and that's my girl. I'm not going to campaign to get her out but I will campaign to get you out. It looks like you're going home. And then see if she blows up. Corey says then she really will be mad at Vic and Paul. Nicole says what if they tell her they want her here and then she has the round trip and is mad at us?
2:30am Paulie and Paul play a game of chess while Z watches them. Paul checks the tunnel to the secret Paris room and says they bolted this sh*t shut. They're not f**king around.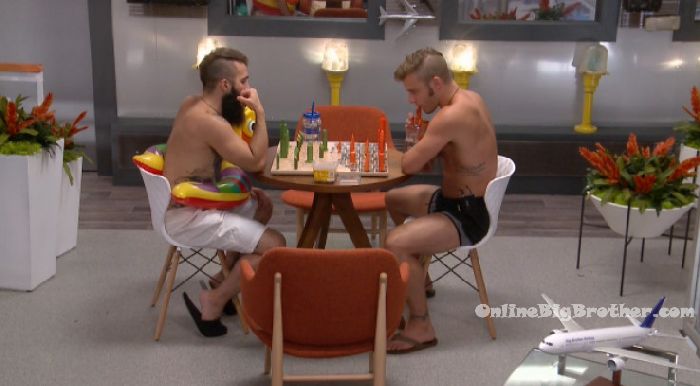 Natalie and James are talking about random things. Natalie says she is going to put this on her performance resume. She says she knows she isn't going to be famous from this. James says you never know.
4:15am James and Michelle are talking. Michelle asks you really think I still have a chance in the game. James says I think both of you do. You need to go out there and tell people what your game plan is. You don't have to show all your cards. Or even say if you don't know what you're doing. Michelle says she thinks she is up because of a personal issue with Victor. I had called him out about the whole whispering thing. I threw that whale and he got mad at me. I said some people have a big mouth. I'm pissed that he said that in his speech because it makes it sound like I'm always mean to him. James says I think the only deciding factor would be who you're putting up. Z would be like I'm not putting any of you guys up. Michelle says If I won, I would probably make a big move. James says I hope not with me. Michelle says I wouldn't put up you or Natalie. I don't even know what I would do yet. If you keep me I would be your pawn. I literally just want to stay till Zingbot. James says that's final 8.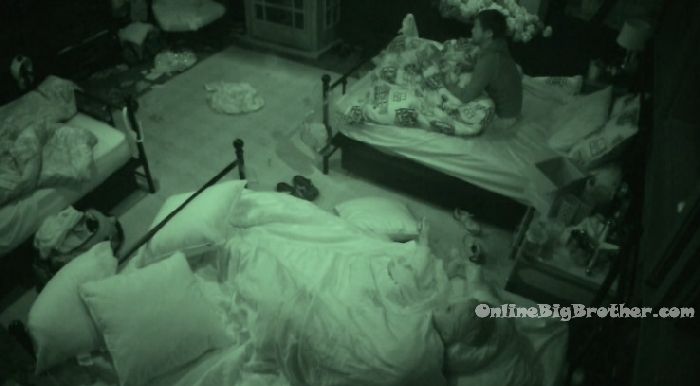 4:40am Storage room – James says Michelle said Vic said everyone in the house has a duo and he is going to try and pull in Bridgette. Natalie says that's why I said we needed to pull in Bridgette. James says Bridgette isn't going to want to work with me though. James says I'm almost set now… like maybe we should send Z home. If Z goes home, she won't be connected to Paulie. I think Paulie is going to have Z do his dirty work. Like if he ever wanted to take a shot at me, you, Corey he would get her to do it. But if Z is gone he doesn't want to do any of that. If Z is gone it would force him to attach to someone else. We can send Z home. Me, you and Paul that's all we need. And I could cancel Paulies vote out and either Corey or Nicole's vote. You just need to stay on Michelle's good side. Natalie tells James he can't fight with her any more. They head to the kitchen. James tells Natalie that he is going to tell Paulie that he is going to cancel his vote out so that he doesn't have any blood on his hands with Z.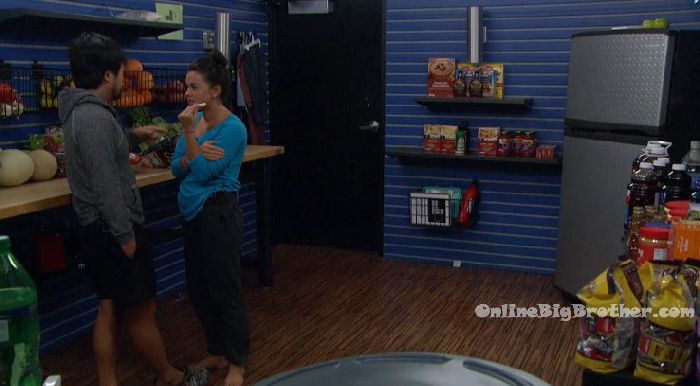 FLASHBACK and watch everything you missed: CBS All Access FREE Trial!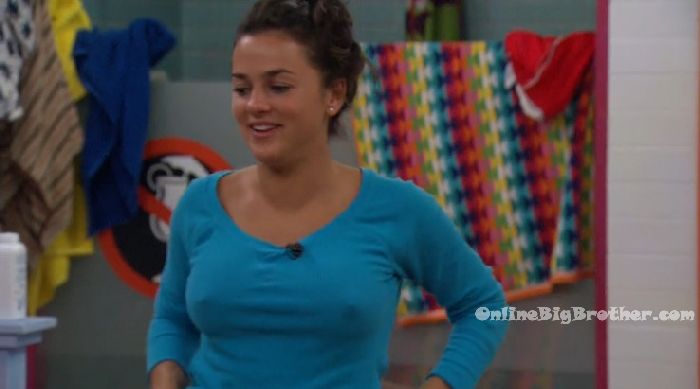 5:10am – 5:25am Paulie, Paul, Z, Natalie, James and Bridgette are hanging out in the kitchen chatting. everyone but Bridgette head to bed.
[polldaddy poll=9491180]
[polldaddy poll=9491957]