POV Holder:
JON
Next POV
?
POV Used
?
POV Ceremony
?
HOH Winner:
Sabrina
Next HOH:
Next HOH is final HOH
Original Nominations:
Jon and Heather
Current Nominations:
Jon and Heather
Have Nots
Jon & Sabrina are on slop
Punishments from the veto:
– JON is on slop and can't shower till he leaves.
– Neda has to wear the dress costume till she leaves.
– Heather chose not take the punishment of a squirrel costume.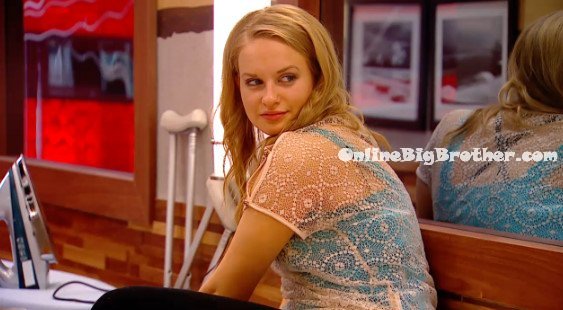 10:35pm – 11:05pm Sabrina tells Heather that it is going to be so hard to beat him. Heather says yup, he and Neda! Heather says I know exactly the spot that she's in .. but I'm happy my friend is in the end. Heather says I wanted to get to the end so bad after being so badly treated in the beginning. Heather says it sucks because I needed the money so bad .. I would never campaign against Neda any ways. I love her too much to do that. Neda comes through the bathroom and leaves. Heather says I love her so much! She's my Rachelle. Sabrina says yup. Neda comes back and Heather asks I wonder if I had taken that squirrel costume if I would have won .. Neda says that would have been horrible to have to wear that. Heather says I am just glad that I don't have to wear that out on to the stage. Heather leaves the room and Neda and Sabrina continue talk. Sabrina asks Neda if she ever would have evicted Jon. Neda says no. Sabrina says I knew it ..it was like me and Rachelle. Sabrina says I just need to win 2 of the next 3 comps. Neda says crazier things have happened.. Neda says she will pay off her debt and help her mom. Neda says that she has $42,000 in debt. Sabrina tells her to pay that off first if she wins the $100,000. Neda says her sister is 40G's in debt too from school. Sabrina tell her to pay off her mom's debt too.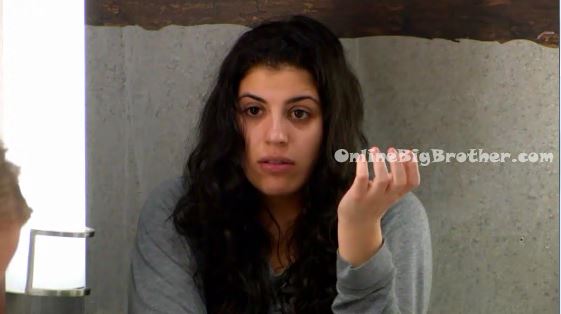 JON says OMG don't put that on your eye!! You'll get PINK EYE! Neda asks what is it a PENIS? @bigbspoilers #BBCAN2 pic.twitter.com/oj9NGBpmnh

— Dawg (@DawgsBigBrother) May 4, 2014
11:15pm – 11:30pm The house guests head down to the storage room for Neda and Sabrina to look for something to eat. (Jon & Sabrina are on slop) Heather tells the other house guests by the way I do think the eviction is tomorrow. Jon asks HUNDO? Heather says Hundo! Jon and Neda are alone. Jon asks Neda what Sabrina said she would buy with the money? Just the Rolex? Neda says she just talked about how much tax she would have to pay on it. Jon tells Neda she better not (Take Sabrina to the final 2). Neda says oh my god you are so paranoid. Neda says happy?! Jon says Jeda is such a sick name. Neda says it would be weird if you weren't happy. I am sad that its coming to an end but happy to be able to see my family. Jon tells Neda that Heather would have been far more pissed if you had been the one to send her out. Neda agrees but says it would have been nice to win. Neda asks why didn't she take that outfit? (The squirrel costume) Jon says I don't know it doesn't make any sense to me. Neda says I'm happy she didn't but it just doesn't make sense. Jon says the way I think of it .. is if you don't want it that bad you shouldn't be here.
JON FEEDING Neda..@bigbspoilers #BBCAN2 ..the game? pic.twitter.com/IIPEmxHyDG

— Dawg (@DawgsBigBrother) May 4, 2014
11:40pm – 12:10am Sabrina tells Heather – I'm going to be so sad when you're gone. Heather says me too. The only thing I am happy about is .. Sabrina asks that you get to be apart of the after show? Heather says yeah and that she gets to leave before 4th. Jon says leaving third sucks. Sabrina says you're so rude. Jon says I'm not talking about you.. I'm talk in general. Leaving 3rd you're so close to the money .. and you'd regret it for the rest of your life. Sabrina watches Heather eat and says I'm so hungry I could die. Heather asks I wonders if Will will want to take the next step when I get out. Sabrina tells Heather you've known him less time than you've been in here. Heather says well not right way but maybe by the end of the year. It's not like I would bring it up or anything. Sabrina tells her to just take it slow. Jon heads out into the backyard and walks around .. when he walks by Andrews HG photo he says "F**K YOU ANDREW!" Jon joins them back inside. Heather comments on how she gets to see Allison and Delimore again. Jon comments on how that veto was anyone's.. if you really knew the game you could win it. Heather says her downfall was playing with emotion.. Jon says he is going to ask to see the jury house. Sabrina and Heather tell him no, that's one thing you don't get to experience.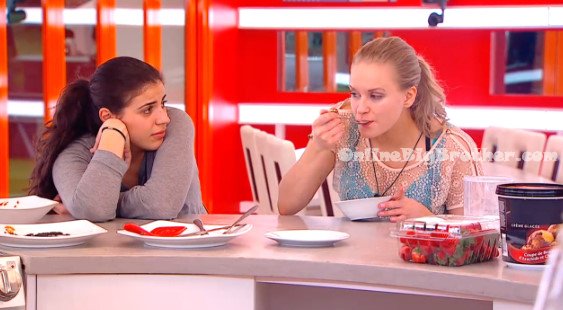 12:20am – 12:45am In the bathroom – Heather asks Neda if you had won would you have brought me? Neda says I don't know.. I would have been a very emotionally draining choice to make. Neda says I was scared if I was in final 3 with you and Sabrina .. you would have take her. Heather says I never would have taken her. Heather says I would have done anything to be next to you at the end.. ..going with Jon would have guaranteed me second place. Sabrina joins them. Sabrina says that she knew Jon was going to win the veto. She says I think we all deserve to win .. but if it comes down to it, I won't even be upset. Neda and Heather head to the bedroom. Sabrina says you promise you won't leave me all alone .. and its just you and Jon together? Neda says no, pinky promise.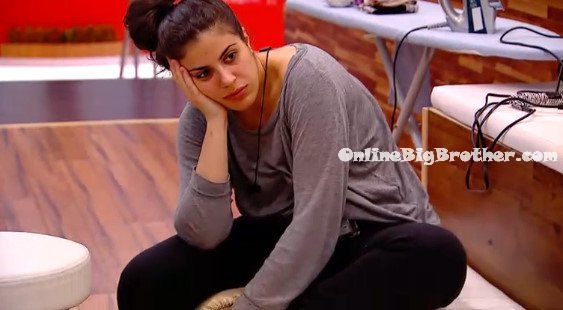 12:50am Heather talks to Neda about how she wished she could be staying because she really really needs the money bad. Heather says it sucks because if we had picked Adel it would have been us three (JOn, Neda, Heather) in the end. Jon comes into the room and Neda asks if they can be alone for a bit. JOn says hurry up I want to go to bed. Heather says no matter what I won't be mad at you. Heather says you know I will go to jury and tell everyone how amazing you are.. Heather tells Neda that she thinks Sabrina would win against Neda but that it would be 50/50 if she was in final 2 with Jon. Heather tells Neda to really think about and prepare her speech. Neda tells Heather that she threw everything up until she won. Heather says me too.
Meanwhile Sabrina thought she head Jon call her SABRRITO .. Sabrina gets out of bed and goes to the backyard to ask him if he called for her. Jon tells her no. He tells her that Neda is campaigning for jury votes right now. Sabrina asks you know that and you're still going to take her? Jon says we'll see.. Sabrina heads back to bed. Jon gets called to the diary room.

1:10am – 1:20am Jon joins Heather and Neda. He tells them he's not allowed to take any showers or baths. They ask Neda if she is allow to be on top of her bed without the dress on. Neda says oh .. right and then gets into bed. Heather leaves to go get ready for bed. Jon asks Neda what could you have possibly been talking about that I couldn't be apart of. Neda says it was just Heather telling me she would have taken me. Jon says maybe I should take Heather. Neda says nope, she just said that she realized in the comp that she would have taken me. Jon says I am just telling you no more of these talks are going to happen .. If you try and talk to Sabs I am going to come in the room.. just telling you. Heather joins them. Heather says I am not too excited to go to jury with Rachelle there. They continue to talk about the season / about getting out of the house. Jon comments on how he hasn't tugged in a week and a half. Heads & Neda congratulate him. Jon says Janelle won't be too impressed .. f**king 8 seconds. Jon sticks his hand down his pants. Neda tells him to stop touching himself. Jon says nope! Neda comments that she got Jon to stop doing pretty much everything but touch himself.
1:30am – 1:45am Neda tells then about how Sabrina had her sister write codes into her letter. Jon says that is totally against the thing we signed .. you could lose everything! Heather says that's bullsh*t that I am going home and she did that. Jon and Heather are pissed. Neda says well lets go rip sh*t up in the diary room. Jon says we weren't allowed any communication from the outside world. Jon asks and she admitted it to you? Neda says yes, in the bathroom she said I don't know if this is bad or not but.. Neda says that she is going to talk to the diary room tomorrow about it. She says that she already mentioned it to then and she was ignored. Heather says it's not fair but whatever! Jon comments on how Neda is up on the block. Neda says that she never had to pack her bags before. Jon says I can't believe I never went up on the block once..
1:50am All the house guests are going to sleep now..
[polldaddy poll=8014722]
If you've enjoyed the Big Brother Canada Spoilers this season, show your support by making a donation. ANY amount is greatly appreciated! Simon and I work 24/7 all season long to keep you updated on everything that happens inside the Big Brother house. Your donations go directly to paying the fees required to run this site.
Stay connected and interact with other Big Brother Fans on our Facebook page.
And Follow: @BigBspoilers and @Dawgsbigbrother on Twitter for the most up to date spoilers.