POV Holder:
JON
Next POV
?
POV Used
?
POV Ceremony
?
HOH Winner:
Sabrina
Next HOH:
Next HOH is final HOH
Original Nominations:
Jon and Heather
Current Nominations:
Jon and Heather
Have Nots
Jon is on slop/can't shower till he leaves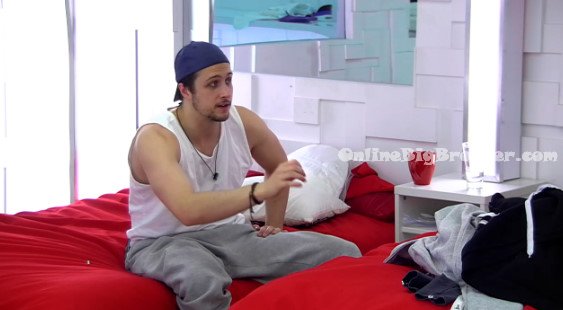 12:50pm – 9:15pm Big Brother blocks the live feeds for the final 4 house guests to compete in the Power Of Veto competition. This is the most important Veto of the season as it allows the winner to decide who they want to evict, unless Sabrina as head of household wins it then she chooses who will decide who gets the sole vote to evict. The winner also secures their spot in the final 3 along with Sabrina.
When the feeds return we learn that JON WON the VETO!!
Punishments from the veto:
– JON is on slop and can't shower till he leaves.
– Neda has to wear the dress costume till she leaves.
– Heather chose not take the punishment of a squirrel costume.
FINAL 3 House Guests so far are: Sabrina & Jon! Jon has already told Heather that he is choosing to evict her and keep Neda. Only a miracle or a twistos twist can save Heather now..

Sabrina and Heather are in the bathroom talk. Heather is telling her that she know that she is leaving. Sabrina says that it makes her sad that she is leaving. Sabrina says that Heather played an amazing game. Heather in in the bathroom alone says unless Canada wants to save me!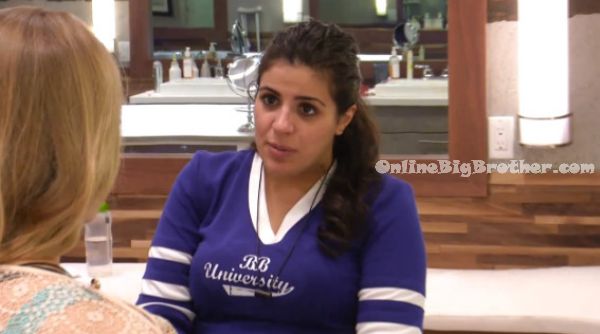 9:20pm – 9:40pm In the bedroom Jon and Neda are talking. Jon says that he and Neda are going to be known as JeDa. Jon asks Neda to say in hindsight it was a bad move getting rid of Adel. Neda won't say it because in the end it all worked out. Jon tells her that she is so annoying. Neda says we are going against someone that can't win endurance. Jon says she can't win physical either. Neda says that Sabrina said she wanted to spend the money if she won on a rolex. Neda says that makes me sick! Jon says you and me will be a toss up if we're in the final 2. Jon says she is taking it far better than I thought she would have. Jon says that he told Heather that he was pretty much going to take his chances with Neda. Jon gets called to the diary room. Heather comes into the bedroom and is packing her bags.. She reveals to Neda that she didnt work out .. not because she was lazy but because she didn't want people to think she's a competitor.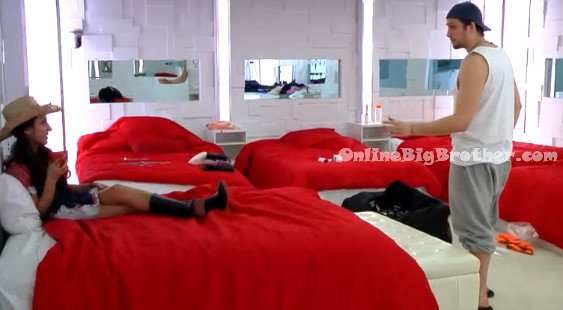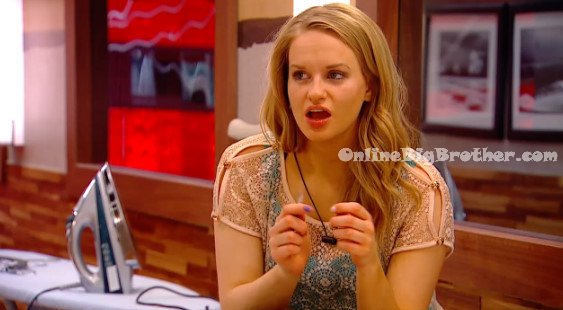 9:50pm In the bathroom Jon gives Heather a hug. Sabrina comes into the bathroom and Jon points at her and yells TURD!!! Jon and Heather talk alone in the bathroom. Heather asks Jon if he is going to tell Neda about our day 1 thing? Jon says I don't know? It's up to you? Heather asks will you tell her in your speech? Jon says yeah probably. Jon asks who do you think Neda would take to the final 2? Heather says she thinks it will depend on the next few days.. It will be a very hard decision like it was for you to choose between her and I. Jon says I think Neda has played a pronominal game! Heather says that it couldn't make me happier that you two have made it to the end. Jon brings up how mad it makes him that Sabrina wants to buy a rolex with the money if she won. Jon tells Heather that she will make $20G's outside the house faster that she thinks. JON is on SLOP till he leaves .. "I am going to lose so much weight! SLOP SLOP SLOP!" Jon tells Heather that she is very smart but that she played such a dumb dumb the first few weeks..
JON giving HEATHER a hug.. @bigbspoilers #bbcan2 pic.twitter.com/JiaH1tI6EY

— Dawg (@DawgsBigBrother) May 4, 2014
10pm – 10:35pm Jon asks Heather if there are nail shops in the world. Heather is surprised by the question and tell him yes. Jon asks how much could it be like $10. Heather says no more like $40. Jon is blown away that people would pay $40 to have their nails done. Heather gets her nails done so that people comment on them and says she ends up getting more tips. Jon tells Heather that he never thought he would make friends like Neda and Heather. He tells her that he loves her and Neda so much. Heather says that she laughed at her boyfriend Will when he told she would make life long friendships inside the house. Sabrina joins them and says she is sad that it will all be over soon. Jon asks Heather if she is too? Heather says that she wishes she could have won some money first. Heather says that she's excited to at least spend a few days in the jury house. Jon comments on how he, Sabrina and Neda will never get to experience that. Sabrina comments on how Jon can't shower till the finale.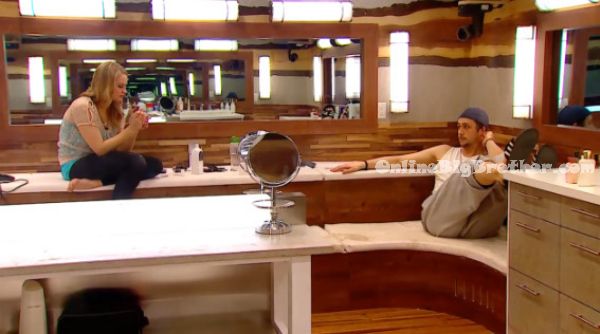 [polldaddy poll=8014722]
If you've enjoyed the Big Brother Canada Spoilers this season, show your support by making a donation. ANY amount is greatly appreciated! Simon and I work 24/7 all season long to keep you updated on everything that happens inside the Big Brother house. Your donations go directly to paying the fees required to run this site.
Stay connected and interact with other Big Brother Fans on our Facebook page.
And Follow: @BigBspoilers and @Dawgsbigbrother on Twitter for the most up to date spoilers.