Head of Household: JED
Nominations:???
The Power of Veto Players are: ?????
POwer of Veto Winner: ????
Power of Veto Ceremony: ?????
Have nots: ?????

12am Storage room. Ty, Keifer and Jed.
Big Brother showed them more memorization videos for a comp.
They comment on how Breydon is good at everything. Keifer – if its for the POV, it doesn't really matter. Jed – I could see them doing this a week in advance for the HOH. Keifer and Ty – no way. Keifer – no way! Not a week in advance. Jed – so this has to be for the veto. Ty – will it be just straight memory or will it help you to have known those thing better? Jed – I've never seen vetos as just straight memory. Keifer – I never see vetos that are memory. Jed – I've never seen a veto that is just straight question and answer. Ty – what I hate about those is that I don't know what details to look at. Keifer – there were only so many to look at. Jed – how many pans were there? Ty – four. Keifer – four. Jed – Breydon said five. Ty – why would he say there were five? Keifer – meh .. all I have to do is be better than Tera and Tina. Ty agrees. Jed – this will be for tomorrow. Keifer – I got it! I got it all!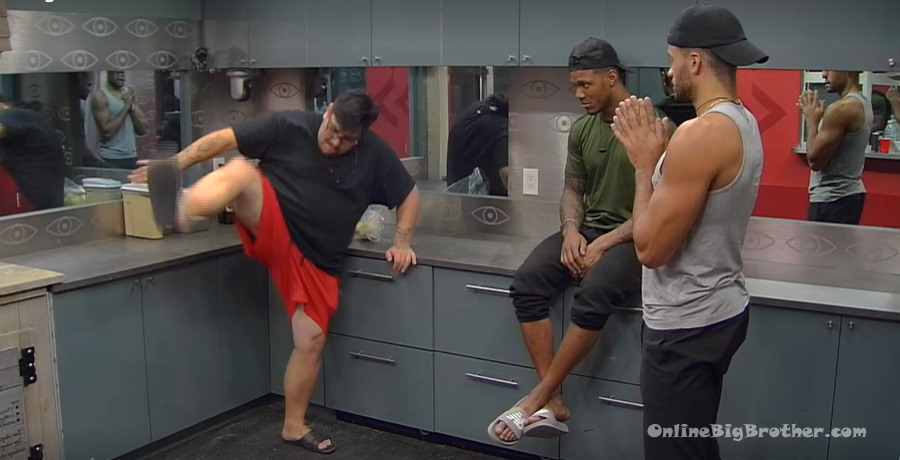 HOH room. Jed and Beth are studying what they remember from the videos. Beth then showers and leaves. Breydon joins to talk to Jed. Breydon – its weird that they would show it (videos) before even the noms. Jed – true, I didn't even think of that. You don't even know if you're on the block but at this point pretty much everyone is playing in the veto. I couldn't see it just being for fun.. honestly. Breydon – is anything for fun in this place?! Jed – right. Breydon – did you talk to Tina and Tera? Jed – yeah, I just told them they're going up. Breydon – oh! Shut the f**k up! Jed – yeah! Breydon – what did Tera say? Jed – she was just pretty much pitching for you to go up. Breydon – of course. Jed – and I was just like .. NA! I was just like if you win the veto you will be in a position to take Tera down. And I don't want to risk that you wouldn't to risk you winning a veto and feeling like you need to take her down. Even though you say you wont.. Breydon – yeah of course but its the same thing with Keifer. Beth joins them.