HOH Part 1: Xavier Vs Azah Vs Big D
Part 1 Winner = Xavier
HOH Part 2: Azah Vs Big D
Part 2 Winner = ?
HOH Part 3: Xavier Vs ?
Part 3 Winner = ?
Big Brother 23 Houseguest Rankings – – RANK THE HOUSEGUESTS –
View the previous day ranks on the – Ranking Grid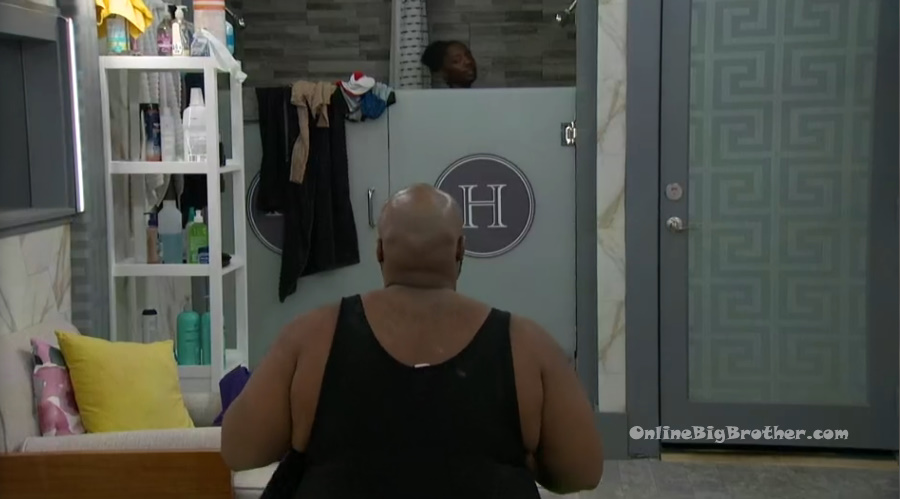 10:56pm – 11:10pm The live feeds return – In the bathroom. Big D and Azah.
Big D – Azah, you did so good. Azah – really?! Big D – Yeah! You held on way longer than I thought you would! Azah – I am disappointed though I really wanted to. I mean I know its X and he does endurance comps .. you know!? Big D – girl! Look at it this way, you did really good and on top of that its not like everything is over. Azah – yeah. Big D – now you don't have to worry about X, you're just playing my dumba$$! So there is hope! Like you were solid! That was endurance, the next one should be skill and then mental. Mental you got no problem with. You just got to get through skill. Look you're facing me so.. its a fair match. Its a fair match.. I'm sorry I can't beat you but I can beat her. They talk about their techniques in the comp.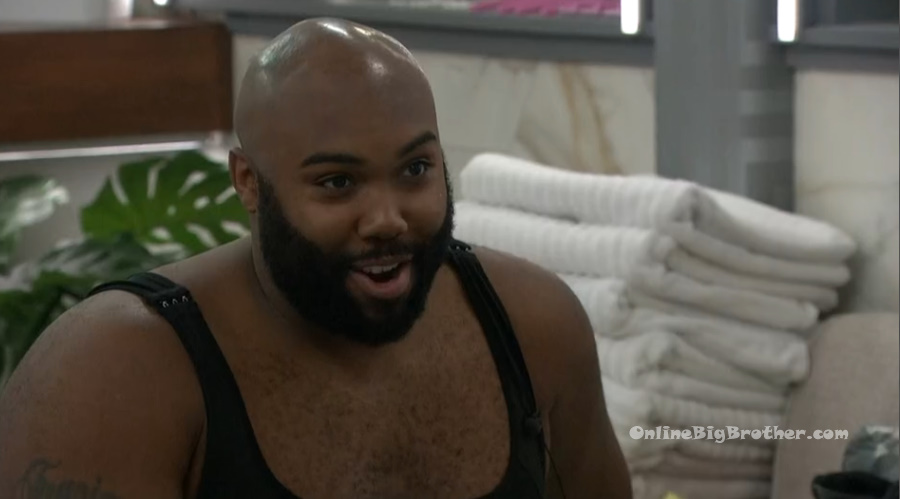 Bedroom – Xavier talking to himself. Xavier – What kind of role model are you for your nephew. KY, I'm a show you! I'm going to show you by winning! YES! First part ..DONE! One more comp!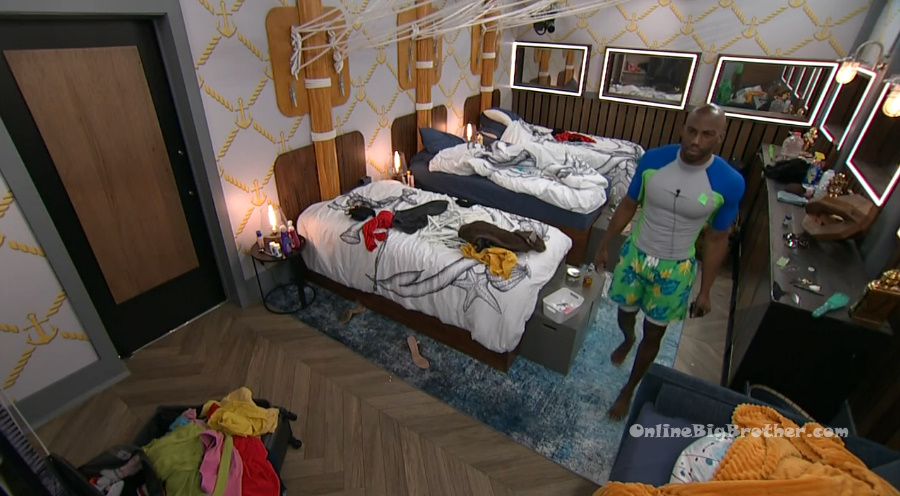 11:29pm – 11:50pm Living room – Xavier and Azah.
Azah laughs. Xavier – what's so funny? Azah – Ah, no.. I know .. I know we said we weren't going to talk about this person anymore. I am just laughing about that 7am mind game. Xavier – ah yeah! Azah – like how depressed we all were at 7am like.. Xavier – no yeah, its all the bullsh*t.. all the games and all that sh*t! That's why I was like if he wants to bring me a smoke he can. I don't give a f**k! I was like I don't want his a$$ here anymore! I just don't want him to .. because like I think what he wanted was me, him and Big D in the final 3. Azah – he definitely wanted that. Xavier – and if he had won, he may have taken me but he might have also just have taken Big D. I don't know if he would have won in either situation BUT if he took Big D its possible he could have won just because of like.. Azah – its possible! Xavier – I don't know for sure but if people are looking at from a competition standpoint.. maybe. That is pretty much his only argument. Azah – or maybe if also just fenagled his way into final 3. Xavier – exactly. Like people might be impressed that people have been trying to get him out and somehow he made it to those final two chairs. I know he wants that satisfaction.. I don't want to give it to him. I just really don't! Azah – I know the way they've edited this .. I know my mom and Dad were on the edge of their seat like oh my god she is going to go home. Xavier – yeah. I told you if I win, you're not going anywhere. Azah – I believed you. Xavier – I know you did. I just needed him to think so too. Gonna do a little blindside action here. If it was you, I would have told you straight up. Its because of how you try to do things, you would have been up Big D's a$$ all day everyday if we had told you what the deal was. Or it would have just been what it was at the door for a longer period of time. Azah – that would have agitated somebody. Xavier – yeah. It would have been where if he had made a comment like that… if he hadn't walked out the door sh*t could have got violent. SO instead I am glad it was a blindside. Because then he wanted to do some cheap little comment oh I still got the last laugh or something like that. So you got your 2 seconds. Say something.. then your a$$ was out there sitting next to Julie! THAT is why we blindsided you. Exactly what you're doing is why we blindsided you. Azah – I said this at the beginning .. don't game me pre the six.. game me at the six! Pre six I should have trust in you, and you should have trust in me. Xavier – facts! Azah – his problem was he gamed cookout people before the six so when the six came people was like okay real recognize real you wanted to game me when other cookout were in the house.. I'll game you. They continue talking about past events of the season. Azah heads into the diary room.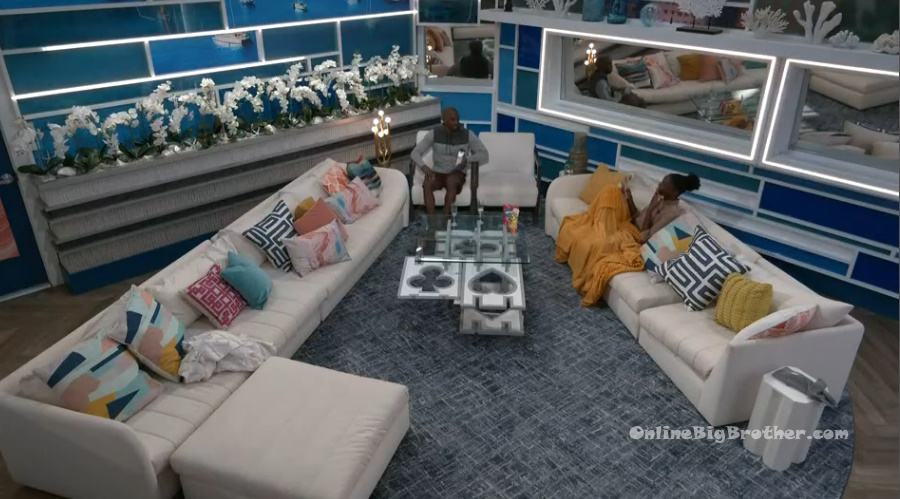 11:55pm – 12:05am Kitchen – Big D and Xavier.
Big D – it makes me feel even better to know I made the right decision on getting rid of him because… Xavier – FACTS! He's been making deals all f**king.. Like he tried to make a deal with Azah! Big D – I know he did. Xavier – like a final 3 deal with her.. like final 2 and some sh*t! Like he tried making all these deals and then when you get burned all of a sudden you sh*tty!? Big D – I definitely don't regret anything! Xavier – hell no! Big D – X congratulations. I was like I am going to try my best but this is not me. Xavier – you did great! Big D – I feel bad that I couldn't win any comps but I tried to help in other areas when I could. Xavier – if you win the next part and we are both sitting there for part 3… we both getting two cheques! Facts! As much as I like Azah, I can't take her .. she's been too nice to everyone!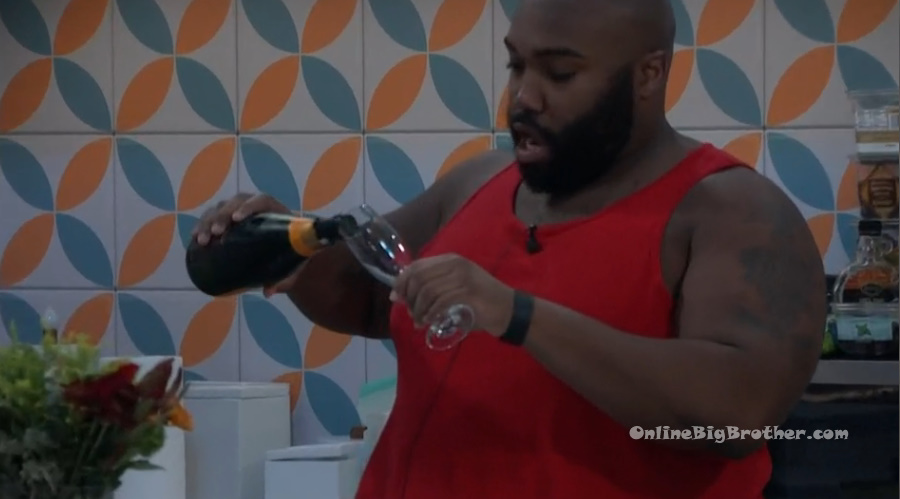 12:40am – 1am Living Room – Xavier and Azah.
Xavier – Are you okay? Azah – yes, I'm okay. Thank you for keeping me. Xavier – Sorry you had to see part of my thug side today. Azah – no I liked it. Xavier – sorry I had to bring that out. Azah – no its okay. Xavier – there is nothing he can say that will make my family think less of me. Azah – nope! And it was literally said for the reaction. All these things were said for the reaction. There are so many things that you can list.. oh that's not very honest.. Xavier – that's the thing ..if anyone is like integrity and sh*t like that ..no one in the cookout can discuss integrity with maybe the exception of you. Everyone else .. we all lied! We all manipulated the f**k. We all deceived heavily. Like Ky, Tiff, Big D, Me, Chaddha… none of us can say sh*t about integrity when it comes to this game. Like we just can't! Like YO! We did a lot of shaddy sh*t! For him to get all up because he got got .. its just like.. Azah – and at the six is when that could happen. Xavier – I think he was embarrassed. Tiff told him if you don't take out X he is going to take you out. Big D joins them. They talk about how tomorrow will be a rest day where they will get to a request takeout dinner.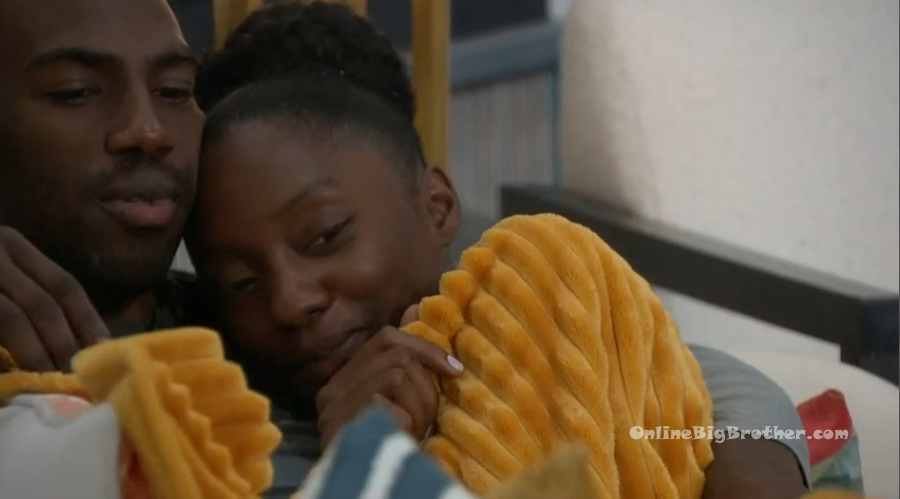 If you've enjoyed our updates this season and want to leave a tip you can do so through PayPal. 😉 Thank you to all of our amazing OBB supporters who have already contributed!