POV Holder:
?
Next POV
Aug 31st
POV Used
POV Ceremony
Sep 1st
HOH Winner:
GM
Next HOH:
Sept 5th
Original Nominations:
Amanda and McCrae
Current Nominations:
Last Evicted Houseguest
Aaryn
Have Nots
6:06pm Bedroom Amanda, McCrae and GM
GM tells them she loves them and she'll be making some chicken parm if they want it. Amanda asks if they could spend a night in the HOH. GM tells them absolutely asks them if they want to do it before or after the veto ceremony. They say after. GM leaves
Amanda – "I'm going to take all the luxuries"
Amanda is certain that Elissa is going to rub it in her face all at every opportunity
McCrea doesn't think so.
Amanda – "I didn't see that coming did you see that coming"
McCrae – "no"
A – "didn't she seem like she was going to put up Elissa.. I just went bat shit crazy and I shouldn't have.. control freak over here"
Amanda cannot believe that Elissa sent out Nick and Aaryn and GM didn't nominate her, "Who is this person the best Big Brother Game player"
Big Brother 15 N*de flashback times here
6:12pm storage room Andy and Amanda (Elissa listening in at the door)
Andy tells her to stay calm and win the veto.
Amanda says she wants McCrae to stay she wants to go home, "I don't want to take this from him.. this means so much to him.. Spencer Is in on it.. he has to be "
Andy- "I don't know what to think"
Amanda – "Poopy said it, JUDD, Spencer, Elissa and GM are all working on it"
Andy plays dumb says he doesn't know what is going one he keeps telling her to stay calm.
Amanda adds that Aaryn told GM to put them up before she left.
Amanda says she doesn't want to stay in the house and have to look at the joker face all week. Andy raises his voice tells her to stop talking like that.
Amanda is crying..
Andy tells her if she cries it will feed Elissa bitchery she needs to stay strong she's survived this entire time in the house.
Spencer comes in tells them Elissa was listening in..
Amanda leaves slams the door.
Andy to Spencer – "I was just telling Amanda what she needs to hear.. I'm a bit freaked out About Elissa"
6:25pm Bathroom JUDD and Elissa
Elissa – "Everything they say is the dumbest thing I have ever heard"
Elissa thinks Andy and Spencer are working with Amanda/MCrae she says Spencer told Amanda that she was listening in on the conversation at the storage room door. JUDD doesn't think they are. He says Andy really doesn't like the fighting and he's probably trying to get Amanda to calm down. JUDD points out that one of them are staying so everyone is wanting to play nice.
Spencer joins them he tells her that he never told them she was listening at the door he just said she was near the door running. Spencer says everyone wants the fighting between Elissa and Amanda to stop. That is what Andy was pushing for in the Storage room.
Elissa – "Can you stop saying fighting because it takes two people to fight and that is not what i'm doing" Elissa says she doesn't do anything to Amanda. Amanda attacks her and harasses her.
Spencer – "Poor choice of words.."
Andy joins them says the fighting needs to stop and that is what he's trying to say to Amanda. All he was doing in the storage room was telling Amanda what she wants to hear.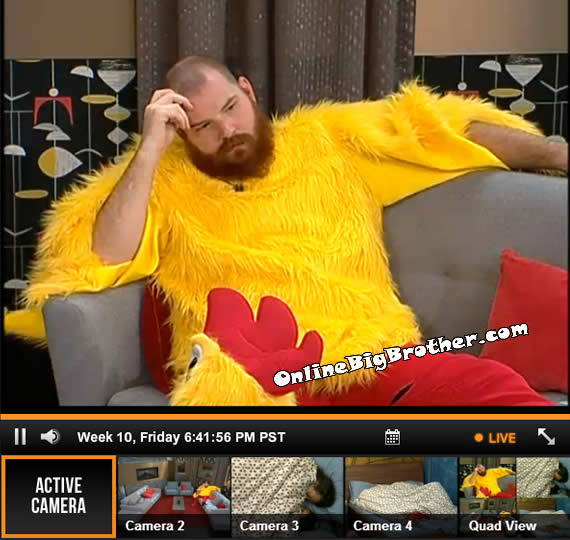 6:45pm Living room Spencer and Amanda
Spencer plays dumb says he's 100% surprised, "Dude I've been up there saying ELissa's and JUDD's name"
Amanda cries says she's going to sink her game so McCrae can stay and play.
Spencer tells her they will talk after the veto competition.
6:47pm cockpit Amanda and GM
Amanda apologizes for her reaction , "I was completely blindsided"
GM – "It wasn't my intentions it was figured out at the last minute"
Amanda – "Such a big decision to make at the last minute"
Amanda Says she loves McCrae and the thought of being apart hurts her.
GM says she knows how Amanda feel she went through the same thing with Nick.
Amanda mentions what GM said in her nomination speech was heartbreaking for her. To say she took the fight out of McCrae really hurt her. GM says she didn't mean it like that. She thought week one McCrae was a beast but after he was with Amanda he became weak.
Amanda – "I know what is happening you are doing Elissa's dirty work.. I can tell when you both looked at each other" Amanda is convinced that Elissa and GM are working together.
GM says she swears on her nephews life that she is not working with Elissa.
GM says that everyone will be working on their own once the duo is broken up. Amanda doesn't think so says there are alliances all over the house and they are hidden. Asks GM what is more dangerous a couple you know about or a couple that is in secret.
Amanda Says the entire new years granny plan was so that Andy could go up and comfort Elissa so that JUDD or Spencer would go up. She fought her a$$ off to keep Aaryn last week.
Amanda – "I went above and beyond to keep Aaryn in the house"
Amanda points out that one of them will stay and be pissed at GM. Amanda adds Andy is also going to be mad so GM will have two people mad at her, 'Why would you do that.. why not put up Elissa nobody would have cared"
GM says there isn't very many people left in the house. She goes back to saying the duo is deadly.
Amanda wants to know why GM blindsided her because she made them all think JUDD and Elissa were going up. GM apologizes says she never meant to Blindside Amanda.
Gm says McCrae is such a great person she really loves him.
Amanda – "you are telling me if I come down you will not vote McCrea out"
GM – "doesn't depend on me"
Amanda- 'It wll be a tie"
Gm – "it will be 3 to 1"
AManda – "No it will be Andy and I voting to keep McCrea'
Gm says she isn't smart and keeping a player like MCCrae in the house it is bad for her game
GM – "You are a power couple" GM explains if she goes to final 4 with them and Andy she has less of a chance because MC will take Amanda and Amanda Will take MC.
Amanda points out the competition wins. She's won zero, Andy has won 1 and McCrae hasn't won sh!t since week 1. If you go by the stats GM is a beast compared to them.
Amanda – 'it just kills me that Elissa who has been carried this entire time stays longer than me.. she's so privileged and useless.. her biggest game move was getting rid of your best friend"
Amanda – "I don't want to stay in this house with Jokers face"
Amanda – "you wouldn't put Elissa up as a replacement if I cam down.. or JDUD"
GM – "I haven't thought about that.."
Amanda – "You don't think Elissa and JUDD are not working together"
Gm – they are close
Amanda Apologizes again for yelling at her. GM says she knows Amanda wasn't really yelling she's seen Amanda yell before.
7:04pm bathroom Andy and Spencer
Andy is getting the feeling that GM, JUDD and Elissa are all going to want Amanda gone this week and that is bad for their games. Andy is getting increasingly worried about Elissa.
Andy – "For my best game and your best game Elissa has to go even over Amanda"
Spencer – "Absolutely"
Spencer says if Andy wins HOH he can put up him and Elissa and if Veto is played Amanda can go up.
Andy says same if Spencer wins HOH he can put Andy up against Elissa.
Spencer – "Elissa has got to go"
Andy – 'I know'
Andy says if Thursday is a double and he goes home because of Elisas he's going to sh!t his F*** pants.. Oh my god that is like my biggest fear'
Andy – "my fear is Ellisa will be my downfall my demise in this game and that cannot happen'
Spencer – "cannot happen.. I have the same fear.. the exact same fear'
Andy – 'it's been programmed in her head that I'm not trustworthy.. that will never change Never no matter what I say'
Andy – 'If I go knowing how much I need this money by someone who can by a f*** hockey rink.. I'm going to have a f** brain aneurysm.. oh my god'
Spencer – "If she puts me up against you my speech to America will be .. this crazy B!tch owns a Hockey Rink please vote America's player anybody else but her.. give it to f*** david over her'
Andy – 'I'll be like Brenchel army go f**** youself'
(Everyone is making moves now this is going to be a great couple weeks of Big Brother)
48hr free trial! Access to EVERYTHING they can't show on TV
Andy – "it kills me to have to be so nice to her.. Oh my god I didn't mean that"
Spencer mentions how Elissa was getting pissey about Spencer saying that her and Amanda fight. Andy promises him that there is no way CBS is showing any of Elissa's bad qualities.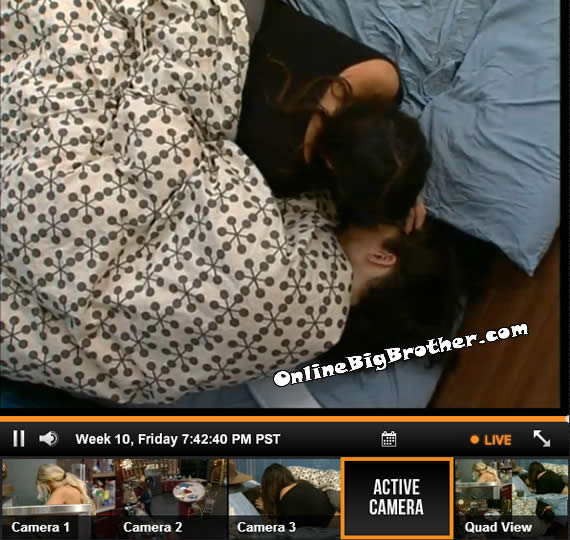 7:40pm Bedroom Amanda and McCrae
Amanda and McCrae cuddling. She says to him they can have sex before she leaves. MC say no.
Amanda – 'WHY… ok now i'm pissed'