HOH: Tiffany
HAVENOTS: None
Nominations: Sb and Ky via HOH, Xavier Via punishment
Coin of Destiny Coup D'etat: Claire won and kept noms the same
Power of Veto Players: SB, Claire, Hannah, Kyland, Xavier, Alyssa
Power of Veto: Hannah
Power of Veto Ceremony:
Big Brother 23 Houseguest Rankings – – RANK THE HOUSEGUESTS –
View the previous day ranks on the – Ranking Grid
Big Brother Spoilers – Hannah has Veto. If Veto is played Claire puts up Alyssa. Kyland and Xavier want off the block. Zzz
Claire won the coin of destiny coup d'etat
– She kept the noms the same (Sb and Ky)
– Tiffany was dethroned as HOH and no longer has the room.
– Tiff can play for HOH again next week.
1:14pm – 5:40pm The feeds were blocked with kittens for the power of veto competition.
Hannah WON the VETO!
– Sarah Beth lost by 23 seconds.
– Hannah also won a movie screening with other HGs
– She says she is taking the 3 Nominees (Xavier, SB & Ky)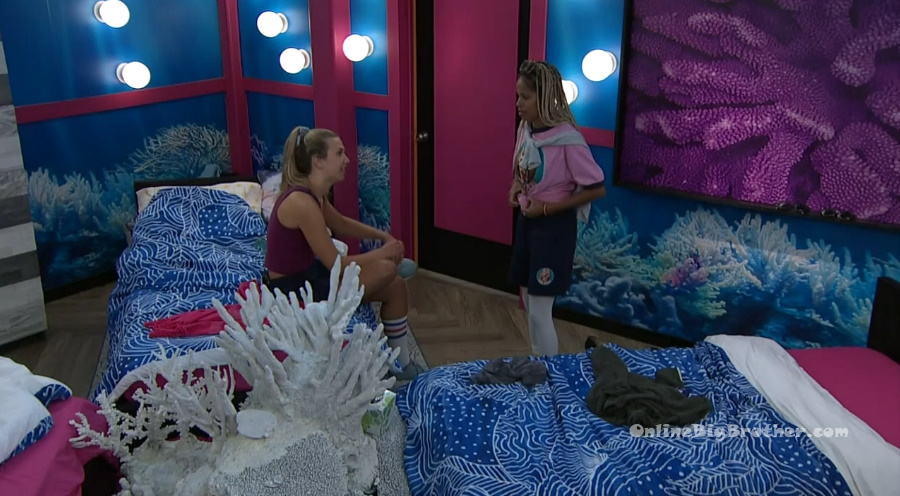 Claire and Tiffany.
Claire – We're good! Tiffany – yes we are. Claire – Derek is going to watch this back and be like why the f**k .. where was this energy when I was in the house. Claire says that she was in the havenot room. Tiffany – could you hear us? We were so loud in the HOH room. Claire – I had no concept of time in the havenot room. Tiff – the only reason why we had concept of time was because we had music. Claire – we have all the power this week. Tiffany – yes we do. You know damn well Chaddha ain't coming off with that veto. We can just do the thing and say goodbye to Ky. Claire – yes. Tiff – I feel great! Claire – I feel like Chaddha won't use it. If she uses it .. she just won't use it right? Tiff – no I don't think so. Claire – don't mess anything up. Ky joins them. Tiff leaves. Ky to Claire – what's your thoughts? Claire – for this week? Ky – yeah. Claire – with Chaddha winning? KY – Yeah. Claire – I feel like she probably won't use it. Probably worth talking to her about it. Ky – I mean I think they should be open to it if other people are open to it. Claire – yeah. Ky – I wonder if you would or wouldn't be open to it? Claire – Open to the veto being used. Ky – yeah, it being used on me specifically. Claire – ah .. its not my veto. Ky – I know, I wonder what your thoughts are because its a social game. Claire – yeah for sure. I feel neutral to it. It its used or not used on your I don't think it really changes the outcome this week that much. Ky – no I agree with that. Claire – would be my guess. I don't really want to force anyone to do anything with the veto. Ky – no .. everyone gets to make their own choice with the veto. If you're neutral to it then you're not against her using it. Claire – yeah if she wants to use it then I am in support of her using it. Ky – alright. Claire – but I don't really see her using it. I am in support of basically what Tiff wants this week .. so I would stay talk to Tiff .. and talk to Chaddha. I am along for the ride. Ky – I appreciate it. Claire – one way or another you are good this week.
Bathroom. Hannah to the camera's – I won the golden power of veto! What?! I actually won something. What?! I beat Ky and Xavier! Are you kidding me!? Now I have the power to send Sarah Beth out the door! And I am so excited about it. And I can use it to potentially take Xavier off the block and get myself a little further in the game. Getting closer to six. All is going according to plan. Oh my god I am so excited and I get to watch a movie with people .. and we get to eat and have snacks! I am really excited!!!!! Hannah talks to Tiff. Hannah – DX would be so proud! Tiff – yes he would. Hannah – I won something .. what?!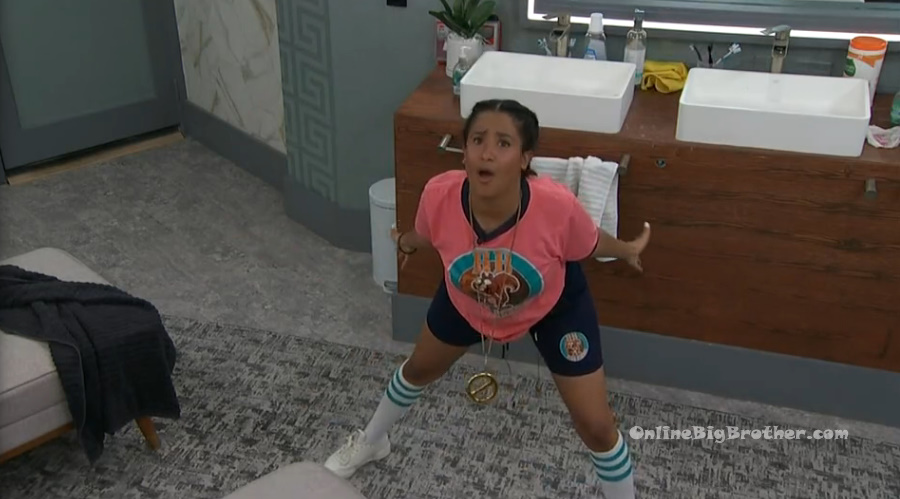 6pm – 6:40pm Bedroom. Ky and Xaiver.
Ky – what are you thinking? Xavier – I will probably be sitting there come eviction night. Ky – I know but you don't have to. X – what do you mean? You see her using it on one of us? Ky – no its necessary but she could. X – to do what? Ky – I don't think it matters too much I guess. Like next week if you won, who would you put up? X – HHhmm? Ky – I am wondering about.. Ky counts out the votes. Sarah joins them and they talk about the comp. Xavier leaves. Ky to Sarah – weirdly its not as bad as it could be. Sarah – I just feel bad. Ky – of course .. we can talk to Chaddha. Sarah – why would she do that? Ky – because I voted for DX to stay and we had a good connection. And I think that Ah… I think that if .. I think statistically she knows that which ever one of us that stays has a good chance at winning HOH. And one of us will stay regardless. And then after one of us is off ..we talk about two of us. And then all of a sudden you have the talk about two of us. Cuz then .. its the same conversation except doubled. You have 33% of the HOHs right here. One of us is going to win and make sure you don't go up. The person that is now the most vulnerable in the house because her partner left could appreciate that because at the end of the day Tiffany saved Claire over DX and I didn't. Sarah – if her target is me may be you can say that you being off the block is better odd of sending me out. Ky – why is that? Sarah – because people might vote you out over me .. but if you're off the block .. then the people that still want to take a shot at you might still take a shot at me. Ky – that is smart. Sarah – I am worried that she takes off X instead. Ky – no. Sarah – really? Ky – yeah. Why do you think that? Ky – a variety of reasons. Sarah – she thinks that even though I'm her target .. if she takes X down that might give me a vote to stay. Ky – yeah. Sarah – but that's the same thing if you come down. Ky – no because X is more likely to vote as a block with Alyssa. Sarah – that's true.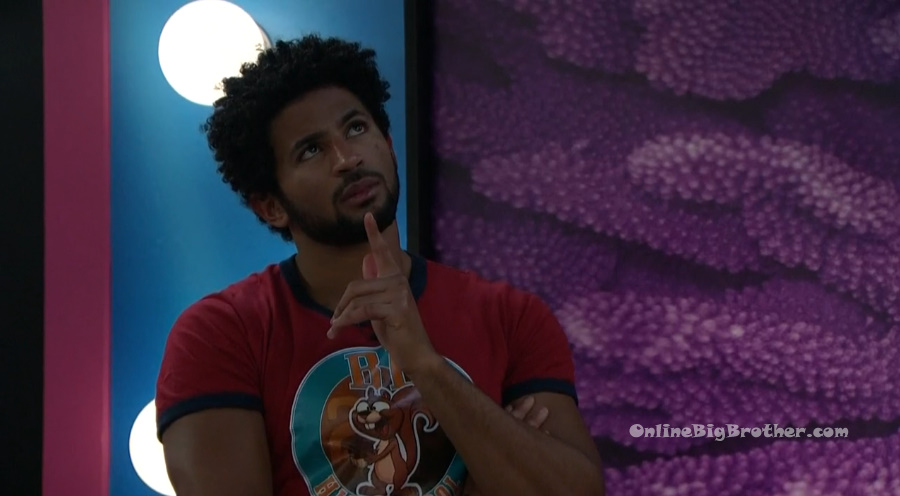 6:44pm Bedroom. Tiffany talking to the cameras – I won HOH, Claire won Coin of Destiny and became the anonymous HOH and Chaddha won the Power of Veto .. that means us three women had a golden week and gonna get y'alls girl SB out of this house! Don't mess with us! They took out our boy DX and now she got to go! Tried to tell her. I told you! SB he told you that is a bad idea! I even told him to tell her send me out of this house and you're going to be right after me. NOW she got to pack her bags! Hallelujah! Its been a long time coming! I've been waiting on this since at least week 5 but even before then! Three women won all the power this week. And not just any women, three women that are working together! Its a sweet revenge! I am happy….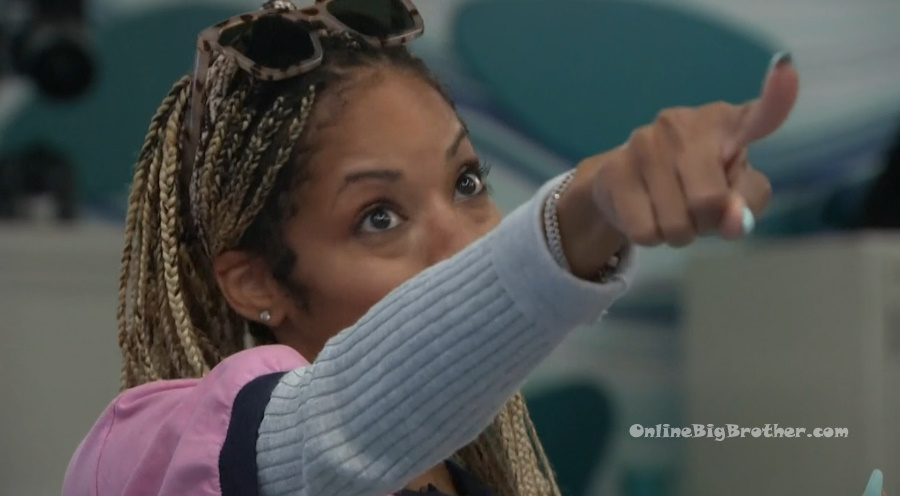 Bedroom. Tiffany and Xavier.
Xavier is annoyed about losing the veto. Tiffany – she could use the veto on you but for purposes of us hiding.. Xavier – and how much does that make sense? Tiff – it doesn't make sense. It would be like why did she do that?! We all got to take one for the team. Xavier – says the woman that's never been on the block! Tiff – what?! You can only say that because that ball fell on your head. Xavier – I'm glad y'all are winning.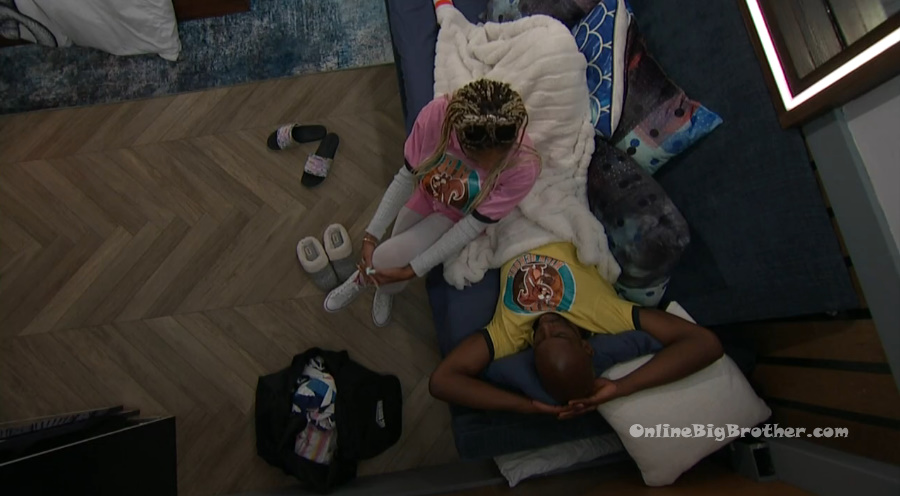 7:48pm Kitchen table. Azah, Alyssa, Tiff and Claire are eating / talking about first dates..
9:20pm Living room – Alyssa and Big D are helping Tiff and Azah with their dance routines for The Big Blue Couch intros.

10:40pm The house guests are now playing the mafia game.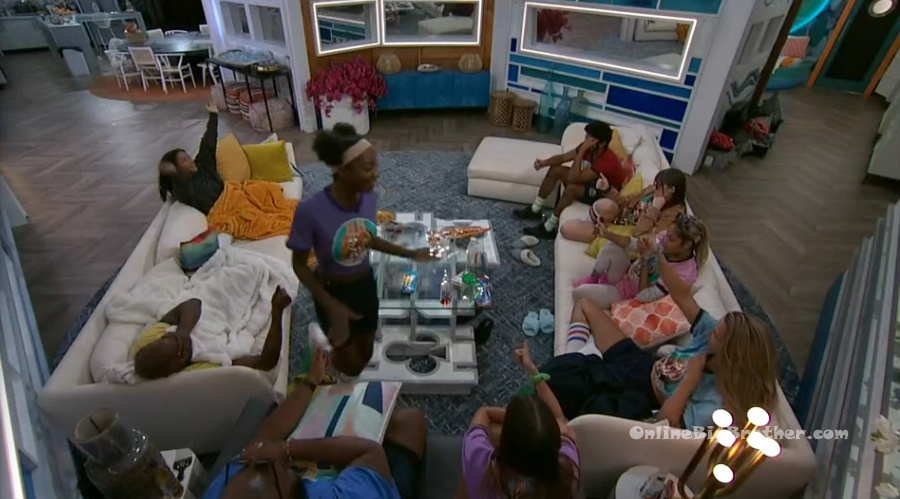 11:45pm – 12am Backyard Pool and hot tub …

12:02am – 12:15am Bathroom. Xavier and Hannah.
Xavier – use it or not I hope she doesn't. I hope she don't use it. Leave sh*t the same. SB probably going to say whatever she wants to about me. I don't give a damn and then we send her out the door. Hannah – so you would prefer if I don't use it on you? Xavier – I mean obviously I would want to come off the block but I don't want to put you in any type of position so I will leave that up to you. Hannah – well I would prefer to take you off the block. Xavier – oh really? Hannah – yeah. Xavier – oh!? Hannah – I told Alyssa that's what I would do last week and I don't mind Ky sitting up there. I don't want two team members sitting up there on eviction night. Xavier – so you want to use it on me? Hannah – I do. But I have to check with Tiff and the anonymous HOH (Claire) and makes sure they're okay with that. Xavier – well I would be okay with that. Hannah – I know you would. Xavier – I am trying to figure out how that can benefit you. Hannah – I have my pitch to them. I just haven't talked to them. I think Tiff might be on board but I think Claire might be harder to convince. I just don't want two of you sitting up there come live eviction night granted SB is going home regardless .. still. Xavier – what is your pitch because I want to see if I can counter it. Hannah – my pitch is that X is about loyalty so by taking him down, I can get an extra brownie point by taking him down. Xavier – what is your pitch to Claire? Hannah – pretty much the same .. X plays a very loyal game so by doing this hopefully we are in better graces with both X and Alyssa if they win HOH next week. That is two less people that we have to worry about them targeting "our" side of the house. Xavier – good point. Hannah – also if Alyssa and Ky are working closely together that could also give us brownie points with Ky.. granted we would be leaving Ky on the block but we would be leaving ky up with only one of his allies and not two and Claire is ineligible to play next week (HOH) so she really needs all the help she can get. Xavier – Well X is a strong competitor ..or maybe we don't want to seem like we are working with X and Alyssa by taking him down. Hannah – X is a strong competitor .. there is that but you've only won two things thus far. Xavier – what about Ky, you take me down he might not be super thrilled about that. Hannah – I just don't feel comfortable with two members of the cookout sitting up there.
12:29am Bathroom. Big D and Sarah.
Big D – have you had conversations or anything? Sarah – no, I don't really know where Chaddha's head is at as far as the veto. Ky and X both think that she won't use it. Big D – Have you talked to Tiff? Sarah – she's not HOH anymore. Big D – so what the f**k do we do? Sarah – well right now I think the only conversation I can have is with Chaddha and see what she wants to do but I don't think I have very good arguments. Big D – Umm.. maybe your arguments could be along the lines of what you could do for her game and that she can obviously beat you and the boys can't. Sarah – she just beat both the boys. Big D – in that but what happens when its physical!? Sarah – right. Big D – that's what you have to say .. just let me know if you need any help in anyway. Sarah – thank you very much Big D.
KY "If I brought home a girl and my mom didn't like her .. that would be a quick conversation" #bb23 @bigbspoilers

When does Ky EVER have quick conversations!?!? pic.twitter.com/btuLYB7Lr9

— Dawg (@DawgsBigBrother) August 29, 2021

12:36am – 1:20am Hammock. Alyssa and Xavier.
Alyssa talks about how bad she did in the veto compared to SB. She says that she was already planning her eviction speech thinking that she was going to be sitting on the block. Alyssa – I think you have very good relationships in the house and I think people talk game with you. Ky might use the theory of keeping the kings in here and taking out a strong male. Xavier – I don't even think he will. Alyssa – No, no one is even going to care ..Tiff literally just said we're sending SB home. If I win, he (KY) is going up. If SB had my name in her mouth so much then it is definitely in his too. Alyssa – did you already talk to Hannah. Xavier – I just congratulated her. I think its rude to badger someone just after they get a win. I'll talk to her tomorrow. She's already taking me to a movie.
X – you're not tired? Alyssa – no, this is just a very long time being here. X – you missing home? Alyssa – no, its just a very long game. Its continuous and repetitive and kind of draining honestly. Like I am .. I am almost losing interest in it. X – I feel that. I was literally thinking that the other day. I enjoy watching it but living it is a whole different can of worms …like this sh*t doesn't stop. The conversation turns to talking about past events of the season.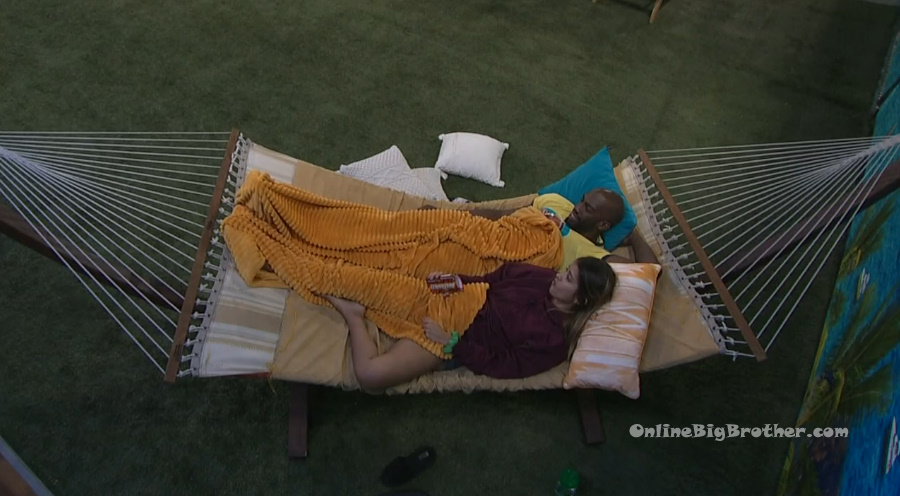 1:47pm Kitchen. Kyland and Xavier.
Ky – The worst part ..right before we started, right before we separated for the lockdown (for the veto) or whatever it was .. she (SB) was literally just like I think it is best if you come off. You should try and win. I think you have a better chance at winning. I'm going home if you stay. (Ky pretends to stab a knife in his stomach) I even checked this morning with her and said if you have a strong case of why you would come down over me then I am open to that.. And then right before she said that. Xavier – I would say this in all seriousness the ladies came through this week.
2am Xavier and Alyssa head to bed. Xavier makes sure he tells Alyssa he is going "commando"
2:02am – 2:07am Bedroom. Tiffany get Xavier out of bed to talk to him.
Tiffany – I just found out from Claire that he (KY) is trying to get the veto used on him. Xavier – for what reason? He is trying to get votes for him and keep SB. I know that he can't do that but why do you want to use the veto!? What is the point?! Nobody is going to use the veto on you KY. Have you talked to Chaddha? X – I've talked to Chaddha. I was like if you want to use it on me, then great. Tiff – no! X – but if you don't there is no pressure. Tiff – what did she say? X – I think she is going to talk to you and Claire about that. Tiff – NOooo… Why would she use it on KY?! X – no, I was talking about her using it on me. Tiff – OHHHHHhh.. Oh..I don't care about you. But I think for representation we should probably just leave it. If she wants to use it on you, I don't care. But I don't know how Claire and Alyssa view you and Chaddha. X – I already talked to Alyssa and she said I don't see how Hannah would use it on you, it would look bad on her. Tiff – yes, I think we should just leave it as is.. X – no she said if she used it on me she doesn't think it would be like anything. Like I don't see any negative affect if she does want to use it on me. Tiff – I will see how Claire feels if Chaddha uses it on you. I could present it like if we do pull X off he might be more loyal to us. Tiff questions why KY wants to be pulled off the block. What are you so scared of if you trust us? X – if y'all pull me down then if SB and him are trying to pull some sh*t .. I don't know what they could pull but if I am up there they have more to work with.. if he is just next to her, he has nothing to work with. Tiff – okay, then we will just pull you down. Tiff leaves.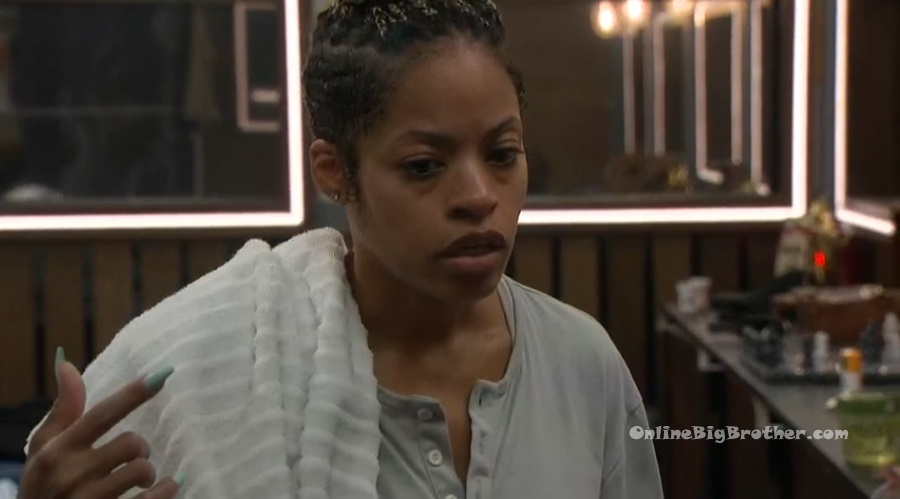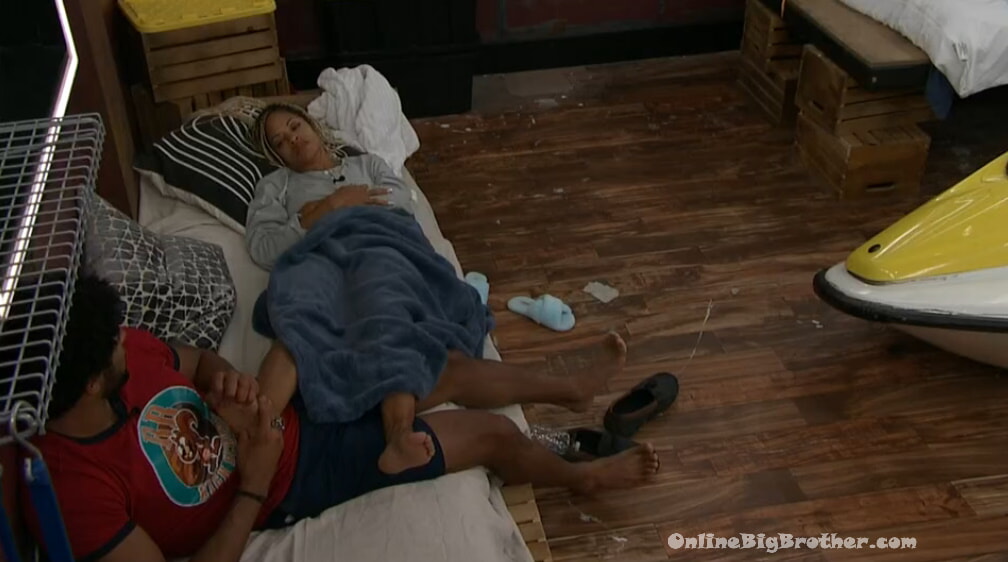 2:00 am – 3:45 am Kyland rubbing Tiffany's feet in an attempt to convince her to get Hannah to use the veto on him.
8:15 am zzzzzzz
Consider a donation to keep the madness going. BIG thanks to the people that have already chipped in.