HOH: Tiffany
HAVENOTS: None
Nominations: Sb and Ky via HOH, Xavier Via punishment
Coin of Destiny Coup D'etat: Claire won and kept noms the same
Power of Veto Players: SB, Claire, Hannah, Kyland, Xavier, Alyssa
Power of Veto: Hannah
Power of Veto Ceremony: Hannah used the power of veto on Xavier. SB and Kyland remain on the block.
Big Brother 23 Houseguest Rankings – – RANK THE HOUSEGUESTS –
View the previous day ranks on the – Ranking Grid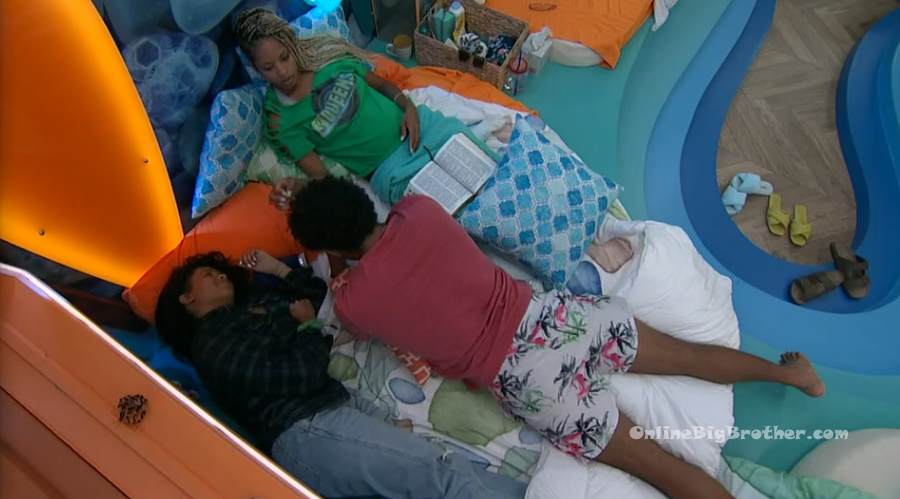 10:04pm Bedroom – Tiffany, Hannah, Kyland.
Kyland – Once it comes out and Claire is over there sitting as always the target. Claire didn't know what was going on. Tiff – so they will know that they've always been the target since day one anyway. So who do you think should go? Kyland – this week? Tiff – no you or SB! They all laugh. Tiff – No, f**k that, next week. Ky – I think it depends on the targets. As of right now .. I am pretty sure that I am first or second on both their list so I don't really care. I think it depends on the danger of winning and who is going to target who. Big Brother blocks the feeds. Ky – I think its safer to assume there will be.. just because that is a worst case as apposed to assuming there won't be. Tiff – so maybe we should plan that their might be a battle back. Ky – if we plan for a battle back .. Alyssa is a better competitor but Claire can more easily partner with DX. Tiffany – yes. Ky talks about he was waiting to have long term campaigning on Wednesday night. Tiffany leaves. Claire and SB join them and the talk about past seasons of Big Brother.
11:23pm Kitchen – Azah, Big D and Xavier are talking about relationships and life outside the house.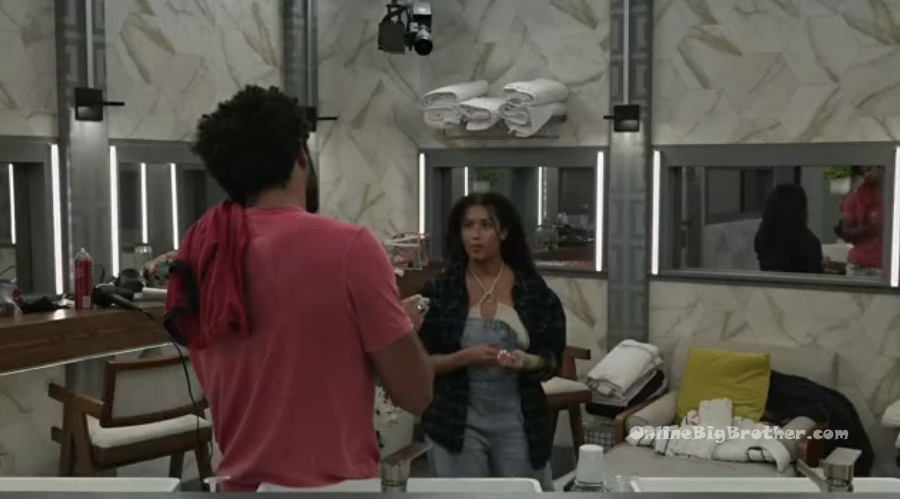 11:25pm Bathroom – Kyland and Hannah.
Hannah – Tiffany and Azah are leaning towards sending out Alyssa next week. I would rather send home Claire next week because I am operating on the fact that there will be a battle back.. Ky – that is what I am kind of thinking. Hannah – and because DX will be back in the house. Ky – that's where I lean because of that. Hannah – also and the fact that Claire can't plan in next weeks HOH comp. It leaves her in a vulnerable spot. Ky – I think my bigger thing is not wanting to win but the order of.. I don't think Azah would but up Claire. Hannah – No I think she could and she would. Ky – If Bid D did I think the perception would be fine for him to attack either of them. (Alyssa or Claire) Hannah – Ideally I would want Big D to win. Actually for me I would want Azah to win, then Big D.. Ky – if Azah could do it that's great but what is her relational for taking out Claire or X and Alyssa? Hannah – the fact that the Jokers are isolated. Ky – I think that's why Big D is better because he can put up either with no questions and the only other person that can do that is me but I don't want to win. But I would win over you, Tiff and X. Hannah – yes. But again if its Me, Tiff and Azah at the end I will do what I have to and win. If its me and Azah, I am throwing.. If its me and Big D, I am throwing. If its me and you …if you're adamant that you don't want to win HOH for a third time then I'll do it. I have less of a reason to protect Claire. Ky – but Big D has the most reason to target either for his volatility. Hannah – Big D's HOH reign would be the continuation of the French Revolution.. Ky laughs – The French Revolution .. I'm DEAD! Hannah – Again, I wouldn't be scared of anything.. it would just be an annoying week but you're right him winning makes the most sense. You winning probably makes the second most sense but because you've already won twice … then that defaults to Azah. Then probably you and then me but again if it isn't smart for your game, then don't win again… Then I'll do it. Also if I won, my target would have to be Alyssa so that would change the plan. Ky – yeah I get you. Hannah – If Tiff won, her target would have to be Alyssa. With Azah I feel like she is equally aligned and unaligned with both Alyssa and Claire. So Azah, Big D and you have the most flexibility.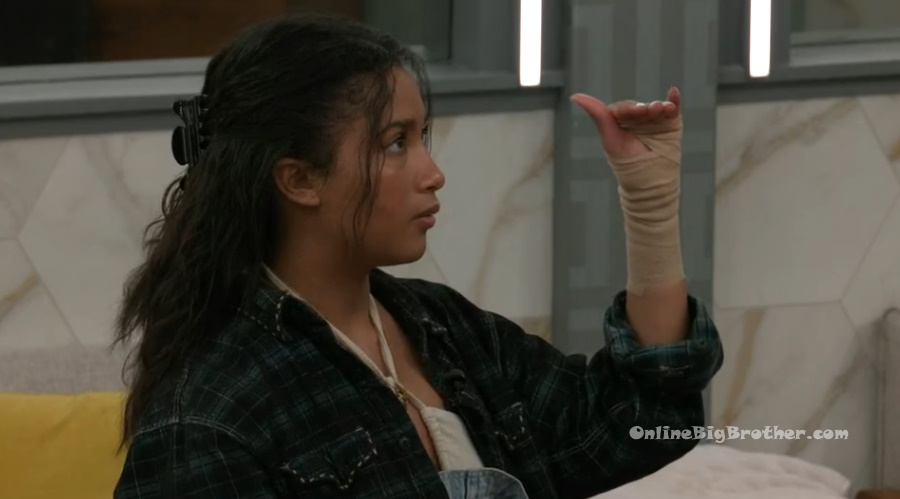 11:52pm Bedroom – Tiff, Sarah and Claire talking about short guys.
Tiff – Nobody wants to date the short guys so that leads me to believe that there are a lot of nice single short guys out here. Sarah – I've dated a short guy, it doesn't bother me. Tiff – I've never been into shorty guys.. so seeing a short guy is weird to me. Hannah joins them. Claire – if the guy doesn't have a problem with it, then I don't. Tiff – I will have a problem dating someone shorter than me. They have to be 4 inches taller than me. How tall is Brent? Hannah – 5'7″. Tiff – Fine! Fine! Fine! All things point to Brent .. he is a Scorpio. Claire – she's dating Brent.
12:30am – 1:30am Backyard – Alyssa & Big D/Xaiver versus Claire and Azah. They're playing the guessing game of this or that. They head inside and continue playing with others.

1:50am Bedroom – Claire and Alyssa are talking about "longest hugs" with Ky and SB. Claire talks about how one was 7 minutes..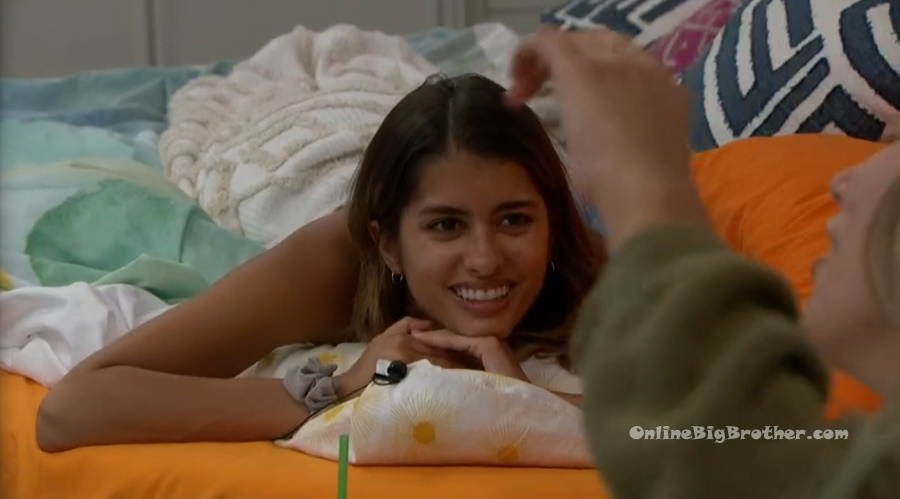 Show your support 🙂 Without your support this site and these spoilers wouldn't be possible.
Please consider a donation to keep the madness going.