HOH: Tiffany
HAVENOTS: BIGD, Alyssa and Claire
Nominations: Alyssa Claire and Xavier
Power of Veto Players: Xavier, Alyssa, Tiffany, Hannah, Azah, BIGD | Host : Claire
Power of Veto: Alyssa
Power of Veto Ceremony: Alyssa used the power of veto on herself. Claire was nominated in her place.
Big Brother 23 Houseguest Rankings – – RANK THE HOUSEGUESTS –
View the previous day ranks on the – Ranking Grid
Big Brother Spoilers – Claire going to be evicted.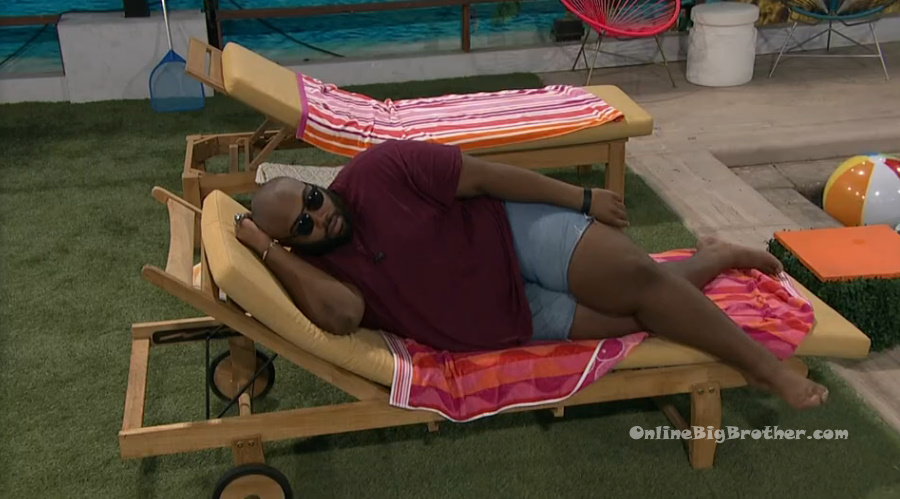 Backyard – Big D and Xavier.
Big D says that he is missing home. Its tough being in this house being cut off from the world for so long. Its tough when .. like me being here .. I not feel bad but I left so much behind. Like all my responsibilities and my mom struggling with bills and my bills. Xavier – One thing I always say it is you should never second guess a decision that's already been made. You can't second guess it because life is being lived. If it was a good decision it will work out for you and if it was a bad decision you will learn from it. This is a once in a life time opportunity .. is it a f**king grind!? Yeah! And I don't think any of us knew that coming in here. Xavier – I enjoyed the fact that she (Whitney) allowed me to get away from the game. I had those moments with Alyssa but its kind of different because I'm looking out for her too. My whole former kings team .. I was like I will look out for them… And like the Cookout has my primary loyalty. To the extent that I can lookout for my kings teammates .. I am going to do that to the extent that I can. But if it comes to a head then there isn't much I can do. Because outside these walls the Cookout represents something so much greater. Big D – and that's why we do what we do. We could have got each other out a long time ago. Xavier – if the Cookout didn't exist .. I don't think Tiff would be here, I don't think Ky would be here… I don't know if I would be here. Big D – you would have been here because we could have gone far with Slaughterhouse. Big D complains about how if Azah asks him to do something he is like yeah I'll do it.. but if he asks her to do something its a but, if and or something. Xavier – yeah! MMmhmmm!
9:10pm Living room – Claire, Tiffany, Azah, Alyssa and Ky.
Tiffany talks about how she uses the bidet in the HOH bathroom to satisfy herself. Claire – I have to go use the restroom.. but not the bidet.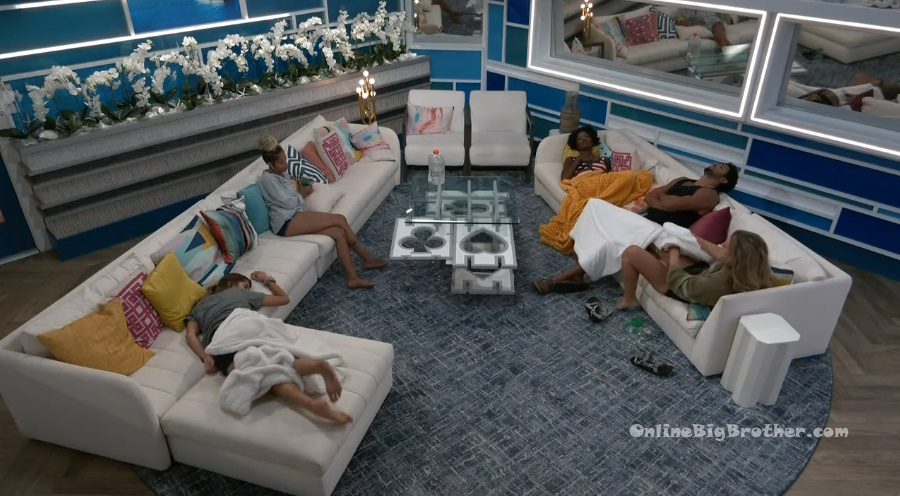 9:22pm Backyard – Hot Tub. Xavier and Alyssa.
Alyssa – Hannah said we convinced Alyssa to use the veto on X and I think she might do it. Xavier – Tiffany said? Alyssa – To Hannah right before. She was like so I tried to convince Alyssa to use the veto and I think she might be buying it. Xavier – I don't think you understand how bad it would be if you used it on me. Alyssa – even if it made 100% valid sense you're not going to convince me of something that I've decided on for days and you think two minutes before hand what kind of player would I be? To just be persuaded that easily?! Xavier – I am glad you didn't! Alyssa – what kind of player would I be to just listen to what Tiffany wants me to do .. NO!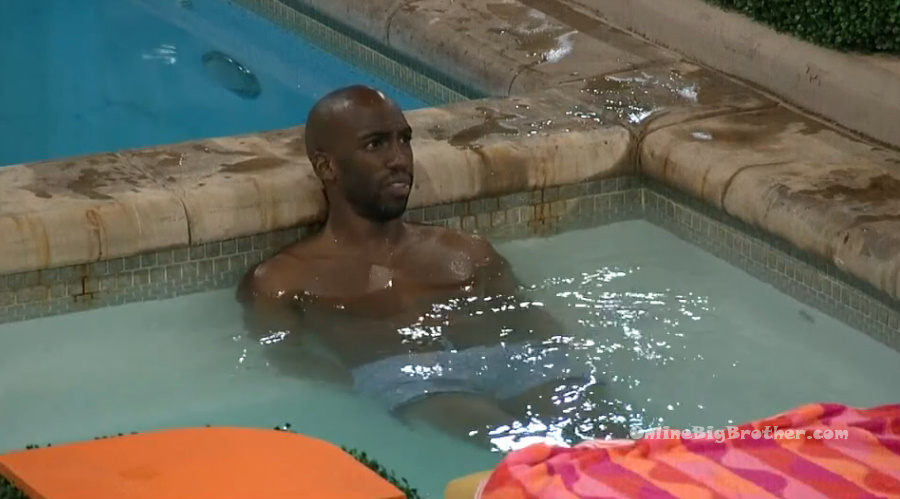 9:47pm Bedroom. Alyssa, Big D and Azah.
Big D – Life is life and we'll send Claire packing.. or I will. I am not sending X home, you know that! Azah – I will too. Alyssa – I think we're all on the same page as long as we just keep it.. we will just check in with each other every night. Big D – and being a havenot is just horrible. Alyssa – I just thought of this and I know this is not the reason why we're doing this at all. But if this plan follows through the final 7 are all minorities. Big D – OH I didn't even think of that!?! Alyssa – that has never happened before!! Azah – never happened. Alyssa – not top 5, not top 6 .. top 7 out of 16! Like that is historic! We are in the craziest season! Like that has never happened! Do you know how many minorities are going to apply after this season!? That is insane! Even if I go next, to know that a person of colour is going to win.
10:40pm Bedroom. Kyland and Big D are studying the days / events of the season..

11pm Hammock – Xavier and Azah.
Xavier – I don't know if you noticed but Tiffany and Ky have been talking more this week than they probably have since the duration in this house. I think its because of the fact that Tiffany has blown up her game with this HOH .. like in the Cookout, outside the Cookout. Its just not going to look good for her. And I think because of how she thinks Ky is going to play this game she probably now feels like he is the only person she can sit next to and stand a chance. And I still feel like if Tiffany sat in the final 2 that she would probably get a good chunk of the votes. Azah – I think so too.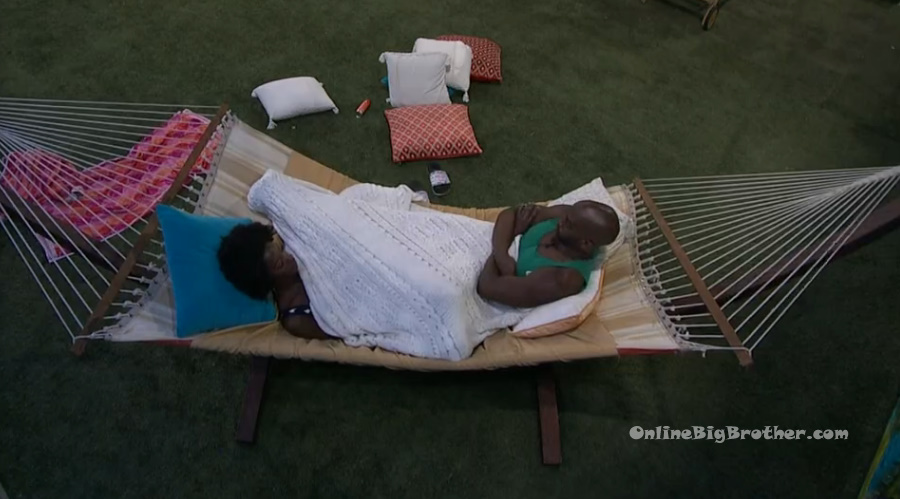 11:20pm Bedroom. Claire and Hannah.
They're talking about jury votes. Hannah – I feel like Britini and DX especially its quite naïve to promise someone your vote when in between 10th place and finale you have 8 evictions. So much can change. Claire – you have 6 weeks. Hannah – Maybe DX just has his mind made up because its a loyalty type thing to Ky at least. And SB is probably a Kudos to you when you were the only one that could do it. But if I were in DX's position I would probably not have my mind made up at eviction 7. Claire – yeah seriously. Hannah – is it usually someone comes into jury .. or each person comes into jury and is able to change everyone's mind? Claire – no, some people have their minds made up but sometimes people come in and they just have more information and its just this person is playing a good game because you didn't know about x, y, z. Or sometimes its like F**K this person. This person f**king sucks! I am never going to vote for them at the end! They're an a$$hole or whatever. Hannah – talk about a bitter jury member. Do you think that this jury is going to be bitter? Claire – I think it depends on how people go out. A lot of game left to be played and I think it will get messier and messier. Hannah – I am probably going to try and cause chaos in the jury house. Claire – yeah me too if I get there. If I go there this week. I have no f**king idea what I am walking into. Hannah – so just remember who gave you a vote! Claire – I will. F**K all .. I have no idea how I will explain how I got on the block. Hannah – DX is going to be very .. I mean all of them will be very very confused. Claire – if I go out this week I think it will suck. It will be awful but I won't go into the jury house mad at Tiff. But I think she would she would be coming very soon after me. Hannah – so you know you can pull for someone! (Points at herself) Claire – yeah.. still vote to keep me. And here is Azah like get her out, get her out! Hannah – no because I need good jury management. Claire – that is the thing DX knew that Ky was just hanging out with him for jury management.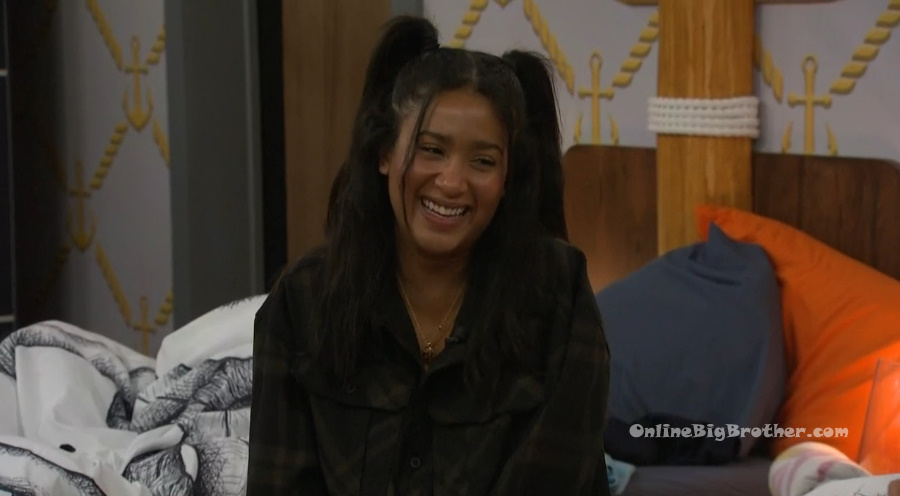 12:55am Bathroom. Hannah, Ky, Claire and Tiffany. They're talking about X and how mature / magnetic he is for his age. They speculate on what they think he actually does for his job. Ky – he told me that he stopped bartending since Covid and started modeling more. Hannah – he told me he was bartending and isn't modeling so much in recent years.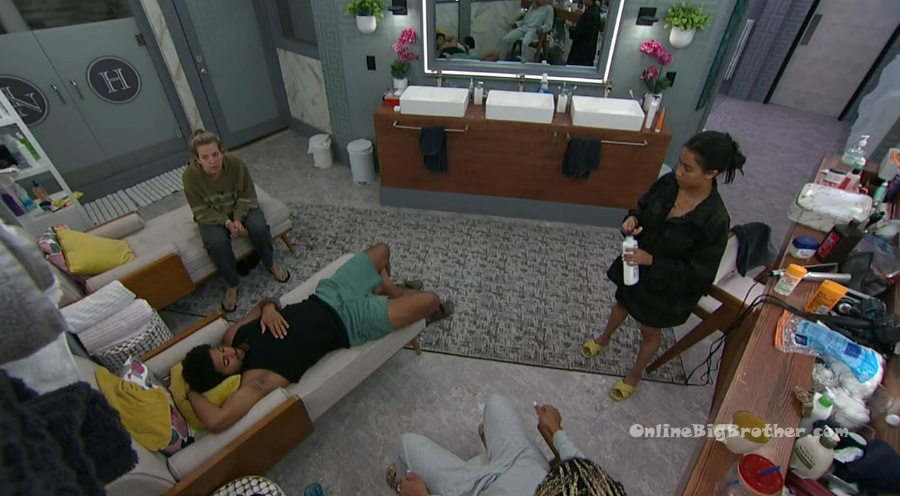 1:50am Tiffany reading the bible. Tiff – I am not going to let these people send me out even if I have to win every veto! Don't Quit and never give up.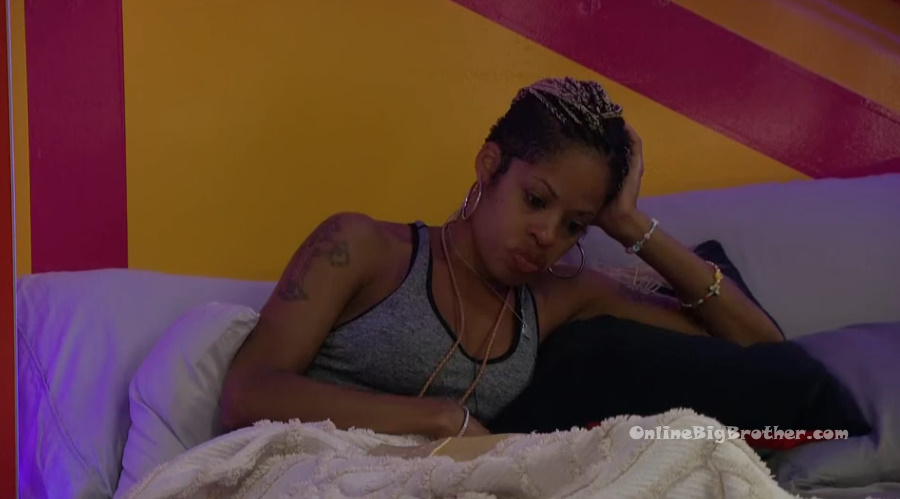 2:57 am Tiff and Kyland cuddling
Tip Jar ;) Without your support this site and these spoilers wouldn't be possible.
Please consider a donation to keep the madness going. Thank you to those that have already contributed! We sincerely appreciate it!