HOH: Tiffany
HAVENOTS: BIGD, Alyssa and Claire
Nominations: Alyssa Claire and Xavier
Power of Veto Players: Xavier, Alyssa, Tiffany, Hannah, Azah, BIGD | Host : Claire
Power of Veto: Alyssa
Power of Veto Ceremony: Alyssa used the power of veto on herself. Claire was nominated in her place.
Big Brother 23 Houseguest Rankings – – RANK THE HOUSEGUESTS –
View the previous day ranks on the – Ranking Grid
Big Brother Spoilers – Claire going to be evicted. It's been generally a very slow day.
10:24 am
X and Ky
Talking about Thursday being a double eviction
Alyssa joins them. Talk continues about the Double and the types of competitions like the ball pit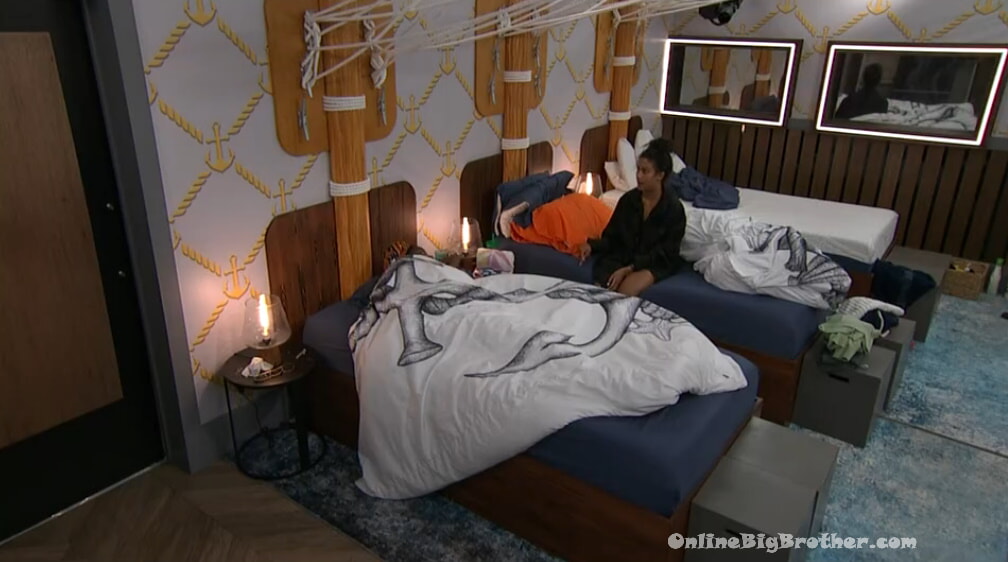 11:32 am Hannah and Azah
Hannah – do you think X will gun for the veto (next week)
Azah – if he guns for the veto he won't use it. Yeah, he's going to gun for it. IF Alyssa wins it we're all screwed
Hannah – he's the only one guaranteed not to go home.
Hannah wonders if Alyssa will put up BIGD.
Azah – hard to say they have a relationship close than me and her.
Hannah doesn't see Ky touching any of the guys if he wins this next HOH.
Hannah asks where the votes would go if Ky wins HOH and it's her and Azah on the block. BIGD to Azah, Tiff to Hannah.
Hannah – it comes down to Alyssa and X
Azah – we have to pray that scenario doesn't happen.. Ky can't win
Hannah thinks X will vote to keep Azah and Alyssa will vote to Keep Hannah. "Ky will break the vote in my favour"
Azah says Ky would likely want her gone.
Hannah counts the votes if it's X and Azah on the block, Hannah and Tiff for Azah.
Azah – BIGD would vote for me.
Hannah – X would go home. If I was up there next to X..
Azah – you would get my vote
Hannah – Alyssa and BIGD would vote for X. I don't know how Ky would break that tie.
Azah says if Kyland doesn't put Tiffany up the first or second time "that burns me and yous votes for him"
Hannah – lets repeat what the three of us will do. If I win I'll put up X and Alyssa. X will stay regardless who he's up agaisnt. HE has your vote and BIGD's vote and Alyssa's vote. If Alyssa comes down than Ky goes up and we vote to send Ky home. It might be a unanimous vote. I Don't know what Tiffany will do in that situation.
They mention how BIGD has been irritated with Ky for weeks but he's still in love with him.
Hannah – if BIGD wins it'll be Tiff and Alyssa. If Alyssa comes down I go up. So I personally can't have BIGD win. IF that's the case I have the votes to stay.
Azah says she would get her vote.
Hannah – I would have Alyssa's vote. I don't know if I would get X's vote. Even so BIGD will break the tie in my favour.
Hannah – it'll be you, me and BIGD vs Alyssa in this HOH. WE can do it.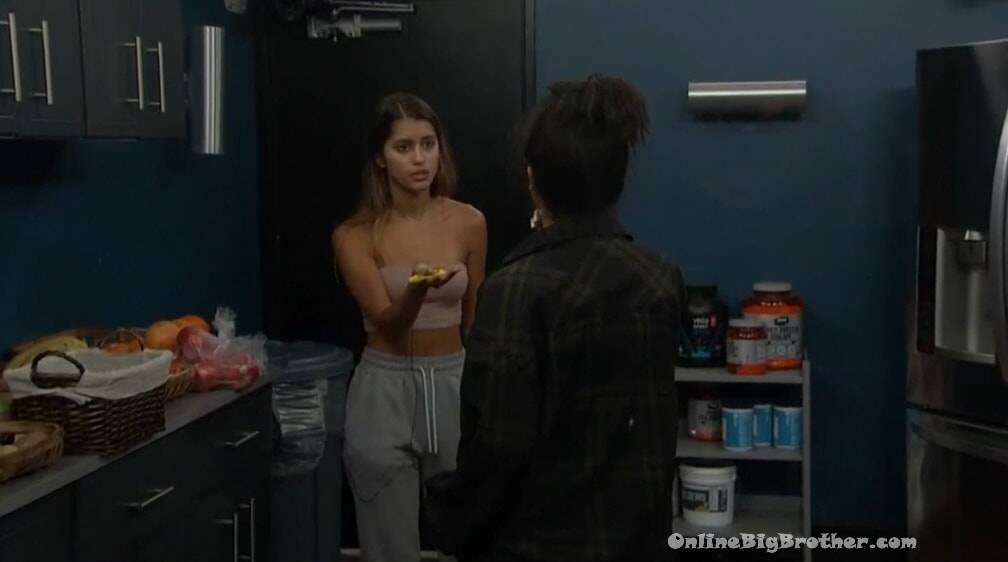 11:50 am Alyssa and Hannah (they have a fake final2)
Alyssa says BIGD thinks Hannah is close with Tiff so won't vote out Claire. She told BIGD if they tell Hannah about the plan to keep X last minute.
Alyssa – if you go to them they won't feel comfortable telling you they're keeping X because they think you and tiff are like THIS (Crossed fingers)
Alyssa has been telling them they will tell Hannah on Thursday the plan to keep X that way she's on their side of the vote. "If she wins HOH we don't have to worry about Hannah because she's on our side of the vote"
Hannah – thank you for letting me know
Alyssa – I'll talk to X today about us three. I'll just act like I didn't have this conversation with you.
Hanna – start thinking of names.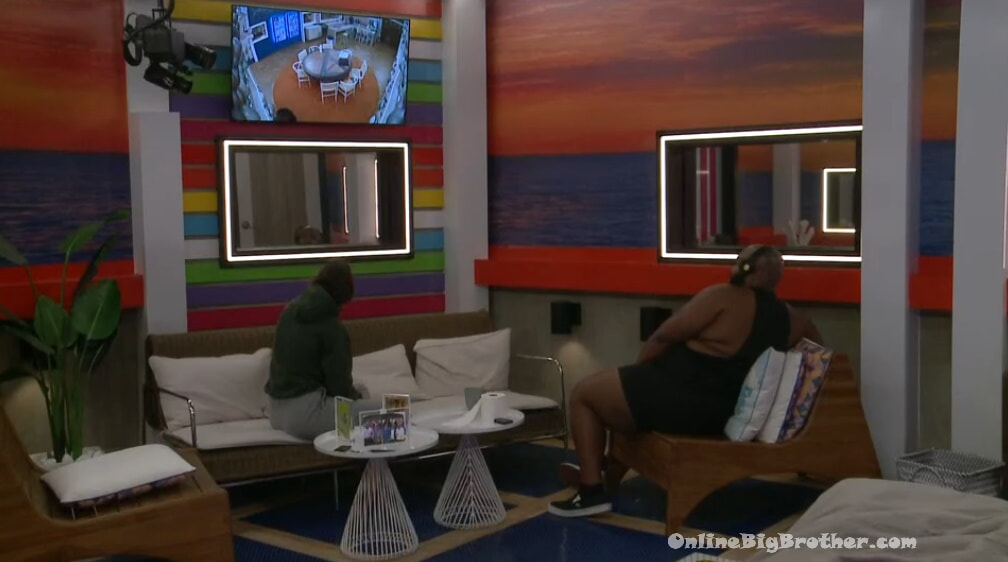 12:52 pm Alyssa and DF
Alyssa- I talked to Azah about what I told you this morning. The smartest thing is to wait until right before the vote and tell Hannah we want her to be part of the house vote we don't want to go after her we don't want her to be blindsided.
Alyssa – that way she doesn't have time to tell anyone and she's on our side of it. If she wins HOH she's not looking at us because we told her
Alyssa – KY cannot know..
DF – okay we want Ky to be the one vote
Alyssa – Best thing is to blindside them. HIm and Tiffany will be so frazzled he may not compete at his best.
DF – OKay
Alyssa – do you agree
DF – yes
Alyssa – Azah agreed
Alyssa – tell Hannah it's a 4 to 1, Hannah's not looking at us, and then that way Ky feels he's alone. He might want to go after Tiffany because he doesn't want to go against the house (lol at least she's trying)
DF – got it he will not know
Alyssa – how do yo think Tiffany will react
DF – she will be stunned. she'll be like what the f** is going on
Alyssa – it needs to be Ky and Tiffany on the block. When Tiff realizes that Ky is that one vote and he realizes tiffany is the only vote on his side if they are not on the block together they may take each other off the block.
Alyssa – if we win it needs to be Tiff and Ky. if one of them wins veto the other one goes home.
Alyssa – did I tell you waht Tiff told me?
DF – no
Alyssa – I told the jokers to tell you that they want X here but they don't.
Alyssa says she's never thought her and X are safe she's never heard anyone say that.
DF – no one ever have.
Alyssa – she thinks she has you guys
DF – ohh please. I guess because I'm being nice to her
Alyssa – the two HOH really got to her head
DF – she is definitely seeing the block no matter who wins in this double
Alyssa – the fact she put Claire up instead of Ky they are working together. You are going to risk your number one ally? You feel comfortable enough to do that?
DF – I don't know what she is thinking She working something with KY to potentially lose Claire.
Alyssa – they're each other's shield
Alyssa goes on about Claire going up was part of their plan.
DF – she's going home. sad that Claire thinks she staying
Feeds flip when we're back.
DF – I need TIFF go badly I can't be in this house with her any longer. I need her to go.
Alyssa mentions that Tiff wanted her to use the veto on X. She pitched moments before Alyssa went into the Diary room.
Feeds cut. after a couple of minutes, we're back.
Alyssa – Tiff said we need to get all the guys out that's the only way us girls can win. I'm like I can sit next to a MAN and I can still win this game.
DF – you could.. absolutely.
Alyssa – she wanted to get the guys out including you. She wants to make it as easy as possible. that is how you know she is not strategizing.
Alyssa – if we add Hannah into this plan she will put Ky and Tiff up ..
DF – okay
Alyssa – we're adding her to this plan
DF – I don't think so. If Hannah wins. she will put up me and you or you and Ky, or me and Ky. Be prepared for that. IF she wins.
DF – if Ky wins he might put up Azah and you or you and Tiff, or Azah and Tiff.. he's got some options
Alyssa – that's why we need to frazzle him that's why it needs to be a blindside
They talk about a double
Alyssa – imagine Ky trying to do one on ones during a commercial break?
DF – I hate the double..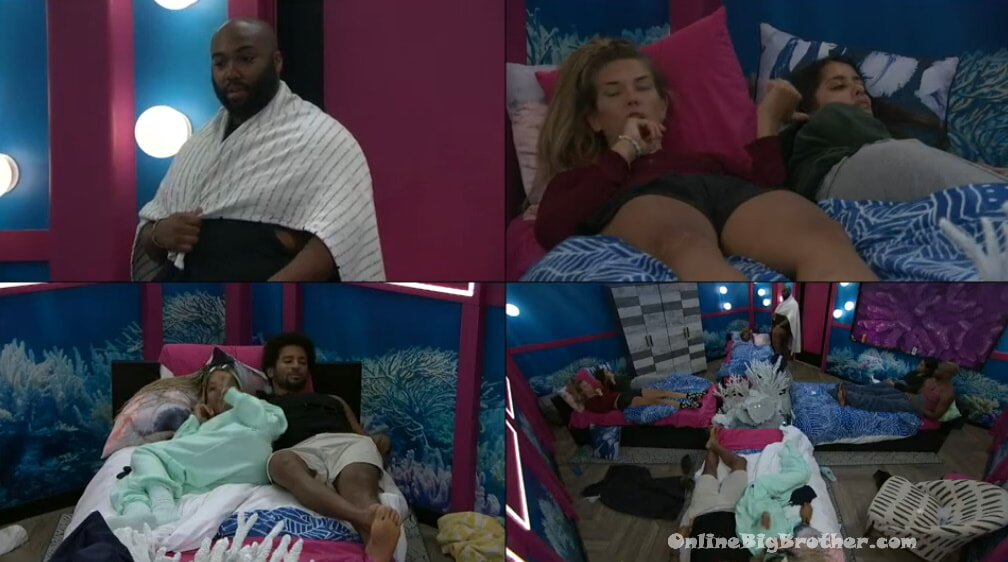 2:50 pm Chit chat (most of today has been this)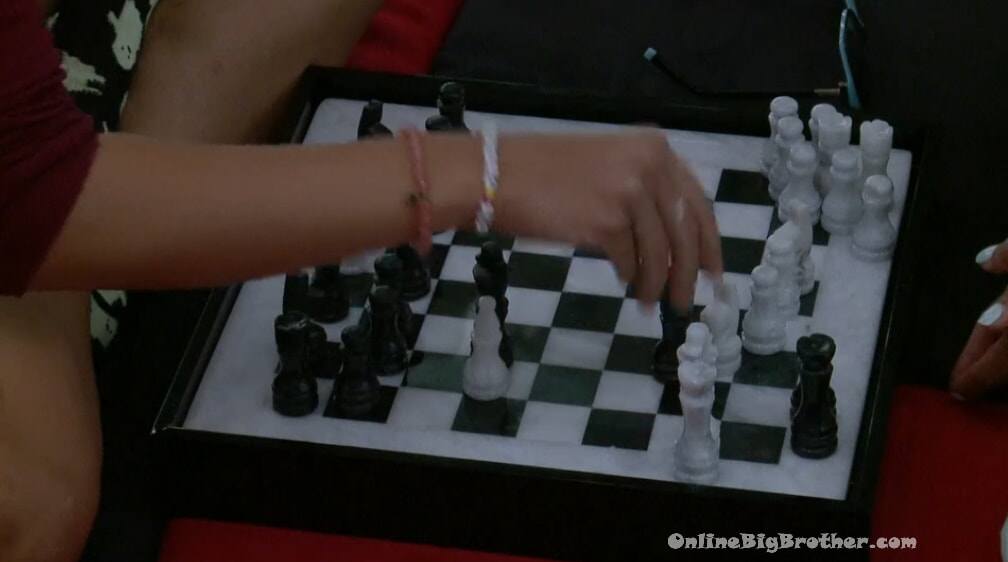 3:23 pm Tiff and Claire
Counting Jury votes.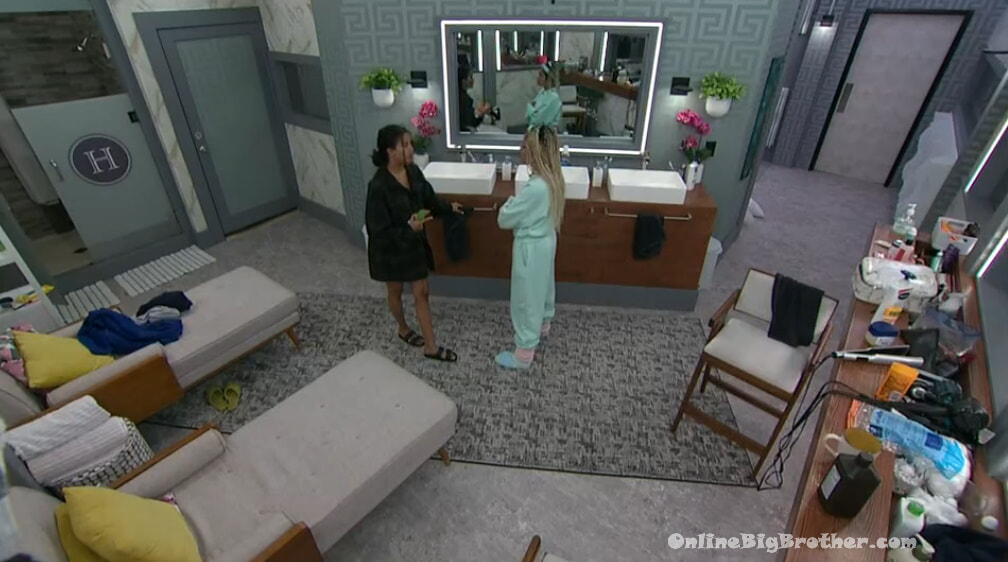 4:00 pm Hannah and Tiff
Hannah is saying that Alyssa it expecting a 4-1 vote she will be shocked by a 3-4 vote. This will make her worried and try hard for the HOH.
Tiff says Claire is pitching to the jokers today "her pitches make sense it's logical if you don't see it it's because you don't want to see it because you have something else"
Hannah – what do you think about Ky and the guys because the three of them have been spending a lot more time together. If Ky wins this HOH he's not putting any of them on the block.
Tiff – if Ky gets power and he doesn't put X on the block then we know.
Tiff – If Ky puts either one of us on the block then we know for sure it's just you and me in this house.
Hannah – I think we can convince him to put BIGD on the block next to Azah to ensure Azah goes home.
Tiff agrees says they are two guaranteed votes why put one of your votes on the block.
Tiff – it makes no sense to put us on the block.
Hannah – I have to win this HOH I have to.. I have to.
4:30 pm
Claire's pitch to Azah
Claire- I stuck my neck out for Brinit at a detriment to my own game.
Claire says she doesn't think she has a good chance to win this game. she's here to play the game and help her friends.
Claire – if I get to the end with ou I'm one of your best shots to win this game.
Claire says if Azah keeps her and makes it to the final 2 it'll gain her X's vote.
Claire – X has a lot of deals with a lot of people. He's smart and very strategic. If you do this active move and keep me he'll respect it at the end.
Claire lists off all the people in Jury that will respect the move in the end.
Claire – X is playing an amazing game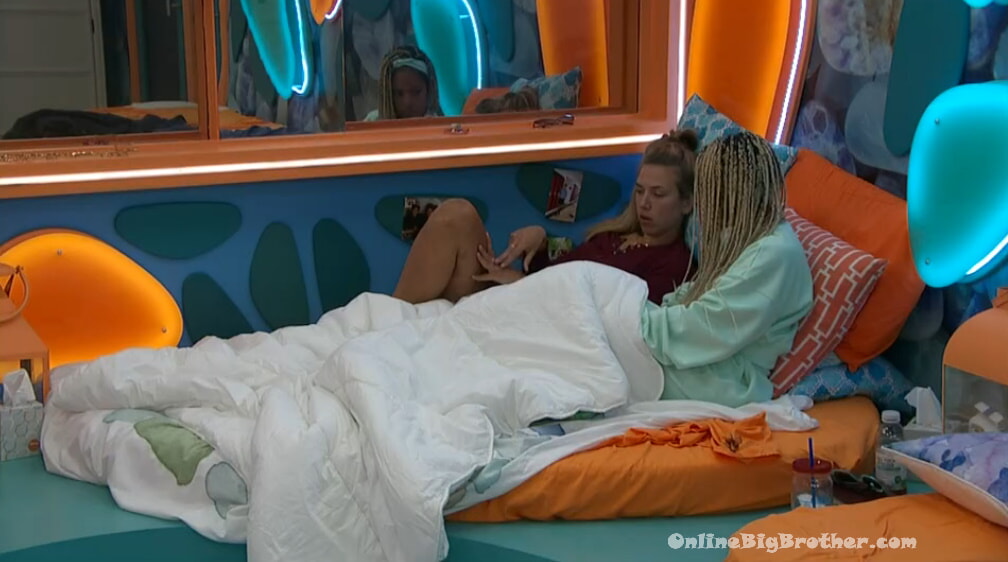 5:34 pm Tiffany and Claire
They talk about Azah and DF being one brain she does everything BIGD says.
Tiff – the crazy thing is for Derek to not have won anything. he's perfectly positioned he's got Azah, Ky, and X
Claire says there might not be many more chances for them to get rid of X
Tiff – Girl his a$$ may never touch the block again
Tiff – if you stay and X leaves if you win who do you put up?
Claire – Alyssa and BIGD to split them up
Tiff – BIGD will go home
Claire says Azah will be her replacement, "it'll be 2-2 no matter what it depends on what you and Hannah decide"
Claire says if she goes they have to put up X and Alyssa during the double.
Tiffany says she can't win the next HOH it'll have to be Hannah.
Claire – if you and Ky hit the block Ky goes home.
Tiff – he better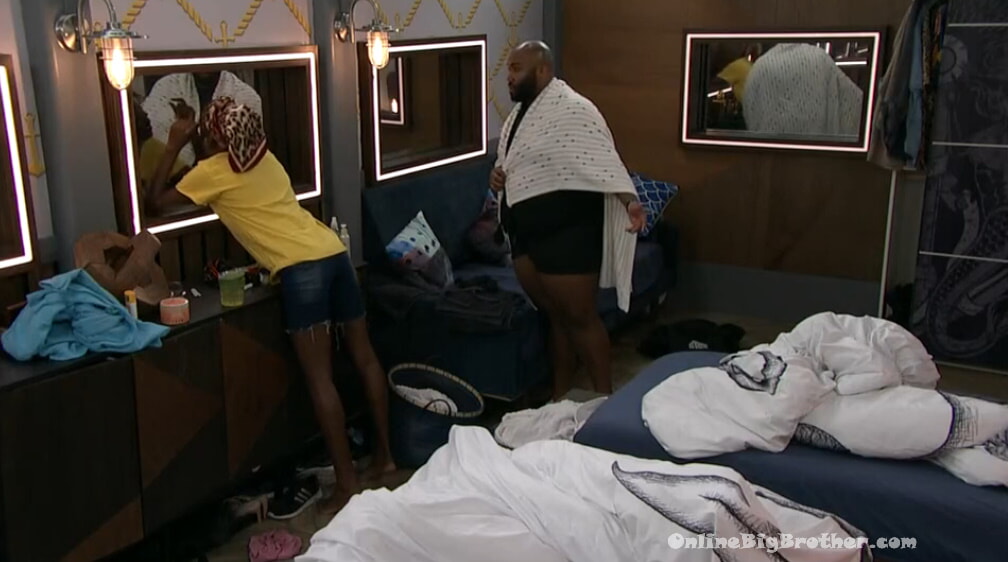 6:12 pm DF and Azah (Azah wants Ky out first DF wants Tiff.. )
Going over scenarios who to put up during the double
DF – I don't want any of those three here. I don't care for them
DF – I don't care for Hannah because she's good and can f*** us up.. I don't care for Kyland and I don't care for Tiff
Azah wants the final four to be her, DF, Hannah, and X.
Azah – if Ky goes first what options do we have? If Kyland goes first what options do we have?
DF – you and me have always been on the same page protecting each other I don't know how I feel about this.
Azah – we can have different targets
DF – I look at the five being, Kyland, X, you, me, and Hannah but you see the five being Tiff, Hannah, You, X, Me .. that's what it is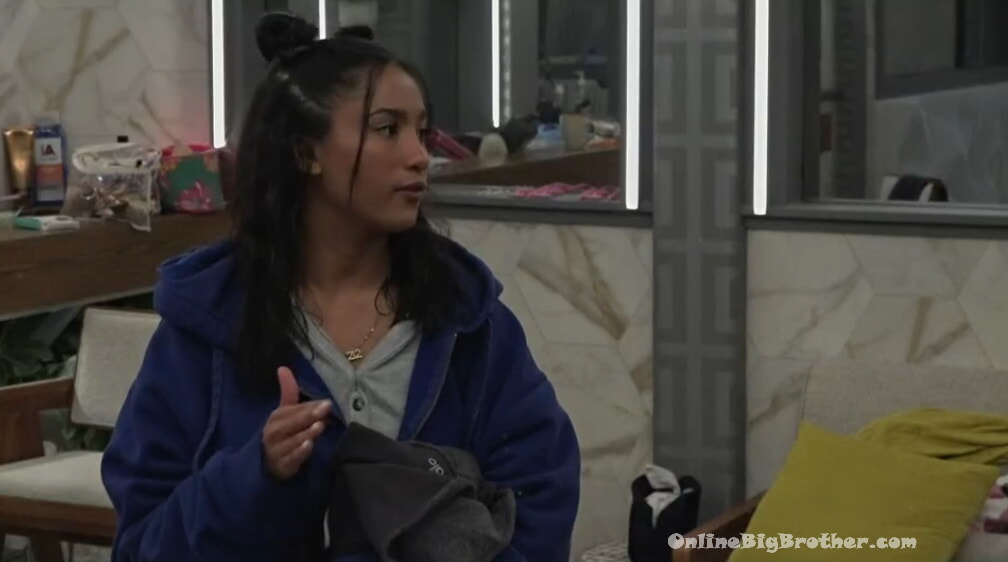 6:25 pm Hannah and Ky
Hannah says Claire feels 50/50 with Azah's vote and she feels 50/50 with Kyland.
Hannah – are you pretty set on not winning this HOH
Ky – I'm set on the importance of getting to six
Hannah says she wants to win this she's just trying to figure out what she'll say to Alyssa, "Do I say she is a pawn'
Ky thinks using pawn this late in the game is silly.
Hannah says she'll put up Xavier beside Alyssa and will say she's targeting a strong duo.
Hannah – we all agreed we will sit next to our person
Tiff joins them.
Hannah says he told X he should be prepared to go up on the block
Tiff – if she comes off put DF up
Hannah – you send home who you want to send home.. whatever makes sense.
They agree Tiff/Ky are the targets from the other cookout members and Hannah is the replacement.
They also talk about the final 7 are all "POC"
Tiff – first time in history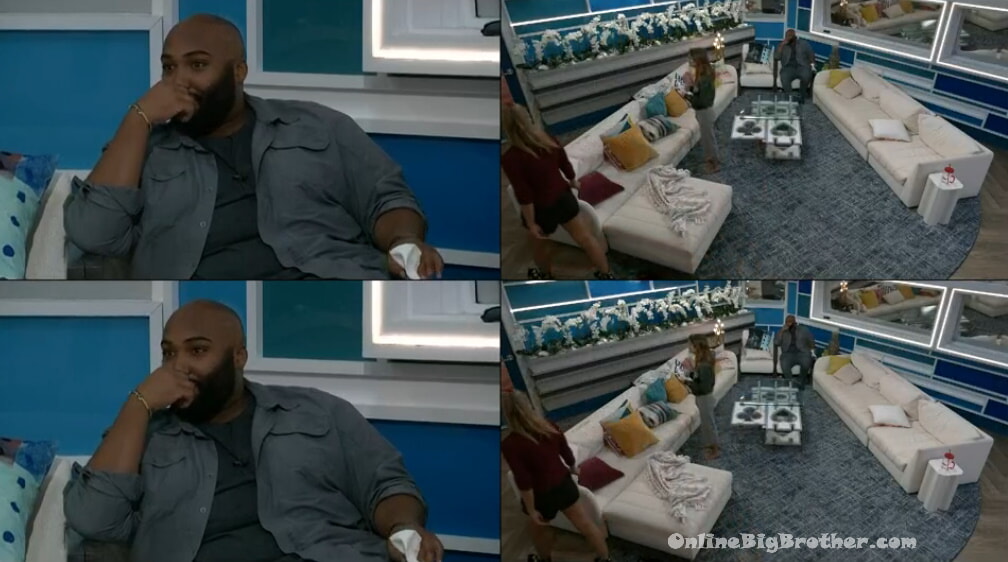 6:50 pm Waiting around for BB blind date to start